Off Road Tires and Wheels.
Upgrading or just purchasing new off road tires and rims can be a one of the hardest choices when compared to any other type of accessories.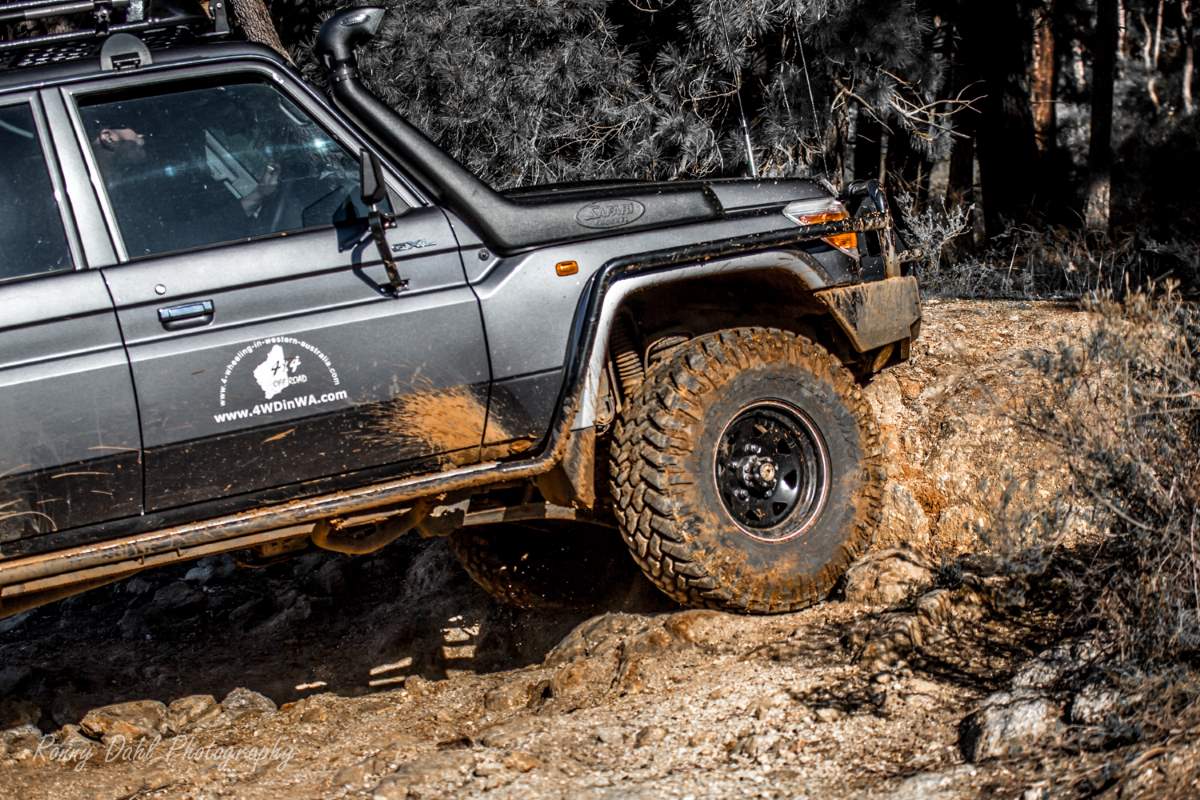 Before committing it really pays to do your homework, best thing to do is follow the seven questions below. This will help you narrow down what's needed/wanted, from there research tire reviews on the brands in question.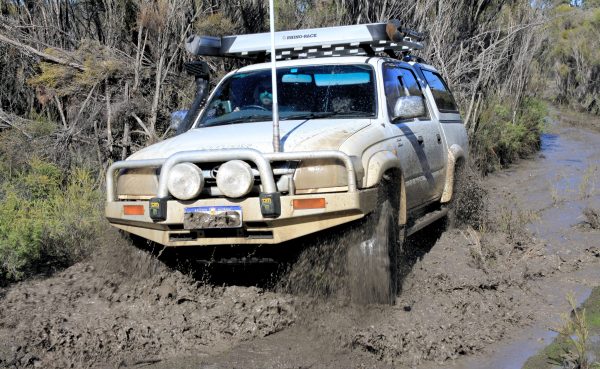 Before choosing a tire, ask yourself the following seven questions:
#1 Which type of off road tires: Light Truck tires, All terrain tires or Mud terrain tires?
That depends on what terrain will be driven on most, Sand tracks/beach, clay/mud, rocks or forest tracks.
(see links below for more detail on each type of tire)


#2 How often will they be used as off road tires? 
Every weekend, twice a month or just a few times every 3-6 months.


#3 Two sets of tires?
Maybe have two sets of wheels and tires, one set for daily driving and another set for off road driving , if funds and storage allow.


#4 Which brand of off road tires?
This is a tough question as there are so many brands, but this can be narrowed down by sizes available as not all brands make all sizes.

#5 How big a wheel tire combo do I need and how big can fit on my 4wd?
Some vehicles are fitted from the factory floor with bigger size wheel/tire combo than others, some can fit larger sizes than others and some can fit but need modifications done in order to fit.
In some situations a vehicle may need to be regeared in order to retain stock rpm, otherwise the 4x4 will lack power and wear the clutch. (See differential for more details)


#6 How much rubber vs rim size/ratio?
This is the size of the tire vs. the rim size. For instance take a 15 inch rim with a 32 inch tire compare that to an 18 inch rim with a 32 inch tire.
The 15 inch rim will have more rubber and will be able to bag out more than the thinner/shallower tire on the larger rim.
This will allow more traction when off roading, also helping the tires deform around logs and rocks preventing punctures.

#7 Which type of rim?
Steel or Alloy (see links below for more detail on Steel vs Alloy rims)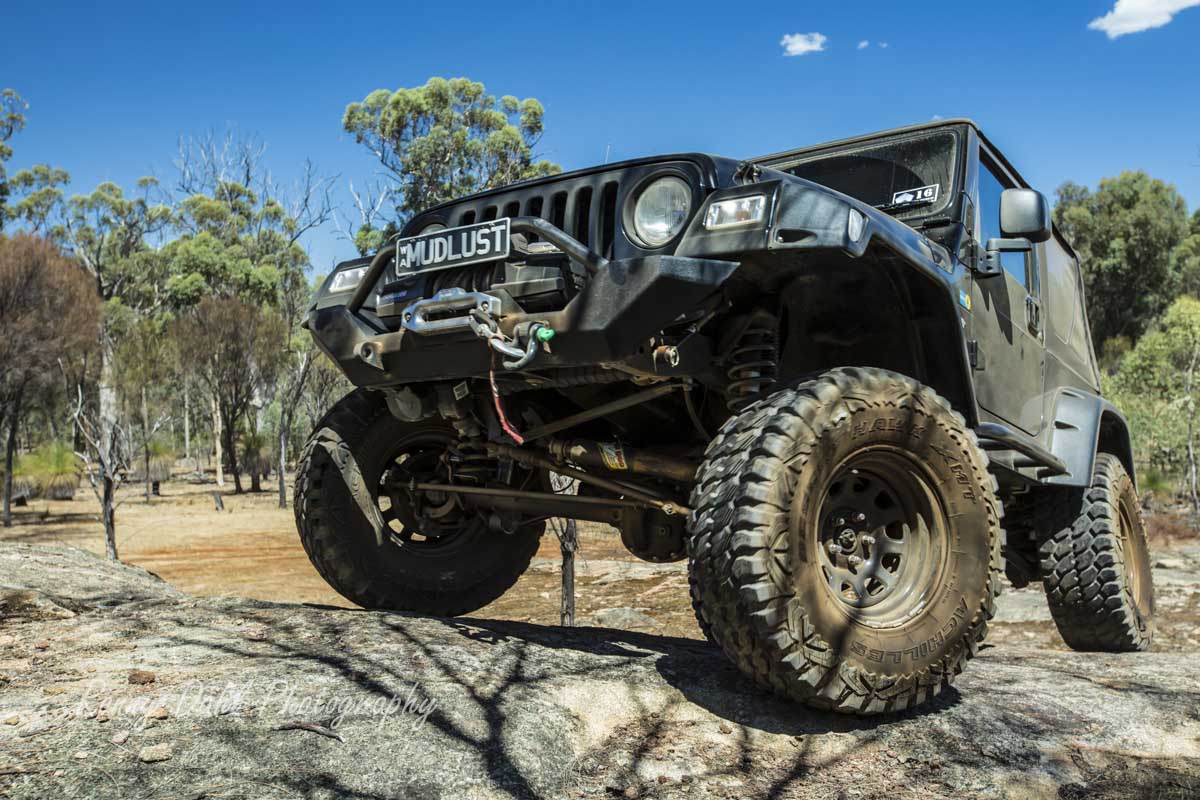 Jeep Rubber.
---

Rotating Off Road Tires:
I would recommend everyone to change all 5 (or 6) tires when upgrading/buying a new set.
It's written in most vehicle factory manuals that for every 10,000km the tires should be rotated (I personally do it every 5,000kms as I regularly take them off for cleaning).
It's very hard to keep a good wheel alignment when off roading as the tires, suspension and wheels get a good workout hitting pot holes, rocks, washouts, ruts and other obstacles.
Uneven wheel alignment can lead to premature tire wear.
Rotating tires at shorter intervals than 10,000km will increase the life of the tires, as even with a bad wheel alignment one tire won't get bad wear for short period of time.
When using the 5th (and 6th) spare tire there will be almost a gain of 5,000 extra kms of usage from the entire set of wheels giving one tire a rest for 5,000 km each time. Not using the spare is really a waste of money.
Also make sure the spare tire is the same size as the rest, putting a different size tire on the vehicle can cause diff windup/binding resulting in costly repairs. See this link for more detail on winding/binding the drive train.
The following links are detailed information about different types of road tires, off road tires, off road wheels/rims & Tyre Monitors:
Highway and sand.
The Jack of all terrains, Highway and Off Road.
Mud, dirt, rocks and rugged terrains.
Steel vs. Alloy.
Tyre PSI.
How to deflate your tires.
Website visitors reviews and comments on tires and wheels.
---
Nitto Trail Grappler tyre review On and Off-road
---
Tyre Monitors or PSI Monitors:
These types of systems are essential for 4 wheel drives. A tyre pressure monitor will keep the driver up to date on any changes in tyre pressures while driving.
No need to worry about slow leaks whilst driving long distances on the highway, it is surprisingly easy to get dirt trapped between the bead and the tyre when off roading, if any dirt enters/gets stuck it will cause a slow leak. Underinflated tires will get damaged at highway speeds.
When 4 wheel driving (depending on what terrain the vehicle is driven on) different PSI's will apply. Knowing that all 4 off road tires are within the same pressure is important, if struggling on the sand or any other type of terrain the current PSI will be displayed and a decision on lowering the pressure or not will be easier to make, also keeping tabs on what PSI the 4wd handles best at.
Systems can monitor the 4wd and the trailer/caravan at the same time if that is required, even spare wheels can be fitted so there are no hassles when changing tires on the track or even just regular rotations.
---
Tire & Wheel Reviews From Our Readers!
Feel free to share a review of your tires and/or wheels with our readers.
OR SEE OTHER READERS REVIEW.
It's easy, just fill out the review form below.
Please give us following details. (Please copy and paste following)
Rating out of 10:
Brand:
Type:
Tyre/Tire Size:
Fitted on:
Kilometers/miles done:
Pros:

Cons:
---
Have Information About Wheels & Tires You Want To Share?
Share it!
What Other Visitors Have Said
Click below to see contributions from other visitors to this page...

---
Jun 29, 23 08:30 PM

Well 7 of us just traveled to the Pink Lake cv/pk in Esperance. We had such a great time there, all staff were very accommodating and friendly. The camp

Aug 21, 22 04:20 AM

Hi! Welcome to offroad dad and my journey in life doing things on a budget using my hobby offroading touring camping and survival as a way to cope and

Mar 30, 22 02:53 AM

When Camping With Children kids hygiene items like wet wipes (baby wipes) are the best thing for cleaning kids, bring a few spare packets. Don't forget to..
---
Leave Off Road Tires And Go To Home Page.

---