79 Series LandCruiser
V8 Turbo Diesel Dual Cab Ute:
Due to receiving so many emails and questions on Facebook, YouTube and various 4x4 forums we have created an entire web page and a YouTube video just for the 79 series Landcruiser (VDJR79).
We have also made an entire page just on fixes and improvments to the Toyota 70 series Landcruiser, for that page see TOYOTA 70 SERIES FIXES and ISSUES.
For everything else about the 79 Dual cab cruiser keep reading below.
Updated as of AUG 2019!
Since 2013 many videos about my 79 series Landcruiser (Sleipnir) have been made including 8 different stages of the build, my thoughts & 100,000km review on the 79 series Dual cab and the modifications I have made to it, all due to the many emails, YouTube questions, Instagram and Facebook questions.
During this time a lot has changed due to many factors and requirements. Above all my main issue since the first 'complete build' weight and handling has been the issue.

It has taken 6 years and many variations big & small to get it right. The following will help save you money and give you plenty of food for thought.
 When we first uploaded this page to the website I had the 79 series Landcruiser for just 3 months (that was from December 2013, picked up from Toyota dealer Sep 2013), now as of August 2019 I have had the 79 series Landcruiser for nearly 6 years and just during those years I have taken Sleipnir to;
The Simpson Desert, Deep into the Pilbara, Broome to Walcott Inlet, Barrington Tops NSW, Flinders Range SA, The Anne Beadell HWY, The Australian bight 7 times, and these places countless times: Lancelin, Mundaring, Bremer bay, Esperance, Julimar SF, Harvey, Brunswick, Outback stations near Paynes Find, Wedge Island, Grey, Hill river coastal tracks at Cervantes, North Head Jurien bay, Wilbinga, Seabird, Murchison, Blackwood, the steep hills of Nannup & Balingup, D'entrecaste NP, Israelite Bay, Holland track, Gold fields, Adelaide rd, Wellington NP and more that I just can't think of right now, I think you get the picture here.
Same vehicle for 6 years with more history than most could possibly count within such a time.
The 79 series Landcruiser has been through thick and thin over the last 6 years and has handled all this without being towed home once. BUT things have broken over those years. Here is a list of those and the causes behind it:
alternator which has been replaced with a water-cooled 100% sealed unit. 

Details here

Rear factory half shaft axle snap (from wear and tear due to weight)

Front diff centre (cursed by stupidity)

Front drive shaft (incorrect suspension by two separate installers)

Rear drive shaft (ramp over angle taken to the limit causing heavy contact with a rock step)

Rear diff and Jamax half shaft axel (heavy wear and tear over time from weight and towing in extreme conditions, axle broke taking the rear center with it. Still able to drive it home 3000kms while still towing in 1wd/3wd)

Driver side mirror (tree contact at speed)

Rear Wheel bearing (too heavy a vehicle)

3 steel rims (general stuff rocks and rough terrain)

6 tyres in total staked across 4 different brands

   

  
It's by far the most torqued vehicle I have ever driven from stock; off road nothing really stops it.
During a trip from wedge to Grey I managed to get slightly bogged on the beach, and all I had to do was put it in 1st gear low, lock the front & rear lockers and just let it idel itself out, that's how much low torque it has!
My previous 4wd was Toyota Hilux SR5 Extra cab petrol which I had for over 7 years so comparing the two is like apples and oranges, they are different in so many ways.
There was nothing wrong with the extra cab Hilux apart from being too small in the seating department, with a growing family a dual cab was required and I had been eyeing off the 70 series Landcruisers for a long time, so the day they started selling the dual cab 79 series Landcruiser I started saving and waiting.
It was not a hard choice to make, given a V8 turbo diesel in a tray back Ute with solid axles, what more could you want?! It sure ticks all my boxes and being a Toyota there was no changing my mind.
---
Modification Plan:
So far a fair bit has been done to the 79 series landcruiser and having learnt from the previous vehicles I had I had a modification plan in place.
I made plenty of mistakes on the most recent 4x4 (the Hilux), I had to redo most of the setup due to various situations, so a fair bit was learnt about my 4wd setup needs. It really saves you money to stop and really think about what mods you need and more importantly how you need the 4x4 setup in every aspect of 4 wheel driving, touring and camping!  
 I knew exactly what I wanted to do and so far this 79 series Landcruiser is setup exactly how I would like it and the canopy is coming along well with still a fair bit of DIY work to be done.
 BUT guess what! Although I built exactly what I wanted it was far too heavy. What I wanted cost a lot of wear and tear on the vehicle and lessened the handling of it.
In the list above I mentioned the suspension was not done correctly and that didn't help much either.
Update AUG 2019 (latest changes and mods PLUS why) On The 79 Series Landcruiser:
The upgrade in bar work on the 79 Series Landcruiser!
One of the oldest parts of the 79 series Landcruiser mods still there is the Opposite Lock big tube steel Bull bar.
Well firstly it looked the part as it was the only 63mm tube bar at the time and I still think it looks really tough and robust. Really suits the 79 series Landcruiser look!
Now days every other big brand followed suit and 63mm bar work for the 70 seems standard. I have stuck with the O/L because I don't really like the look of the TJM version and the ARB version has a centre bar making spottie mounting a bit of a pain and every other brand I just don't really know much about or trust.
The exhaust upgrade number 3!
The exhaust was upgraded from a single 3' Manta to a twin 3' inch Red back exhaust which I loved so much because the cruiser sounded unreal & seemed to breathe very well.
Now however its on its 3rd and here is why: The twin Redback would not fit with the new fuel tanks and tray so it had to be changed. Not only that the old twin pipes had been worked hard and where rusting out so either way it would have needed a change sooner or later.
The third exhaust is a Torquit single 3.5 inch pipe. The sound is different but after tweaking it I'm now happy with the note it sings. This to me is important, it has to sound sweet when hitting dunes at full pace, I'm a bit old school and I like to listen to the engine and exhaust while driving.
The Driving lights:
LED roof bars:
Previously I had a cheap Chinese LED bar on the front, it kind of did the job but after a while it started to fade into a light brown colour; the plastic light cover became a milky white and was blocking the luminums emitted from the light bar.
Well you get what you pay for! I then went for Altronics LED bars and they were OK for spread not for distance.
Now Ive got 2 20 inch Lightforce LED's which are spots and fill the gap of light on the roads/tracks. I've slightly angled them to gain a little bit of spread yet kept the distance.
Front driving lights:
In the beginning I had Lightforce HID's 70watts.I then changed them to the HTX's which are a combo LED 80watt and HID 70watt.
Best lights Ive ever had and they are two in one. I've had them for 3 years I think and I'm happy with them. They do everything I need and more.
---
Getting more from you under powered VDJ70 engine:
PDP tuning:
The boys at Perth Diesel Performance tuned my 79 Series Landcruiser early on first with a Unichip Q which was upgraded lter to a Q4 with injector drivers. This changed my cruiser from a slug to a passenger like car on the highway. It also helped with all the extra weight I was carrying. Now days its like a rocket as I've taken a lot of weight off which makes it so much fun on sand now.
I have 5 different tunes which I helped co test and refine with PDP.
Tune 1 overtaking and sand dune climbs

Tune 2 daily driving

Tune 3 Towing

Tune 4 High idle from airing up, winching or controlled crawling

Tune 5 factory Toyota tune
6 years later and Sleipnir is still running great!
As most other Toyota's and some other vehicles when they are released from factory they are very under powered which is also why they are so reliable, but there is plenty of 'safe' power gains to have from your Toyota 70 series diesel motor.
With the correct power/torque chips (in my case the Unichip Q4) and the right person to 'LIVE' tune it on an actual dyno, there is so much locked power, torque to gain. Not only that, the engine & Exhaust temperature and drivability have dramatically improved.
My 70 was tuned for drivability not for crazy numbers at high rpm. I don't want a race car I want to drive out there and be able to drive home again.
My best advice here is to tune it safe and not for numbers, it's a diesel not a petrol race car.
For my review and Experience about the Unichip Q4 see this LINK
For Information About The Unichip Q4 In The 70 series LandCruiser See Here.
---
As mentioned above I have recently replaced the Toyota factory Alternator with a Rapid Power water-cooled 100% sealed alternator in order to prevent the common problem these 70 series Landcruiser have when encountering mud.
For more details click here for the Toyota 70 series Issues and Fixes
---
Air intake upgrade (real Snorkel):
The Toyota 70 series factory snorkel is not a 'snorkel', it is just a raised air in-take so be warned and be careful when crossing water. To see what I did to fix this and why the factory air intake should not be trusted as a snorkel click here
Since then I've been offered to test the Armax which I have rejected due to the following which is my opinion: I'm not a fan of the look, I don't see the point in a 4 inch when the intake is still 3inch and I'm not a fan of how it mounts to the airbox by cutting and gluing it.
Again my opinion, I get asked a lot which is why I explain. This is not me having a cheap shot. Keep in mind I use a Safari snorkel which is the smaller version of the ARmax Safari snorkel.
---

The ease on modifying a 70 series Landcruiser: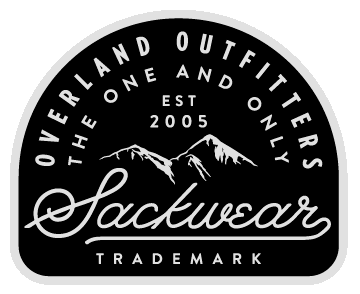 Cool looking cruiser T'shirts.
There are so many accessories available for the 70 series and everyone so far who has worked on my cruiser have said how easy and enjoyable it is to work on them as everything has been kept simple, nearly the entire interior just clips apart carpet and all.
Being able to fit 35 inch tyres with just a 3inch suspension lift is quite amazing considering most modern 4x4s are very limited when it comes to wheel size. This is mostly due to IFS vehicles, which require cutting into the guards and even body work or over the top lifts.

The engine bay is the most technical area however the rest of the vehicle has been kept very basic and similar to previous 70 series.
---
79 Series Landcruiser Ride Comfort and cab space:
The 79 series Landcruiser is surprisingly comfy or so I thought up to about 2015. At this stage the seats began to feel 'used' after all the time in them. Long drives 1000+ kms took its toll on my lower back.
I then put some Stratos seats in the 79 Series Landcruiser and it is honestly the best mod I've done to the interior of the vehicle to date! I've had those seats for 18 months as of AUG 2019 and they are still serving well although there is a bit of wear I'm starting to see. (Review to come)
Space on the rear seats is pretty much the same as any other dual cab on the market; however the windows are so big on the 70 series and combined with the rear seat height compared to the window kids absolutely love it as they have a huge window to look out of. BUT if the kids are teenagers they will not like the rear seat space if they are any taller the 5 foot 10. Leg room is limited.
---
Conclusion of the 79 Series LandCruiser:
The 79 series Landcruiser is produced mainly for mining, farming and towing purposes, however the V8 turbo diesel ute makes for the perfect base platform for the ultimate 4wd tourer, exploring vehicle or just a tough weekend warrior.
As of 2019 its rumored that the end of the V8 is near, a possible V6 twin turbo is coming or so the rumors have it…
In my biased opinion this is the best current new 4WD as a base platform to modify. Like I said above "It was not a hard choice to make, given a V8 turbo diesel in a tray back Ute with solid axles, what more could you want?"
For Information About The Unichip Q4 In The 70 series LandCruiser See Here.
Specifications from stock:
Engine: 1VD-FTV, 4461cc, V8, 32 valve, Turbo Diesel
Power: 151kW @ 3400rpm(at flywheel)                With Unichip: 129kW @ 3200rpm at rear wheels
Torque: 430Nm @ 1200rpm (at flywheel)             With Unichip: 472Nm @ 1600rpm at rear wheels
Transmission:
5 Speed manual
GXL vs. Workmate
GXL Off-road Positives:
GXL Off-road Negatives:
Workmate Off-road Positives:
Workmate Off-road Negatives:
---
PART 2: March 2019


The rear tray/canopy evolution: 

 
The rear evolution is a long and big one! I'll start from the beginning and work my way to Aug 2019:
·         Stage 1; The beginning of the long road, I had a solid plan well before picking up the Cruiser. The plan was to fit an alloy canopy on top of my heavy steel tray. A few lessons were learnt here. You pay for what you get! I got a good cheap price for a canopy from a local Perth business $4500. It wasn't the best built canopy but it did the job, it was a heavy box and wasn't really what I wanted. On top of that I put an Ostricwing awning at the time which was awesome but also very heavy. This I had for 2 and bit years before I sold the canopy because #1 it was far too heavy, #2 with all that space I seemed to bring way too much stuff with me & #3 it was a poor layout.
·         Stage 2; After selling the canopy I was back to a flat tray with toolboxes and my fridge on the outside, this was nice and light plus very simple BUT not great for creating content. I didn't have anywhere to charge things etc. so plans for a new half box started. Before that happened, I was rear ended and my tray got replaced via insurance.
·         Stage 3; I went to On Track Fabrication and got them to build a new tray with my design and it looked mint and wasn't too heavy but was heavier than my previous tray. This then later had a frame attached to it to enclose the tray and act as a roof rack plus solar panel mounting area.
·       Stage 4; By this stage I got a custom half box made up by C&S canopies, this was a design to be a kitchen/charging station for camera gear and a drawer system on the opposite side. Guess what!? It ended up so heavy again and the cruiser was back to handling like a boat off-road. I sold the drawer system to reduce weight after one single trip to the Kimberly but was stuck with the heavy half box as I had no funds and time to change it.
·       Stage 5; A bit later I had been chatting a lot with Jakkie from Quickpitch campers and together we designed Project Black, a new style of halfbox/drawer system that ticket all the boxes. The boxes ticket were the ones from learning from mistakes previously. Project black only weighs 50kg compared to 200kg from the previous half box. No welds! All rivets and glue, super light yet super strong. This was the biggest improvement and best thing I've done to date. Most of the design credit here needs to go to Jakkie as he transformed my needs into this clever light weight build. I've tested it for 18months with only one minor water leak that has been sorted. No cracks, warping or damage to report.  
·       Stage 6; a bit later I got the opportunity to test and fit a new light weight PCOR tray from Patriot Campers which is only 220kg far lighter than anything else I've ever had. All alloy, rivets & glue. This tray I had zero input into the design but I was sold on the weight and the unique steps & looks. I then added project black to the tray and it's the best setup to date. I guess only time will tell but as of August 2019 this is the best and 100% lightest setup I've had to date.
---
Is the 79 Series Landcruiser completed?
If I told you it was completed, I would be Bullshitting you. There is always room for improvement but as for the rear I can say that unless something goes really wrong I won't be changing the in any BIG way because its taken me 6 years to get the weight right. It handles so well now unlike ever before and that is a balance I don't want to mess with.
As for the rest of the 79 series Landcruiser. Well, I like to try new things and change things up when they don't really work or wear out.
---
Evolution of the 79 series Landcruiser V8 Turbo Diesel VDJR79:
Stage 1: Stock.
Stage 2: Bar Work.
Stage 3: Lift & Tyres on the 79 Series Landcruiser.
Stage 4: Lights and Storage Solutions.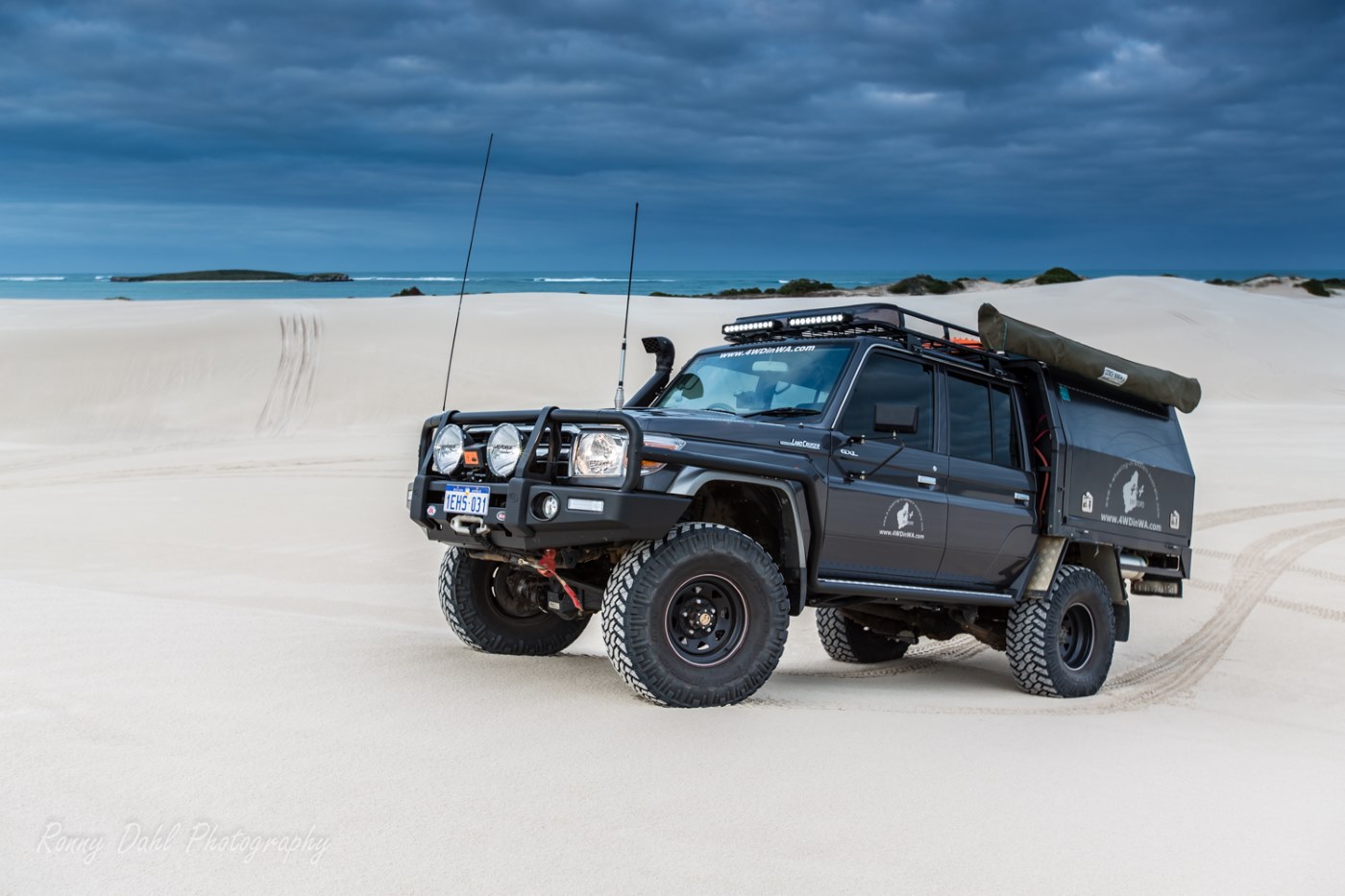 Stage 5: The face-lift with new big tube barwork.
Stage 6: New custom tray
Custom tray with frame
Halfbox and drawers added
Stage 7: Project Black
Stage 8: PCOR tray with Project Black plus new fuel tanks, rear winch, new exhaust
Thanks for reading, any other questions or comments please post below.
Cheers Ronny,
 A self-proclaimed Landcruiser and off road nut! 
See Also Toyota 70 Series Landcruiser Fixes & Solutions.
Thanks to the following sponsor who have helped and been involved with my 79 series Landcruiser:
SS Autorepairs (Unichip Perth Agent)

---
Nov 21, 23 07:40 PM

On this page we cover 4x4 off road tracks within a 250 km radius from Perth...

Nov 21, 23 07:35 PM

Jurien Bay 4x4 tracks info and general information about the area...

Oct 10, 23 09:31 PM

This caravan park is very clean. The ablutions are spotless. The washing machines are free but need to keep them clean. Easy parking for big rigs and if
The 79 Series LandCruiser.
---
Leave 79 Series LandCruiser And Go 4-Wheeling-In-Western-Australia.
---