4WD Parts and Accessories.
Below is a list of 4WD Parts and accessories. Click on the following links for information regarding almost each and every part of off roading accessories. Obviously not all options are available to all makes and models.
Using the below list of 4 wheel drive modifications injunction with the "how to build/modify a 4WD" make it easy to see what options are available to suit your individual needs for the vehicle.
4WD-parts and accessories don't come free so it's best to make a list and really think about what exactly the 4WD will look like once completed.
You may end up buying some 4WD parts and accessories early on which are just not compatible with other modifications later one (I have done this myself and after adding up the cost of these things I'm really thinking ahead on what I might be going to fit in the future).
Common example:
You buy a standard Bull Bar and 1 year later you decide to get a winch, only then you realize that the current bull bar you have is not winch compatible. Had the winch compatible bull bar been fitted from the start it would only have cost a small amount more, rather than having to buy a new bar as well or just not fit a winch.
Always think ahead and weigh up the costs when you do modifications or add 4 WD accessories.
---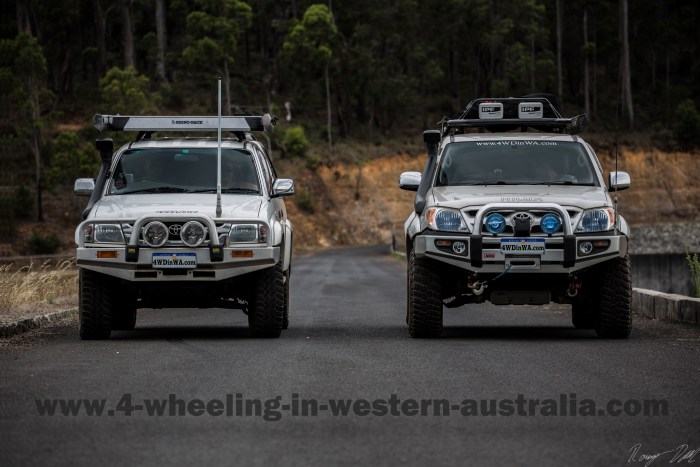 4WD Parts And Accessories List:
4WD Diesel and Petrol Engine Modifications:
Snorkels, Chips, Exhaust Systems, Turbo Charger and Super Chargers.

Off Road Suspension & Lift Kit's:
4x4 Lift Kit's from 2 inches – 6 inches on Lift.

4x4 Drive Train:
4WD Manual & Automatic Transmission, Transfer case, Crawl box, Diff lockers, Differential gear (final gear) reductions,
4x4 Bar Work and Armour:
Bull Bars, Rock Sliders, Brush Bars, Rear Bar, Roll Cage, Bash Plates.

4WD Range:
Long Range Fuel Tanks & Water Tanks.

Off Road Tires and Wheels:
4x4 Wheels and tires, 4x4 mud tires, Steel rims, Alloy rims and Tyre Monitoring Systems.

4WD Cargo and Storage:
Canopy, Roof Rack, Draws, Fridge and Fridge slide.

4x4 off Road Lights:
Spot Lights, Rock Lights, Roof Lights, Work and Camp Lights.

Off Road Communications.
UHF radio, Hand Held Two Way Radios, HF, Satellite phone.
GPS Navigation.

4WD Interior or Cab Modifications:
Overhead Consoles, Rocker Switches, Extra Dash Gauges and other mods.

Off Road Exterior Modifications:
Winches, Recovery Hooks/Points, Wider Wheel Arches, Rust Protection and other mods.



---
When only the best will do...
If you want strength, quality, durability and ease of use from your 4WD awning, then congratulations...you just found it.
Built tougher than anything Australia has seen before, the Ostrich Wing Awning will get you in the shade in 30 seconds and won't break in a breeze.
Forget about poles and ropes when it gets really windy you simply swing down the attached telescopic pole.
Being so quick, easy and durable, the Ostrich Wing Awning will outlast and get more use than an ordinary awning, making it exceptional value for money.
Made in Africa, this awning is constructed to withstand the harsh Australian climate and is backed by a two year warranty.
---
Leave 4WD Parts And Accessories And Go To 4 Wheeling In Western Australia.
---