4x4 Clubs In Western Australia.
Beginners and experienced 4 wheel drivers can benefit from joining 4x4 clubs.
It's great to meet other people with the same interests especially when it comes to 4x4ing and camping.
Joining a club will open a lot of doors/opportunities in going on day trips, weekenders and big adventures with other people who are experienced in tackling different terrains, recoveries and vehicle repairs.
This is a great way to learn new off-roading skills and good protocol.
Most 4x4 clubs (nearly all I have looked into) are family orientated, which will suit most people regardless of having kids or not. 

All good 4x4 clubs share the same rules, tread lightly, take your own rubbish with you, never leave anything behind, keep left when possible and stay in convoy formation.
Club member or not, these are standard rules for any off roading and anyone ignoring these rules should be banned from 4WDing!!
---
Every 4WD club is different: 
Most clubs require you to apply for membership or to be invited by an existing member while others work on a simple turn up to their scheduled meeting area which will be listed on their website.

4x4 clubs may have limited space for members; others have heaps and are open to all who wish to join.

Some 4x4 clubs charge membership fees and others are free to join. Membership fees are usually to cover the cost of running the club and rarely for making a profit.

There are clubs that are specifically for a type of vehicle make and model, for example a club for Nissan owners, Toyota owners, Nissan patrol owners, compact 4x4 owners, 4WD vans and even all-wheel drive vehicle owners.
These clubs are great for tips and hints on modding your 4x4 as all members have the same or very similar vehicle.


Some clubs are even specific on types of 4WDing like; touring, easy tracks only, hard-core tracks only and other specific aspects.

Finding the right club that fits your life style, needs or interests would be a great start; it is a great way to learn more skills while having fun!
---
Pros and Cons About 4 Wheel Drive Club: 
Plenty of pros:

Not having the stress of organizing a trip with no knowledge of a destination as all trips are organized by the club. 
Meeting people with the same passion and interest.
Having travel companions.

Beginners and the Experienced Learn new skills. 

Discover new places.

Always someone around to help if in trouble i. e. repairs and recovery.


Cons:

Traveling in big groups 10+ vehicle can make some trips take too long due to waiting for every 4x4, this can be a real problem on the harder tracks with mud holes, trick sections and the odd hard-core track.

Others constantly using your recovery gear,  usually not a problem in well-organized clubs as all members are generally told to bring their own recovery gear.
---
Are we at 4 Wheeling Australia member of a club?
The answer to that is yes & no. The "yes" is if you consider our website team as a club.
 "No" we are not part of any other clubs run by anyone else; the reason for this is we want to run this website without being part of just one outside club, we want to try and meet as many as possible.
We have joined other clubs on day trips from time to time and every trip so far has been well organized. One thing I took notice of was the way the club members provided assistance to both members and non members who tagged along for the day.
---

A list of 4x4 Clubs in WA:
---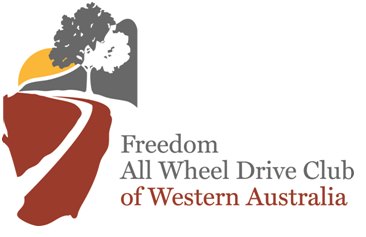 The Freedom All Wheel Drive Club of WA Inc. This is a family orientated club for SUV's as well as standard 4x4's. Meetings are held monthly at East Victoria Park.
For more information click here.
---
Albany 4WD Club
The Albany club caters for all types of 4Wd's and is a family orientated club where you can get to learn your 4WD. See more at: http://albany4wdclub.com/
---
All Tracks 4WD Club
The All Tracks 4WD club is located in Perth north of the river. The club is family orientated and caters for all 4WDs. For more info go to www.alltracks4wdclub.com.au
---
Armadale 4WD Club
The club is family orientated with home in Armadale and has over 40 members. For information about membership see:  www.armadale4wdclub.com.au
---
Downsouth 4WD Club
The Downsouth 4WD Club is all about 4 wheeling in the Bunbury area and the southwest. Have not been able to find any website but you can contact them trough the Facebook site https://www.facebook.com/groups/446234538805544/
---
Eastern Suburbs 4WD Club
The Eastern Suburbs 4WD Club was formed in 1994 and has members from all over the metropolitan area. For more information about the club and contact details see http://es4wdc.club 
---
Getaway 4WD Club
The Getaway 4WD Club meet up the 4 Wednesday of the month and new visitors are welcome to attend at the Beauford Park Hall off Drummond St. Bedford.
For more information about membership and the club see http://getaway.myclub.org.au/INDEX.htm
---
GoBush 4WD Club
The GoBush 4WD Club has been around sins 2004 and is a family oriented club.
For more information see http://www.gobush4wd.com.au/index.htm
---
ISUZU Club 4x4 Of WA
Whilst our club is dominated by Isuzu manufactured 4x4 vehicles including rebadged Isuzu's under the guise of Holden's, we are also very welcoming of all different brands of vehicles.
For more information see here.
---
Landrover Owners 4WD Club
The Landrover Owners 4WD Club of Western Australia is formed in 1968 and the oldest of the 4x4 Clubs in Western Australia.
For more information see here.
---
Mitsubishi 4WD Owners Club
All brands of 4WD's are welcome but the majority of the members of the club are driving Mitsubishi Pajero's  and a 4WD with dual range is recommended if you want to join the club. For more information see http://www.mitsubishi4wd.org.au/
---
Peel 4WD Club
The club is based in Rockingham and is open for new members, to apply for membership you have to attend two trips with the club.
For more information about the Peel 4x4 Club see http://peel4x4club.webs.com/
---
Perth 4WD Club
The club welcomes all 4x4's, meetings are held on the second Wednesday of each month from 7.45pm at the RSL Club, 1 Freb Ball Parade St James.
For more info see their website http://www.perth4wdclub.net.au/
---
Quad-Drive 4WD
This club is a family oriented club where all 4x4's are welcome. The club is located in Noranda. For more information about the club and meetings see http://www.quad-drive.org/ 
---
Out And About 4WD Club
They have their meetings at 269 Lord St, Caversham in the Scout Hall on the 3rd Tuesday of each month and any model 4WD are welcome in the club.
See their website for more info http://www.outandabout4x4club.org.au/index.php 
---
Outback Families 4WD Club.
We are a family based 4WD club with base in Perth.
Our members own all types of different vehicles from mild to wild and everything inbetween.
For more information see Outback Families 4WD Club.
---
Roam Oz 4WD Club
This club was established in 2009 in Perth. For more information see http://roamoz.com/ 
---
Rockingham 4WD Club
The club are meeting at the Warnbro Bowling Club, 38 Okehampton Road Warnbro the first Wednesday of every month except in January.
The club was formed in 1993.
For information regarding membership see http://www.rockingham4wdclub.com/
---
South West 4WD Club
For more information see http://www.southwest4wdclub.com/
---
Subaru 4WD Club
 The club promotes driver skill, bush craft and mechanical ability so if you are the owner of a Subaru this will be the club to join. For information how to join the club see http://www.subaru4wdclubwa.asn.au/Current/Index/index.php
---
Toyota Land Cruiser Club.
The club was started in 1977 and is meeting at the Belmont Tennis Club. Robinson Ave, (off Keane st ) Cloverdale the last Thursday of the month.
For more information about the club or how to join see http://www.tlccwa.org.au/
---
WA 4X4 Weekenders.
We are open to everyone who drives a 4X4, no matter what your experience, vehicle type or vehicle make is. WA 4X4 WEEKENDERS is a group of keen 4X4 enthusiasts who try to hold events frequently.
For more information see https://m.facebook.com/groups/108480916682877
---
Wanneroo Wanderers 4WD Club
The club have their meetings at the Warradale Community Centre
Southmead Drive, Landsdale on the first Wednesday of each month.
The club has 40 active members at the moment (2013), the club limit the number of memberships to 50.
For more information about the Wanneroo Wanderers 4WD Club see http://wanneroowanderers.com.au/
---
Western Patrol Club Inc..
The Western Patrol Club Inc is for Patrol owners in WA. Meetings held on the 4th Wednesday of each month at 7pm.

For information about the club see the website http://westernpatrolclub.com/
---
All 4x4 clubs information was up to date when this page was made.
Please inform us if any links to any of the 4x4 clubs are broken.
---
Jun 10, 21 03:26 AM

Exercise and fresh air is very good for kids. Combine camping with kids and it gets even better.

Jun 10, 21 02:51 AM

If you're in the market for Camping tents there are plenty of options ranging from cheap to expensive and big - small. Depending on what type ....

Jun 10, 21 02:30 AM

When camping in the bush or on the beach, camping showers can even be mounted inside the engine bay...
---
Leave 4x4 Clubs And Go 4 Wheeling In Western Australia.
---