A 4x4 Hybrid is a tourer combined with a Semi Hardcore setup. Very similar to an Advanced Touring 4x4. This type of 4x4 is for those who want to tackle the hardcore driving AND spend weeks camping away from civilisation.
Of course, building a 4x4 Hybrid tourer has its drawbacks. The biggest two being weight, and cost. Essentially you're combining everything from the Hardcore 4x4 mods, and the Touring 4x4 lists. That adds up to a lot of weight, and a lot of cash! This weight will also take its toll on fuel economy. If the vehicle was using 12 liters per 100km, you might expect it to guzzle between 14-16 liters once complete.
A balanced Jeep Wrangler, set up for touring and the tougher trails.
---
Creating the Ultimate 4x4 Hybrid.
Going The Distance
Building the ultimate 4x4 hybrid is all about range and self-sufficiency. Getting to the most remote areas to drive the toughest terrain is going to require a lot of fuel, which is why a long range fuel tank should be high on your list. So too should be plenty of water capacity. You'll need good storage to organise your food as well, and that includes a large fridge with a battery system to power it.
Toyota Hilux on top of ridge.
---
Storage
There's no getting around the fact that you'll have to carry a lot of gear in the 4x4 hybrid tourer. A roof rack will come in handy for carrying swags, chairs, recovery boards and more. A set of 4wd drawers will prove useful to keep everything in order too. Not only will you carry camping equipment and food, you'll need to find a home for tools, recovery equipment, spare parts and first aid.
---
Bar work
Your 4x4 hybrid build will need a bull bar for protection (and a winch mounting location) as well as bash plate protection, sliders, scrub bars and possibly even a steel rear bar where you can carry two spare wheels or some extra water or fuel.
---
Tyres
You want this rig to be fairly puncture resistant, so an upgrade to light truck tyres is definitely on the cards. As for the tread pattern, a nice aggressive off road biased all terrain is the bare minimum. Stepping up to mud tyres will give you ultimate traction for those hardcore 4x4 tracks.
Choose a size between 32 and 35 inches. Anything less will be disappointing in the rough stuff, and anything over 35 is overkill (using much more fuel for very little reward). Even still, with the larger 33-35 inch tyres; your off road gearing and fuel consumption wont be ideal. Changing your diff ratios will fix this.
---
Which lift kit?
Having read this far you will understand why heavy-duty suspension is a must for the 4x4 hybrid build. You'll want 2-4 inches of lift to help clear larger tyres and give you clearance off road. Not only that, but the springs must be of higher weight rating than the factory option to account for all the extra weight. It's worth calculating the extra weight you will carry and considering this in your spring choice.
A set of 4x4 air bags may be a good option for height adjustment when you're all loaded up for a big trip.
---
Engine Mods
Engine mods are high on the list for most people building a 4x4 hybrid for touring. With a now much heavier and less aerodynamic vehicle you will start to feel the performance losses. The bigger tyres will sap power and fuel too. Your engine mods should include an exhaust, perhaps an intercooler upgrade, a tune, and possibly even upgraded turbo. Don't forget the snorkel (read more about that HERE) and at the end of this you may even have improved fuel economy!
---
Lighting
You'll want a bit of spot lighting for high touring speeds, some spread lighting (like a light bar) for the slower stuff, and some flood lights for out the sides and facing rearwards. These flood lights go great on the roof rack and are handy not only for exploring tracks at night; but setting up camp in the dark!
When it comes to kicking back at camp, some smaller LED lights are a great idea. They will draw less power and are easier on the eyes creating a nice ambience.
---
Traction aid
If you're really serious about seeing the end of that tough track, your hybrid 4x4 build has got to include some lockers! Front and rear would be ideal, but at least one of these will take you a lot further off road. Not sure which one to choose? READ THIS
---
Self-Recovery
It needs to be said that no 4x4 should be without a basic recovery kit including snatch strap, bridle, bow shackles, recovery blanket, shovel and a set of traction boards.
The ability for a 4x4 hybrid tourer to self-recover is certainly advantageous. For this, a winch is a must!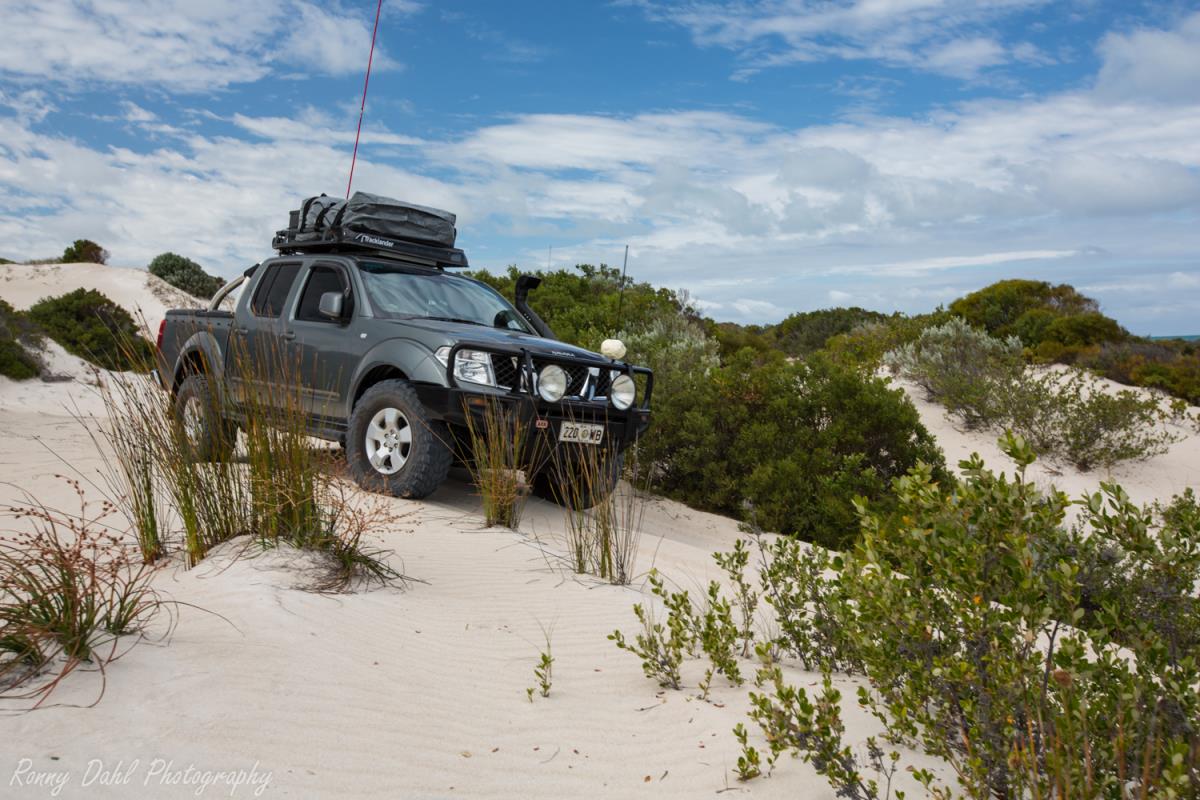 ---
Camping Mods
These little extras will only really find use at camp or a lunch stop, but they make the whole experience so much nicer. A dual battery system to power a fridge, inverter and some camp lights is a must. Your roof rack makes a great home for an awning, roof top tent and even a shower tent if you like! A drawer system can be set up like a pull-out kitchen to make mealtime easy. And of course those bright flood lights, so you can clearly see and avoid any bull ant nests when you pull up.
With all these mods you will have one well kitted out 4 wheel drive, an ultimate 4x4 hybrid machine with all the goodies at arm's reach.
This vehicle setup will go anywhere and there will be no terrain this vehicle won't conquer.
The only draw backs are the amount of money required and the extra weight which will add cost at the fuel stops.