We watched Ashley's Nissan Navara D22 take on some steep sand dunes and sand tracks along the coastal areas before the shoot and it handled very well putting the front auto locker to good use and showed how much a locker really gets your vehicle further when the conditions get tough.
Not only can it take on challengers and handle them well, it also looks tough with its extra wide stands. The D22 Navara's already have nice wide flares but this one has extended flares to make room for its wide wheel track whilst still keeping the wheels within the guards.
Everything on the D22 is right down to Ash's needs and requirements nothing more and nothing less, that said out of all the Nissan Navara D22's I have come across this is the most modified one I have seen.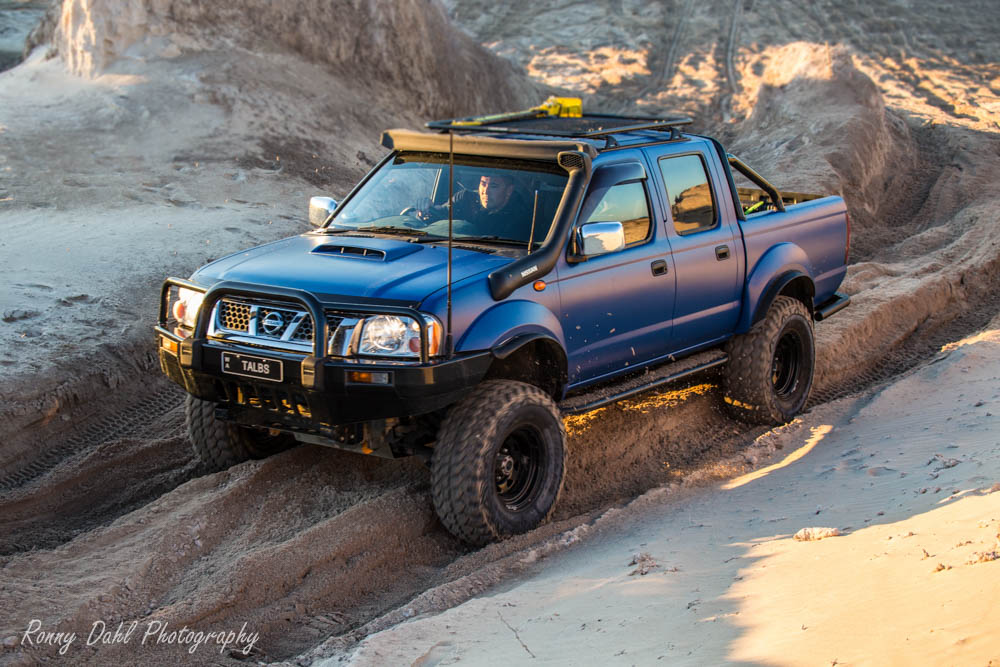 Click Any Image To Enlarge Or Open Photo Album.
---
Vehicles factory stats (NOTE* modded details below):
Make model:   2010 Nissan Navara D22 ST-R
Engine:  Y25, 2.5l turbo diesel                 
Drive train: 5 speed manual, Front auto locker (aftermarket)
Suspension: IFS & Leaf spring
---
Ashley's mod list for his Nissan D22 Navara:
Engine:  
-RaceChip Pro 2 chip
-RaceChip response control unit
-3' x-force exhaust
-Turbo-smart boost tee (19psi)
-2' intercooler riser (to I/C to under bonnet shrouding post body lift)
-Oil Catch can (ProVent)
-Snorkel (genuine Nissan)
---
Electric upgrades:  
-Reverse camera & sensors
-Keyless entry & immobiliser
-Apexi turbo timer
-Boost gauge
-Aux fuse boxes under bonnet
-Switch panel for accessories
-Red Arc dual battery isolator
-1000watt pure sine wave inverter (mounted behind rear seat)
-ARB air compressor (mounted behind rear seat)
---
 Lights: 
-50' LED light bar on Bullseye product roof mounts
-4x 6' rear LED work lights
-additional interior light.
---
Comms & GPS: 
-GME TX3100 80 Channel UHF
-GME 1040mm spring mounted antenna
-GME 300mm antenna for FM
---
Suspension and tyres: 
-3" Snake Racing X-flex kit
X-flex torsions bars
Upper control arms
Idler arm brace
Heavy duty steering rack ends
X-flex greasable extended shackles
Tough Dog foam cell shocks
Dobinson leaf springs
Front and rear braided brake lines
-Heavy duty tie rods
-2" body lift
-Tough Dog steering stabiliser
-American racing Baja wheels 15x8 -19
-33x12.5" Achilles XMT muddies
---
Bar work and exterior mods: 
-Standard alloy bulbar sandblasted, powder coated and mounts modified for 2' body lift
-Sports bar powder coated gloss black
-Custom build side steps and rear bar with infill panel
Side steps and rear bar sprayed in UPOL 'Raptor liner'
-Genuine Nisan roof rails
-Rhino steel mesh flat roof rack
-3 piece underbody protection
-65mm flexy flares.
---
Back of the wagon: 
-UPOL 'Raptor liner' spray in over-lip tub liner.
---
Recovery gear: 
-2x front Roadsafe recovery points
-Reese hitch recovery point
-All recovery gear portable
-High lift jack and shovel attached on roof rack.
---
Ashley's top 3 trips in the Nissan Navara D22:
Dwellingup
Lancelin
Anywhere from Two rocks to Wedge
---
Unstoppable moment in the Nissan Navara 4x4:
Haven't given it too much of a hard time other than in the dunes, but now that the Lokka is in… I'll wait and see.
I prefer coast driving as opposed to mud and rocks, and with a light weight vehicle on 33's, she loves it!
---
Most scary situation in the

D22 Navara:
The time I was bogged on the beach up in Lancelin with the tide coming in.
I was lucky to finally get in contact with a young local who had to snatch and drag me for about 400m down the beach as I couldn't get back onto the higher side of the beach.
I honestly though I would lose my car to the ocean that day.
---
Ashley's modification tips:
Because the D22, especially the YD25 are not the most powerful motor on the market, I would highly advise to have it chipped, 3' exhaust & EGR blocked. The additional flow is remarkable, and youll never be able to drive a stock d22 again.
---
Video of the Navara D22 modification.