Western Australia is ideal for 4x4 beach driving, no other Australian state can even compare. A beach drive guarantees a top-notch fishing spot, an epic surf break, or a secluded camping opportunity.
 But 4x4 beach driving isn't the only fun you can have on the sand. Plenty of dune systems dotted around the coast make for a thrilling drive or a fun day on the sand board.
Where can I go 4x4 beach driving in Western Australia?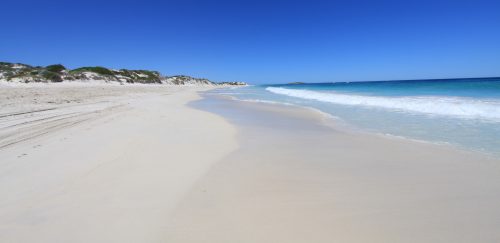 Close to Perth you have beach driving at Tims Thicket and White Hills beach near Mandurah. To the north near Guilderton is Wilbinga Beach. And if you want sand dunes AND beach driving; Lancelin 90km north of Perth is your go to.
Further north of Lancelin via Indian Ocean drive is Wedge Island, another huge area of sand dunes. Fun fun fun!
---
The Best Tips for 4x4 Beach Driving

.
1: Deflate your tyres
Remember to deflate your tyres before venturing onto sand for 4x4 beach driving, whether it is the beach, sand dunes or just sand tracks. Too many people with high tyre pressures chew up the tracks and get bogged. These people are usually recovered by someone using the correct tyre pressures.
How low you go depends on your vehicle weight, tyre size and tread pattern. Start at 18PSI and if you find yourself bogging down or the vehicle is laboring; go a little lower. Keep in mind that if you go lower than 15PSI you are running a higher risk of rolling a tyre off a rim. (more on this in tip 2) If you do need to go this low, drive with a little more caution and pump the tyres back up as soon as practicable.
How to deflate tyres for 4x4 beach driving.

Deflating the tyres is the easy part. You can go cheap and use a match or a stick; or you can use a special tyre deflator. Some remove the valve completely to deflate about 1PSI per second. Others are screw-on deflators which can be preset to your desired PSI. You can even use a pressure gauge with a deflate button, however this is very slow.
Always use a Tyre Pressure Gauge to check the pressure after deflating (even if you are using one of the preset types) to ensure all 4 tyres are an even pressure.
Sometimes you will need to run slightly lower pressure in the front if you're heavily loaded in the rear. This is to ensure the lighter end of the vehicle has the same footprint (the surface area of the tyre in contact with the sand).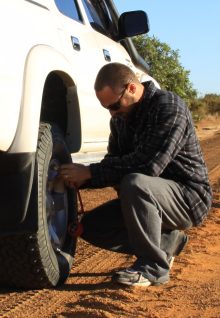 Deflating tyres before sand driving.

2: Always have a compressor handy.
Before you let the tyres down, make sure you have a compressor on board to pump them back up. This is absolutely necessary before getting back on the highway. Driving on the highway with low tyre pressures will damage the tyres, increase braking distance, and deliver terrible handling.
The compressor will be useful all the way through your 4x4 beach driving adventure. Should you be unlucky enough to roll a tyre off the bead, this can help reseat it. And if you're tackling a variety of tracks and surfaces, you'll need to adjust your tyres up and down to suit.
---
4x4 Beach Driving.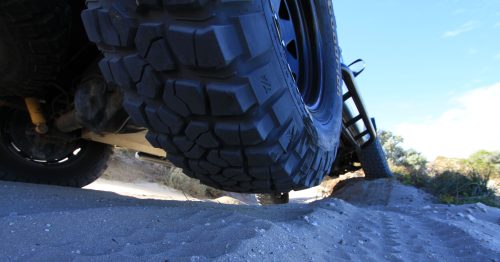 Driving in sand.

3: 4x4 Beach Driving Techniques
●     Keep speed to a minimum. As fast as you need to, as slow as you can. Vehicle handling on sand can be quite unpredictable. You'll get a feel for this quickly.
●     Stay in the tracks if there are any.
●     Don't turn too sharply at speed. A lot of rollovers occur during 4x4 beach driving. Turning too sharply with low tyre pressures is also the main cause of rolling a tyre off the rim.
●     Do not accelerate too hard when taking off in the sand. The wheel spin will dig you into the sand.
●     Avoid heavy braking. A sudden stop will also dig you into the sand. The best way is to allow your vehicle to coast to a stop which happens pretty quick in the soft stuff.
●     If you bog down when you take off, ease off the accelerator at once and try again more slowly. Don't attempt to turn at the same time, as the tyres must push a lot more sand this way.
●     Take off facing downhill. If you're trying to move uphill from stationary, you'll bog immediately. Face down the slope, gain some momentum, then turn gently uphill once you're moving.
---
SEE ALSO 4 WHEEL DRIVE SAFETY TIPS.

---
4: Watch The Tides
 Make sure you know when the tide will be in, and how high it's coming. You don't want to end your 4x4 beach driving being caught out by the tide. This is especially important if travelling a fair way up the beach. What was a narrow pass early in the day may now be underwater. Being stranded by the tide is no fun, losing your vehicle to the deep blue is even worse.
Salt and metal do not mix.
5: 4x4 Beach Driving Aftercare
 Salt and metal don't go well together, and your vehicle will be exposed to plenty of salt water when you're 4x4 beach driving. After a day at the beach, it's a good idea to wash the underneath of your 4x4, and the rest of it while you have the hose handy. Be sure to poke the hose through holes in the chassis to really flush away all the salt and sand.
---
Must have items for sand driving.
First is that air compressor. Do some research and spend a little more on a good quality unit.
Next is a shovel. Choose one with a long handle and you'll dig yourself out of trouble quickly.
Also grab a rated recovery kit so that if someone pulls up to help; you're ready to go.
Consider a set of Maxtrax. These are one of the easiest and safest ways to get yourself unbogged.
---