Welcome to '4 Wheeling Australia' formally known as 4Wheeling in western Australia, we are local to Perth and spend most of our time 4WDing, camping and exploring the outdoors via 4 wheel drives and sometimes boats.
Most information on this site is from our own, family or our friend's personal experiences from our countless 4wd adventure travels.
This site has been growing rapidly since 2012 as we head out on the tracks as much as possible so stay tuned and subscribe to the YouTube channel (join 370,000+ others) with over 550+ 4wd, tips and camping related videos.

We will show you places, mainly in Western Australia, where you can go away for just a day trip outside Perth or on an overnighter or a couple of weeks, we will show you where you can take your 4WD for an exciting drive, or just get to that perfect spot, maybe for camping, surfing, fishing, relaxing, sightseeing or all of the above.
There is nothing better than having the whole beach to yourself and be able to park your 4wd right on the beach.
As we take you around locations in Western Australia we have been to, we will tell you a little about some worthy tourist attractions you may come across on the way.
---
4 Wheeling In Western Australia -  Latest Video.


We will show you where to stay if you are bringing the family or maybe you prefer to sleep under the stars in your swag if you're on a boy's trip 4 Wheeling the deserts or bush.
We will also share our experiences and tips about powered camp sites, unpowered camp sites, remote area self-sufficiently & general bush camping.
Campsite in the Outback.
---


Shopping Online.


You can also support us online at 4-Wheeling-Australia.com by checking out or latest cool merch. Grab a t-shirt, stubby holder, poster and many other cool things.
To Take A Look At The Online Shop Click Here.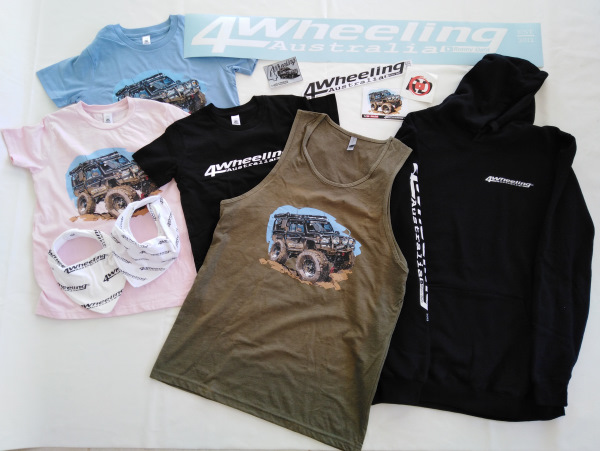 ---

4 Wheel Driving and Recovery.


What to know the most efficient and best way to recover a vehicle? On this very site we share plenty of tips from our experience & knowledge on how to get your 4WD un-bogged from the sand or the mud pit which you or a mate may get stuck in, also how to improve your 4WD and prepare yourself for the rough conditions in the Australian outback, along with what you need to bring along so that you are well prepared for anything that gets thrown at you during your very own travels/adventures.
Plenty of tips on recovering vehicles the correct way. Remember safety always comes first when driving, especially off road.
---
Different Terrains and how to conquer them.


We will show you how to cross rivers, climb the hills & conquer the sand dunes, crawl over rocks, driving through overgrown tracks, sand driving, how to tame corrugations, drive on muddy tracks, dry clay tracks, crossing salt lakes & other challengers. We even have information on night four wheel driving.
---
4x4 vehicle accessories and custom 4wd setups.


Custom 4wd builds 70+ so far all different makes and models AND our setups which have evolved A LOT over the past years, what accessories we use and why,
what's essential, what's not, even what tyres we use and what psi we run on different terrains.
You can even share you 4x4 build on this website.



---

4WD Trips.


All 4WD trips on this site have been done by us at least once, all trips will be rated from easy to extreme and will go into detail as to what type of terrain to expect.
---
New to 4 Wheel Driving.


If you are new to 4 Wheeling and camping no matter if you are from within Australia or from overseas and you are prepared to get your off-road vehicle dirty, wet and covered in dust, then 4 Wheeling Australia is for you.
---
Navigating our pages.


Our website contains several hundred pages and can be a bit overwhelming for new visitors.
If you find it hard to find what you are looking for please try our Site Map where most of our pages are listed in alphabetical order. 
---
Don't forget safety comes first, see our 4 Wheeling Safety Tips.

---