There are two reasons you might choose to build a hardcore 4WD.
1: A weekend toy.
These builds generally push the boundaries on road legal, and I would strongly recommend getting it engineered for insurance and legal reasons. It may involve a lift between 2 and 4 inches, and much bigger and more aggressive tyres than usual.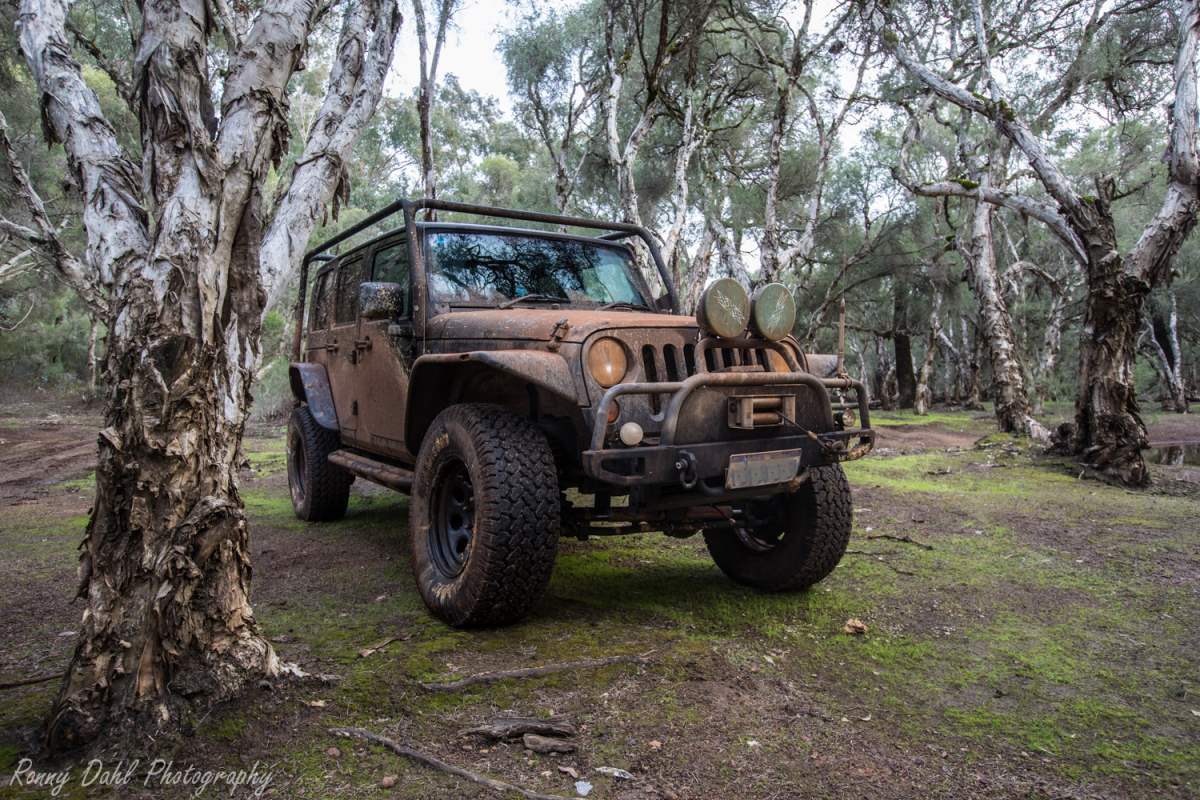 Modified Jeep Wrangler.
2: A Comp Truck
Purposely built for competition use, this type of hardcore 4x4 build would usually be unlicensed and be transported on a car trailer. They can't be used on roads, in national parks or state forests; they are usually kept to private property and the competition circuit.
---
The 5 Major Hardcore 4x4 Modifications.
1: Suspension (4x4 lift kit)
A hardcore 4x4 lift kit could be between 2 and 4 inches above factory, or even more for a competition truck build. Keep in mind that only up to 2 inch lift (50mm) is street legal, and any bigger will require engineer certification if you don't want to attract a defect notice. The higher you go, the more likely you'll be picked on by the authorities.
For more detail see Lift kits & Suspension.
---
2: Bigger wheels & Tyres
Bigger tyres are the only way to raise the lowest points of the 4x4, very important for hardcore 4x4 modification. If the vehicle uses an independent suspension setup, this will limit how big you can go. Live axle 4x4s have much greater choice.
 If fitting tyres more than 3 sizes bigger than stock, you may want to change the final gearing (which is in the differential). Larger tyres will mess with the final gearing making the vehicle not as great in low range. It will be harder to crawl over rocks, you'll apply the brake more on hill descents, and work the clutch harder.
 It will also sit outside the rev range it was designed for on the road, which can make fuel economy better OR worse.
 For more information see Tires & Wheels.
---
3: Bar work & armour
 A hardcore 4x4 is set up to be driven over rocks, deep ruts and logs, so it should be armoured up.
 Bull bar is number one, and bash plates are a must to protect those low-slung parts. Unless you don't care too much about body work, you'll want some brush bars and rock sliders to protect your panels too. And a rear bar will save your back end from knocks and scrapes in technical terrain.
 For more detail on bar work and armour click here.
---
4: Traction Aids (diff lockers)
 Combine lift and some larger, aggressive tyres with diff lockers, and now you're REALLY getting into hardcore 4x4 modifications! Differential lockers used correctly will help prevent driveline damage, allowing you to crawl slower over technical terrain while maintaining traction at all wheels.
 When an open diffed 4wd encounters a situation with no traction on opposing diagonal wheels – all of the drive is sent to the wheels with no traction, while the ones on the ground do nothing.
 Engage a diff locker however; and this forces wheels on the same axle to spin at the same rate. Now those wheels planted on the ground have drive again, and you'll crawl right through like it was never a problem.
For more information, see Diff Lockers
---
5: Snorkel
 What fun is a hardcore 4x4 if it doesn't see a bit of mud from time to time? A snorkel is a must because unless you walk it (yuck) you never really know how deep that bog hole is.
 For more details on Snorkels click here
---
What comes after the main modifications?
After you've sorted out the main hardcore 4x4 modifications the sky is the limit. Here are a few more items you might like to build into your ultimate 4x4.
 Winch
There are two main winch options for this type of 4WD setup:
 ·         Standard winch (single speed, slow only)
·         Competition winch (two speed, slow or fast)
 Lighting
 To get the most out of your hardcore 4x4, you'll probably want to do some hardcore night driving! A set of spotlights is commonplace on most 4WDs, but you might also add flood lights facing sideways and rearwards, or rock lights that illuminate your wheels and underbody for the really technical terrain.
 Crawler Gears
 We touched a little on gearing with tyres, but if you're getting right into the low and slow rock driving, you might like to fit a set of reduction gears to allow your 4x4 to move even slower, with higher torque for technical terrain
 Engine mods
 This could be anything from an exhaust to a tune for more lowdown power, or a complete engine swap.
Click these links for more information on Recovery Points, Winches, Engine Mods and Lighting   
---