Hardcore 4x4 & modifications.
This modification is mainly for two things:
#1 a weekend off road toy or in other words a hardcore 4x4, used as a daily driver and very capable on the tuff off road tracks. These 4wds are carefully built pushing the legal boundaries to get the most out of the bigger modifications.
Modifying to this kind of 4 wheel drive I would strongly recommend getting it approved by an engineer for insurance and legal purposes, this would only really apply to big lift kits and massive tires.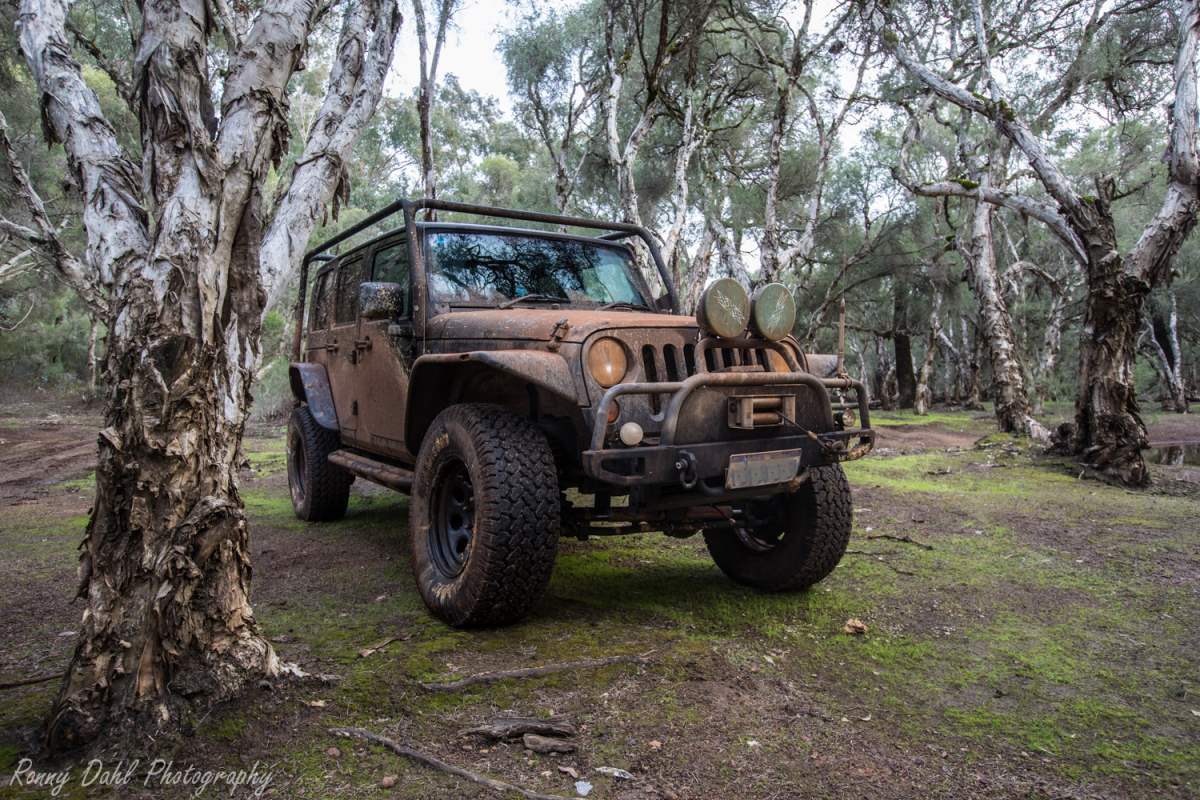 Modified Jeep Wrangler.
#2 a comp truck, purposely built for competition off roading or hardcore 4x4, this type of vehicle is usually unlicensed and would require a trailer to be transported around unless you have obtained a permit.
Hardcore comp trucks are not allowed in most places, state forests, national parks and general highways. They are really only allowed on private property's and competition areas.
Hardcore 4x4 Modifications.
The 5 main areas that will need attention here are:
Suspensions 4x4 lift kit
Bigger tires and wheels
Bar work or armour
Traction aids (diff lockers)
Snorkel
---
#1
The 4x4 lift kit would be anything from 2inch to 4inch, keep in mind that a 2inch lift (50mm) is street legal, any bigger you would need an engineer to sign off and install a compliance plate.
Any higher than a 4inch lift will attract cops and it's only a matter of time before you would receive a notice to get it fixed, sticking to 4inch or less you should be safe, but as stated above you should really get it approved by an engineer if higher than a 2inch lift.
For more detail see Lift kits & Suspension.
---
#2
Bigger tires is the only way to raise the lowest points of the 4wd up, if the 4wd is an IFS (independent front suspension) then it will be limited significantly as to how much bigger tyre size can be fitted, if the vehicle is a live axel setup front and rear then the tyre size choices are greater.
If fitting a tyre size more than 3 sizes bigger than stock (stock was 29inch now it's a 32 inch) then regearing the final gear (which is the differential) may be required. The reason for this is fitting a larger wheel diameter will cause the engine to rev less at the same speed as opposed to the stock size.
The bonus is it can improve the fuel economy but only really for highway or freeway driving, the flip side is at low range gearing 1st gear will roll faster which means it's harder to crawl over rocks, applying the brake constantly on hill descents and a lot more wear and tear on the clutch.
For more information see Tires & Wheels.
---
#3
Steel bars and bash plates are a must for a hardcore 4x4, bull bar being the number one item, brush bars, rock sliders, rear bar and bash plates will all be highly recommended, some would say required I am one of them.
A hardcore 4x4 are setup to be driven over rocks, deep ruts, logs you name it should be protected for it.
For more detail on bar work and armour click here.
---
#4
Traction aids (diff lockers) are what really make the capable 4wd into a hardcore 4x4 combined with the rest above (1-2-&3).
Differential lockers used correctly will help prevent drive line damage when the rough gets tuff, when opposing diagonal wheels are both off the ground at the same time with no momentum the 4wd is stuck with the lifted wheels spinning basically rendering the vehicle disabled.
If the 4wd is fitted with diff lockers all it takes is a flick of the switch and the diff will then lock both axels/wheels forcing them to spin at the same rate, causing the stuck/disabled vehicle to move on.
For more info see Diff Lockers.
---
#5
Snorkels are a must as you never really know how deep that mud pit is, this type of 4wd setup will be expected to venture through mud more often than not. A tuff truck like this will be begging for mud.
For more details on Snorkels click here
After the main modifications.
Once the suspension, tires, bar work, diff lockers and the important snorkel have all been installed, then it's time to turn to the other items that will make your hardcore 4x4 even more capable.
Next area should be self-recovery capabilities such as a winch. There are 2 types of winch options for this type of 4wd setup:
Standard winch (single speed, slow only)
Competition winch (double speed, slow or fast)
It's only really the speed that's the difference.
Along with the winch installing some heavy duty recovery plates under the front bull bar and a rear bow shackle or hooks (the tow bar is NOT a recovery point).
To top off the hardcore 4 wheel drive will be engine mods and lighting.
Engine modifications could be anything from boosting the current engine to a complete conversion.
To enhance the current engine you could add a performance chip, upgrade the exhaust system, super charge, turbo charge or other high tech performance options like LPG injection etc.
Lighting for this type of setup would involve flood lights more than spot lights, lighting like rock lights, roof flood lights or LED bar lights would be the sort after lighting.
For more info on Winches, Recovery Points, Engine mods and Lighting click on the links.
Jun 10, 21 03:26 AM

Exercise and fresh air is very good for kids. Combine camping with kids and it gets even better.

Jun 10, 21 02:51 AM

If you're in the market for Camping tents there are plenty of options ranging from cheap to expensive and big - small. Depending on what type ....

Jun 10, 21 02:30 AM

When camping in the bush or on the beach, camping showers can even be mounted inside the engine bay...
---
Leave Hardcore 4x4 And Go To Home Page.
---