Rock Sliders, Bar Work and Armour
for your 4 WD.
Bull Bars, Rock Sliders, Brush Bars, Rear Bar, Roll Cage, Bash Plates.
4 wheel drive hardware like these are essential in protecting off road vehicles. Some could be considered must haves and others not necessary but very useful to have.
The bonus is really tough protection. The down side is the weight.

Bar work and armour Don't only offer protection it also serves as a place to mount other accessories such as aerials, sand flags, lights, wheels and many other items.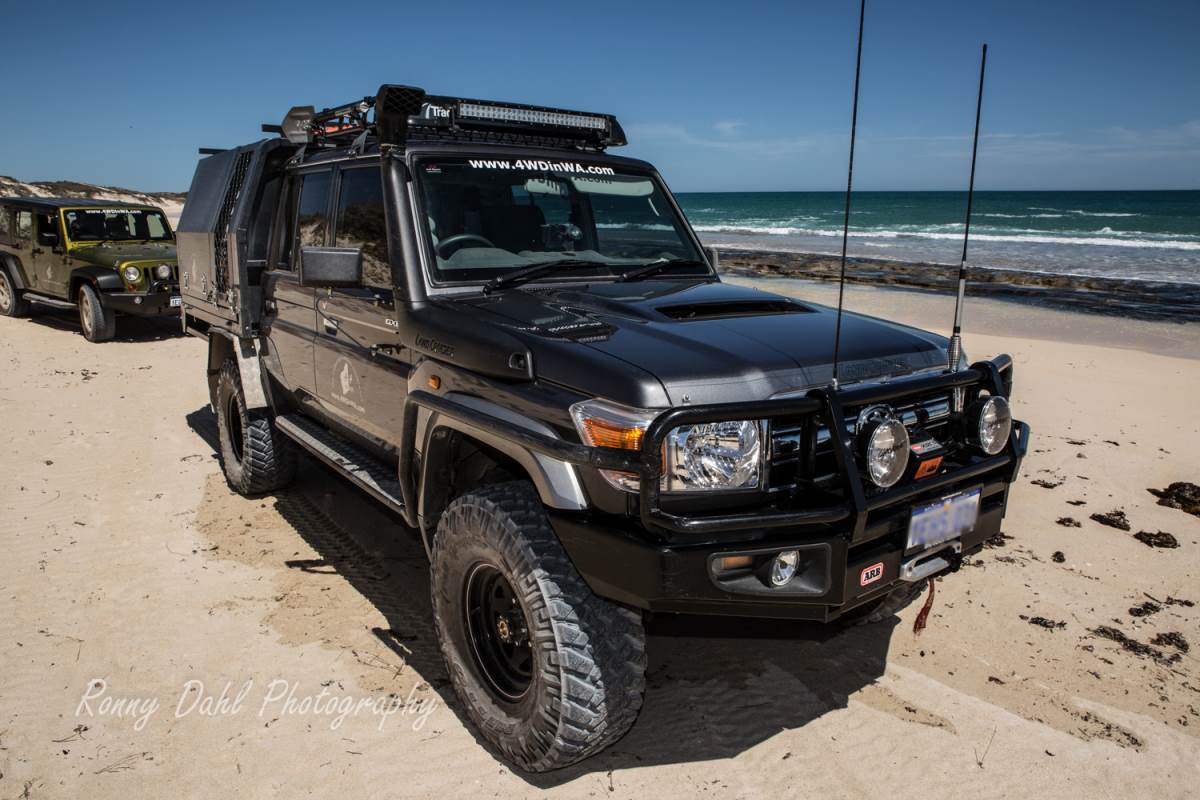 Steel bullbar, brush bars, and rock slider side steps on 79 Series LandCruiser.
Steel vs. Alloy:
One is heavier than the other, Steel is strongest but obviously it's also the heaviest.
Alloy is lighter, cheaper and a lot weaker. Don't be fooled too much by the weight as for example an alloy bull bar is lighter but not really that much more lighter compared to steel this does depend on which brands are compared, so just be aware some alloy bull bars have so many layers or really think sections to make up for its weakness, but at the end alloy is still weaker than steel and are close to the same weight (within 10-15 kg).
Steel can be welded by anyone that knows how to weld. Alloy on the other hand requires specialized welding and equipment which is not as common as steel welding. It's also more expensive to get done.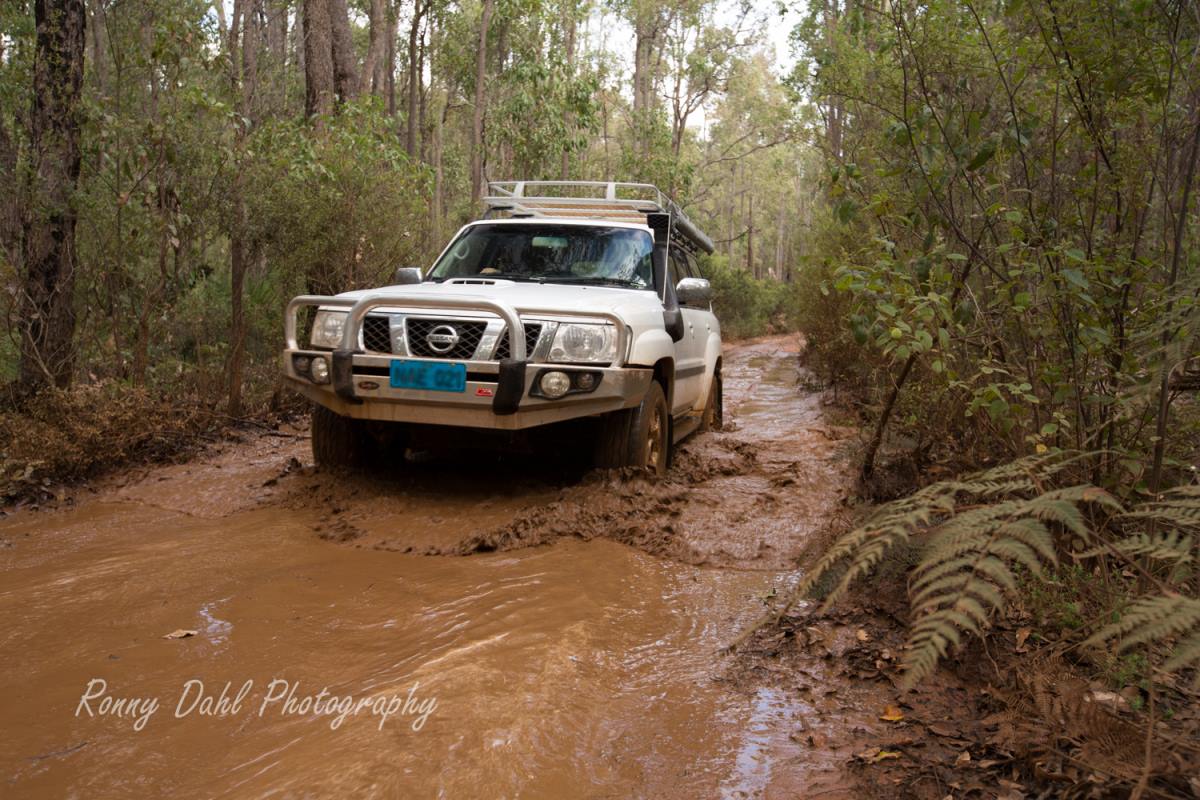 Alloy Bull Bar On A Nissan Patrol.
---
Bull

B

ars:
The most important protection to any 4wd, these will dramatically increase the chance of saving occupants lives when or if an animal strike happens.

The factory bumper would just crumble on impact ending a trip, holiday or at fast highway speeds it could very well end lives.

Steel bull bars offer the best protection, they are heavy but it's worth it. Alloy bull bars are lighter but at a high speed they won't offer near the same protection.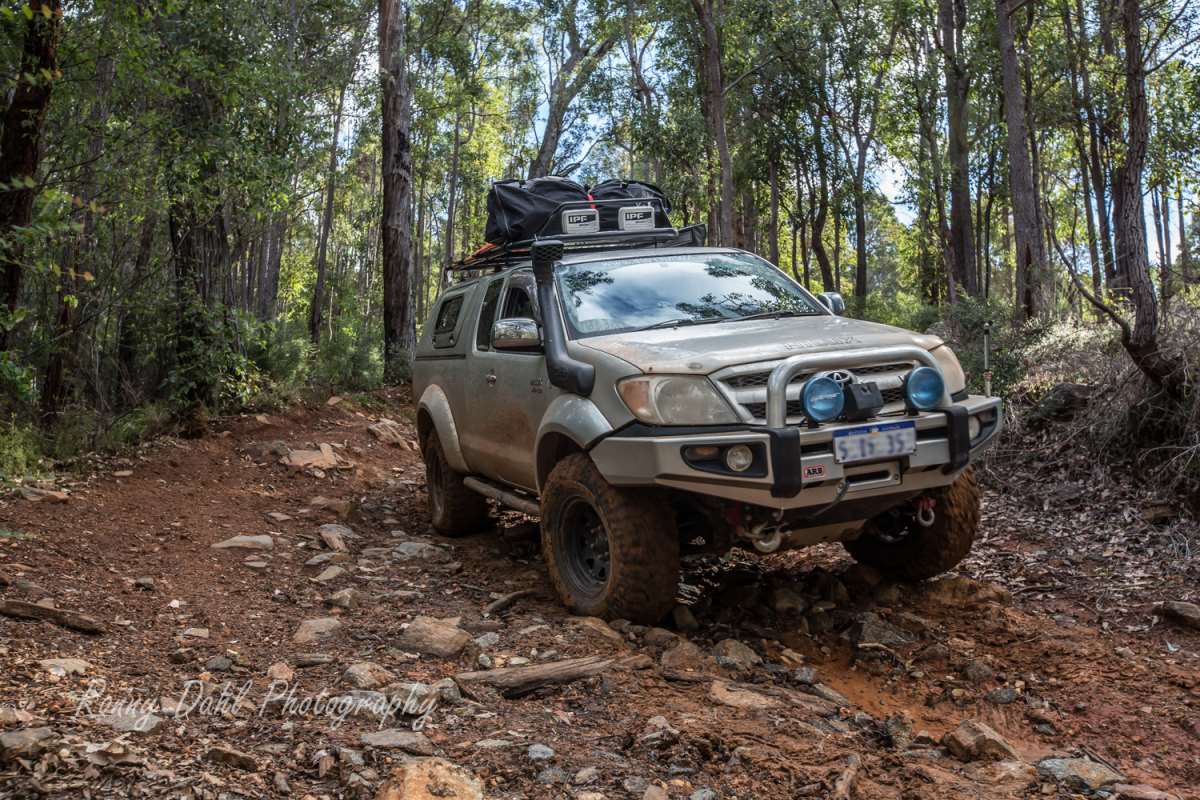 Deluxe steel bull bar on a Toyota Hilux.
---
Types of Bull Bars:
There are many different shapes, sizes and proposes.
---
Commercial or Fleet Vehicle Bull Bar:
The most common is the 3 loop/hoop commercial bull bar, black in color with hoops protecting the head lights and a couple of mounting points for aerials and lights.
---
Deluxe/Premium Bull Bar:
These are a usually a slightly heavier than the commercial bars and offer more options, color coding and have more style and looks about them.
---
Bull Bar with one or no loop/hoop:
These are more for looks and style however they still offer great protection, the exposed parts of the 4 wheel drive will be the headlights, so if an animal strike should happen expect one less headlight.
---
Trail and Competition Bull Bar:
The first one that comes to most people's minds is the Xrox bar, a light weight bull bar with maximum approach angle but limited space for lights and aerial whips. These are great for hardcore 4 wheel driving but protection against animals strikes is limited compared to the larger steel bull bars.
---
Winch Bull Bar:
Most types of bull bars will have the added option of a winch compatible version, If you think there is a chance that one day a winch will be fitted to the 4wd, then a winch compatible bar would be a good idea to get at the start.
---
Full Front Coverage Bull Bar:
This type of bull bar looks very similar to what the road trains are equipped with. Tuff bars makes this type, these are hardcore and would withstand multiple strikes.

Items that get mounted to most Bull Bars:
Aerials (including UHF, HF & AM/FM radio), sand flags, spot lights, rock lights, winches, recovery points, fishing rod sleeves and LED bar lights.
---
Rock Sliders and Side Steps:
There is a big difference between Rock Sliders and Side Steps.
Rock Sliders:
Rock sliders are for literally slide over rocks and protecting the body of the 4 wheel drive from impact also the rock sliders are made so strong that the entire weight of the vehicle can rest on the rock sliders.
They are usually made to an angle and protrude out level with the tires, this construction will prevent damage to the side of the 4wd if it should slide sideway into the side of the track (all it takes is a deepish rut, happened to myself twice the rock sliders saved my 4wd from thousands in repairs) rock sliders will also improve the clearance and ramp over angles.
---
Basic Side Step:
A side step is basically just a step if it's the alloy type don't expect it to even hold up on sand let along rocks. They bend so easy and offer false sense of protection.
When bogged in mud or sand they hinder recovery, it's just another flat surface to get stuck and they hang lower than the vehicle body decreasing clearance and the vehicles ramp over angle.
---
Tough Side Step vs Rock Sliders: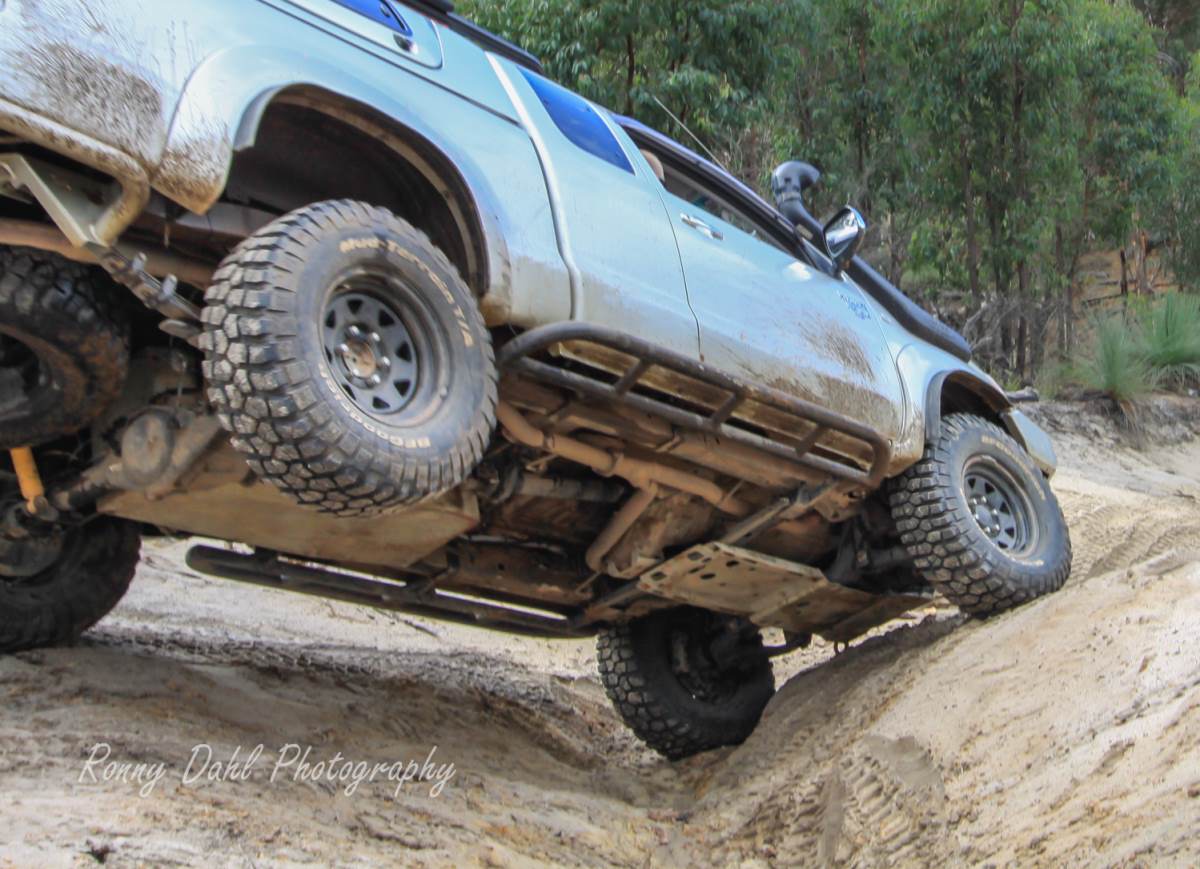 Rock sliders and underbody bash plates on Toyota Hilux.
There are strong heavy gauge side steps available, these are still not as strong as rock sliders but as long as they are mounted on the chassis rail they will do the job in most cases. In mud they are a disadvantage as the mud will create suction due to the flat surface.

Brush bar are usually attached from this type of side step to bull bar, this combo will offer good protection to the entire front half of the 4wd.
---
Rear Bars:
Protects the 4wd from side, rear and even the underside from damage. These are very handy even driving over rock steps or misjudging the departure angle on steep slopes.

There are different types of rear bars, some that just protect the rear, some that are just for carrying spare wheels and jerry cans or some that do both.

Hanging a spare wheel off the back is a good idea if the spare is currently under the 4 wheel drive, if you need to change a tyre on the tracks it can be a real battle to retrieve the spare if it's underneath, having it hang off the back makes it very easy to get to.

Most rear bars made to carry a wheel can house two unless the wheels are too big, the tyre size limit for carrying two would be around 33 inch in diameter, and any bigger can be a struggle.
Then there is the jerry can wheel combo as well, there should be enough room for a total of 20l on the back.
Keep in mind that every time the rear tail gate on a Ute or rear barn doors on a 4wd wagon will need to be opened & closed, the swing away arms on the rear bar (holding the spare/s) would need to be opened and closed as well.

Other accessories to mount on the rear bar can be a work light which can be on a telescopic pole for lighting up a camp site or work light in the bush.
UHF and or HF aerials, revering flood lights (for improved visibility), water tap (if a water tank is on board), spare wheels, spare fuel and even a high lift jack.
---
Bash Plates:
Offering amour for the underside of the 4 wheel drive, this is where the most vulnerable parts of the vehicle is. Fuel tank, diffs, gear box, transfer case, oil sump and everything else between, if any of these gets damaged or punched the vehicle could be disabled, this is why even factory stock 4wds come standard with a small engine oil sump bash plate, although they don't offer the same strength as aftermarket 3-4mm steel plate they do still help.

After market bash plates come in many different shapes and sizes, some offer single plates and others offer a complete bash plate kit covering from oil sump back to the edge of the transfer case.
FJ Cruiser with front bash plate, rock sliders and steel bull bar bull bar allowing for an increased approach angle.
If 4 wheel driving a lot it would be wise to upgrade the factory bash plate to at least an aftermarket single plate, if doing a bit of hardcore 4 wheel driving then maybe a full kit will suit better.

You will be surprised of the amount of stuff that hits the underside of a 4x4 on the tracks even when being very careful.

There are even bash plates available for the wishbones (the lower control arm on an independent front suspension vehicle).

Differential guards are also available, for some makes and models there is a bolt on or around the original diff, these are very strong. Another type bolt around the axel with U blots and looks like any other bash plate as it hangs directly under the diff, be very careful with these. As I have heard horror stories about these plates spinning around and cutting brake lines. 
(I had one myself once and it acted more as a scoop than a bash plate, after going through a mud hole it collected mud until it forced itself around the axel and almost severed the brake lines, in my opinion it's a very poor design).
---
Roll Cages:
For full protection on the hard-core tracks, competition off roaders install roll-cages, these can be internal and even external. They are all custom made.
Internal cages are very similar to the ones race car drivers use, they create a steel frame which wraps around the driver keeping him/her safe but the vehicle is not protected in rollovers.
External roll cages on the other hand are made to wrap around the entire 4 wheel drive keeping the vehicle and the driver safer in the event of a rollover.
---
Nov 21, 23 07:40 PM

On this page we cover 4x4 off road tracks within a 250 km radius from Perth...

Nov 21, 23 07:35 PM

Jurien Bay 4x4 tracks info and general information about the area...

Oct 10, 23 09:31 PM

This caravan park is very clean. The ablutions are spotless. The washing machines are free but need to keep them clean. Easy parking for big rigs and if
---
Leave Rock Sliders And Go To Home Page.
Go To 4WD Parts & Accessories.
---