Some very important things to know before you take your 4x4 vehicle off-road for the first time are mostly about your actual vehicle!
Here are some things you MUST know about your 4wd vehicle and a few how to 4wd tips.
Engaging 4WD:
One of the most important things to know about your vehicle is how to engage 4WD.
Surprisingly it's not so simple if you have never done it before, every vehicle make and model has a different way to engage 4wd.
Most can be shifted from 2WD high range to 4WD high range while moving at any speed but not all vehicles can so be careful and read your owner's manual!
Then you also have shifting to 4WD low range (lower gear ratios), this has a very different procedure again. Most vehicles will require the 4WD vehicle to be stationary and to be in neutral gear (especially automatic vehicles), again read your vehicle owner's manual to ensure its done correct!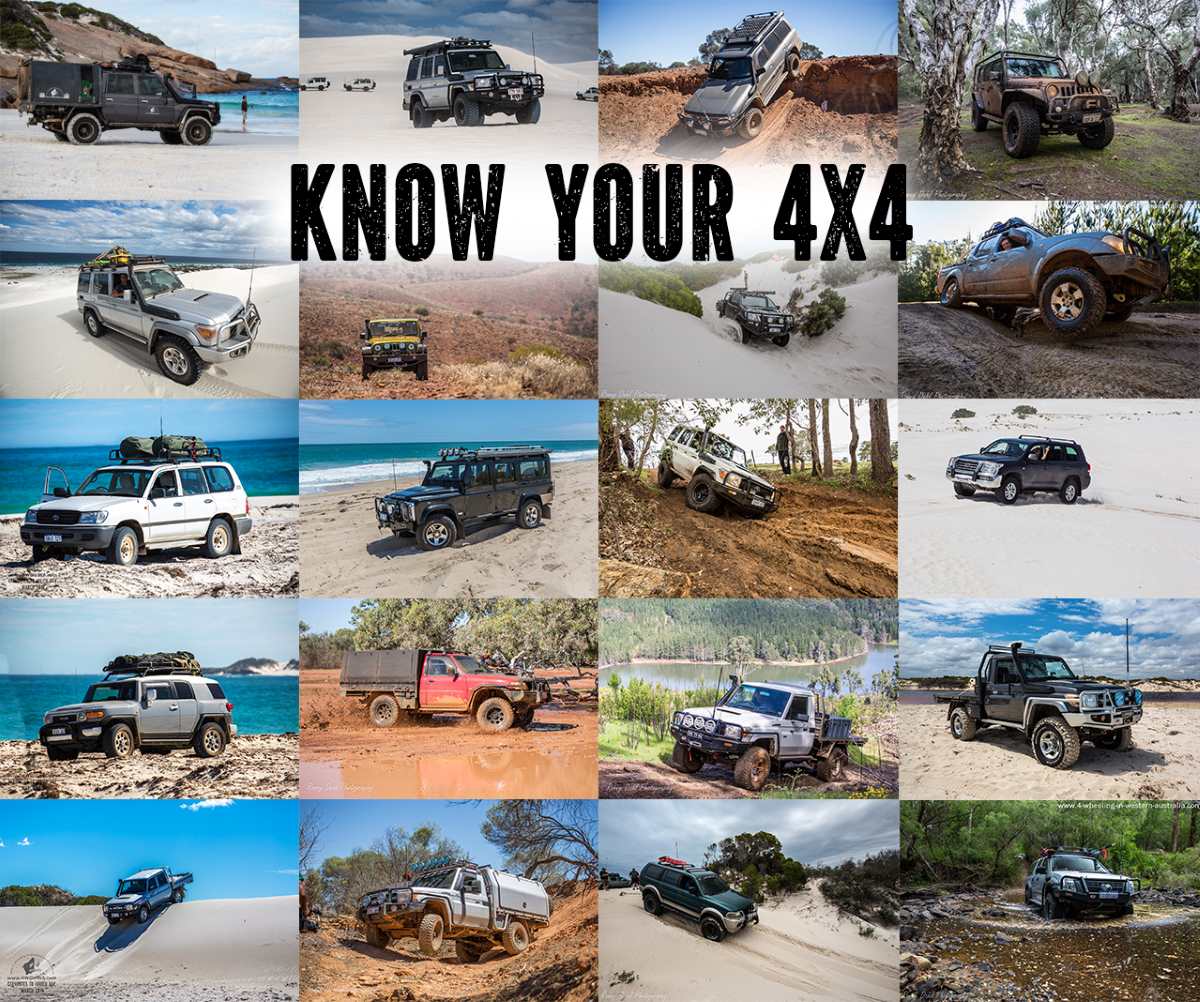 Locking The Hubs:
Does your 4x4 vehicle have auto locking hubs or manual hubs? Hubs are what lock the axel to the wheels allowing drive to the wheels.
Auto hubs are engaged when 4wd is selected inside the car, but this is very different with manual hubs as they need to be switched/turned by you!
If you select 4wd with the lever or push button from inside the car without locking your manual hubs you will not be in 4wd!
However if you leave the hubs locked when selecting 2WD you will disconnect 4WD and its okay to drive around with the hubs locked, it won't damage your 4x4 vehicle. In fact some manufacturers recommend locking the hubs now and then in 2WD if the 4WD system has not been used for a while.
For more on Hubs see Drive Train: 
---
See our video "Know Your 4x4".
---
Is you 4x4 vehicle a Part time or Full time 4 Wheel Drive?
Part time 4wd is when you have to actually engage 4wd in order to send drive to all 4 wheels, whereas a Full time 4wd will have all for wheels acting as an 'all wheel drive' AKA 'AWD' (for more in this see 4WD vs AWD  and to get true 4x4 you will need to select 4WD from the vehicle or in some make and models it's called locking the centre diff.
Without doing this you are just in all wheel drive which does not work in rough conditions and soft sand. Only true 4x4 will work in real off-road situations.


---
Does you 4x4 vehicle have Traction aids?
Most Traction aids were designed for on road use only, such as electronic stability control (ESC) which can hinder you 4WD,s ability in off-road situations, especially in sand.
If you have trouble try switching it off and you will be surprised how bad it can be.
However remember each time the car is switched on and off you will need to switch the ESC back off as its part of the automatic safety features.
Other traction aids like Diff lockers are on the other hand secret weapons for any off-road situation, nothing can beat diff lockers when it comes to off-road traction aids.
For more info on diff lockers and how they work see here 'Diff lockers'.


---
Where is the air intake and breathers?
First up the location of the air intake is super important if you encounter a water crossing, it will determine how deep and how fast the 4wd can go through water before risking sucking in water which will kill the engine once and for all!
If you don't know I'd suggest staying away from water until you have a snorkel fitted.
Another important part to think about is the location of differential, gear box and transfer case breathers.
These breathers regulate atmospheric pressure inside the casings but when submerged in water they are known to suck in water, this happens when the hot diff housing contacts the cold water which rapidly changes the pressure inside the housing.
Find out how low they sit and this will give you an idea of the safe water depth your 4x4 vehicle can handle without problems.


---
Knowing your 4x4 vehicles clearance and angles:
There are 3 main angles; approach angle, ramp over angle and departure angle.
Knowing these angles well will greatly assist in improving off-roading skills. See video for explanations.
The next thing to keep in mind is the undercarriage of your 4 wheel drive, learn which points are the lowest and where anything vulnerable is located.
Keep this in mind when navigating off-road, with a good memory and some practice you could save yourself from a lot of damage bills.

That's about everything covered in regards to your 4x4 vehicle, now get out there and put this to practice...
---