Graham definitely puts the 200 through its paces and is not afraid of the odd few hundred pinstripes from the tight tracks and taking it through those deep water filed holes when there is no other choice.
The list of gear and mods to this Landcruiser is quite impressive and most of the stuff gets used often and has a purpose, some very clever ideas have gone into the roof rack which is the main cargo area for a Landcruiser 200 wagon.
---
     Vehicles specs (NOTE* modded details below):
     Make model:     Toyota Landcruiser 200 Series 
     Engine:   4.5L V8 Twin Turbo Intercooled Diesel
     Drive train:     6 Speed Automatic, Constant 4x4
     Suspension:  Independent Front Suspension, Coil Sprung Solid Rear Axle
---
Graham's mod list for the 200 Series Landcruiser: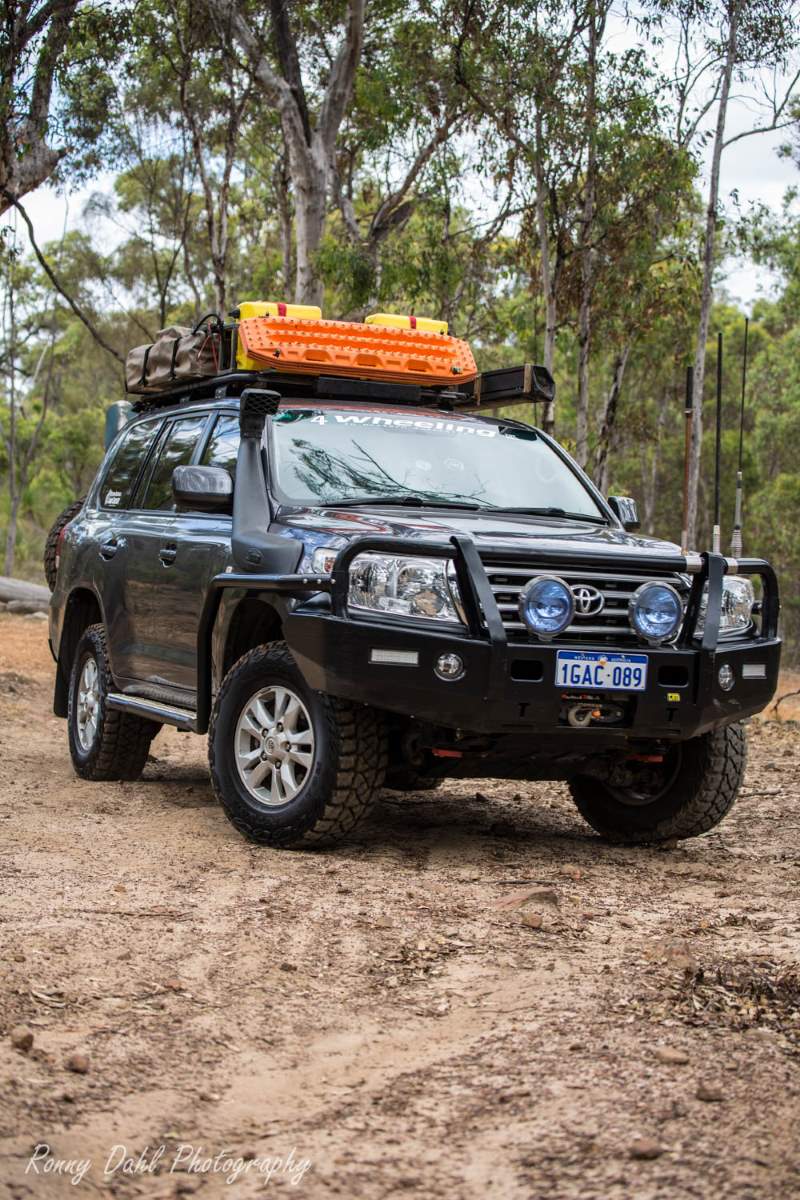 Engine:
·         Fuel Manager 30micron Pre Fuel Filter
·         Twin 2.5" to single 3" Manta Exhaust
·         DP Chip (soon to be replaced)
Electric upgrades:  
·         80AH Aux battery installed under bonnet, with Piranha Isolator/ Charger.
·         120W Solar Panel with Redarc 10A Regulator
·         240V Circuit to run fridge & charge Aux battery when at home or in caravan parks.
·         50L Ironman Fridge (runs full time)
·         600W Pure Sine Wave Inverter
·         Xantrax Battery Monitor
·         Numerous other additional accessory points
·         Richards Auto Electrics Torque Converter Lockup Kit
·         Scangauge II OBD Reader & Display
---
Lights: 
·         Low Beam – Standard Halogen
·         Hi Beam – 35W HID X-Ray Vision Kit
·         Spotties – 60W HID X-Ray Vision 220 (both pencil)
·         Light Bar – Roof Mounted 20" 120W (cheapy)
Comms & GPS: 
·         2x UHF (Uniden, running 3db antenna & GME, 6db antenna)
·         RFI Mobile Phone Antenna (waiting for cradle)
·         Iridium Satphone Kit
·         Spot Messanger 3 (GPS Tracker)
---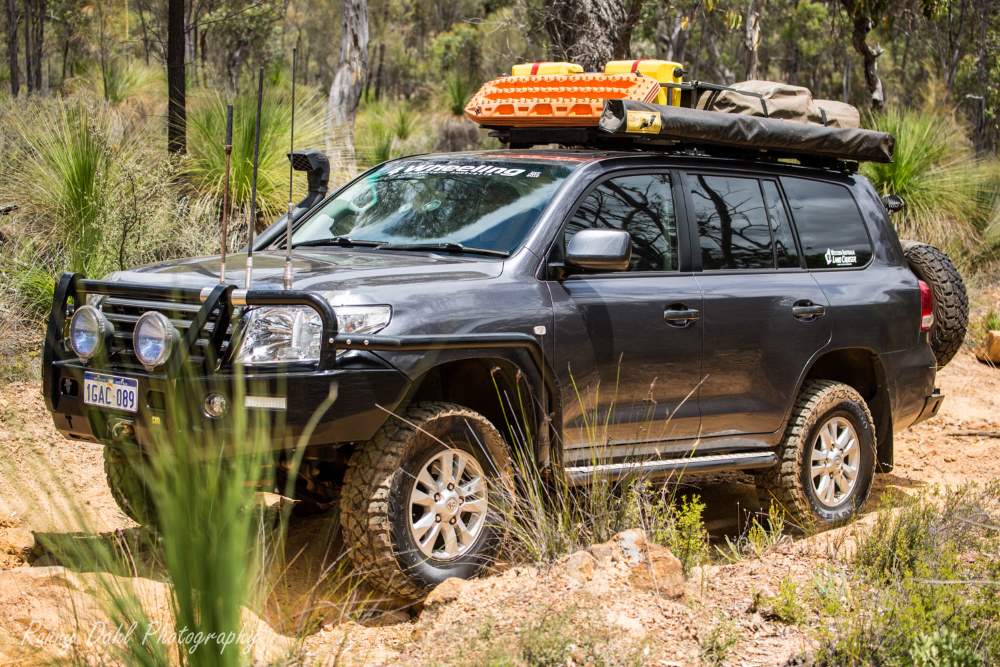 ---
Suspension and tyres:
·         Front – Dobinsons GVM Upgrade Springs with Ironman Foam Cell Pro Shocks, Superpro Upper Control Arms & Roadsafe Diffdrop Kit giving 3" Lift
·         Rear – Dobinson GVM Upgrade Springs with Ironman Foam Cell Pro Shocks & Firestone Coil Rite Airbags with High Pressure Sleeves giving 2" lift
·         GVM Upgraded from 3300kg to 3600kg
·         Kuhmo MT51 mud terrain/ aggressive all terrain in a 285/70/17
Bar work and exterior mods:
·         TJM T13 Deluxe Front Bar with Ironman 9000lbs winch (soon to be replaced with Carbon Winch 12000lbs)
·         TJM Scrub Rails & Side Steps
·         Ultimate Strongarm Rear Bar, carrying 2x spares, work light, fire extinguisher, shovel & hi lift jack.
·         180L Long Ranger Aux Fuel tank (gives 270L total under vehicle)
·         Tracklander 1.8x1.2m Flat top Alloy Roofrack
·         Eeziawn 270 degree Batwing Awning
·         Aventa (previously Boab) Featherlite Rooftop Tent
Back of the wagon/ute: 
·         Outback Accessory Rear Drawers & Cargo Barrier
·         Dunn & Watson Tilting Fridge Slide
·         50L Ironman Fridge/ Freezer
·         ARB Twin Air Compressor & ARB 4L Airtank
·         Cutlery Holder
---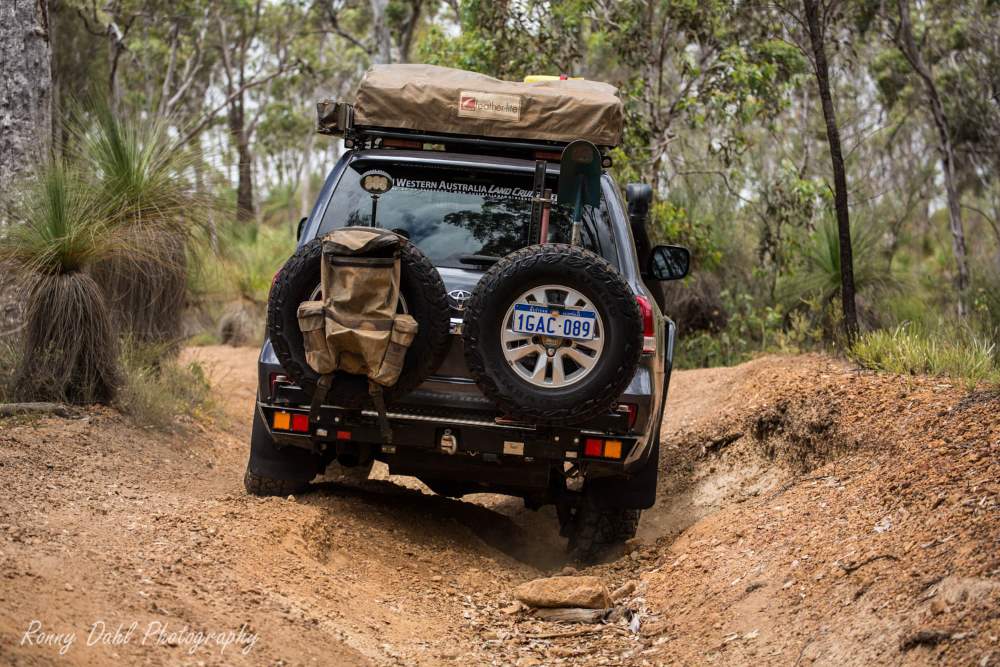 ---
Recovery gear: 
·         4x Maxtrax
·         Hi Lift Jack
·         Long Handle Shovel
·         Snatch Strap
·         Equalizer Strap
·         Rated Points Front & Rear
·         9000lbs Winch
·         Winch Extension
·         Winch Block
·         Tree Truck Protector
·         Leather Rigging Gloves
---
Graham's top 3 trips in the vehicle:
Ayres Rock, West Macdonald Ranges, Lake Eyre Trip September/ October 2016
Yeagarup, Callcup & Warren River Long Weekend March 2016
Murchison Offroad Adventures April 2016
---
Unstoppable moment in the 200 series Landcruiser:
I had never been to Yeagarup or Callcup before, I had just purchased the 200 series, so with 7 other cars we headed down for an explore, as the organiser/ planner/ route maker I tend to be up the front,
it was daunting arriving at the bottom of Callcup for the first time.
I was pleased to make it on my first attempt & then watch as some of my friends made it with ease & some took a couple goes, the laughter & humour at camp that night was great.
---
Most scary situation in the 200 series Landcruiser:
We went out for what was meant to be a quick day trip along the Captain Fawcett Track, I was leading the group of 6 when I went to avoid a bog hole, before I knew it the front had slipped in & the back was following.
I went to reverse out whilst doing so I heard a big bang from under the car & lost all drive, after a double line winch pull with 2 cars anchoring we got the 200 out & assessed the damage,
unijoint destroyed & a massive split through the transfer case.
We got it mobile & towed it to the closest road, before using a mates truck to get it back to Perth.
It appears the front uni let go first, which in doing so the shock of it unloading caused the chain in the transfer case to come off & make short work of everything inside the transfer.
---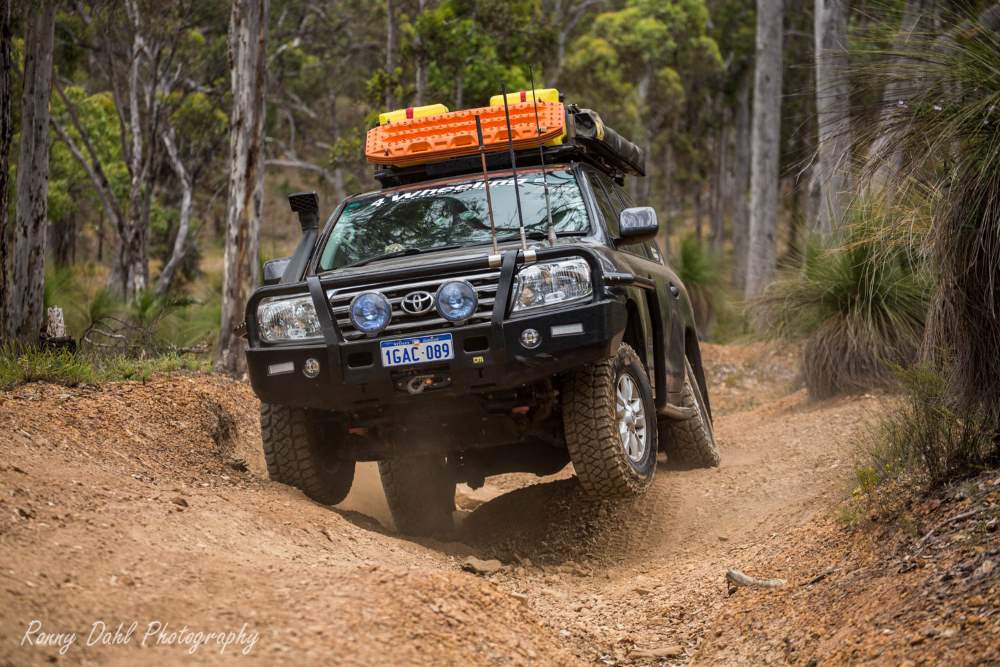 ---
Graham's modification tips for the LC 200 : 
Research Research Research.
 I was fortunate to learn it with a previous car that the poor man pays twice by opting for cheap stuff rather than investing & getting quality gear, do your research, talk to people with experience & make informed decisions.
Getting accessories & modifying a 200 series Landcruiser (any car really) can be costly, you don't want to be spending your hand earnt dollars twice.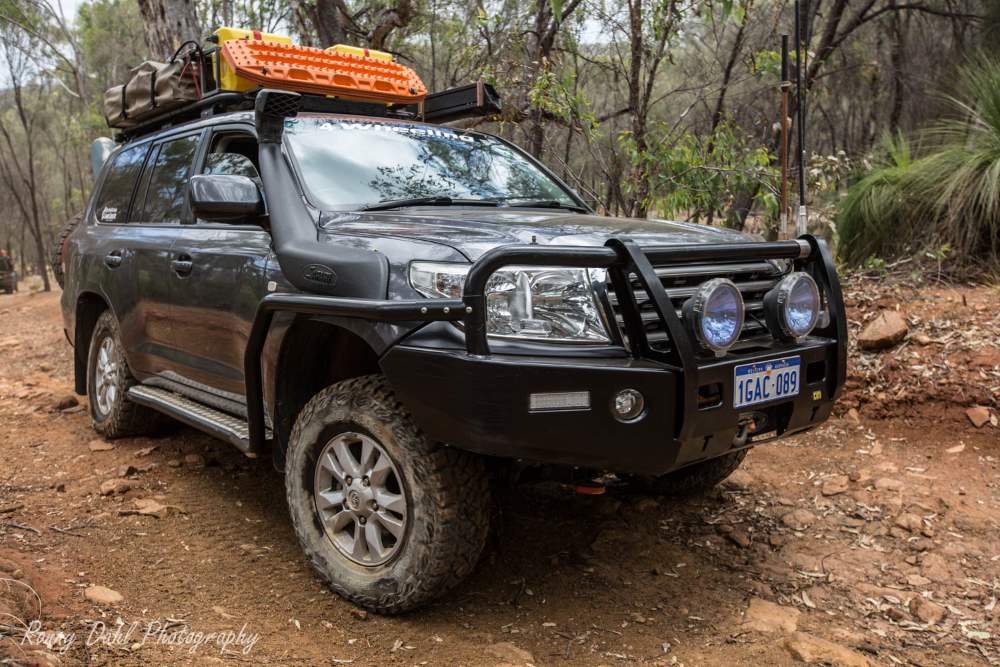 ---
Things to lookout for with this model vehicle:

Dust Ingestion to the airbox & inlet piping, the seal around the airfilter doesn't seal the best & lets dust into the clean side of the air intake, use a strip of foam tape or o-ring grease to create a better seal.
Oil burning on early (07-09 diesels) most have been fixed under good will by Toyota, just be aware when buying second hand.
GVM & going over weight, once you add a couple basic accessories (bulbar, winch, aux battery, fridge & some gear for a trip you'll be very close to the factory GVM
& you may not even have passengers in the vehicle yet or the trailer hooked up.
Do some basic calculations & determine if you may need a GVM upgrade or not.
---
Top 3 tips with the 200 series Landcruiser:
1.      2nd fuel filter/ water catch/ water alarm, it's the best prevention to some serious damage & serious repair bill
2.      Torque Convertor Lock Up Kit – it is an underrated modification, but its proven to be the best modification I've done to date & the myth its only for towing is wrong, because I don't tow with mine.
3.       Lift kit – it corrects the body roll & handling 10 fold without compromising the comfort either, if your going 2" or higher I highly recommend upper control arms to correct your wheel alignment (again they alone made a noticeable improvement to the way it drives.
---
The Modified Video.