Another Toyota on 'Modified' and this one being the first 1998 Toyota Land Cruiser 105 Series to be featured this far.
The biggest difference between the 100 to the 105 series Landcruiser is the engine and front axle/suspension setup. 100 series having better motor options and the 105 having a stronger & solid front axle.
Juha has done an engine transplant to this 105 series landcruiser and now has a Turbo diesel with solid axle!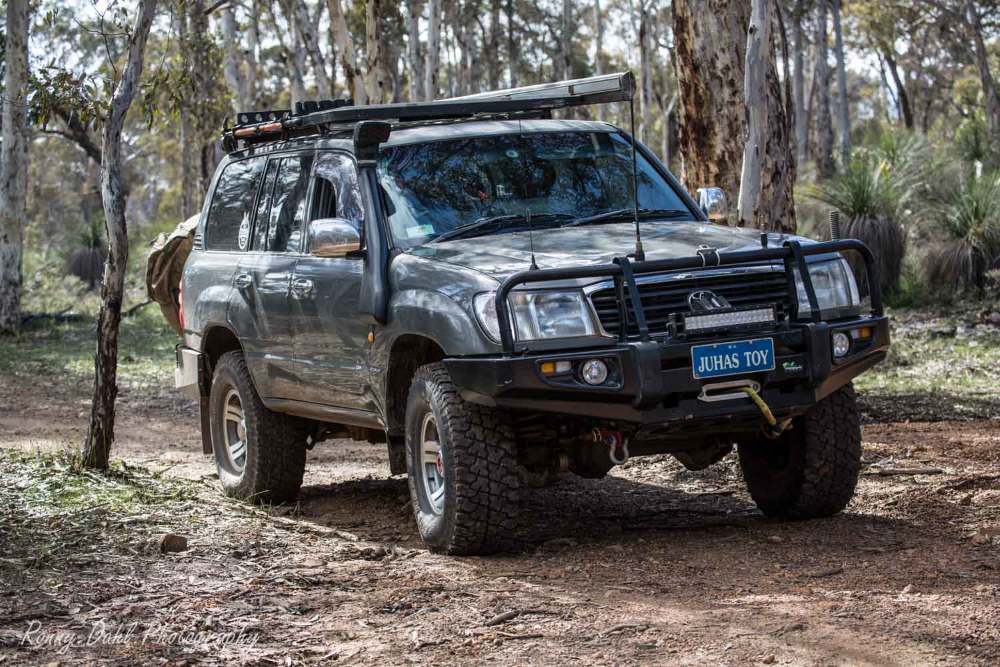 Click Any Image To Enlarge Or Open Photo Album.
But wait there's more… heaps more in fact! This 105 series Landcruiser is setup as one hell of a reliable rig.
The 105 is mainly setup for touring with his family but Juha also has no problems putting this truck through tough tracks either. This is Juha's 4th Landcruiser so a lot of thought and experience has gone into this 1998 Toyota Land Cruiser 105 series.
Since this shoot Juha has joined us on an epic trip to the Baxter Cliffs so stay tuned for that video.
---
Vehicles factory stats (NOTE* modded details below):
     Make model: 1998 HZJ105 RV (Build July '98) First introduced in March '98.
     Engine:  1HZJ 6 cylinder Diesel                  
     Drive train:   5 Speed manual R151F
     Suspension: Coil front and rear
---
Juha's mod list for his 105 series 1998 Toyota Land Cruiser:
Engine:  
·         1HDFT factory turbo (engine Transplant from Japan)
·         ASE intercooler
·         H/D 5spd box (H151F) and Exceedy H/D clutch.3" Mandrel bent custom exhaust
·         Marks Adapters part time kit
·         TJM Pro Lockers front and rear.
Electric upgrades:  
·         Dual Batteries, (140A),
·         80W solar panel and PV charge controller.
·         300 w Powertech Inverter.
·         After market gauges, dual batt monitor, water temp, boost, egt, oil temp and oil pressure.
Lights: 
·         Brite Lite 20" light bar.
·         Dual row spread and spot beam.
·         Rear Cat LED work light.
Comms & GPS: 
·         27mhz, 40 Ch Pearce &Simpson,
·         GME Tx4400 uhf 40 Ch.
·         Radio's in an overhead console from the Department of the Interior.
·         Polaris in dash gps,
·         On road and Ozi Explorer off road mapping.
Suspension and tyres: 
·         Tough dog 2"H/D coils and 9 stage adjustable shocks,
·         RTC Steering Dampner.
·         Toughdog adjustable panhard rods, front and rear.
·         Superior Engineering Superflex control arms,
·         35" (315/75R16) Cooper ST's
·         16 x 8 Speedy Wheels Renegade Alloy rims.
---
Bar work and exterior mods: 
·         Commercial Deluxe Ironman bullbar.
·         Powerful 4x4 Rear Dual swing away tyre carrier.
·         Wind Cheetah flat roof rack with a Red Centa awning,(2.5 x 3mtr),
·         Snorkel.
Back of the wagon: 
·         Custom rear draws,
·         Platinum fridge slide,
·         Milford cargo barrier,
·         75 Ltr Auto fridge.
Recovery gear: 
·         Dominator 12000lb Winch with Dyneema rope,
·         Snatch straps etc.
---
Juha's top 3 trips in the 1998 Toyota Land Cruiser 105 series:
Cheynes Beach
MOA (Murchison Off Road Adventure Park
Pemberton
Unstoppable moment in the 105 series:
The powerlines track from Sawyers Valley. Weather its swimming through windscreen deep mud or climbing near vertical rock faces, the old girl eats up everything I point it at.
---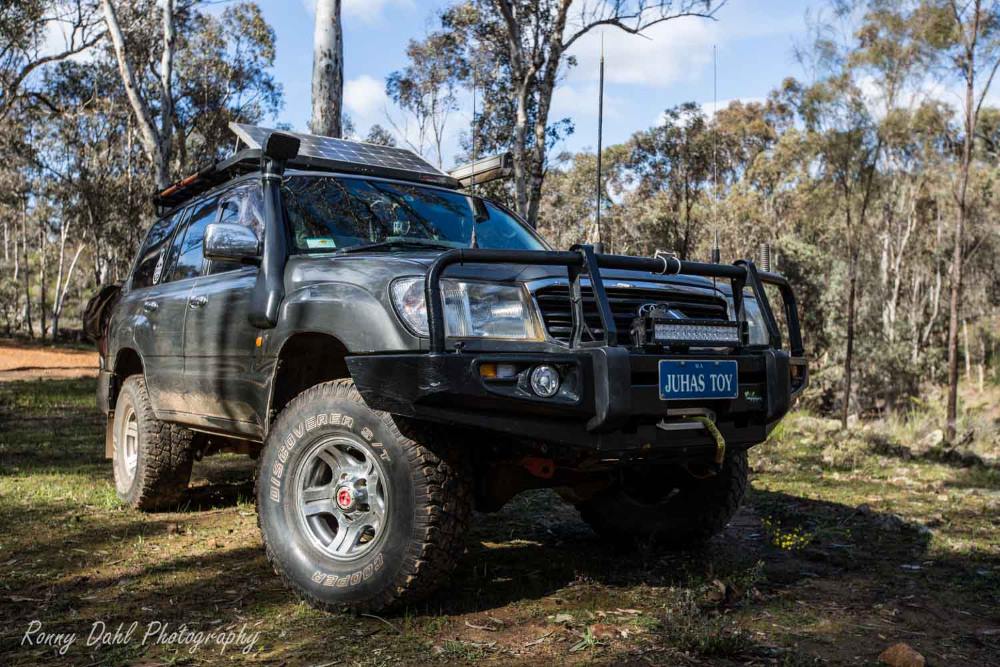 Most scary situation in the 1998 Toyota Land Cruiser:
There hasn't been a scary situation off road, (yet). The old girl is as sure footed as a mountain goat. On road yes, recently.
Heading north to Denham with the family, camper trailer in tow, on the Indian Ocean Drive north of Leeman driving around a blind bend, was confronted with a F250 overtaking a Landcruiser heading south.
Nowhere for me to go but bush, (at 100kph). Power slide along the gravel edge completely off the highway.
---
Juha's modification tips:
Be prepared. When you modify one thing on your 4wd, you generally have to correct three other things to make it work. Specifically suspension and driveline.
Top 3 tips with Toyota Landcruiser:
    Good quality 2" lift. Spend abit more on quality. Saves you in the long run.  
    Underslung spare tyre. Get it out from under there ASAP. Front and rear bar work.
    Good set of all terrain tyres.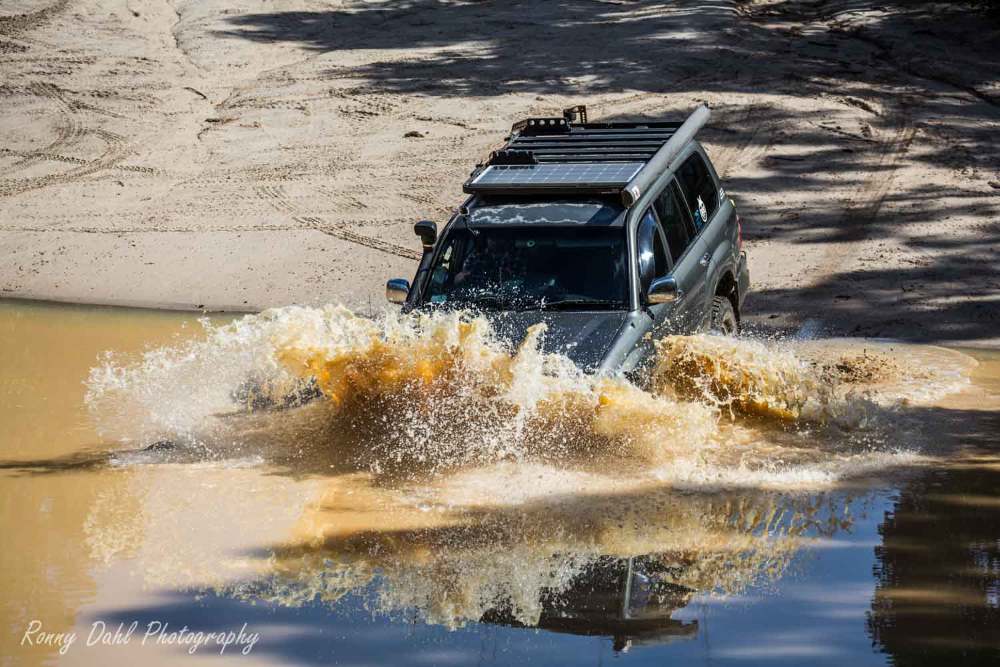 ---
Things to look out for if buying one:
Ex miners. Unless you are 100% sure on its history, steer clear of them. Most will be poverty packs.
Best mod/s you have done and why:
      Engine transplant: Extra power on tap, piece of mind with a factory turbo as opposed to modified 1hzj.
      Part time kit (gearbox): improved the drivability unbelievably. Much more relaxed and lightened up the steering heaps.
---
What made you decide to choose this vehicle?
     Always been a cruiser man. The size, (growing family), durability and reputation of Toyotas and of course the unending mods you can do to them.
     Best things about the 105 series:
     With a little TLC, they are unstoppable. Comfortable straight out the box.
     Live axle front end with coils all round is an unbeatable package.
   Worst thing about the 105 series:
     Lack of power in standard diesel form. Had Toyota offered a factory turbo diesel 105 variant, they would still be selling them..
---