Mickey Thompson TTC Baja Claw Radial
by Matt Stock
(Cowra, NSW, Australia)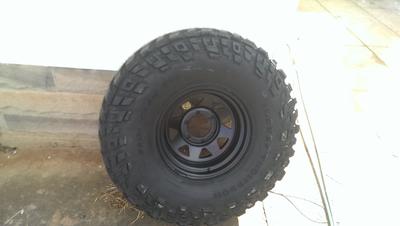 I am running a set of Radial TTC Claws in a 35x12.5" I am now on my second set.


These tyres clean extremely well due to there directional pattern giving you loads of grip on and off-road allowing your vehicle to progress forward.
These tyres have large side biters and grip very well on the sides, I have had cases where even though I have bottomed out, due to the side biters on the tyre gripping the edge of the rut, with momentum having given me enough grip to progress forward.
The strength of these tyres is unbelievable I have dropped them into sharp rocks, sharp logs and sticks, have bounced them onto multiple different objects at various tyre pressures and as of yet haven't had a single puncture.
As for tyre wear and road manners, they do grip the road really well however depending on the amount of 4wding you do regular rotation and balancing is required every 5000 kilometers recommended or the bare minimum every 10000 kilometers.
A set of these tyres obviously depending on rotations and off-road use should last anywhere between 50,000 and 70,000 ALWAYS depending on the lifestyle.