Maxxis Bighorn 762
by Ross Ward
(Perth, Western Australia)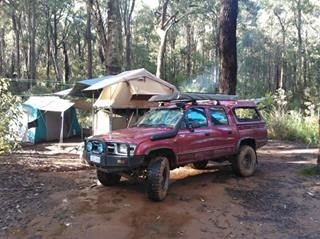 Im running 32x11.5r15 Maxxis Bighorns on my 2000 hilux dual cab.

In my opinion..... Great value for money. They have worn well so far, currently done about 35k on this set and can't see why I won't get the same again.

I have run them at 40psi on road to help with the wear though.

I've driven on all different terrains and the only damage to them is when I spike one down in Dwellingup. 1 tyre and twice. Both holes were through the tread block and both were repairable with a simple plug. That tyre is currently my spare but is still holding pressure.

They are a little noisy at highway speeds, but they are the only set of muddies I have had so I can't compare with other brands, but that is the only bad thing I can say about them.

My tyres are the bighorn 762's the new model is the 764
Join in and write your own page! It's easy to do. How? Simply click here to return to Wheel and Tire Reviews From Readers.
Mar 08, 21 02:16 AM

See The Toyota Prado 120 Grande in the modified episode #38 and watch the video with some clever budget modifications...

Mar 07, 21 11:57 PM

4 Wheel tracks at Pemberton & Warren National Park. Perfect for long weekends or a week long holiday...

Mar 05, 21 02:49 AM

Peaceful Bay is only 50km from Denmark WA and even closer at 24km to Walpole, there is so much to do and see in this South West of W.A. so 4WD tracks are easily overlooked! ...