Y61 Nissan Patrol, Modified.
This featured Y61 Nissan Patrol is a World Tourer all the way from Germany! Fabian and his partner are doing a world tour starting from Darwin Australia to India, central Asia and then across back to Europe.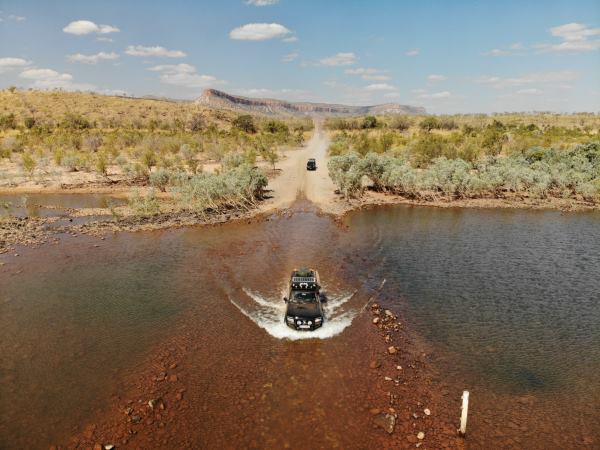 Click Any Photo To Enlarge Or Open Photo Album.
Sorry, Does NOT work on mobile phone.
The way this Y61 Nissan Patrol has been setup is nothing short of being amazing!
Fabian and his girlfriend are living out of this vehicle, in other words it's their house on wheels and only stuff that is necessary is still bolted on this vehicle and has and still is getting tested along the way.
Most travelers that visit Australia would generally stick to the main roads and well used gravel roads. Not these guys! They took the Y61 Nissan Patrol off the beaten track and down the Munja track deep into the middle of the Kimberly all the way to Walcott Inlet which is by far not a walk in the park kind of drive.
I'm really impressed by this build and I'm sure everyone watching this video will get something out of it.
---
Vehicles Specs (NOTE* Mod details below):
Make model: 2008 Nissan Patrol GR Y61 (=LHD Patrol GU IV)
Engine: 3,0 L Turbo Intercooler Inline 4 Diesel CRD (ZD30DDTi) with 160 hp        
Drive train: 5-speed manual with non-permanent 4wd, factory E-Locker on rear axle, automatic factory hubs  
Suspension: OME coils and shock absorbers with 2-inch lift and GVM upgrade to 3.2 tons, factory switchable rear stabiliser.
---
Fabians mod list for 2008 Y61 Nissan Patrol:
Engine:  
·         Bravo Safari style Snorkel
·         HPD oil catch can
·         Fuel Manager pre-fuel filter
·         Upgrade to Outback Accessories long range fuel tank (145 l)
---
Electric upgrades (all modifications and all cabling DYI):  
·         Second battery as "house battery" in engine bay, self-designed custom-made tray - 95 Ah AFB-type (advanced flooded battery)
·         Projecta IDC-25 DC-DC solar battery charger
·         Fixed Yingli 100W Solar Panel (SPYL 100) on roof top tent
·         Foldable Projecta 120W Solar Panel Blanket
·         Blue Sea Systems ST Blade Fuse Box for house battery applications
·         Victron Energy BMV-712 Smart Battery Monitor with Bluetooth
·         Kenwood KDC-X7200 DAB stereo, JBL LC-A504 200w amplifier, Hertz Mille PRO MPX-165.3 100w speakers in the front
·         Switch for turning off ABS
·         Scangauge II
---
Lights (all DYI): 
·         Factory front lights, replaced tail lights (due to modified rear bar)
·         Pair of Fyrlyt Luxsis 5000 Halogen lights (150w per light) for spot and spread
·         4x 50w LTPRTZ LED lights for flood, tracks and working - mounted on roof top tent on self-designed custom-made bar
·         3x 20w Lightforce ROK20 ultra wide flood working lights
·         Multicolor LED-strips inside car under awning
---
Comms & GPS (all DYI): 
·         European CB radio Albrecht AE 6110 Mini-CB
·         Albrecht DV-27 140cm CB antenna on bull bar
·         Garmin Montana 680t GPS with open source maps
·         iPad Mini 4 on Ram Mount with Hema Explorer, Google Maps and several GPS apps with open source maps
·         Garmin inReach Mini SOS and text messenger
---
Suspension and tyres:
·         OME coils and shock absorbers with 2-inch lift and GVM upgrade to 3.2 tons
·         Cooper Discoverer S/T maxx 285/75 R16 on black Brock B17 alloy rims
·         30 mm spacers per tyre for 60 mm offset per axle
---
Bar work and exterior mods (all DYI except for bars and coating/sealing): 
·         ARB Bull bar
·         Re-modified Escape4x4 rear steel bar with spare wheel carrier
·         3x Frontrunner Load Bars
·         AluCab Expedition Generation 3 roof top tent with tie down rings
·         AluCab Shadow Awning 270 degree with additional stands for sidewalls
·         Camp Cover Wheel Bin Safari bag
·         Protective underbody coating and cavity sealing
---
Back of the wagon (all DYI except for window tinting): 
·         Fully DYI storage and cargo system with two HD drawers including fuel stove.
·         Dometic (Waeco) CFX-40 fridge (40 l) on Dometic fridge slide
·         DYI Cargo roof net
·         Switches for interior and exterior lights (latter including remote control) as well as water pump
·         2x 12V plugs, 4x USB plugs
·         DYI water supply with Frontrunner 50 l water tank, Jabsco water pump, two outlets (one for filtered drinking water, one for unfiltered) and one inlet
·         Seagull IV X-1 water filter with Aquapolish 5 pre filter
·         2x Frontrunner Wolf Pack Hi-Lid boxes with Camp Cover inlays
·         Camp Cover Storage compartments
·         Axe holder with Grånsfors Bruks Scandinavian Forrest Axe
·         Fire Extinguisher
·         Black tinted windows with logo
·         Escape Gear Dash Cover
---
Recovery gear: 
·         Warn Tabor 8 3.6t winch with synthetic cable and soft shackle and remote radio control
·         Factory recovery point in the front, two modified recovery points on rear bar
·         Snatch strap, tree trunk protector, snatch block, soft and steel shackles
·         Maxtrax on roof top tent, shovel in Wheel Bin Safari bag, T-Max compressor, ARB Tyre deflator
---
Fabians top 3 trips in the Nissan Patrol:
There can be only one: the current trip from Australia back to Europe. As for Australia on its own I think the top 3 things we did with the vehicle were
•       Munja Track to Walcott Inlet
•       Exploring the offroad tracks in the East Pilbara
•       Off-roading and exploring beaches along the southern coast
---
Unstoppable moment in the Y61 Nissan Patrol:
Reaching Walcott Inlet at night and watching the monster tides and sunset the next day; camping on lonely beaches
Most scary situation in the Nissan Patrol:
Hill climbing to the top of Kalgan's pool without walking the track first (for the one and only time!) and then being in the wrong gear over a major rock section with the vehicle on a banking angle.
---
Fabian's modification tips:
Think about what you want to do with the vehicle and then think about the setup accordingly. Do a lot of research! Get inspiration from other vehicles and adapt to your own needs.
Be involved as much as possible with modifications to be able to sort out problems on your own.
Set it up in a way that you have minimum hassle getting to things or setting up camp. Keep it simple, light, practical and sturdy. Don't listen to the mainstream or show-off guys, make up your own mind and talk to experts. Don't overtune (again: accordingly to what you need).
Favorite modifications: Storage and cargo in the back, roof top tent, lighting
Things to lookout for with this model Nissan Patrol:
It can be underpowered on the highway (great for cruising though) but it has great offroad capabilities and just the right gearing.
Look after the engine and service the vehicle, protect vehicle from rust. It lasts hundreds of thousands of kilometers if you look after it.
---
Top 3 tips with the Y61 Nissan Patrol:
1.   Look for vehicles with the engine upgrade, I believe it's from 2007. The ones before  that are the ones known as "handgrenades".
.
2.   Preserve the engine with an oil catch can and second fuel filter and don't overtune. Don't think about fiddling with the EGR.
.
3.   Take it slow and easy and keep modest momentum with the right tire pressures. You'll get to know the outstanding offroad capabilities, the ruggedness and you'll gain a lot of trust in the vehicle.
The Modified Video Of The Y61 Nissan Patrol.
Thanks to the following people for helping with my Y61 Nissan Patrol:
Benjamin Krenzer at Buschmechanik in Bischofsheim —> www.buschmechanik.de
George and Margaret at Medicar in Bibra Lake —> medicar.com.au          
Matthias and Robin Krüger at Daktec in Rathenow —> www.daktec.de
…and my girlfriend Carolin and her family for helping out and leaving us a place to work on the car.
---
Jun 29, 23 08:30 PM

Well 7 of us just traveled to the Pink Lake cv/pk in Esperance. We had such a great time there, all staff were very accommodating and friendly. The camp

Aug 21, 22 04:20 AM

Hi! Welcome to offroad dad and my journey in life doing things on a budget using my hobby offroading touring camping and survival as a way to cope and

Mar 30, 22 02:53 AM

When Camping With Children kids hygiene items like wet wipes (baby wipes) are the best thing for cleaning kids, bring a few spare packets. Don't forget to..
---
Leave Y61 Nissan Patrol And Go 4 Wheeling In Western Australia.
---