It took 66 episodes of Modified until finally a Volkswagen Amarok got featured.
This Amarok will not disappoint with its outside the box thinking designed canopy unlike many others using every single bit of space and entries possible. The most organized modified build to date!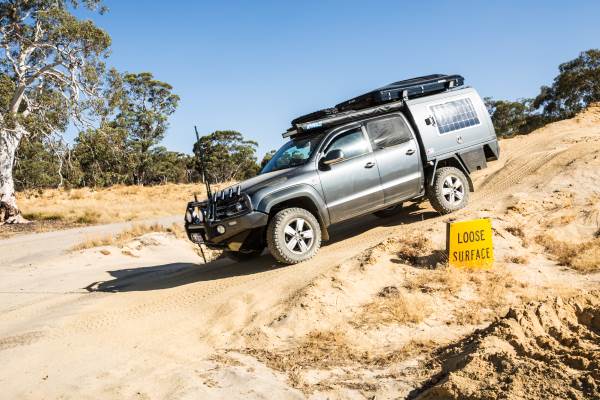 Click Any Image To Enlarge Or Open Photo Album.
Joey, a builder by trade has truly made something very functional for getaway time with his wife, pet dog and his mates.
I don't know where to start there is so much cool stuff to chat about on his Volkswagen Amarok.
From the roof top camper detailed with why it's the best and worst mod in one, the dog cage inside the cab, the triple rear canopy to his super organized layout followed through in every part of the Amarok. I'll just let the video do the talking…
---
Vehicles Specs (NOTE* Mod details below):
Make model: Volkswagen Amarok
Engine:  V6 3 Litre
Drive train:   8 speed Automatic
Suspension: Old Man Emu 450kg Constant load (GVM package 2" lift)
---
Joey's mod list for his Volkswagen Amarok V6
Engine:  
·         Kept stock
Electric upgrades:  
·         600W Projecta Pure Sine 240v Inverter
·         Red Arc Manager 30 Battery Management System
·         2 x 120AH Full River AGM Batteries (Parallel)
·         2 x 120W Fixed Solar Panels and 1 Portable Plug-in 120W Panel
·         Front and Rear Dash Camera/3 x Reversing Cameras
·         Clipsal 240V Caravan Plug Inlet
Lights: 
·         2 x IPF HID Spotlights
·         42" Light Bar
·         8 x 80W Worklights
·         5 x LED Strip Lights in Canopy
·         2 x 80W Reversing Spotlights
Comms & GPS: 
·         GME 80 Chanel UHF Radio
·         Uniden Portable VHF/UHF
·         CellFi Go Mobile Signal Range Extender
·         iPad Central Dash Mount with HEMA Maps
Suspension and tyres:
·         450kg Constant Load Old Man Emu Suspension (GVM Upgrade Package)
·         BF Goodrich K02
---
Bar work and exterior mods: 
·         ARB Summit Deluxe Bull Bar (larger Diameter piping)
·         Bull Motorbodies 3 door trade tuff Canopy
·         Pop-Up Rooftop Tent (sleeps 2 people)
·         Tow Bar with extension
·         RhinoRack Roof rack with shovel holders
·         2 x 35L Water Tanks
---
---
Joey's top 3 trips in the Volkswagen Amarok V6:
·         Christmas in Exmouth
·         Perth - Derby
·         Perth – Kalgoorlie - Esperance back through Pemberton
Unstoppable moment in the Volkswagen Amarok V6:
·         Exmouth quick sand beach
---
Most scary situation in the Volkswagen Amarok V6:
First couple months of owning the Amarok the misses and I decided to head up to Willie Creek Pearl Farm just outside Broome.
We had been fishing all day and afternoon and at 2am we decided to pull the boat in at a makeshift boat ramp in a 10m High Tidal area through a gap in the mangroves.
Not after long I had the Amarok Bogged to its eyeballs with the boat trailer on the back, I'd like to note that we had seen crocs bigger than my 5 m boat in the water only 2 hours prior.
To set the situation we were knee deep in crock infested water trying to get the boat on the trailer also digging the car and trailer out of the mud. We managed to get out by burying the max tracks in the mud and put the foot to the floor, we just manage to crawl out of the bog hole just moments before the water came in, which if you haven't been up to the top end of WA before, the water comes in like a sideways water fall and lucky we did managed to get out in time because the water was about as high as the roof of our car was only 20 min later and a further 2 meter under water an hour later.
---
Joey's modification tips:
If you're modifying an Amarok, get onto the ModRok -Modified Amarok Facebook Group and learn from others' mistakes and Be very patient because with all new versions of 4X4's there aren't a lot of accessories available for them yet, and the ones that are around are pricey as hell.
Things to lookout for with this model Volkswagen Amarok V6:
The oil sensors are really sensitive, and everything needs to be bang on or lights will go off all over the dash and end your trip fast.
Top 3 tips with the Volkswagen Amarok V6:
1.    Get a lift
2.    Get a bulbar 
3.    Get a winch
---
The Modified Video.
---