As far as the mods go the TRD Hilux is fitted out with a lot of protection with a lot of well-made DIY fabrication and strengthen drive-line with re-geared diffs to help roll the 33's around.
All in all a pretty cool supercharged petrol RIG. Check out the video for more details.
---
Vehicles specs (NOTE* modded details below):
Make model: 2009 TRD Hilux 4000SL
Engine:   1GRFE supercharged
Drive train:  5 speed auto
Suspension: IFS and solid axle leaf sprung rear
---
Clayden's mod list for this TRD Hilux:
Engine:
·         Custom stainless steel snorkel
·         2.5 inch cat back exhaust
Driveline:
·         Front and rear Eaton E-lockers
·         Diffs re-geared to 4.10:1 ratio
·         Extreme built transmission by wholesale autos
·         Extreme valve body by wholesale autos
·         DBA 4x4 survival Slotted brake rotors
Electric upgrades:  
·         Torque convertor lock up on demand switch
·         Hard wired winch controls
·         Dual batteries controlled by redarc smart solenoid
·         Diode in alt sense wiring to overcome smart alternator
·         Pioneer head unit
·         JVC 4 channel amplifier
·         Defi gauges in pillar mount pod (trans temp & boost)
---
Lights: 
·         Light force XGT hid converted spot lights
·         Vision x led rock lights
·         Vision x led roof rack lights
·         Vision x tyre mount camp/reverse light
Comms & GPS: 
·         TX3600 two way
·         I-pad mini with HEMA installed
---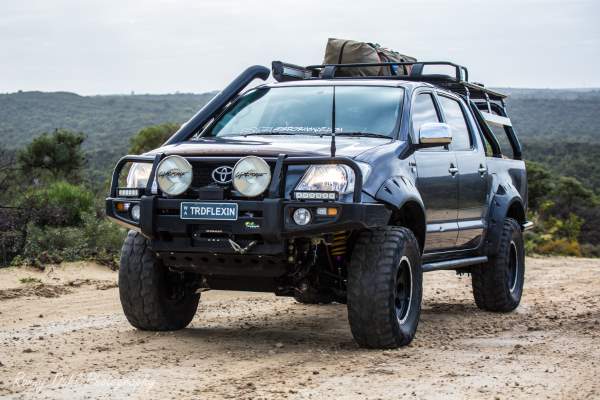 ---
Suspension and tyres:
·         Dobinson MRR shocks and struts set at 4 inch
·         King coils
·         EFS +200kg leaves
·         Monster rides diff relocation
·         Total Chaos UCA
·         Mickey Thompson 16x8 neg 22 offset wheels
·         305/70/16 Kumho KL71 tyres
---
Bar work and exterior mods:
·         Jungle fender flares
·         Quarter chop and rear bar with jerry can and tyre carrier
·         Ally rack custom built over ute tub using 100 series rack
·         Custom built rock sliders
·         Ironman deluxe bulbar with winch and chopped wings
·         Ironman bash plates modified to suit diff drop
·         High lift jack and shovel mount on side of rack mount
·         Ironman 2.5x3m awning with LED strip lighting
---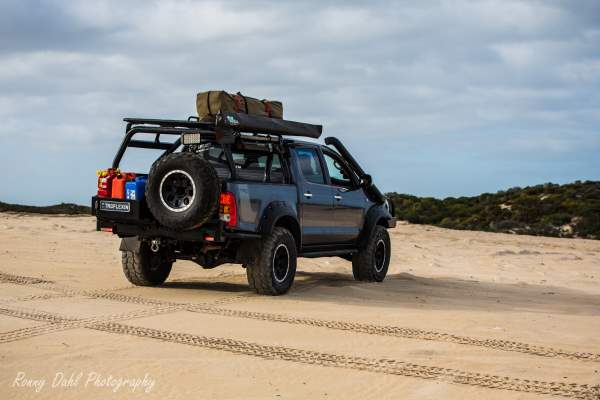 ---
Back of the wagon/ute: 
·         Rhino plastic case for camp/recovery gear
·         Raptor u-pol spray in liner
·         Anderson power plug
·         Custom made fridge tie down points (if I have decided to carry passengers)
Recovery gear: 
·         8000kg ironman snatch strap
·         12000kg ironman winch extension
·         Ironman snatch block
·         Ironman 12000kg tree trunk protector
·         5 rated bow shackles
·         High-lift jack
·         Long handled shovel
·         Tredz
---
Clayden's top 3 trips in the TRD Hilux:
. Pemberton/Black Point/Yeagarup

. Harvey/Brunswick area 

. Cervantes/ hill river
Unstoppable moment in the vehicle:
As simple as just after I have the lockers and regear done being able just to crawl over everything and not beating up on the car so much definitely made me feel unstoppable.
Most scary situation in the TDR Hilux:
Was just after I bought the car 5 years ago in Cervantes.
I was playing around in the dunes, came over one thinking they kept going, but this one ended up a massive drop to the shrubs.
In short the car came very close to rolling sideways down it as inexperienced me tried to avoid it with a heap of steering input instead of just getting of the gas and the sand started to fall away under the front, I brought myself to a stop when I realised what was about to happen and any movement I made I started to slip further down.
Tried just a simple snatch, broth my brother GQ ute but as I was on a downhill and he was heading up he couldn't get the traction in the sand.
Ended up having to link 3 straps so he could have a downhill crack at it which worked a treat and nothing broken except for a bit of a damaged ego.
---
Clayden's modification tips:
If starting out with a stock car as I did, I would still do lift, tyres and some bar work first then lockers, winch and snorkel.
Lockers are an expensive thing to do but worth every cent in my opinion.
If you have an auto a separate trans cooler is good cheap insurance as one thing autos hate is heat, I also separated mine from the standard radiator cooler as I didn't want coolant anywhere near my trans oil as I spent a lot of money having it built stronger after blowing the first one up.
Things to lookout for with this model TRD Hilux:
Basically the same as any other hilux just keep supercharger maintenance up to date like oil and bearing changes as the supercharger has its own oil.
If lifting these vehicles more than 2 inches invest money in a diff relocation as if you are heavy on the throttle you will eat cv joints, on that note learn throttle control fast because if you're on the gas at the wrong times the wheel speeds and torque they produce will munch driveline components.
Top 3 tips with the TRD Hilux:
1.   If you want fuel economy don't buy one LOL  
2.   Drive with window down the blower noise is epic!!
3.   Try not to do too many burnouts, as they have the ability to leave lines through traffic lights.
---
The Modified Video.
---
Thanks to the following people for helping with my Build
My brother Morgan Greasley and mate Kris Jaeschke always down to drink beers and lend a hand on the welder and tools
https://www.facebook.com/SeniorEngineering/  - Adam Senior built my diffs
https://www.facebook.com/Autofix-Mechanical-Repairs-AMR-4x4-679843815418488 - Nathan Ditchburn my parts supplier
https://www.facebook.com/moonlightcustomfabricationandwelding/ - Tyrone made me up my snorkel