Toyota Prado 90, Modified.
The Toyota Prado 90 will please a lot of people and it's been a long time coming. South Americans and Australian audience have been asking for a Prado 90 for quite a while.
This one has all the necessary mods that Allen needs for his style of overlanding which is known as touring here in Australia. Allen does travel very remote and tends to head for places not many people would go which is 90% of the time the best place to camp and travel.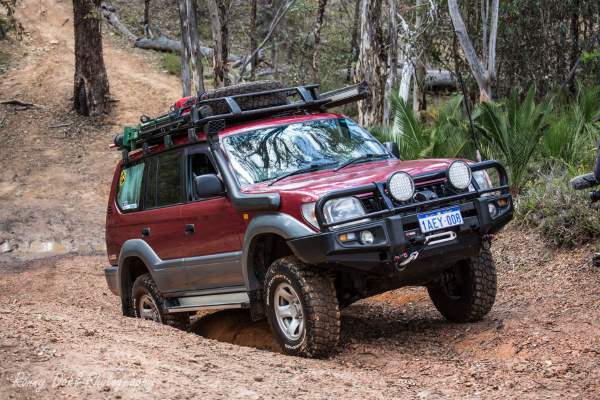 Click Any Photo To Enlarge Or Open Photo Album.
Sorry, Does NOT work on mobile phone.
The main feature on this vehicle is the rear cargo area plus the electrical system which is quite neat and impressive, all 4x4 owners will learn something from this build. Enjoy.
Vehicles factory stats (NOTE* modded details below):
Make model:    1998 Toyota Prado GXL. 
Engine:             3.4 L V6 petrol                          
Drive train:        Automatic transmission. High Low range transfer box. 
                         Centre diff lock. Rear LSD. 
Suspension:      McPherson strut front. Coil rear. 
Allen's mod list for his Toyota Prado 90.
Engine:  
    Left standard apart from a K&N filter and the snorkel.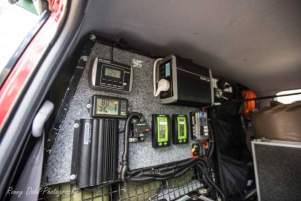 Electric upgrades:  
Duel battery setup in rear draws.
Power station for charging phones etc
Lights: 
2 x 7 inch 405W  driving lights. 
Comms & GPS: 
Suspension and tyres: 
Tough Dog shocks and springs.
+300kg rear springs with adjustable shocks. 
2 x spare tyres as above. 
Bar work and exterior mods: 
Rock Armor Deluxe steel winch bar. 
   Maximum range so far on hwy and loaded up is 1378ks. 
   Have 3x 20ltr fuel Jerry's I can use. But leave them at home now 
   but would give me around another 300 k range. 
Back of the wagon: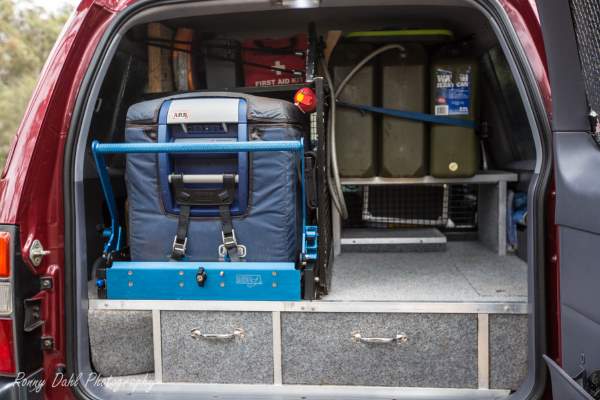 Recovery gear: 
Rated recovery points front and rear
Allen's top 3 trips in the Toyota Prado 90
# 1   May 2016 - Gibb River Road / Bungle Bungles / Wolf Creek Crator. Coral Coast. 
# 2 May 2017 - Gibb River Road / Mitchell Falls / Port Warrender
                        Bungle Bungles / Wolf Creek Crator. 
# many trips thru the Goldfields and Woodline tracks.
Allen's modification tips. 
Tyres and suspension and draws are a good start. 
But keep focused on what the car will be used for. 
Top 3 tips 
1.       Service service service. 
2.       Keep a good eye on the engine cooling system. The V6 don't like over heating. 
3.       Leave it mechanically as standard as possible. Don't go chasing more power. 
Toyota have it set up very reliable 
Things to look out for if buying one:
Service history , timing belt schedule up to date. 
Best 3 mod/s you have done and why: 
1.     Tyres for all out traction and piece of mind out remote bush. 
2.     Suspension to carry the extra weight and still handle and drive nice. 
3.     Entire rear of the wagon setup as it all comes down to keeping the beer organised and cold
What made you decide to choose this vehicle
It's a very reliable and capable wagon to fit a  budget built tourer. 
Best thing about the Prado:
It takes me out bush time and time again and never misses a beat. 
Worst thing about the Prado:
Being so under rated when compared to the larger Landcruisers lol. 
Top reason to buy a 90 Prado (in your opinion):
Arguably the most reliable and capable 4x4 within its price. 
I only paid $4990 cash for mine. 
The Modified Video Of The Toyota Prado 90.
---
Links:
My build was all done by myself at home. With help from my dad, John Kemp building the rear draws and helping with the wiring up of some of the ellectrics. 
A shout out to Gozzy Mud Slingers and also to Jiffy Car Care in Jandakot and Vehicle Fleet Services in Jandakot. 
---
Leave Toyota Prado 90 And Go 4 Wheeling In Western Australia.
---
Jan 15, 21 02:39 AM

Adding a fibreglass or steel car canopy to a single cab, extra cab or dual cab Ute will increase storage space immensely...

Jan 15, 21 02:32 AM

Exercise and fresh air is very good for kids. Combine camping with kids and it gets even better.

Jan 15, 21 02:22 AM

When Camping With Children kids hygiene items like wet wipes (baby wipes) are the best thing for cleaning kids, bring a few spare packets. Don't forget to..