Finally a turbo diesel Toyota Prado 120 on Modified!
This Toyota Prado gets well used for touring and the fun tracks. Todd the owner has done a lot of research on the forums and web to build this up for his bush outings and has done a lot of the stuff himself. DIY is nothing new to Todd with some pretty epic ideas resulting in some cool stuff in the rear of his 120 Prado.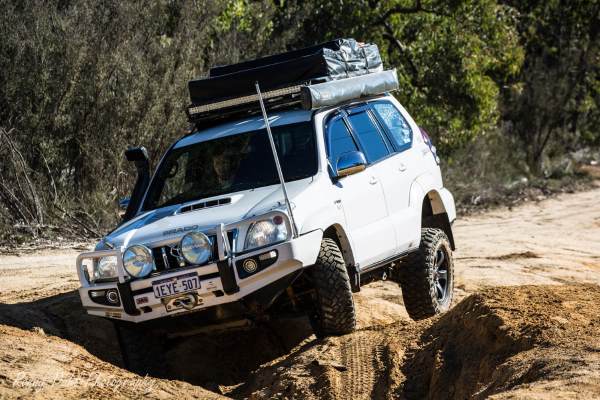 Click Any Photo To Enlarge Or Open Photo Album.
Sorry, Does NOT work on mobile phone.
You can tell a lot of time and thought has gone into this build and I don't see Todd parting ways with this Toyota Prado 120 for quite sometime.
Check out the build video with every single thing detailed…
Toyota Landcruiser Prado 120 Series.
Vehicles Specs (NOTE* Mod details below):
Make model: Toyota Landcruiser Prado 120
Engine: 1KZ-TE 3.0L Turbo Diesel Intercooled
Drive train:   Fulltime 4WD
Suspension: Independent Front Suspension, Solid Rear Axle
---
Todd's mod list for his Toyota Prado 120
Engine:  
3" Turbo back performance exhaust w/high flow muffler
---
Electric upgrades:  
Dual Batteries. Century 115ah Deep Cycle controlled by a Redarc SBI12 Isolator and Smart Battery link
Rear LED lights in cargo area
12V Water pump plumbed up to 25L water tank mounted on drawers. Water outlet on rear door operated via switch
12V cigarette outlets in middle seats and cargo area
12V power in Roof Top Tent
12V LED power in Foxwing awning
---
Lights: 
Lightforce XGT spotlights with 55w HID upgrade on bullbar
52" Curved Lightbar mounted on Roof Rack
Comms & GPS: 
GME TX3520s UHF mounted in roof console
GME AE4705 HD aerial mounted on bulbar
---
Suspension and tyres:
2" Old Man Emu front struts with 6mm titanium spacers
3" Old Man Emu Sport Shock absorbers with 3" Ironman HD springs
---
Bar work and exterior mods: 
ARB Deluxe Steel Bullbar with custom LED foglight/DRL combo and LED indicators
ARB HD Bash plates from bulbar to transfer case
ARB Steel Deluxe roof rack w/backbone mounting system
Kings Tourer Roof Top Tent
Oztent Foxwing 270o awning
---
Back of the wagon: 
Recovery gear: 
Full comprehensive First Aid kit
---
Todd's top 3 trips in the Toyota Prado 120
Summertime Track to Calcup Hill, Windy Harbour

Twilight Cove and Telegraph track, Cocklebiddy

Harvey Powerlines/Staples Line, Harvey



---
Unstoppable moment in the Prado 120:
Crossing the Meerup River in full flow in Winter due to necessity (last afternoon of a 3 day trip, had to follow severely overgrown and sporadic track for 2 hours after Summertime track ended, turning around would mean a 6 hour detour in horrible weather. Crossing was made with some difficulty due to tides. Many celebratory bevvies followed).
Most scary situation in the Toyota Prado 120:
Nearly rolling the car on a very wet muddy hill climb behind Brunswick. Car was leaning against the bank on drivers side only supported by the side of the bullbar. Aerial was over 45 degrees to the side. Couldn't get out of the car due to the bank and how unstable the vehicle was. No winch was in our group, so I needed to drive out of it while 3 guys hung off of the high side to help stabilise the car.
Todd's modification tips:
Start with modifications that allow you to actually get out and explore the tracks (2" lift, AT tyres, bullbar, snorkel). From there you can decide if you want a 4WD to do more touring or to tackle the harder tracks. This will help you to keep the mod list focused and you won't end up with any unnecessary weight or costs on your 4WD.
---
Things to lookout for with the Toyota Prado 120:
Rear door – Due to the weight of the spare wheel on the door, over time the door will sag, meaning the latching mechanism will not line up. Fixes are: Move spare tyre to a rear bar with carrier, or use washers to help even up the angle of the rear door to combat the sagging.
Rear bumper – The first thing to suffer damage offroad due to its low clearance and scooped shape. Water crossings and mud will pull the bumper rearwards, which in turn disconnects the rear flares from the car, breaking the clips or flare. Fix is to either replace with a steel rear bar, or cut down the factory bumper so that the tow bar is the lowest rearwards point of the car.
Cracked dashboard – The age of the 120 series and the materials used in the dash construction has meant that a huge majority have got cracks running through them. Toyota does not cover this damage, and a replacement will cost close to $1000, so don't be surprised to see the cracks. Nothing can be done about it, except for a dash mat to cover them up.
---
Top 3 tips with the Toyota Prado 120:
1.      Lift and tyres for offroad. From factory the Prado sits quite low, so the extra ground clearance is needed to tackle harder tracks.
2.   Engine choice – 1KZ-TE for reliable turbo diesel that will outlast us all. V6 petrol for the power and if you own shares in BP or Caltex. D4D if you can afford new injectors every 50,000kms and like staring at techstream diagnostics to check injector feedback values.
3.     Camping – Cannot praise the Roof Top Tent highly enough. Coming from a swag, it's on a whole other level above (literally). The supposed drawbacks are a lot less than most would want you to believe, and if you have a missus, she will want to come camping much more often (well mine did).
The Modified Video.
Thanks to the following people for helping with my build:
My Dad for being my guide for all things Mechanical
My Brother for giving me the 4WD bug and teaching me the ways of offroading.
My Fiancé' for putting up with the Prado always third-wheeling in our relationship.
The Facebook Prado groups (WA Prado 4x4, Aussie Prado 120, etc) for tons of advice.
And to all my mates who have all leant me a hand recovering, fixing or repairing my Prado. Cheers fellas!