His vehicle plates will give that (his favourite activates) away if the 79 series cruiser hasn't already.
Suited right down to Shano's needs the back seats are removed for not one but two fridges (one freezer and one set to fridge), this allows Shano to sleep in the back of the canopy and with the doors open, I might add. Thanks to the custom insect screen on both sides ventilation doesn't come with the price of bug bites.
The mods to this Toyota Landcruiser dual cab workmate are clearly all practical trailed and tested,
I don't think there is anything on this truck that doesn't serve a purpose.
This Landcruiser has been quite a few places some near and many far hence his 2nd fuel tank for the big trips giving Shano 210liters of diesel for a massive range…
Click Any Photo To Enlarge & Open Photo Album.
There are many other cool little and big touches to this cruiser like the storage floor, slide out table 'Shanos bar & Grill', very neat power board in the canopy, clever twin compressor setup and the list goes on and on. Best shown and explained in the video.
While we did this shoot Shano recovered 2 vehicles, very keen to help others he is the kind of bloke you would hope meet on the tracks especially if you're bogged!
Post any questions below or on the YouTube page that are not answered here.
See below for the specs and modified details on this awesome Toyota 79 series Landcruiser workmate.
---
Vehicles factory stats (NOTE* modded details below):
Make model: 2013 VDJ79r Dual Cab workmate
Engine: 1VD-FTV 4.5 Turbo Diesel v8            
Drive train: 5 speed manual, Front and Rear Factory Lockers
Suspension: 2" Old Man Emu Suspension
---
---
Shane's mod list for his 79 series Dual cab cruiser:
Engine:
3" Manta exhaust, DP plug n play Throttle Module  
Electric upgrades:
 Red-Arc Dual Battery system connected with a 120w Solar Panel, Battery Monitor in the cab 
Lights:
2x240 XGT Light Force HID on the Bull Bar, 2x240 Light Force Blitz HID on the Roof Rack, 20" light bar on the Roof Rack, Narva LEDs on the rear of the Canopy, 2 single Narva LEDs hooked in to my reverse lights on the tray, 2 single LED Lights under the tray , 2 single LEDs on the Roof Rack
Comms & GPS:
2 GME aerials on the bull bar, 2 GME 2way units in the cab plus a hand held 2 way, HEMA maps on iPad


Suspension and tyres: 
2" ome lift, 315/75/16 Cooper stt's , with -55 rims on the rear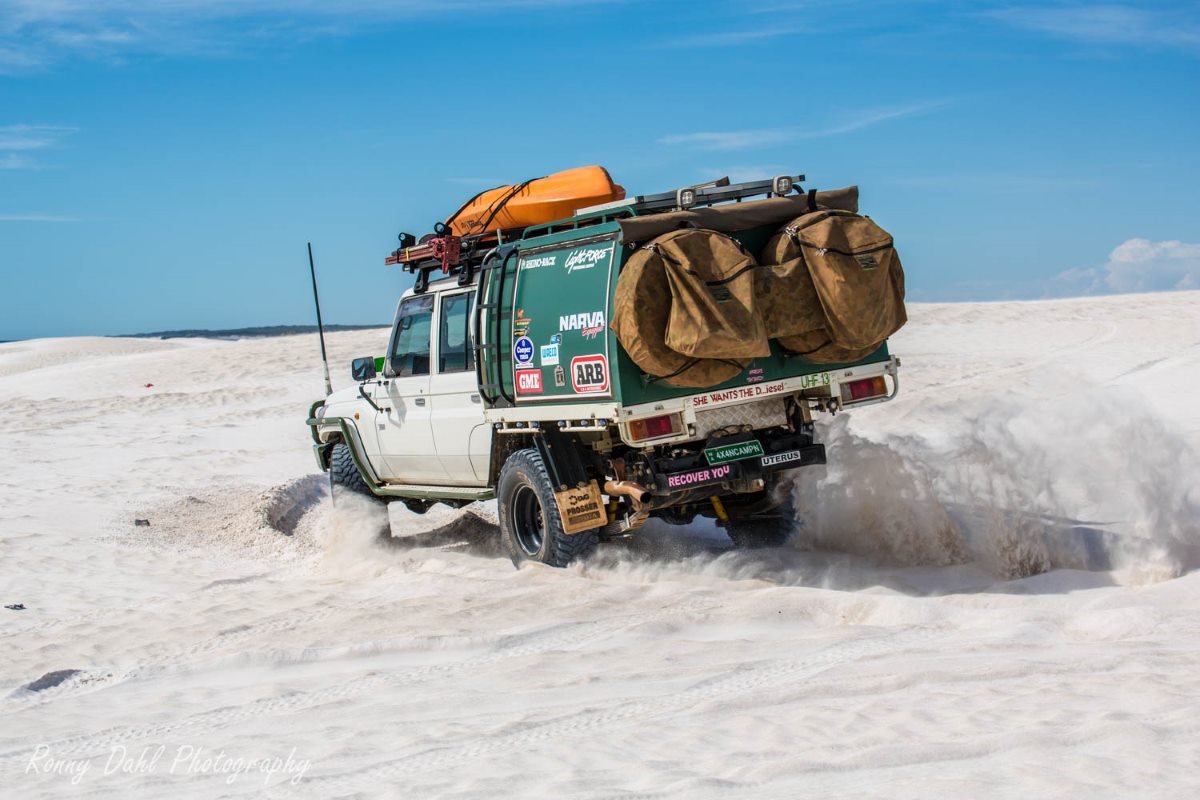 Bar work and exterior mods:
ARB Deluxe Winch Bar with scrub bars an side steps, fitted with a 12000 Runva winch, Rhino roof rack with a arb awning, 120w solar panel on the roof of the canopy, Dual spare wheels mounted on the rear of the canopy along with a 1.4 rear awning, under tray custom ally fuel tank 80L, 65L water tank under tray, TJM Airtec Snorkel
---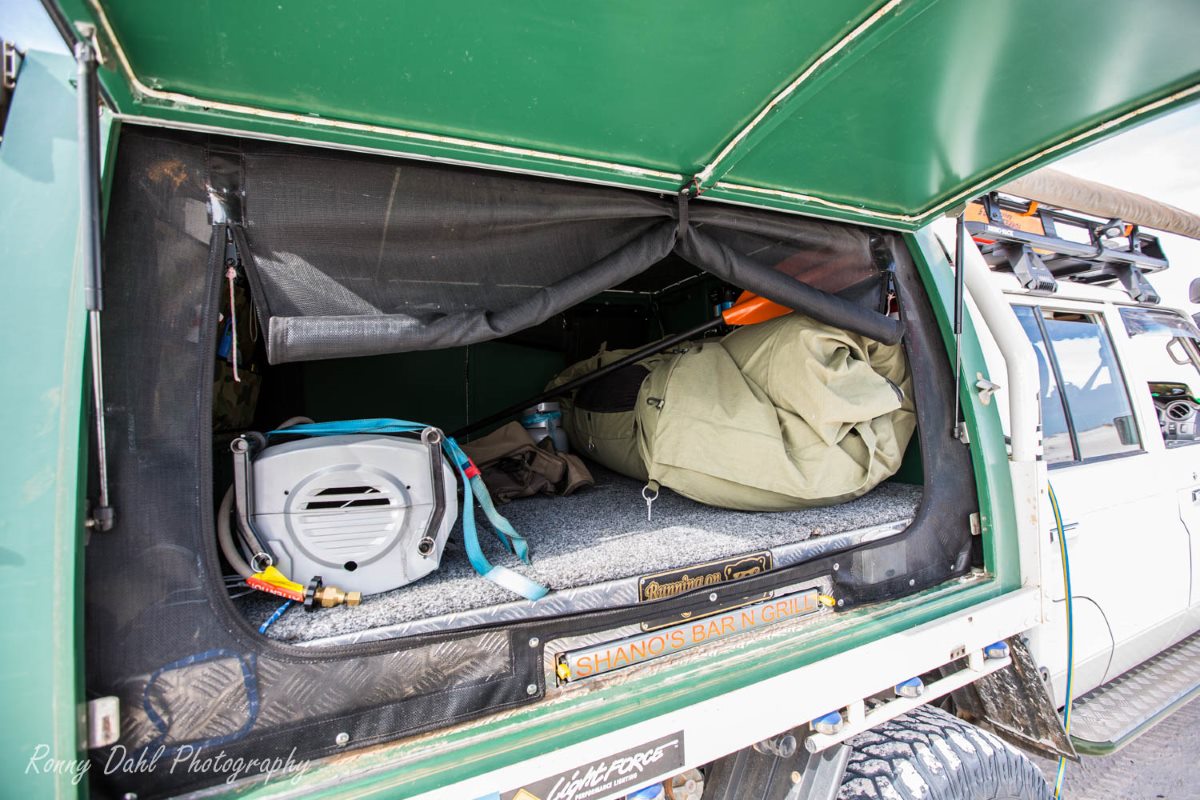 Back of the ute/canopy:
Back of the cab I've removed the rear seats and fitted 2 Waeco fridges 65L and a 40L with a custom made rear shelf on the roof also housing speaker set up. Tray set up is a custom built ally canopy with inbuilt storage a dual spare wheel set up on the rear
Recovery gear: 
Runva 12000 winch, Maxtrax, Snatch Straps, Winch Extension, Snatch Block, Shackles, Highlift Jack, Axe, Recovery Hitch, Drag Chain, Tree Trunk Protectors/Briddles, Winch Dampner, Tools
---
Shane's top 3 trips in the Dual cab V8 Landcruiser:
Home to Darwin including the Gibb river along the way

Holland track

first trip Pemberton/Callcup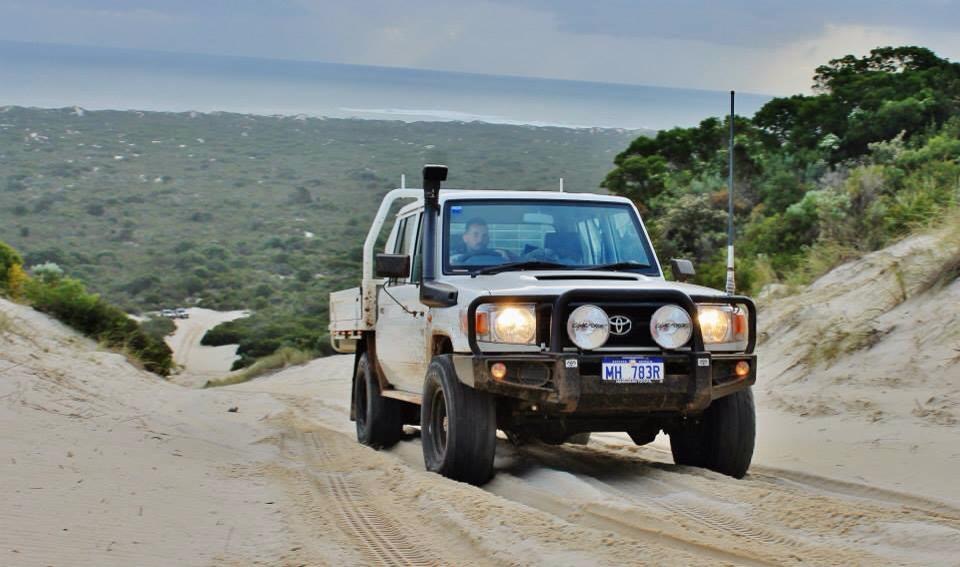 ---
Unstoppable moment in the Toyota LandCruiser Dual cab:
Hard to pick, I'm usually the one going in and getting stuck myself, having the v8 for the recovery is great though, plenty of power.
One was a dead Landrover dragged it 7ks along the beach.
then a flooded Nissan patrol on the capt Fawcett track, first had to recover him out of the hole he was in then use my winch and snatch block to position the car to face the right way then towed him the whole track out.
---
Most scary situation in the

70 series Cruiser:
Most scariest would be in Brunswick, thought I was going to put her on its side, it was an oh s...t moment.
---
Top 3 tips with 70 series Cruiser:
1.   Learn to clean the alternator        
2.   Silicone up factory snorkel or change to a 1 piece snorkel 
3.   Fix rear wheel track    
---
Video Of The Modified Toyota Landcruiser Dual Cab.
---