Toyota Landcruiser 75 series, modified.
Toyota Landcruiser HZJ75
'Mine not his' says the bug catcher on Danie's  Toyota Landcruiser 75 series.
YEP finally after 5 years and 75 episodes of Modified we have a 75 series Landcruiser.
This particular one is setup mainly for play and short runs but is totally capable of the long runs with a half open tray ready for extra gear and cargo.
There is not much gear on this 75 series that is un-necessary, what is needed it has. Danie is a diesel mechanic for the Australian air force so any issues with the 75 out bush won't be much of a problem for this lady.
Danie's 75 cruiser spends most of its time in northern QLD on rock and clay country hence the big aggressive tyres.
For all the other details and the full feature enjoy the video below.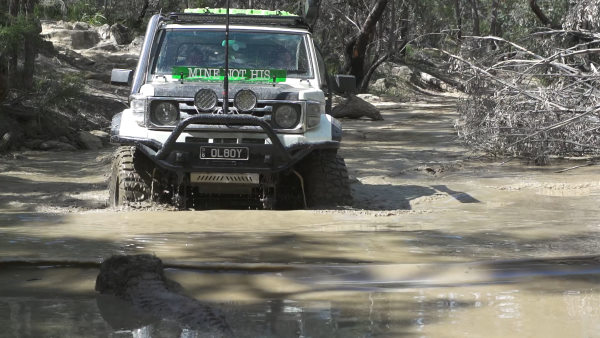 Click Any Photo To Enlarge Or Open Photo Album.
Sorry, Does NOT work on mobile phone.
Vehicles Specs (NOTE* Mod details below):
Make model: Toyota Landcruiser 75 series
Engine: 4.2L 1hz       
Drive train: Factory 5speed manual with factory 4.11 diff ratios
Suspension: 2" springs, 2" extended shackles, 1.5" body lift, 10" Fox shocks front and 11" Dobinson remote res rear.
---
Danie's mod list for the Toyota Landcruiser 75series

 
Engine:  
·         Custom airbox made by Jrace Industries
·         K&N pod air filter
Electric upgrades:  
·         12v to rear tray.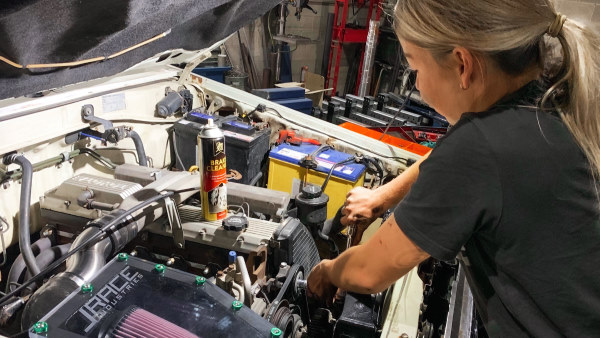 Lights: 
7" Supernova driving lights

44.5" Bushranger LED lightbar
 Comms & GPS: 
Suspension and tyres:
2" springs, 2" extended shackles front, drop shackles rear 1.5" body lift, 10" Fox shocks front and 11" Dobinson remote res rear

33x13.5r15 Nitto Mud Grapplers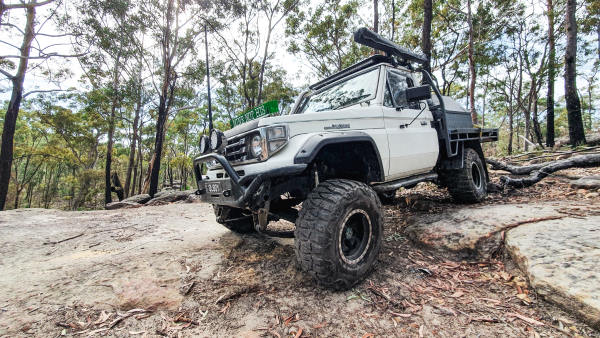 Bar work and exterior mods: 
Recovery gear: 
---
Danie's Top 3 trips in the Toyota Landcruiser 75 series:
Fraser Island, 

NSW North Coast,

Landcruiser Mountain Park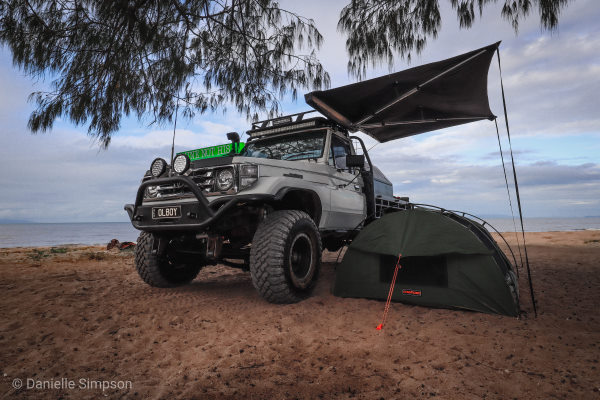 Unstoppable moment in the Toyota Landcruiser 75 series:
Pulling out about 7 or so new 4wds on Fraser Island with camper trailers. All with a heap more horsepower but the 75 was just like a tractor in the soft sand. Couldn't stop it.
Most scary situation in the Toyota Landcruiser 75 series:
Helping a mate with a bogged 4wd and trailer on an incoming tide. His transfer had seized so wheels couldn't even roll. Racing the tide dragging deadweight small portions at a time, dig a little, drag a little, repeat. Eventually just got out before the tide.
---
Danie's modification tips:
The best mods I've found are things you can do yourself, cheap, learning opportunity and you feel more accomplished afterwards. Just get in and give it a go.
Things to lookout for with this model 75series:
Rust!
---
Top 3 tips with the 75series:
1.  Front locker and they're pretty unstoppable
2. Will go forever if well maintained and engine kept stock
3. Sound deadner will be your friend.
---
The Modified Video.
Thanks to the following people for helping with my build:
 Far too many to list. So many people over the 9 years have had a hand in making this car what it is today and I am appreciative of each and every person.
---
Nov 21, 23 07:40 PM

On this page we cover 4x4 off road tracks within a 250 km radius from Perth...

Nov 21, 23 07:35 PM

Jurien Bay 4x4 tracks info and general information about the area...

Oct 10, 23 09:31 PM

This caravan park is very clean. The ablutions are spotless. The washing machines are free but need to keep them clean. Easy parking for big rigs and if
Toyota Landcruiser 75 Series
---
Leave Toyota Landcruiser 75 Serie And Go 4 Wheeling In Western Australia.
---