Toyota Land Cruiser Prado 150 Modified #68.
So many people have requested the Toyota Land Cruiser Prado 150 ever since they were released and here we finally have one. Sorry about the delay there are just so many requests out there!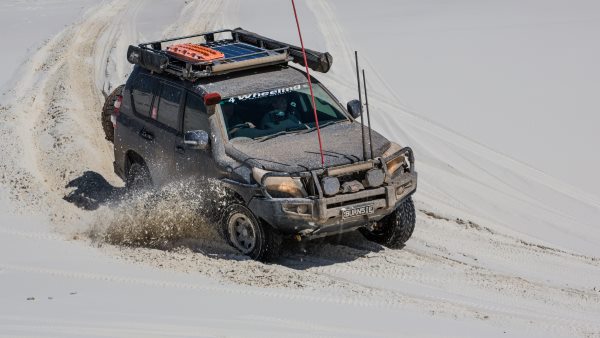 Click Any Photo To Enlarge Or Open Photo Album.
Sorry, Does NOT work on mobile phone.
This one featured in Episode 68 of Modified I'm very familiar with, Chris the owner and his son have joined us on quite a few tag along tours, many stories have been traded at the neatly thought out setup on the rear of the 150 Prado along with a few beers and whiskeys.
We talked about featuring this Toyota Prado 150 for about 2 years. Well here it is 5 years in the making Chris has got this 150 Prado at a very satisfying state and would tick most 4 wheelers boxes especially other Prado owners. From the top to the bottom, front to back every cool mod is utilised in some shape of form.
Enjoy the video and have the note pad at the ready!
---
Vehicles Specs (NOTE* Mod details below):
Make model: Toyota Land Cruiser Prado 150 GXL (Facelift)
Engine:   1KD-FTV 3.0L Diesel 127kW 410N-m     
Drive train:  5 Speed Auto
Suspension: Bilstein Shocks & Dobinson Springs, Poly Airbags
---
Burnsie's mod list for his Toyota Land Cruiser Prado 150
Engine:  
Safari Snorkel SS188HF

Steinbauer 220101 Performance Module

 Transmission Cooler

Diesel Care Secondary Fuel Filter

ARB Diff Breather Kit

Electronic Rust Protection CAT III System

Straight Through CAT Exhaust.
Dual Battery System & Electric upgrades:  
ARB CKMA12 x 2 Air Compressors (Under Bonnet & Internal Mount).

Redarc BCDC1225

Redarc SB112 (Jump Start Switch)

Optima D27F MAIN

Optima D34 AUX

Waeco 44ah Battery Box AUX(2)
Lights: 
Wurton 36inch LED Lightbar 18000 Lumens Combo Bar 10Watt 20LED

IPF HID 900 Extreme 35W Pencil & Spot

Lightforce 20inch LED LightBar 11200 Lumens Combo 5Watt

Lightforce ROK20 Camp Lights x 6

Wurton Pod Lights x 6

LED Disco Lights
Comms & GPS: 
GME TX3540S UHF CB

GME AE4705B UHF H/D Radome 6.6dBi

RFI CDQ7194 4G LTE Cellular Mobile 698-2700MHz

Strike Alpha Phone Cradle

GME TX6150

GME MT410G

Inmarsat Sat Phone

Hema HN7

Hema Explorer

Rear View Camera

Navman MiVue 700 Dashcam

Scanguage II

Redarc Gauge EGT & Boost G52-BEP

Doran RV - Tyre Pressure Monitoring System

Redarc Tow Pro
Suspension and tyres:
GVM Upgrade - 3500KG

Dobinson Front & Rear Springs 200kg-300kg Constant Load

B6 Offroad BILSTEIN STRUTS

B6 Offroad BILSTEIN SHOCKS

POLY Airbag Kit

Compliance Plate

ARB Rear Air Locker

ARB Front Air Locker

Brakes DBA T3 Rotors Xtreme Peformance Pads

Wheels - Dynamic 18x8 0 Offset Imitation Beadlock

Tyres - Cooper ST MAXX LT 275/70/17
Bar work and exterior mods: 
ARB Deluxe Bull Bar

ARB Side Steps

ARB Side Rails

Roadsafe Recovery Points

Kaymar Rear Bar & Dual Rear Wheel Carrier

ARB UVP Prado 5421100

KAON Transfer Case Guard

KAON Fuel Tank Guard

KAON Rear Shock Guards

Long Range Automotive 136L TLCP150RR - Long Range Fuel Tank (Total 223 Litre Capacity).

WARN ZEON 10S (10,000lb) - Synthetic Rope
---
Back of the wagon: 

Solar Screens

Engel MT45FCP 40Litre Combi Fridge

Drifta Drawers

Drifta DCB Kitchen

Kaon Rear Door Table

Travel Buddy Oven

Plasweld Rear Window Protector

Front Runner BBQ Plate

HiLift HL485 48"

Electrics Panel

First Aid Kit

Engel Water Tank 60Litre

MSA Canvas Seat Covers
On Top:
ARB Alloy Roof Rack

Quick Pitch Ensuite

Drifta 270 Awning

Maxtrax

Raptor Racks

Solar Panel

Sand Flag

Shovel

Chair

Bunker
Recovery gear: 
Fire Extinguishers x 2.

ARB Deluxe Recovery Kit

Maxtrax x 4

Shovel
Burnsie's top 3 trips in the Toyota Land Cruiser Prado 150
•       Lap of Australia (Highlights: Fraser Island & Boodjamulla (Lawn Hill) National Park to name a few)
•       Dirk Hartog Island
•       Israelite Bay "Tag A Long" (Point Culver, Bilbunya Dunes & Twilight Cove)
---
Unstoppable moment in the Toyota Land Cruiser Prado 150:
Going too fast over Indian Head (Fraser Island) bottoming out a few times and thinking I have cracked the radiator……… (Luckily All Good)
---
 Most scary situation in the Toyota Prado 150:
Dirk Hartog Island, a mate decided to head off and take the road least travelled, ended up getting stuck in the middle of a clay pan late in the day and it starting raining. He finally got to higher ground and got in touch.
We were there for a number of hours trying to get him out, second vehicle got stuck and I was the last of the three. Ended up using the trusty WARN winch and sitting on some Maxtrax slowly pulling them out.
---
Burnsie's modification tips:
Research…Research….Research, heaps of places and reviews out there for most vehicles and make sure it is legal, it is getting tougher to fit stuff these days.
---
Things to lookout for with this model Toyota Land Cruiser Prado 150:
Cracked Wheel Guards – Usually if you put a large heavy battery in, and also not fit a suitable battery tray for this AUX battery spot

With the 3.0 litre Diesel it is known to have injector problems between the 100K and 150K there have been a few that have had some grief, get them check often after 100K service.
·         Happened three times now, I have cut/torn/pulled my rear ABS sensor cable on 4WD trips, which means no changing between High and Low range and also you are stuck in what you were driving. The last two times I have been able to fit the damage and mend it on the move.
---
Top 3 tips with the Toyota Prado 150:
1.   Needs a lift and bigger AT or MT tyres for off-road use
2.   Even with the lift the rear diff sits fairly low so watch out for those diff smashers.
3.   A lot of these are school buses and are never taken off-road, so do your research and you will be able to pick up a good one with low km's to get out in bush or sand wherever you wanna go.
The Modified Video.
---
Aug 21, 22 04:20 AM

Hi! Welcome to offroad dad and my journey in life doing things on a budget using my hobby offroading touring camping and survival as a way to cope and

Mar 30, 22 02:53 AM

When Camping With Children kids hygiene items like wet wipes (baby wipes) are the best thing for cleaning kids, bring a few spare packets. Don't forget to..

Mar 30, 22 02:49 AM

If you're in the market for Camping tents there are plenty of options ranging from cheap to expensive and big - small. Depending on what type ....
Toyota Land Cruiser Prado 150
---
Leave Toyota Land Cruiser Prado 150 And Go 4 Wheeling In Western Australia.
---