Toyota Hilux, Modified.
The second Toyota Hilux to be featured on Modified but the first in its model range of the sixth generation (2002-2005). This turbo diesel Hilux is the pre 2006 model before the D4D motor. 
Warrens 2003 Toyota Hilux is one of the most modified going around in Western Australia that we know of, the engine bay has nearly got every upgrade possible and all the necessary bar work to take on the rough technical tracks.

Warrens Hilux is also armed with a rear locker to fill the gap when it comes to deep flexing on the tracks with its 2 inch suspension lift kit. 
This Toyota Hilux is setup for long trips along the coast, remote travel and of course to get to Warrens fav fishing spots…
This 3.0l Hilux is will provide plenty of ideas for those looking at getting one or kitting on out.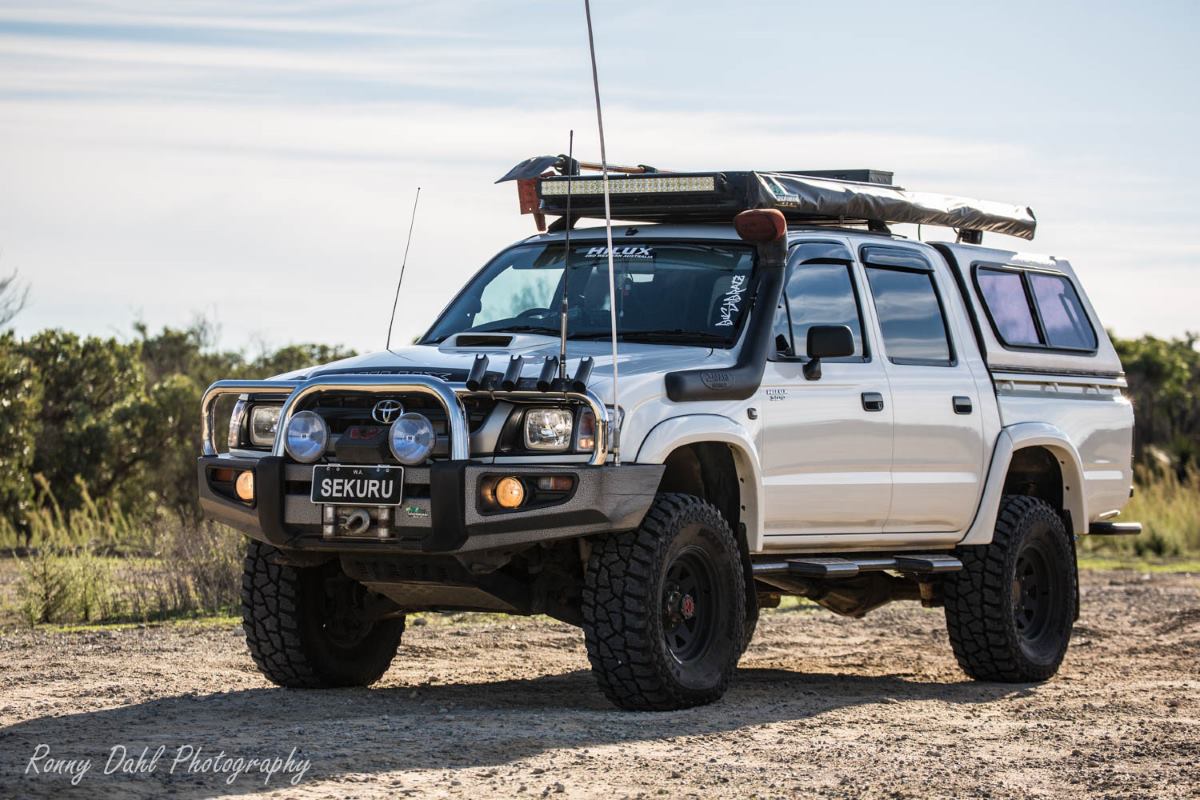 Click Any Photo To Enlarge Or Open Photo Album.
Vehicles factory stats (NOTE* modded details below):
Make model:     Toyota Hilux
Engine:   3.0 1KZ TE                       
Drive train:  Manual, part time 4x4       
Suspension: IFS Front, Leaf Rear      
Warren's mod list for his Toyota Hilux: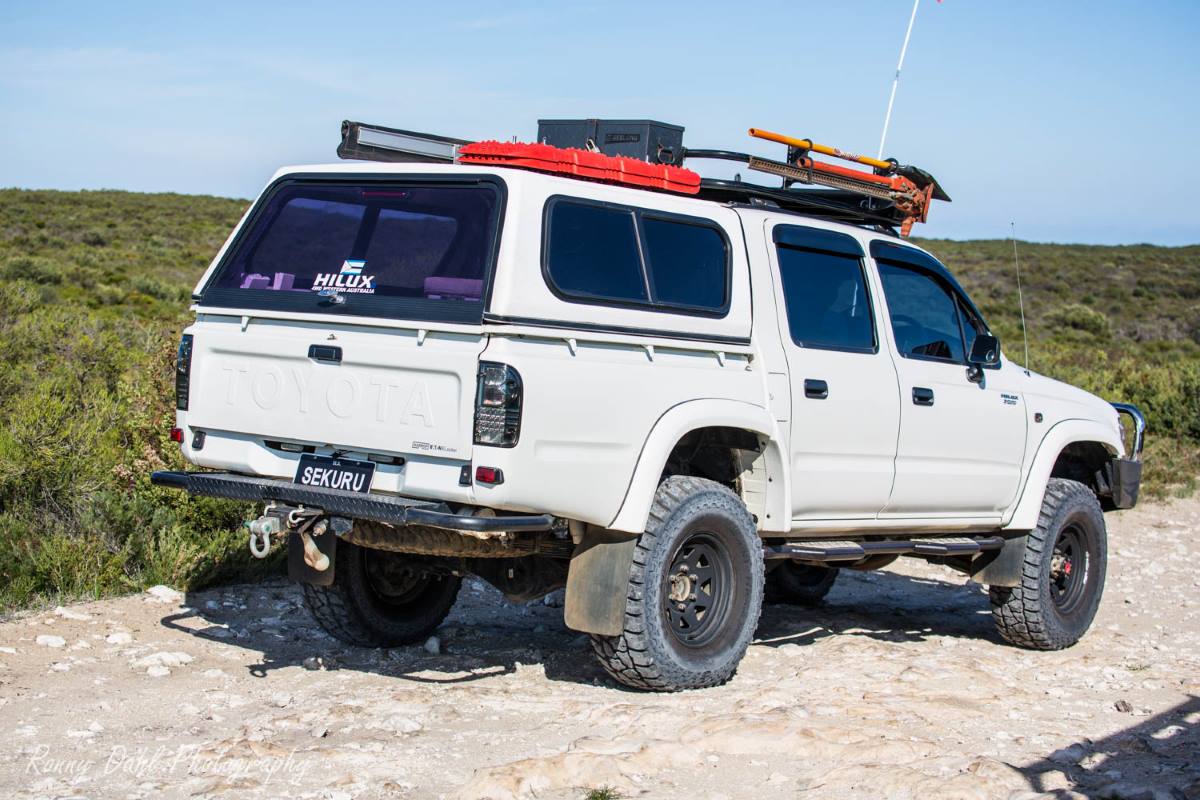 Engine:  
·         HPD Top Mount Intercooler
·         Oz Bush Manual Fuel Mapper
·         3 inch Genie Turbo Back Stainless Steel Straight through exhaust
·         Custom airbox & 3 inch intake
·         Catch can
·         K & N Air filter
·         SAAS pillar mounted pyro & boost gauges
·         Bogaard Turbo Timer
·         Boost Tee @ 14 PSI.
Electric upgrades: 
·         Piranha dual batt management unit
·         Custom 2nd batt tray with deep cycle
·         amaron main batt
·         Pioneer Sound system with 10 inch sub
·         Dual USB charge port
·         Outback acc Roof Console
·         Wireless Reverse Camera.
 Lights: 
·         LED crystal headlights
·         LED smoked taillights
·         LED worklights
·         LED interior lights
·         37" LED lightbar
·         LED under bonnet lights
·         LED Reverse Lights
·         Narva Spotties.
---
Comms & GPS: 

·         VMS 700 GPSGME
·         TX3440 UHF
Suspension and tyres: 
·         Ironman 2 inch lift
·         32" Mickey Thompson ATZ
Bar work and exterior mods: 
·         Ironman deluxe winch bar with Warn 9000lb winch
·         Custom rear bar with 80 series hayman reece
·         Custom sliders, Custom roof rack with 2.5m x 3m awning
·         Custom under tub water tanks
·         Tredz Roof Mount
·         Kaymar hilift & shovel mount
·         Bonnet Gas Strut Conversion
·         Flexiglass Canopy
·         Davis Brown 120lt fuel tank
·         BRC g/box,transfer
·         front & rear diff breather kit
·         Rear E Locker
·         Safari Snorkel
·         SR5 Flares
·         Underbonnet Bushranger compressor
·         Roof rack mounted recovery box storage.
Back of the wagon: 
·         Flexiglass Canopy
·         (Titan 2 Drawer system on order)
·         LED interior light
·         40 lt Engel fridge.
Recovery gear:
·         Ironman snatch strap x 2
·         winch extension
·         tree trunk protector
·         drag chains
·         snatch block
·         Tredz. 
Warren's top 3 trips in the Hilux:
Yeagarup WA

Denmark WA

Cervantes

Unstoppable moment in the Hilux: 
Towing a mate with a tinny up Yeagarup dunes.

Most scary situation in the Toyota Hilux: 
A water crossing gone wrong, thankfully the engine was ok.
Warren's modification tips:
Don't be scared to tackle mods yourself, plan them well and take your time.
Research your intended mods first, it can make the job much easier,
Shop around for good deals on products and services.
Top 3 tips with Toyota Hilux modifying:
1. Be careful with engine mods, its nice to go fast, but make it reliable.      
2.  Research research research your mods!!     
3.  Don't take short cuts, do it right first time, you'll appreciate it after!  
The Modified Video.
---
Thanks to:
Thanks to my mates, Josh, Gerard, Kim, Paul, Richie, and most of all my wife for all their help.
Coastal 4 x 4 for going above and beyond.
---
Leave Toyota Hilux And Go 4 Wheeling In Western Australia.
---
Jan 15, 21 02:39 AM

Adding a fibreglass or steel car canopy to a single cab, extra cab or dual cab Ute will increase storage space immensely...

Jan 15, 21 02:32 AM

Exercise and fresh air is very good for kids. Combine camping with kids and it gets even better.

Jan 15, 21 02:22 AM

When Camping With Children kids hygiene items like wet wipes (baby wipes) are the best thing for cleaning kids, bring a few spare packets. Don't forget to..