1990 Subaru L series sportswagon, Modified.
We have another budget build on Modified, it's a unique type of modded vehicle too. The L series Subaru. Yep L series sports wagon. Adam has built this fun off-roading/camping machine for just $6000 AUD.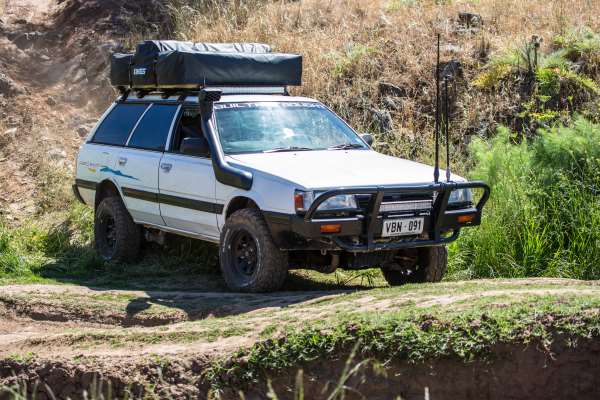 Click Any Photo To Enlarge Or Open Photo Album.
Sorry, Does NOT work on mobile phone.
This is Adam's second L series Subaru and most modified one so far, this one has a 6 inch body lift with 27inch tyres and does pretty much what all the other vehicles can do.
4WD on any terrain with the right driver behind the wheel, this is not a point and shoot 4WD. It's a think ahead and pick the right line which is the type of 4 Wheeling most of us like to do if we want a thrill.
One thing that impressed me the most was the amount of space Adam found in the wagon and made every inch usable, I'll let the video do the rest of the talking, enjoy.
Vehicles Specs (NOTE* Mod details below):
Make model: L series sportswagon
Engine: 1.8l 4 cyl Petrol ea82        
Drive train: 4x4 
Suspension:  Monroe shocks
Adam's mod list for his 

Subaru L series sportswagon

:
Engine:  
·         Standard engine
·         recon heads
·         Aluminium Radiator
·         Hilux snorkel
Electric upgrades:  
·         Dual battery system
·         120w solar panel
·         Rear fuse box for second battery
Lights: 
·         22 inch light bar on bull bar
·         32 inch curved light bar on roof
·         Rear work lights
Comms & GPS: 
·         Gme tx3200
·         Gme 6.6 dbl antenna
·         Vms 700hdx
Suspension and tyres:
·         Monroe shocks
·         6 inch body lift
·         27x8.50r14 kumho M/T kl71
Bar work and exterior mods: 
·         Factory alloy bull bar
·         Custom bash plate
·         Kings rooftop tent (weekender)
Back of the wagon: 
·         Custom draw system
·         40lt waeco f
·         Rear power outlets
Recovery gear: 
·         Snatch strap
·         Sand tracks
Adam's top 3 trips in the 

Subaru L series sportswagon

:

•       Flinders rangers

•       Bendleby ranges (flinders rangers)

•       cape Elizabeth (yorke peninsula)

 

Unstoppable moment in the sportswagon:

Saunders Gorge Sanctuary making hill climbs all the big 4wd make

Most scary situation in the Subaru:

Saunders Gorge Sanctuary just making the climb on the hardest track they have.

 

Adam's modification tips:

·         duel battery systems

·         lift kit

 

Things to lookout for with the Subaru L series:

Do body lift not suspension lift, will snap a lot of cv joints

 

Top 3 tips with the (Your Vehicle Make Model):

1.   Good Tyres

2.  Body Lift

3.  Simple Dual battery system
The Modified Video.
---
Thanks to the following people for helping with my build:
---
Leave Subaru And Go 4 Wheeling In Western Australia.
---
Jan 15, 21 02:39 AM

Adding a fibreglass or steel car canopy to a single cab, extra cab or dual cab Ute will increase storage space immensely...

Jan 15, 21 02:32 AM

Exercise and fresh air is very good for kids. Combine camping with kids and it gets even better.

Jan 15, 21 02:22 AM

When Camping With Children kids hygiene items like wet wipes (baby wipes) are the best thing for cleaning kids, bring a few spare packets. Don't forget to..