Modified 79 Series Landcruiser, Episode 4:
The 2nd single cab 79 series Landcruiser, this one is setup for some real tough tracks yet not over the top for highway handling and long touring trips. With the touring this 79 series Toyota has a huge range with its total of 260l diesel capacity! 
Chris does it all in the ute and with some recent engine & Exhaust mods big sand dunes are a breeze.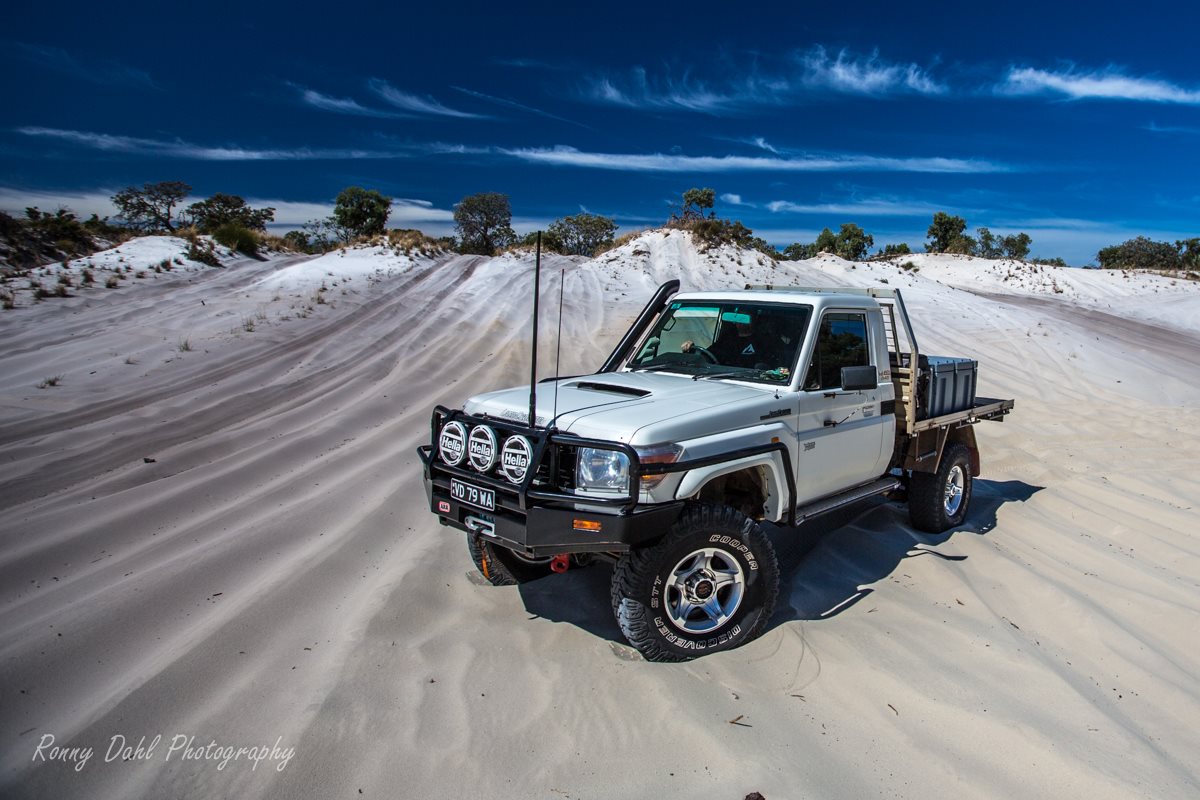 This is the perfect truck to get some great ideas and must know information about all the smaller components required when lifting a truck to the 4-5 inch zone, this 79 series cab land cruiser has been on a lot of long drives over corrugated roads and we are talking real corrugations here, the ones that rattle your teeth and loosen bolts!

So it's a good sign that he has chosen the right parts for his own needs and he has spent a lot of time researching.
This single cab 79 series Landcruiser has been on a few trips with us and we have seen how well it performs.
See the video for more in-depth details and explanations:
---
Vehicles factory stats (NOTE* modded details below):
Make model:     Toyota Landcruiser VDJ79 Cab Chassis   
Engine: 1VD-FTV (V8 4.5lt Turbo Intercooled Common Rail Diesel             
Drive train:  5 speed manual, part time 4WD, Low range gearing        
Suspension:  Front coils on solid axle and rear leaf springs on solid axle
Chris's mod list for his 79 series Landcruiser: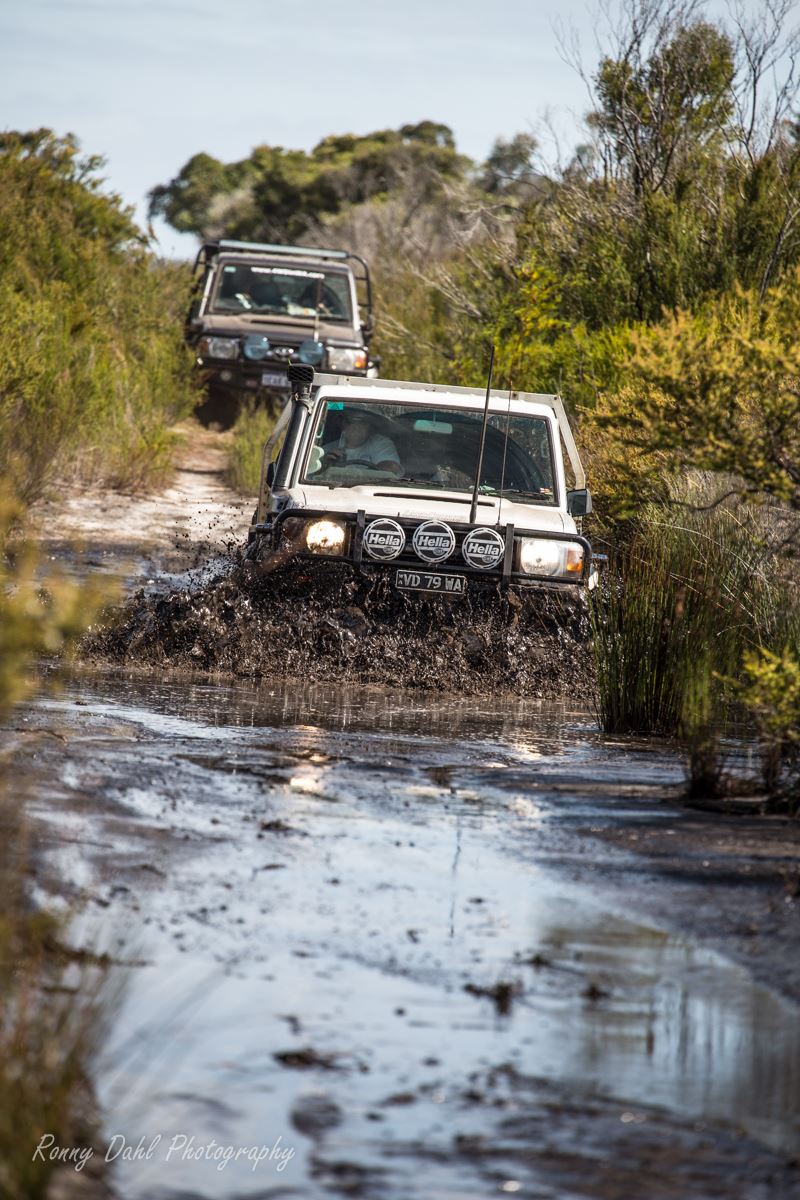 Engine: 
UniChip Q4 with 5 MAP Select,
Fuel Rail Restriction Plate,
2" Exhaust Manifold Cross Over Pipe,
Manta 3" Shorty Side Exhaust Pipe,
K&N Cloth Air Filter,
4" Stainless Custom Snorkel
Electric upgrades: 
Dual Batteries (2nd Battery 100Amp/HR),
Redarc Battery Isolator,
Autometer Sport Comp EGT & Boost Gauge,
LED Tray & Reverse Lights,
Red/Amber Tray Clearance Lights,
2x ARB Compressors Mounted Inside Cab.
Lights:
3x Hella 4000 75W HID spotlights,
Custom LED tail lights
Comms & GPS:
Icom IC400pro UHF,
5.5dbi UHF Antenna,
VMS In-Dash GPS,
Handheld Icom UHF
Suspension and tyres:
Superior Superflex, 4" Dobinson Coils,
5" Amarda Extreme Remote Reservoir Shocks,
2" Medium EFS Leafs,
Superior Extended Shackles,
Adjustable Panhard Rod,
Tough Dog Adjustable Steering Damper. 
Cooper STT 315/75r16 (35") on Allied Savanna 16x8 Alloy Rims
Bar work and exterior mods:
ARB Winch Bar,
ARB Side Steps,
Bushskinz 5mm Radiator Bash Plate,
170lt Brown Davis Sub Diesel Tank
Rear Tray and Canopy:
Factory Tray,
Genuine Toyota Rubber Tray Mat,
50ltr Tray Mount Fridge,
2x 1100mm SpaceCase Trunks Tray Mount
Recovery gear:
11,000lb Runva XP Winch with Dyneema,
Winch Damper,  Snatch Straps,
Winch Extension, Tree Trunk Strap,
1100mm TREDS,
Tyre Plugs,
Shovel,
Shackles,
Sand Anchor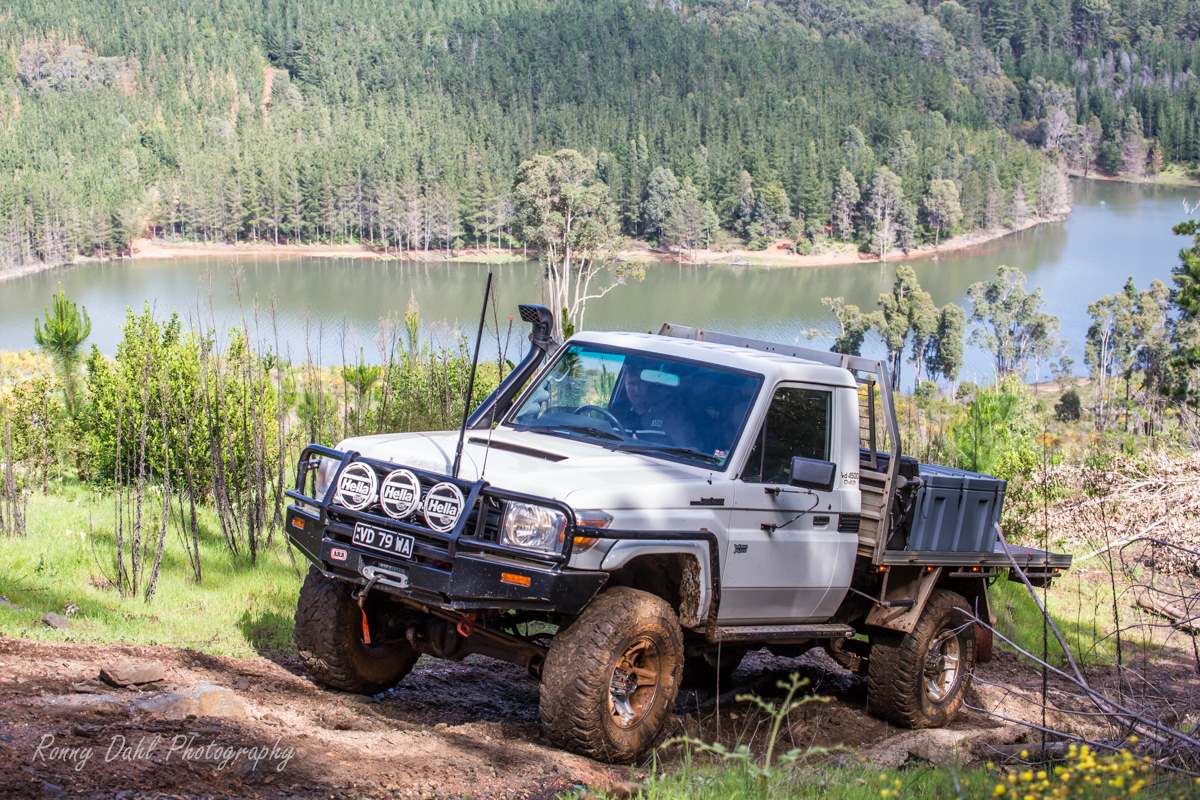 Questions and answers:
Chris's top 3 trips in the 79 single cab:
Ningaloo (Warroora Station / Coral Bay / Ningaloo / Exmouth)

Shark Bay / Steep Point

Yeagarup / Callcup
---
Unstoppable moment in the single cab 79 Series Landcruiser:
Ningaloo / Exmouth Trip = Roads were closed from Blow Holes Rd northbound due to massive bush fires and expected flooding due to an incoming tropical cyclone.
We still got to Exmouth by driving a distance of 200 km's from Blow Holes Rd to Coral Bay driving along the coast through unmapped flooded muddy tracks and beaches to bypass the fire affected hwy to arrive at Coral Bay and push on up the hwy to Exmouth.. The town was cut off via the road.
---
Most scary situation in the single cab 79 Series Landcruiser:
LOL - there has been a few.. but they have all involved rocking on 2 or 3 wheels on a stupid angle just about ready to lay over for a nap..
Having a Winch has saved my ute from potential roll over EVERY time!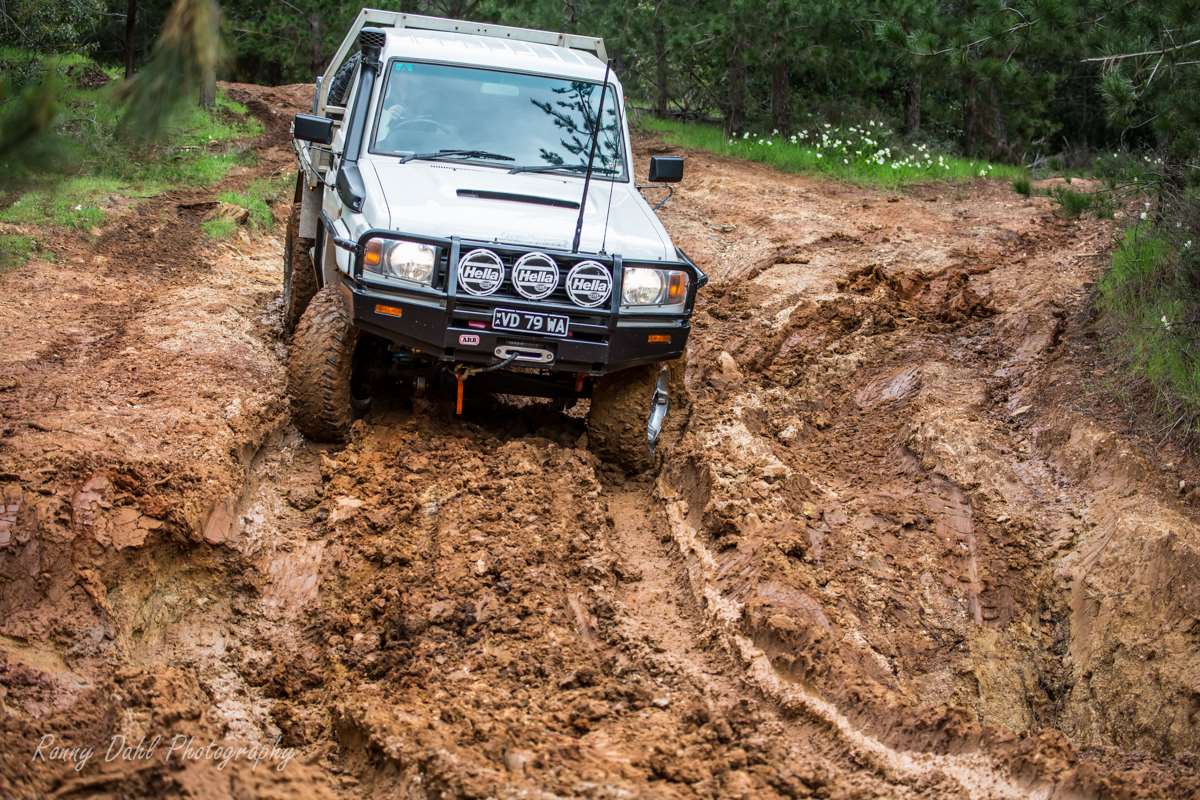 Chris's modification tips:
If you are going to lift your 4WD spend the money and DO IT RIGHT THE FIRST TIME!!
Too often, myself included. When you lift your 4WD for the first time you want the most lift at the cheapest possible price. Instead do some research and get what you want the first time!!
Spending that little bit extra initially will save you HEAPS in the long run! 
---
Top 3 tips with suspension:
1.       Research, get what you intend on using your 4WD for.
2.       Buy complete kit, Superior Engineering are great for this! Remember all the extra's you'll need if you intend on lifting above 2".
3.       If you're doing HWY work leave the swaybar in! Yeah it might flex great without it, but I hope you're got your skippers ticket! Because your 4WD will be 'boating' all over the HWY very scary at speeds over 100 km/h.


*Note this advice is Chris's opinion and may not suit your situation.


---
---
Ronny and Dave's Q and A from the video episode #4:
Q: What are your 3 Mods for actual 4wding?
A:
1.       A diff lock, 100%.
2.       Tyres, you get a lot further with bigger tyres, better clearance.
3.       The chip, it's nice when you put your foot down you actually go!
Q: What is your must have item/accessories in general?
A: A good Air compressor, it's the most underrated item!
Q: What is the most memorable trip you have done in the 79 single cab so far?
A: Coral Bay, Ningaloo, Exmouth during the floods, 450mm of rain in 24 hours.
Q: What did you have before the 79 series Landcruiser?
A: 2000 Holden Rodeo dual cab.
Q: What's your next mod for the 79?
A: An upgraded top mounted intercooler
---

YouTube video Trips with Chris and his 79 series:
70 series owners day at Lancelin
Great off-road fun with mud hills and rocks, Harvey W.A.
Chris also founded and managers the Perth 70 series owners on Facebook.

---
Nov 21, 23 07:40 PM

On this page we cover 4x4 off road tracks within a 250 km radius from Perth...

Nov 21, 23 07:35 PM

Jurien Bay 4x4 tracks info and general information about the area...

Oct 10, 23 09:31 PM

This caravan park is very clean. The ablutions are spotless. The washing machines are free but need to keep them clean. Easy parking for big rigs and if
---
Leave Series Landcruiser And Go 4 Wheeling In Western Australia.
---