Toyota Prado 120 Grande, Modified.
38 Episodes later and finally we have a Toyota Prado, this one being the Prado 120 Grande (Grande the up spec version). And it's the V6 petrol version which is a bullet proof engine but very thirsty.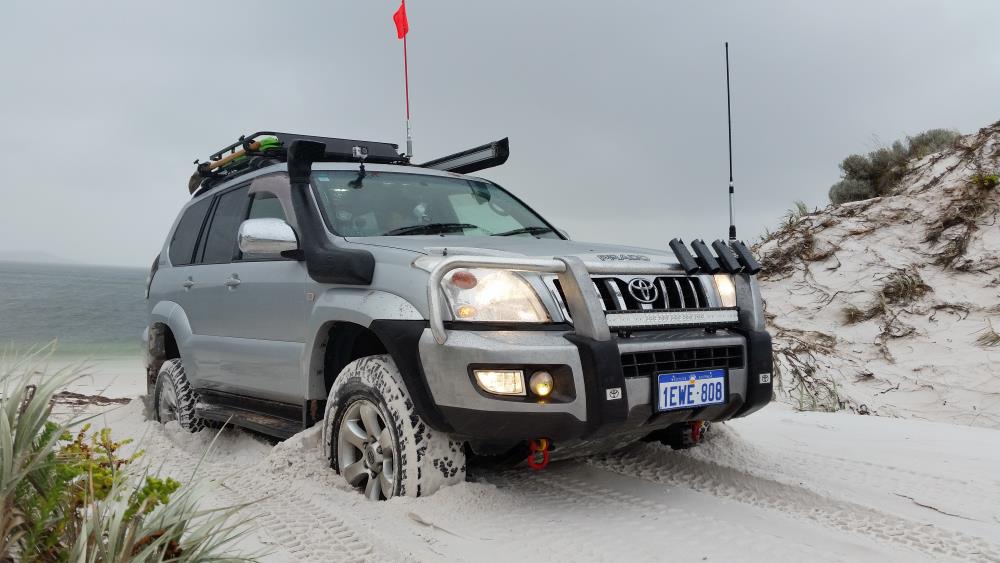 Click Any Image To Enlarge Or Open Photo Album.
Charles has keep most of the mods at a legal and moderate level with some very clever budget mods you couldn't buy at the shops (DIY custom stuff).
This 120 Prado Grande is a great example of showing you can build well on a budget and you don't need massive tyres and lift to go most places.
Vehicles factory stats (NOTE* modded details below):
Make model:    2004 Toyota Prado 120 Grande
Engine:   Petrol 4.0L V6 1GR-FE                          
Drive train:   5 Speed Automatic
Suspension:  IFS and Rear Solid Axle on airbag suspension
---
Charles's mod list for his Toyota Prado 120:
Engine: 
·         Safari Snorkel
·         Differential Breathers (Front Diff, Rear Diff, Gear Box & Transfer case)
Electric upgrades:  
·         Dual batteries
·         iDrive EVC Throttle Control
·         Bluetooth Scan Gauge OBD2
·         Sound system upgrade (4ch amp + mono amp)
·         12V Diode Booster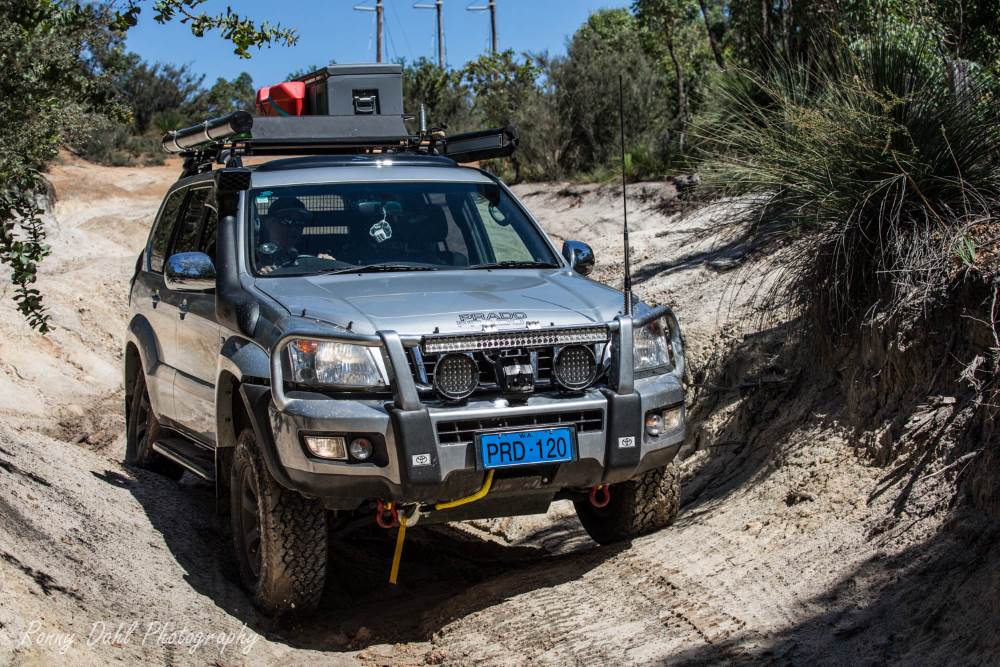 Lights: 
·         7 inch 224W LED Front Round Spot Lights
·         30 inch 198W LED Front Light Bar
·         2x 4 inch 18W CREE LED Rear Work Lights
·         Interior LED lights upgrade
Comms & GPS: 
·         ICOM IC-450 80CH UHF CB Radio
·         GME AE4018K3 6.6dBi UHF Antenna
Suspension and tyres: 
·         Front:             2'' Bilstein Struts + King HD Springs      
·         Rear:              Extended Airbagman OA6011 + 2'' Bilstein Shocks
·         Tyres:             General Grabber AT2 265/70/17
Bar work and exterior mods: 

·         Toyota Sovereign Bullbar
·         Powerful 4x4 Steel Side Step
·         Bushskinz 4mm Full Underbody Protection
·         100mm PVC Pipe (carry fishing rods)
·         Roof Rack + Awning Shade
·         Stock 180L dual fuel tanks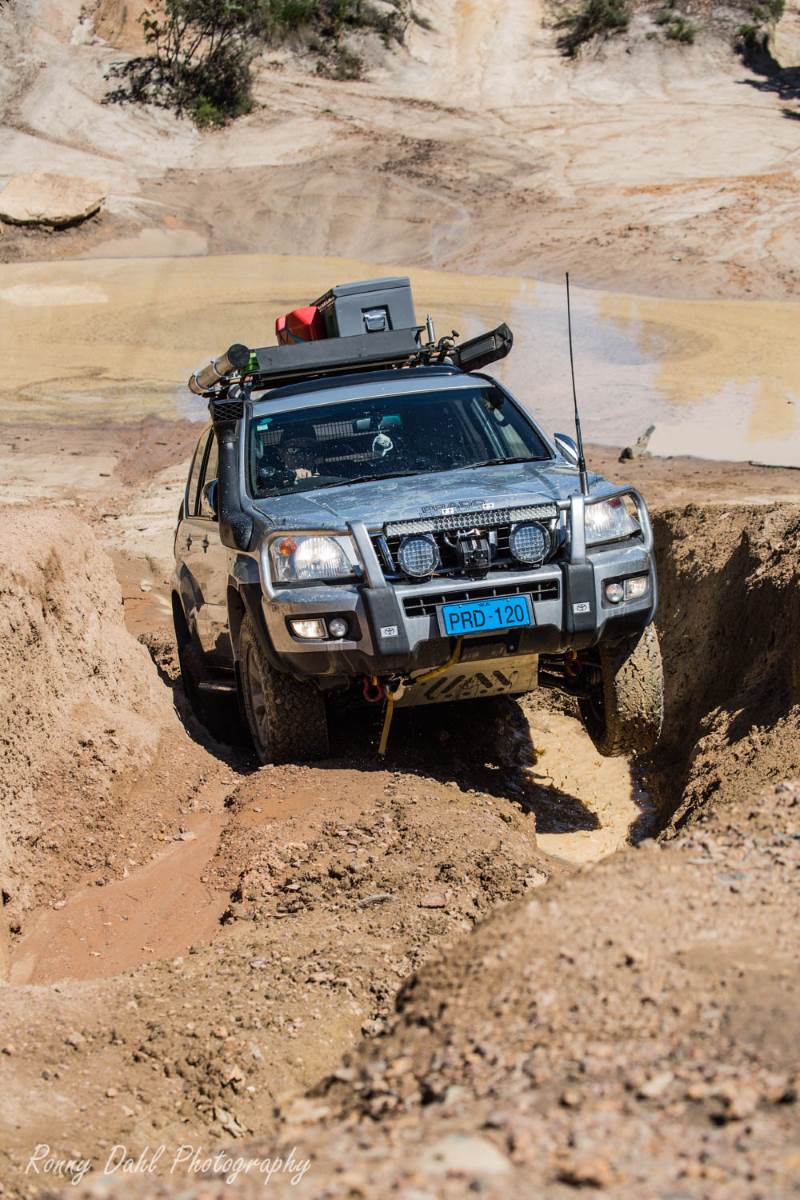 Back of the wagon: 
·         Toyota Cargo Barrier (modified)
·         Titan Drawers
·         Mounted Thumper Compressor
·         Subwoofer
·         Light switch, extra cigarette plugs
·         Water outlet
Recovery gear: 
·         Front Domin8r 12,000lb Winch
·         Front RoadSafe Recovery Points
·         Rear Hitch Receiver
·         Hercules Recovery Kit
·         Shovel + TRED Recovery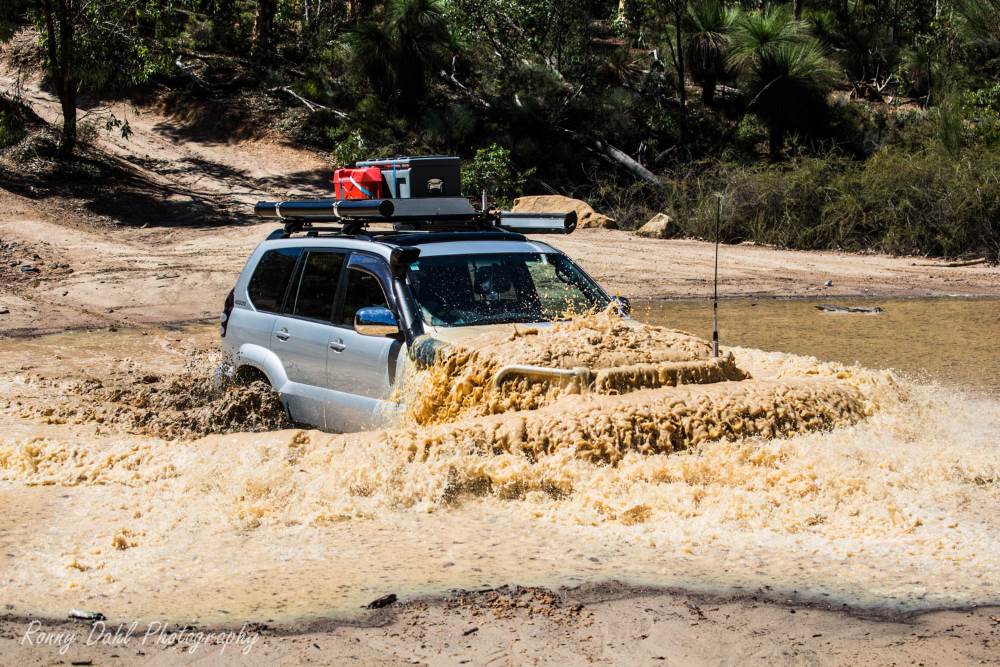 Charles's top 3 trips in the Prado:
1.      Esperance – Orleans Bay
2.      Down South - Albany
3.      Mundaring Powerline
---
Unstoppable moment in the Prado:
Making it up at one of the steep hill climbs at Orleans Bay, Esperance. There were deep ruds, loose sands and a sharp turn at the top of it. I managed to go through with guide from my mate.
---



Most scary situation in the Toyota Prado:
There was once at Mundaring Powerline just for the fun, was attempting a deep rud and my Prado nearly tipped over as I didn't have enough articulation.
My mate was guiding me and told me no go. That time I was holding my breath as it felt like a slight movement would cause dramas.
Then a few blokes drove pass and said the same thing too.
They ended up snatched me out from the rear.  
---
Charles's modification tips:
Research as much as you can before purchase anything.
Also, it's good fun to fit it yourself if you're capable of doing so. If things happen in the bush, you know where to look.
Top 3 tips with Prado 120 Grande:
1.       Do not buy Bilstein's recommended 2inch Lift kit for Prado 120 which is A712/A713. They do not offer good articulation.
2.      Try to avoid Grande spec if you intend to use it offroad and minimal towing. This is because it comes with stock Rear Airbag (which replaced the rear springs) and it tends to burst/leak. Reliability is way better with the springs.
3.       If fuel is a concern for you, buy a Diesel Prado. Having say that, I do enjoy driving my V6 and no regret buying it.
---
Things to look out for if buying one:
No ex-miners, used to have lots of them out there on this model when I bought mine.
Best 3 mod/s you have done and why:
1.      .     Rear drawers, much more organised and offer more storing space
2.      .     Cargo barrier, able to stack it up & no worries for anything flying to the front J
3.      .     Underbody protection, less worry whilst tackling with tough terrain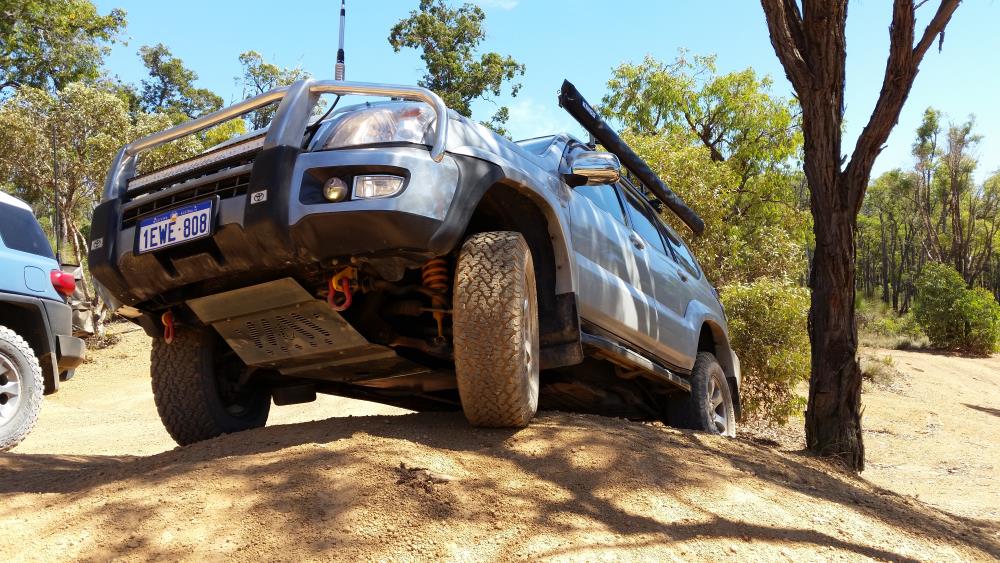 What made you decide to choose this vehicle?
It's a TOYOTA (reliable), a good size wagon for myself, 8 seaters (even though no longer), suit my budget (could have gone with the Prado 150 if I have the coins).
Best thing about the Prado:
Very comfortable family car, good size wagon, absolutely love the factory TRC control & powerful engine
Worst thing about the Prado:
Stock Toyota Sovereign Bullbar
The Modified Video.
Thanks To:
Would like to get this chance to say thank you to my 4x4 mates Shannon, Dave & Simon for all the advice and help. Special thanks to Shannon as he helped me a lot with almost all my mods. He lends me his tools, garage and time for helping me.
And of course, big thanks for ALL the supports from my wife, Vivian. Thanks to my brother, Nicholas for all the helps too. Much appreciated. J
---
Nov 21, 23 07:40 PM

On this page we cover 4x4 off road tracks within a 250 km radius from Perth...

Nov 21, 23 07:35 PM

Jurien Bay 4x4 tracks info and general information about the area...

Oct 10, 23 09:31 PM

This caravan park is very clean. The ablutions are spotless. The washing machines are free but need to keep them clean. Easy parking for big rigs and if
---
Leave Prado 120 And Go 4 Wheeling In Western Australia.
---