Mitsubishi Pajero Modified Episode 43:
Another Mitsubishi Pajero (the 3rd one) to make it into Modified, this one is supercharged! Brett the owner was a pleasure to shoot with given he has public speaking skills and didn't mind the camera at all.
In this massive feature of Modified we dive into the Mitsubishi Pajero and the trailer in fine detail, overall it's a pretty good combo and would suit all need of 4WD touring/overlanding.
Click Any Image To Enlarge Or Open Photo Album.
A big thanks to Drifta for flying me over and providing me with a vehicle and Kaito as a very helpful camera man.
Also a special thanks to my Patron supporters as the crowd funding helped get me over there and stay for 5 days!
Vehicles factory stats (NOTE* modded details below):
Make model:   Mitsubishi Pajero Exceed NM 2002
Engine: V6 Petrol 3.8
Drive train:  Auto
Suspension:   Pedders TrakRyder 2" Lift
Brett's mod list for his Pajero:
Engine: 
·         Bullet Supercharger with XEDE Controller
·         Positive Displacement Top Mount Supercharger
·         Makes torque from 1000 rpm
·         6psi boost; stock internals
·         Safari Snorkel
·         Unifilter
·         Beaudesert stainless steel exhaust
·         Pacemaker Headers
·         Wholesale Automatics TC Lockup and Upgraded Auto Valve Body
·         LongRanger Auxiliary Fuel Tank  + 60L
Electric upgrades: 
·         Dual batteries
·         Redarc BCDC1225 with solar input
·         Redarc Dual Battery Level Display
·         Redarc TowPro Elite Electric Brake Controller
·         CouplerTec anti-rust system
Lights: 
·         ARB Intensity Spots
·         Bushrange Light Bar
·         MARS Performance HID Angel Eye Front and LED Rear Lights
·         Rear Work Lights
Comms & GPS: 
·         GME UHF
·         Pioneer AVIC Carplay Headunit with SatNav
·         Reversing Camera with switch for trailer
·         Reverse sensors
·         AV Sound Deadener Under Carpet throughout to reduce road noise
Suspension and tyres: 
·         2" lift shocks+springs
·         Airbag Man Rear Air Bags
·         Bridgestone Duellers AT/LT
·         Dual ARB Air Lockers and on board compressor
Front suspension:
·         2" TrakRyder shocks and springs
Rear suspension:
·         2" TrakRyder shocks and springs + Airbag Man adjustable air bags
Tyres:
·         Bridgestone Duellers
Bar work and exterior mods:
·         ARB Bullbar with Warn Winch
·         BushSkinz Rock Sliders
·         BushSkinz Bash plates right through to auto gear box
·         Rhino Pioneer Platform
·         Drifta 270 degree rapid wing awning
·         Drifta Shower Ensuite
Back of the wagon: 
·         Drifta Car Back Drawers and Fridge Slide
Recovery gear: 
·         Warn Winch
·         Dual lockers
·         Bag full of recovery goodies
Brett's top 3 trips in the Mitsubishi:
1.    Fraser Island (many many many times).  One of the best places on the planet, full stop.
2.    Longreach and Winton.  Outback Qld is awesome.
3.    Bush camping in the Scenic Rim area in SE Qld; Mt Barney; Border Ranges; etc…   Just beautiful…
---
Unstoppable moment in the Mitsubishi:
Hauling the fully laden Drifta DOT7 equipment trailer past a 50m long road train in outback Qld with the supercharger screaming at full tilt…  AWESOME stuff…
Most scary situation in the Pajero:
Fraser beach run against the tide to catch the last barge back to Inskip…  Nothing but the soft sand up against the dunes as I came around the bottom corner…  Made it
Brett's modification tips:
Essentials; bull bar, spotties, tyres, dual batteries, UHF, awning and  AV with GPS!
Start with safety and a great sound system…  Then expand from there…
Top 3 tips with the engine:
1.     Drive conservatively and you'll save HEAPS on petrol
2.  . Keep it serviced; it pays you back in reliability
3.    .MO POWR
---
Things to look out for if buying one:
The NP model, that started in 2006, has better seating options, definitely look for them, and the ONLY thing I should have done differently was to get the diesel instead of the petrol for towing.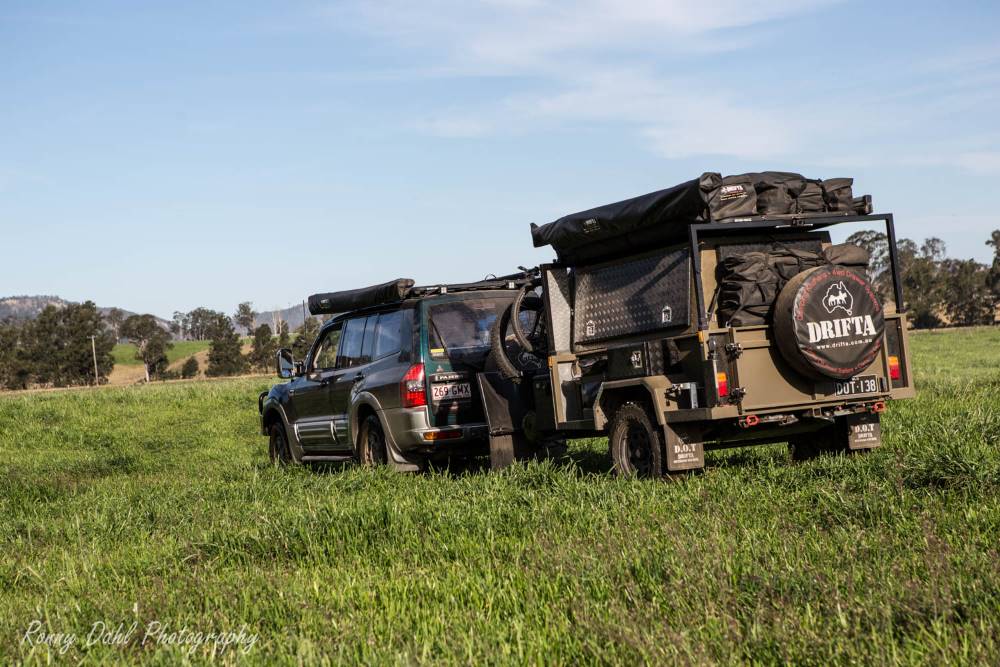 Best mod/s you have done and why:
I love every mod I've done to this Pajero; it's an awesome package.  If I have to choose just one, then the one that has added the most enjoyment to my 4wd'ing, then it's the Drifta Drawers and Fridge box package.  Everything I need is at my fingertips now and having a fridge in the car has been more handy than I could have imagined.  Camps, kids sports, family visits; it's great being able to fire up the fridge and to have all the tools and accessories close by.
What made you decide to choose this vehicle?
Versatile seven seater that is as comfortable in the city as it is in the bush
What type of Overlanding is it setup for?
Large group, long distance, highway, towing, and dirt track into campsites
Best thing about the Pajero series:
Extremely reliable
Worst thing about the Pajero series:
Cruiser owners still look down at you… ;-)
---
The Modified Video.
Build Links:
drifta.com.au
motorcare.com.au
https://www.arb.com.au/stores/arb-nundah/
roofracksgalore
completecarsound
Every one of these companies has gone above and beyond to help me build the perfect Pajero for me.  Great people, great service, long hours, and excellent products.
Cross reference
Dual locked, Bullet supercharged, v6 pajero.  Redarc bcdc, dual battery.  Full fridge and drawer fit out by Drifta, awning and shower ensuite by Drifta.  2 inch lift, airbag man airbags, Pedders TrakRyder springs/shocks.  BushSkinz Rock sliders.  BushSkinz Bash plates right back to transmission.  Upgraded auto gearbox inc Wholesale Automatics Valve Body and TC lockup.  Redarc trailer brakes.  Arb bullbar, warn winch, arb intensity spot lights.  GME UHF.  Pioneer CarPlay sat Nav head unit.  Roof mount display for back seat videos with wireless headphones.  iPhone input for videos and audio from back seat.  Front and rear dashcam.  Heads up display.  Rhino platform roof rack.  Rear work lights.  Long Ranger auxiliary fuel tank.  ShearCraft Aussie sheep skin seat covers front and back.  Safari snorkel.  Unifilter.  Beaudesert stainless exhaust.  Pacemaker headers.  Reversing camera and sensors with switch for trailer camera as well.  Arb air compressor on board.  CouplerTech anti rust.  Mars Performance Angel eye lights, LED rear tail lights and XENON front bulbs.
---
Nov 21, 23 07:40 PM

On this page we cover 4x4 off road tracks within a 250 km radius from Perth...

Nov 21, 23 07:35 PM

Jurien Bay 4x4 tracks info and general information about the area...

Oct 10, 23 09:31 PM

This caravan park is very clean. The ablutions are spotless. The washing machines are free but need to keep them clean. Easy parking for big rigs and if
---
Leave Pajero And Go 4 Wheeling In Western Australia.
---