GQ Nissan Patrol, Modified.
Another GQ Nissan Patrol, this one being our second Budget build. Many clever cost saving mods have been done to this very capable vehicle.
The GQ Nissan Patrol is one of the top choices for comp trucks these days but they are also a very classic robust machine with endless mods and cheap parts available from any wrecker in Australia.
Not only that they make for an excellent touring/expedition rig which are simple to work on if and when mechanical issues happen.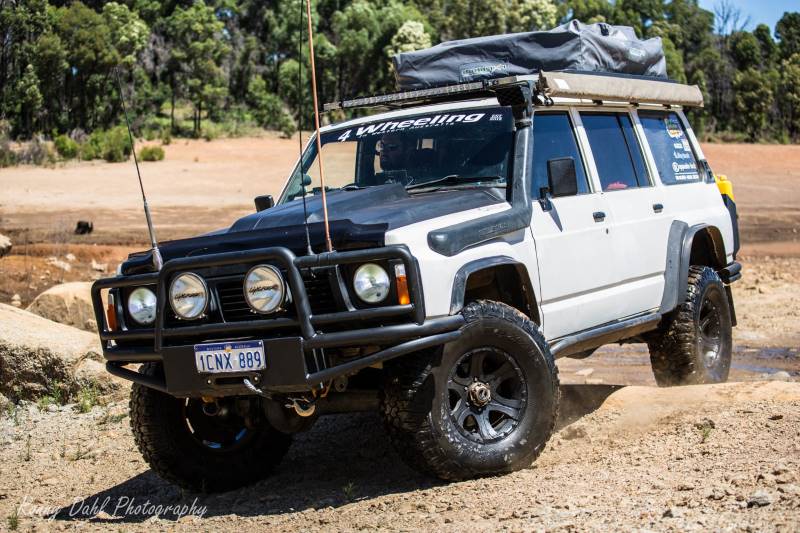 Click Any Photo To Enlarge Or Open Photo Album.
This one in particular has been worked on for a while to the point that Jarrard has it pretty well exactly where and how he wants it.
This Patrol like many others will claw, climb and drive through most situations.
Vehicles specs (NOTE* modded details below):
Make model: 1988 Nissan Y60 Patrol
Engine: Turbocharged TD42 Silver Top with Front Mount intercooler
Drive train:   Part time 4x4, 5 speed manual live axle, twin Elockers
Suspension: 4" Coil springs with 6" Adjustable Shocks
---
Jarrard's mod list for this Vehicle:
Engine:
·      Kinigawa TD05 18G with 6cm rear housing
·       DTS turbo air box
·       Custom low mount log manifold with turbo mount moved forward
·       Front mount inter-cooler
·       11mm Boost Compensated injector pump (fitted after video)
·       Larger injectors (fitted after video)
·       Adrad copper radiator (fitted after video)
·       Safari tuff H/D clutch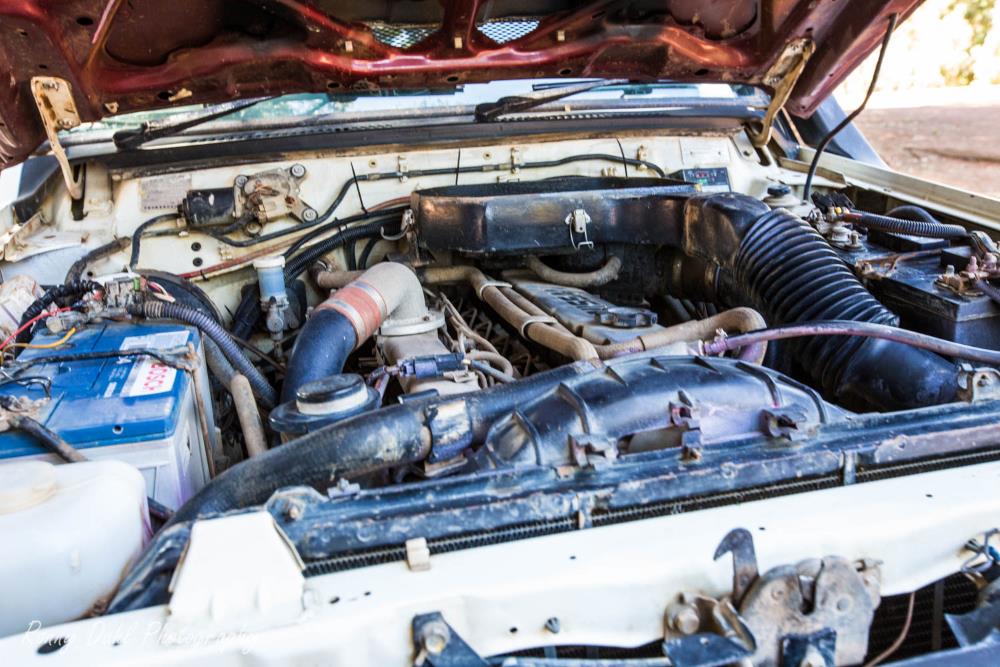 Electric upgrades:  
·               Triple battery setup using an Intervolt solid state isolator
·         800W inverter with 1500W ready to replace
·         Water pump built in to the drawers
·         On board Twin Tongue air compressor
·         Fuse blocks front and rear
·         After market double din touch screen stereo with Sub-woofer
·         Reverse Camera
·         120W solar panel
---
Lights: 
·        Pair of 50W Lightforce Genesis HID
·        30" LED Light Bar for forward spread
·        6" double row reverse light
·        Under bonnet led strip for night repairs
·        LED strip in the rear for cooking etc.
---
Comms & GPS: 
·        GME TX4500W UHF radio
·        HEMA HN7 off road gps
Suspension and tyres:
·        4" Tough Dog coil springs
·        6" Tough Dog 45mm adjustable foam cell shocks
·        Adjustable panhard rods
·        Roadsafe drop boxes
·        Extended brake lines
·        Extended sway bar links front and rear
·        Return To Centre steering damper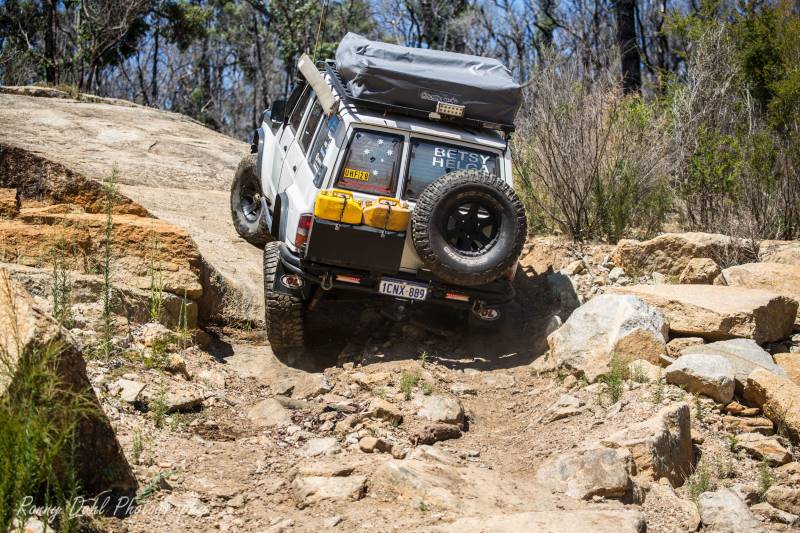 Bar work and exterior mods:
·        XLR8 Custom bar, designed by myself
·        XLR8 rock sliders
·        XLR8 custom rear bar suit ¼ chop and to carry 2x jerry cans and a 35" spare wheel. Designed by myself to match front bar
Back of the Nissan Patrol: 
·        Custom made drawers built to house 50L water tank, twin piston air compressor, third battery and fuse block
·        Cargo barrier
Recovery gear: 
·        9,000lb Ironman winch with synthetic rope
·        Sand anchor
·        Extensive recovery kit
·        Maxtrax
---
Jarrard's top 3 trips in the vehicle:
. Esperance
. Harvey
. Buffalo Beach
---
Unstoppable moment in the GQ Nissan Patrol: 
A few years ago, some mates and I headed up to Wilbinga.
We'd run into some really soft sand on the beach and one of the guys was pretty badly stuck. Then a big 80 that was with us bogged himself trying to get him out so it was up to me.
With my tyres at 14psi and the turbo whistling, I managed to pull both cars out one after the other and just seemed to not be able to get stuck even in the soft stuff the 80 was sucked into!
That was a proud day to own Betsy.
---
Most scary situation in the GQ Nissan Patrol:
After hitting up the powerlines after fitting the front Elocker, I managed to make it up a really tricky hill climb, maxing out the suspension articulation.
After coming over the top, there was a steep drop away that I couldn't see and the drivers side nearly hit the deck!
---
Jarrard's modification tips:
Research, research and more research!
You don't need to fit out your 4x4 with the entirety of the ARB catalogue.
Ask around, speak to people in the industry and see what works best and what's just flat out pointless for your build.
If you're handy with some spanners and screw drivers, even better! You'll save a heap of money if you can fit the gear yourself.
---
Things to lookout for with the GQ Nissan Patrol:
Cheap turbo fitments! So many guys go out and bolt on Chinese turbos because they can't afford a decent kit. That's a big hint that the money hasn't been spent right to ensure it stays running well.
Another big one with such an old car is rust. Gutters are the biggest and most obvious with the firewall seam another.
Top 3 tips with the vehicle:
1.      Front locker. Once you have the traction of all 4 wheels turning, patrols will go anywhere!
2.   Sliders. With the long wheelbase and such a low body, it's worth while protecting your sills with a set of good sliders
3.       Turbo. The power increase you get with a snail bolted to a TD42 is phenomenal! It's really a whole new car!
---
The Modified Video.
Thanks to the following people for helping with my build:
.Mike at XLR8 Fabrication 
---
Aug 21, 22 04:20 AM

Hi! Welcome to offroad dad and my journey in life doing things on a budget using my hobby offroading touring camping and survival as a way to cope and

Mar 30, 22 02:53 AM

When Camping With Children kids hygiene items like wet wipes (baby wipes) are the best thing for cleaning kids, bring a few spare packets. Don't forget to..

Mar 30, 22 02:49 AM

If you're in the market for Camping tents there are plenty of options ranging from cheap to expensive and big - small. Depending on what type ....
---
Leave Nisan Patrol And Go 4 Wheeling In Western Australia.
---