Nissan Patrol Y62 (Datsun), Modified.
It took a long time to find a Nissan Patrol Y62 that wasn't built like a catalogue vehicle. What is a catalogue vehicle you might ask? Well it's a vehicle that's been sent to one place (i.e. ARB or TJM) and fitted out with the catalogue without much thought behind it…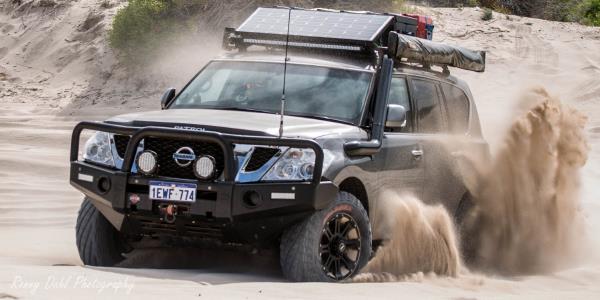 Click Any Photo To Enlarge Or Open Photo Album.
Sorry, Does NOT work on mobile phone.
Daniel's Nissan Patrol Y62 is 100% not one of those. He has spent a long time thinking and planning his build and is still making small improvement but is pretty much there in terms of a complete build.
Daniel has done some seriously clever space management with his limited space behind the 3rd row seats. Yep this is an 8 people seater with the complete touring ready setup.
The Y62 might be a petrol but that's not going to stop it from going anywhere, people that say you MUST HAVE A DIESEL honestly have no idea or have not travelled remote places with a petrol/gasoline vehicle.
That said there is no denying that a diesel motor will tow better when it comes to fuel economy but this 5.6l petrol V8 is an absolute beast and will handle any light or heavy towing duty. Oh and Daniel tows quite a bit too… he has 3 trailers for 3 different styles of outdoor camping and activities.
This guy loves the outdoors.
Enjoy the feature.
Vehicles factory stats (NOTE* modded details below):
Make model:  Nissan Patrol Y62
Engine: 5.6 V8, Direct Injection, Naturally Aspirated, VK56VD              
Drive train:    7 Speed Automatic
Suspension:  Independent Front & Rear Suspension, Coil Sprung
Daniel's mod list for his Nissan Patrol Y62:
Engine: 
·         Custom stainless snorkel and airbox
·         Manta 3inch cat back exhaust
·         Engine and transmission ecu relocation in engine bay
·         Custom engine tune pending
Electric upgrades:  
·         Custom DIY cabling and wiring to all non-engine and transmission management
·         Factory battery replaced with 55Ah Optima yellow top running parallel with
·         Piranha dual battery tray with 55Ah Optima yellow top
·         Powertech adjustable dual battery isolator for power to rear of vehicle
·         20Amp waterproof solar panel charger regulator
·         DIY wiring for switches and relays to lights, solar panel and winch
·         Dual 135Ah AGM deep cycle batteries mounted in rear of vehicle
·         20A DC/DC Ctek charger regulator (soon to be upgraded)
·         Digital volt meter display
Lights: 
·         Stedi 41.5inch slim spread and spot LED light bar mounted to roof rack
·         2 side and 2 rear-facing 25W Stedi Work/Camping lights
·         100W roof rack mounted solar panel with aluminum trim painted in black truck bed liner
·         Pair of bull bar mounted 7" Kings Illuminator round LED driving lights
Comms & GPS: 
·         Uniden UH8020S compact UHF Radio
·         Uniden UH850S 5W waterproof handheld radio
·         iPad running Hema Maps app
·         iPhone 6 running Hem Maps app
·         Handheld Garmin gpsmap64 running google real maps
·         Various usb port 12v cigarette lighter socket chargers
·         RAM mounts for navigation equipment and phone
Suspension and tyres: 
·         Alloys - 18inch CSA alloys
·         Tyres – General Grabber SRL 275/70R18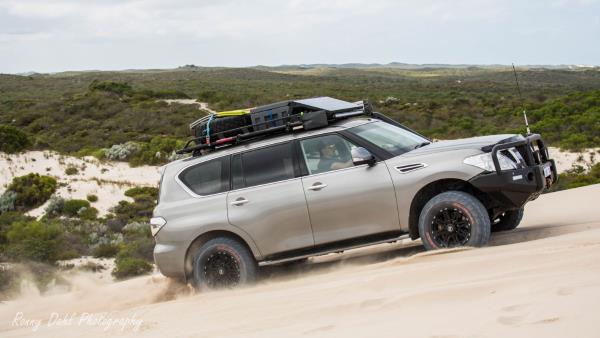 Bar work and exterior mods:
·         Opposite Lock Steel triple loop bull bar
·         Rhino tradie rack
·         Shovel holder
·         Will add a high-lift jack and holder
·         Rhino Foxwing 270 awning
·         Roof mounted storage box for chainsaw, tarpaulin and vehicle spares. This will soon be removed for more roof rack storage space for 30 second tent or swags as required
·         Roof rack mount twin jerry can holder
Back of the wagon: 
·         Custom carpeted plywood cabinet, tilting fridge mount and stainless steel covered fold out table. This unit still enable the use of the 3rd row seats
·         20L water container
·         50L Waeco fridge
·         50L Waeco fridge on 3rd row seat running as freezer, easily removable when the extra seating is required.
·         Air compressor, food storage and camp cooking accessories
Recovery gear: 
·         Tool bag stored on floor of 3rd row seat with bottle jack, winch extension dyneema rope, snatch strap, tyre puncture repair kit, gloves etc
·         Tow bar hitch receiver for 5T shackle
·         Bull bar mounted Runva 13000-pound waterproof winch with dyneema rope
·         A second tool bag is also kept on the 3rd row seat floor with tools.
Dr Dan's top 3 trips in the Nissan Patrol Y62:
I have just completed the Anne Beadell Highway from West to East, April 2018
The Holland Track, April 2017
Carnarvon, Karratha, Broom, Derby and coastal areas in between, July 2016
---
Unstoppable moment in the Nissan Patrol Y62:
I have on video, a sand dune hill climb at Myalup Beach on the Australia Day weekend 2018 that the Patrol nailed. Unfortunately, the two Toyotas that we were traveling with attempted but couldn't make it. All in good spirit this was a neat outcome for the Toyota owners having payed out on the Nissan owner earlier that day!
Most scary situation in the Nissan Patrol Y62:
None really to date. I've not pushed the vehicle to its limits with technical four-wheel driving to ever have come close to a scary situation. That said the vehicles intended purpose is primarily for touring on and off road.
Dr Dan's modification tips:
1. I found the standard rear suspension to be particularly soft for any descent load carrying capacity so this is one of the first areas of modification I made on the vehicle.
2. Y62 Patrols are one of the lessor modified large four-wheel drives so kits and accessories are relatively less common. This has been a mild limitation in the process of modifying my vehicle. I had a bad experience with the custom snorkel and airbox that was fabricated and in hindsight I should have shopped around. 
3. Being a petrol vehicle I would recommend being conscious not to overload too much with heavy modifications in consideration of the fuel consumption.
---
Things to look out for if buying one:
To date I have found this vehicle to be extremely reliable, comfortable and a pleasure to use for touring. I don't really have any particulars that someone should be aware of if looking to purchase a Y62 Patrol beyond the common current good running condition' and 'descent service history' relevant to any 4wd purchase.
Best 3 mod/s you have done and why:
1.    A good set of off road tyres would be number 1. This is what contacts you to the ground and its good piece of mind having quality rubber. I'm amazed at how flimsy the factory all terrain tyres are that came on the vehicle new.
2.    The custom rear cabinet. Its nice to have easy access and good organisation of those things most commonly used when touring and camping.
3.    Quality navigation and communication equipment mounts. I tried the cheap ebay mounts and was disappointed from the outset. Quality mounts for your nav, comms and camera equipment keep good order, organisation and reliability inside the vehicle, particularly when four-wheel driving.
Nothing worse than crap flopping and flying around inside when your off road!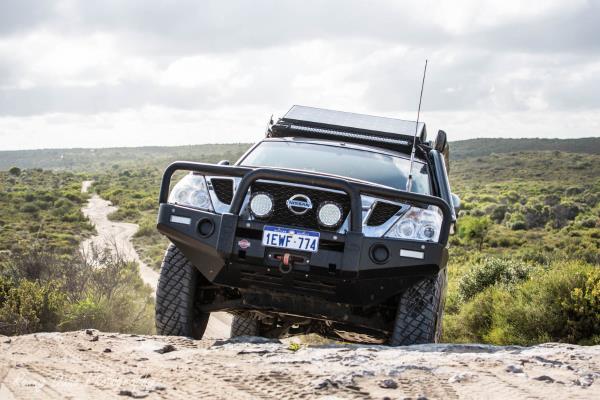 What made you decide to choose this vehicle?
Two main reasons:
-       I wanted a full size four-wheel drive vehicle that could accommodate 6 or more passengers.
-       I compared the Nissan against the Toyota equivalent and couldn't justify the more than 1.5 times new purchase price. What I saved on the initial purchase more than covered the cost of modifying the vehicle and pays for the higher fuel consumption, petrol vs diesel. 
Best thing about the NISSAN Patrol Y62:
The space, comfort, excellent NVH level, off road capability 'out of the box', relative economical initial purchase price, and wonderful V8!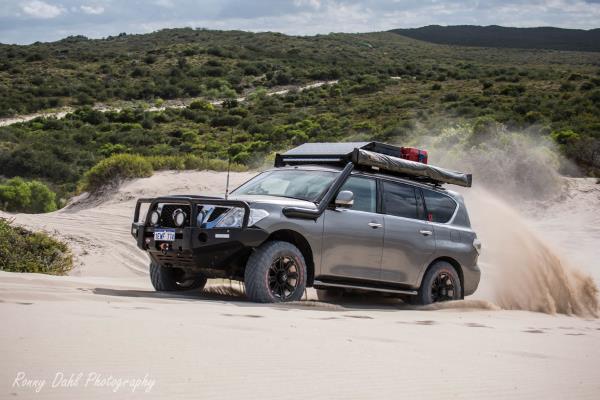 Worst thing about the NISSAN PATROL Y62:
The most common question I am asked about the vehicle -
The fuel consumption is certainly not the Y62's strong point, that said I think its reasonable considering the 3.5ton fully loaded mass it carries around!
For reference I achieve 17L/100klms highway, 20L/100 around town and 19-23L off road (depending on terrain). These figures are when the vehicle is "fully loaded" with water, fuel, food, 33inch tyres etc.
We also tow our 3ton caravan from time to time and average 25L/100klms at speeds not exceeding 90klms/hour.
Also, un-accessorised, it's not the prettiest SUV around!
Top reason to buy a NISSAN Y62 (in your opinion):
Roominess, comfort, relatively low purchase price, off road capability.
Top reason NOT to buy a NISSAN Y62 (in your opinion):
Those who are particularly sensitive to fuel consumption figures!
---
The Modified Video.
---
---
Jun 29, 23 08:30 PM

Well 7 of us just traveled to the Pink Lake cv/pk in Esperance. We had such a great time there, all staff were very accommodating and friendly. The camp

Aug 21, 22 04:20 AM

Hi! Welcome to offroad dad and my journey in life doing things on a budget using my hobby offroading touring camping and survival as a way to cope and

Mar 30, 22 02:53 AM

When Camping With Children kids hygiene items like wet wipes (baby wipes) are the best thing for cleaning kids, bring a few spare packets. Don't forget to..
---
Leave Nissan Patrol Y62 And Go 4 Wheeling In Western Australia.
---