Nissan Navara 4x4, D22, Modified.
The second Nissan Navara 4x4 on modified, this time however we have one that's kitted up for touring/expeditions and as a bonus we do a quick review of the camper trailer. Yep Nathan brought along both the Navara D22 and his MCD camper trailer.
The main event when it comes to mods is the rear canopy but as an entire build this is the most kitted Nissan Navara D22 I've seen to date.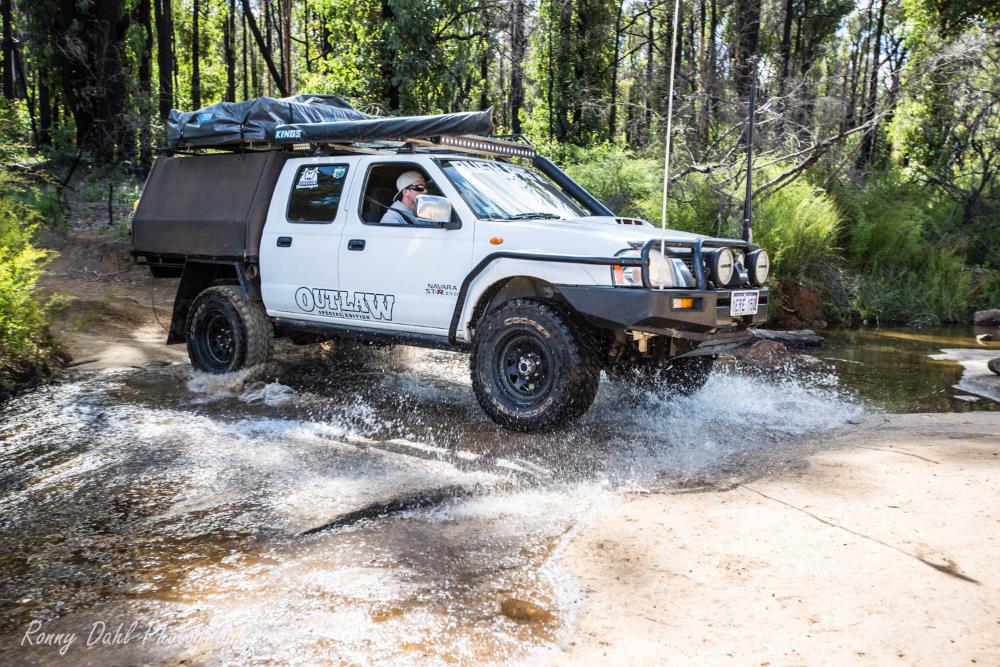 Click Any Image To Enlarge Or Open Photo Album.


Vehicles specs (NOTE* modded details below):
Make model:  Nissan Navara D22 – Outlaw Edition
Engine:   2.5l yd25
Drive train:   Manual 4x4
Suspension: IFS front & solid rear axle on leaf suspension
Nathan's mod list for this Nissan Navara 4x4:
Engine:
4" stainless snorkel
3" side exit exhaust
Egr block
Upgraded aluminium radiator
Boost and egt gauges
Heavy Duty Clutch
Electric upgrades:  
Duel battery system
Gauges
12v system in the canopy
Lights: 
Roof mounted light bar
Rear facing work lights
Rear facing reverse lights
Side lights
Illuminator spot lights
Canopy lights

Comms & GPS: 
Oricom uhf
Suspension and tyres:
2" tough dog lift kit
Snake racing uca's
Extended brake lines
Repacked leaf springs
33" cooper ST on 16" -12 sunnys
Bar work and exterior mods:
Sliders and scrubs
Stock Bullbar
12000 pound Winch
Custom roof racks
Roof top tent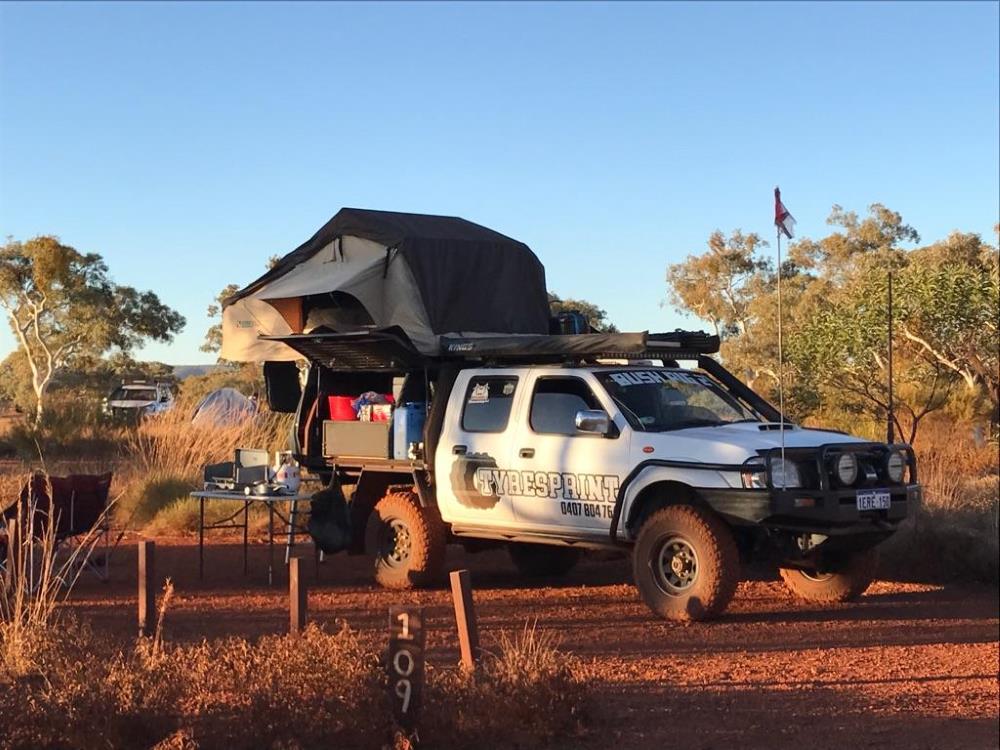 Back of the ute: 
Custom tray setup
Draws – including a pull out work bench/ prep area
Fridge slide
12v system
Canopy Lights
Recovery gear: 
Winch
Tracks
Straps etc

---

What is the vehicle mainly setup for:
Setup for touring – For quick easy Weekenders away and the longer trips exploring
Nathan's top 3 trips in the vehicle:
 2 week trip up and down the turquoise coast with my girlfriend Claire The highlight Francois Peron National Park and Coral Bay
3 week trip down and around the south coast of WA  to Bilbunya dunes with the Westausbushpigs4x4 crew
Boys Long weekend on the Holland track. Great scenery, varying countryside and challenges along the way.
Unstoppable moment in the Nissan Navara 4x4:

Towing our 1 tonne camper trailer plus a loaded up rig through the Francois Peron National Park track right after holiday season.
The track was choppy and soft as ever we only just got through, foot flat to the floor.
My Navara D22 got us to the camp site without getting stuck or having to stop once and we got the camper set up with seconds to spare of a storm hitting.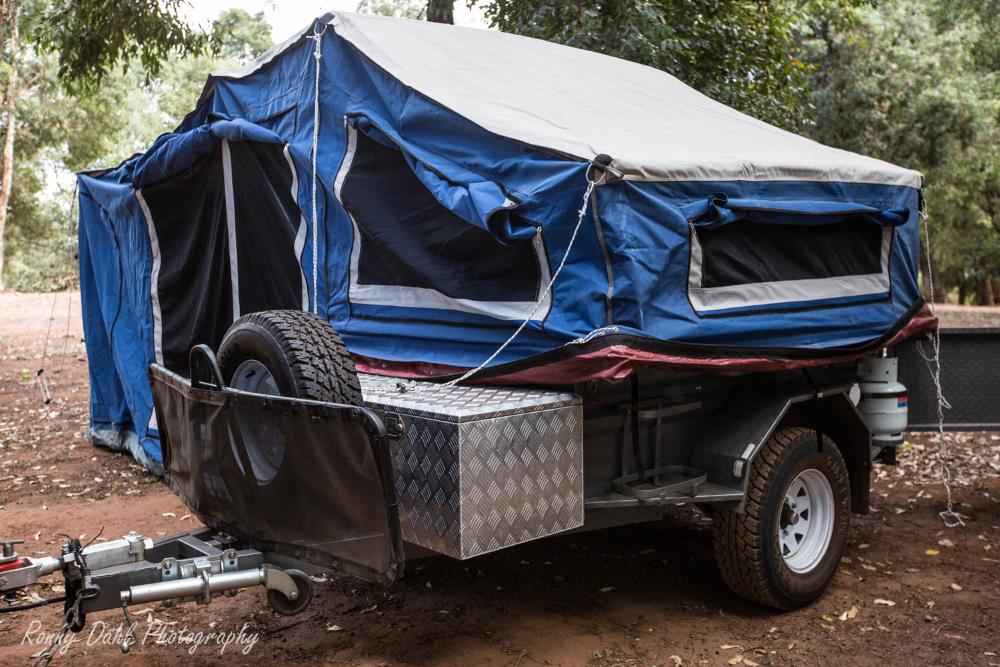 Most scary situation in the Nissan Navara D22:
Powerlines track trip with a sunken Navara where the puddle was deeper then expected. Water coming in the sides – lucky my mate jumped to action and was prepared to get neck deep in water to hook up a snatch strap to start the recovery.
Nathan's modification tips:
Think about what order you do your mods in for the D22 carefully as a few have been harder to install than others, requiring a lot of extra parts to come off again or un-necessarily!
---
Things to lookout for with this model Navara D22:
Look out for the more reliable yd25 engine instead of the zd30
Top 3 tips with the Nissan Navara D22:
1.      Plan your mods wisely as I've redone the suspension setup 3 times till I got it right as each time I modified something meant I had to redo the suspension to suit.
2.   Don't overdo the engine mods it's not all about the big power. At the end of the day its only a 2.5ltr
3.       When installing the exhaust allow a lot more time then you think. I've seen so many ''how to posts'' and most include removing the turbo. It was a 1.5 day job to do mine.
The Modified Video.
Thanks to the following people for helping with my:
All my canvas work: Nathan Beardman from PM Canvas
Bar work, tray build and all other fab needs Bmk Customs https://www.facebook.com/bmkcustoms/
The fellow bushpigs for always knowing how to have a good time and putting the mods to the test West Aus Bushpigs 4x4
https://www.facebook.com/westausbushpigs4x4/
---
Jun 29, 23 08:30 PM

Well 7 of us just traveled to the Pink Lake cv/pk in Esperance. We had such a great time there, all staff were very accommodating and friendly. The camp

Aug 21, 22 04:20 AM

Hi! Welcome to offroad dad and my journey in life doing things on a budget using my hobby offroading touring camping and survival as a way to cope and

Mar 30, 22 02:53 AM

When Camping With Children kids hygiene items like wet wipes (baby wipes) are the best thing for cleaning kids, bring a few spare packets. Don't forget to..
---
Leave Nissan Navara 4x4 And Go 4 Wheeling In Western Australia.
---