Hardcore Nissan GU Patrol, modified #74.
This is Musa's project vehicle, the BIG Nissan GU Patrol setup entirely for hardcore 4 wheeling. Sitting on a 6inch suspension lift and 40'inch Trepadors this beast is ready for the serious stuff. Musa knows how to drive/wheel as well tackling some crazy rock ledges and insane climbs with ease most of the time.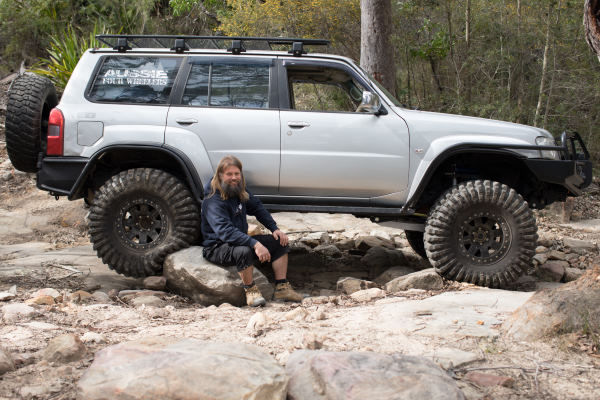 Click Any Photo To Enlarge Or Open Photo Album.
Sorry, Does NOT work on mobile phone.
Musa is also a YouTuber and not just a YouTuber he is proper in size with over 130,000 subscribers who love watching Musa and his mate take on the 4 wheeling tracks that would make most people turn around or at least detour.
For the full build specs see the video.
Vehicles Specs (NOTE* Mod details below):
Make model: Nissan GU Patrol 2005 
Engine: TB48       
Drive train: Auto
Suspension: 6 inch
Musa's mod list for the Nissan GU Patrol:
Engine:  
·         xxx
Electric upgrades:  
·         Alternator to 1st battery to 2nd battery 95mm2 cable upgrade
·         Secondary battery below front passenger seat
Lights: 
·         STEDI 25inch light bar
·         10m (2x 5m strips) rock lights
·         LED upgrade inside cabin
·         10W LED rear reversing light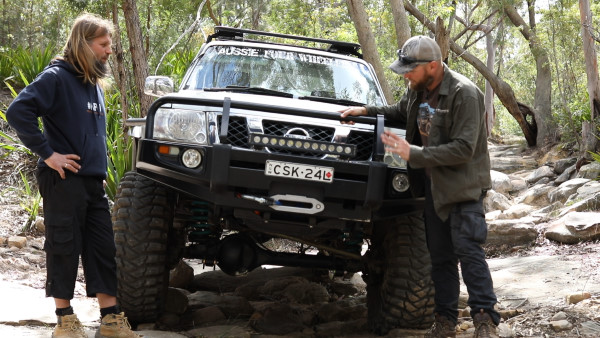 Comms & GPS: 
·         xxx
Suspension and tyres:
·         6inch Dobinsons coils
·         12inch Superior Engineering remote res adjustable shocks
·         MAXXIS Trepador 40inch sticky tyres
Bar work and exterior mods: 
·         Steel bull bar front
·         Steel bull bar rear
·         Steel roof rack with sunroof cut-out
·         Custom rock sliders
·         Front and rear custom EZE-10S brush bars
·         Front and rear 3inch rubber flares
·         Removable mud flaps
Recovery gear: 
·         Runva 10DB twin motor competition winch
---
Musa's top 3 trips in the Nissan GU Patrol:
·         Queensland Gates Newcastle
·         Zig Zag Watagans
·         Mt Airly Capertee
Unstoppable moment in the Nissan GU Patrol:
·         Giving it up the step at Queensland Gates
Most scary situation in the Nissan GU Patrol:
·         Rolling down backwards on Tool Box Hill at Wheeny Creek
Musa's modification tips:
·         First - rock sliders, second – lockers, third – reduction gears, then lift, tyres, hubs, etc…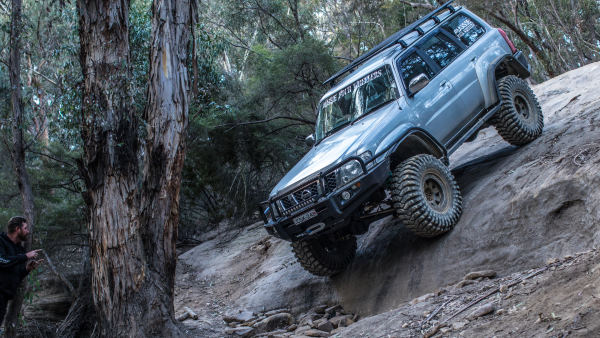 Things to lookout for with this model Nissan GU Patrol:
·         If it runs LPG, the 2 buterfly screws in the plenum – remove them!
Top 3 tips with the GU Patrol:
1.    Remove ABS fuse when wheeling
2.    Always lock in 1st gear (on auto) when climbing steep inclines
3.    Change the factory 3.5 gear ratio to 4.1 if running 35s or 4.6 for larger
The Modified Video.
---
Thanks to the following people for helping with my build:
1.    Frank, the 80-series king
2.    Mark from EZE-10S Performance (another 80-series king)
---
Nov 21, 23 07:40 PM

On this page we cover 4x4 off road tracks within a 250 km radius from Perth...

Nov 21, 23 07:35 PM

Jurien Bay 4x4 tracks info and general information about the area...

Oct 10, 23 09:31 PM

This caravan park is very clean. The ablutions are spotless. The washing machines are free but need to keep them clean. Easy parking for big rigs and if
---
Leave Nissan GU Patrol And Go 4 Wheeling In Western Australia.
---