Nissan GQ Patrol, Modified.
This is the first Nissan GQ Patrol we have featured on Modified and there has been a lot of requests for one. It's not often a GQ Patrol is in mint condition especially in 2016 and this one gets used off-road! 

Jonathan is the second owner of this Nissan beast that was formally his dads, since he took it over many upgrades have been added.
The GQ Patrol is one of the most capable vehicles of its time with superior flex and super strong axles.
This Nissan GQ Patrol has a lot more now!
Engine work, lift kit, reduction gears, diff locker and the list goes on and on…
In addition, the look has been changed dramatically with some very clever craftsmanship to the bonnet, can you pick which vehicle it is from?
Click Any Photo To Enlarge Or Open Photo Album.
Vehicles factory stats (NOTE* modded details below):
Make model: 1993 Nissan GQ Patrol
Engine: TD42 Silver top 4.2 Turbo Diesel                        
Drive train: 5 Speed manual, part time 4wd with manual locking hubs.
Suspension: Live axles, coil suspension front and rear.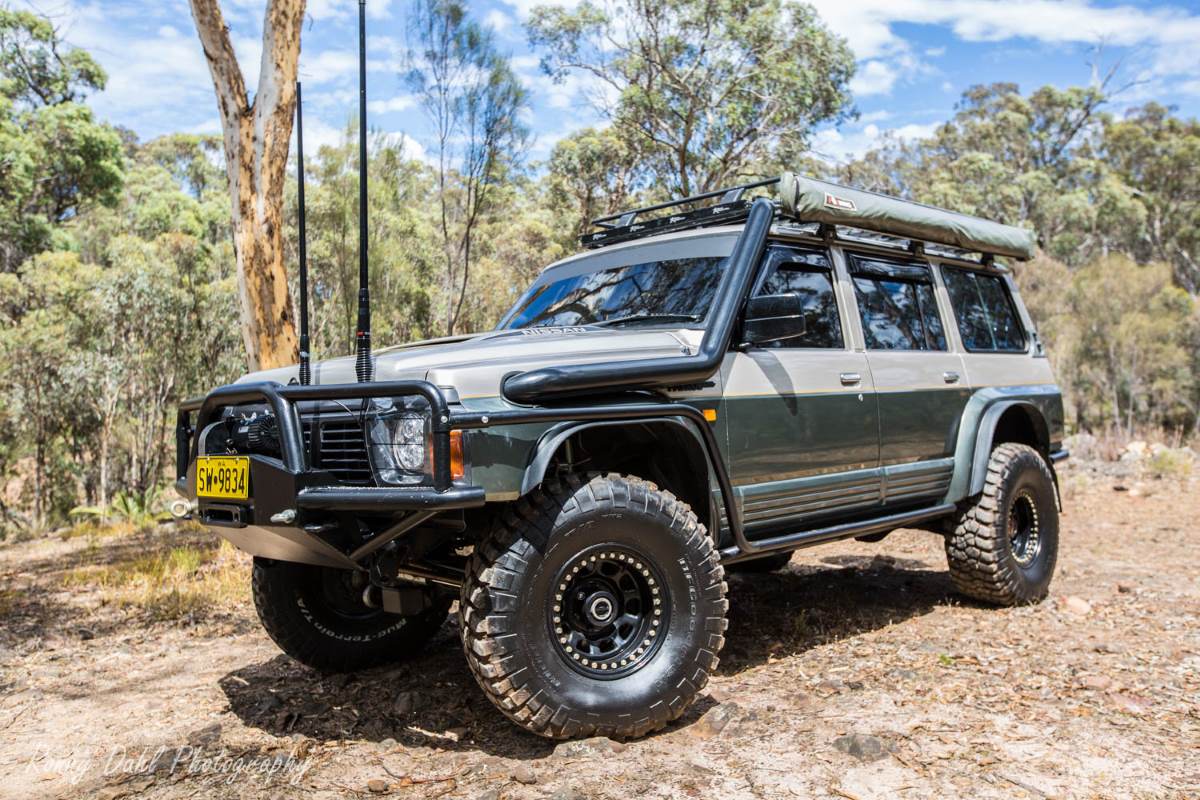 Jonathan's mod list for his Nissan GQ Patrol:
Engine:  
-       UFI 18g turbo
-       12mm DC Fuel Pump
-       3" exhaust
-       Cross Country top mount intercooler
-       Transfer case reduction gears
-       4.3 ratio diff centres
-       ARB Air locker
Electric upgrades:  
-       Currently re wiring the whole car to neaten it up. Including fuse blocks, solar panelling, wiring to winch, roof console modifications, rear work lights for interior. Anderson plugs, relocating dual battery kit to rear of car, isolators, etc.
 Lights: 
-       Rear worklights
-       40" Lightbar
-       LED headlights
Comms & GPS: 
-       VMS GPS
-       GME UHF / GME aerial
-       Striker Phone kit and aerial
Suspension and tyres: 
-       3" Lift
-       Superior engineering coils
-       Fox remote shocks
-       Superior Hybrid Superflex arms
-       HD control arms
-       Superior Engineering heavy duty rear sway bar and links
-       35" BFG Km2's
-       Steel beadlocks
Bar work and exterior mods: 
-       Long range fuel tank
-       Millweld front bar
-       XLR8 scrub bars and sliders
-       XLR8 rear bar
-       Moonlight Fabrications Stainless snorkel
-       Fatz Fabrication custom airbox
-       ARB Roof cage
-       ARB Rooftop tent
-       Foxwing awning
-       Custom GQ bonnet
-       Custom Front diff bracing
Back of the wagon/ute: 
-       Rear draws
-       Custom false floor behind front seats
-       MSA Drop down fridge slide
-       Engel 40l fridge
-       Custom stainless drop down table on barn door
Recovery gear: 
-       Warn High mount custom
-       4x Maxtrax
-       Snatch straps, winch extensions, snatch blocks, etc.
-       Shovel
Jonathan's top 3 trips in the GQ Patrol:
Esperance / Fitzgerald River National Park
Pemberton/ Yeagarup Dunes
Harvey/Brunswick region
The Kimberly/Exmouth/Steep Point are on the list for this year however.
Unstoppable moment in the GQ:
Probably a few of the tracks down south such as Bob's Hill and a couple locally known panel denting tracks.
Most scary situation in the GQ Patrol:
No real scary moments however a couple of close calls stuck on beaches approaching a high tide however.
 Jonathan's modification tips:
Do things right the first time. Plenty of research in relation to what you what to do with your car. Poor man pays twice.
Top 3 tips with GQ Patrol

1.       If you have the time to work on the car yourself, I would recommend it, they are a very simple car to work on.
2.       Buy genuine products from genuine retailers. Avoid eBay.    
3.       Low suspension and wide track will get you in as many if not more places as a higher lifter patrol.
See The Video, Modified #17.
Thanks:
-       Mike at XLR8 Fabrications for all the bar work.
-       Matt at United Fuel Injection for all the engine work. See him for your td42 needs.
-       Ash at Perth 4x4 for all the drivetrain and general accessories.
-       Moonlight Fabrications for the custom snorkel.
---
Jun 29, 23 08:30 PM

Well 7 of us just traveled to the Pink Lake cv/pk in Esperance. We had such a great time there, all staff were very accommodating and friendly. The camp

Aug 21, 22 04:20 AM

Hi! Welcome to offroad dad and my journey in life doing things on a budget using my hobby offroading touring camping and survival as a way to cope and

Mar 30, 22 02:53 AM

When Camping With Children kids hygiene items like wet wipes (baby wipes) are the best thing for cleaning kids, bring a few spare packets. Don't forget to..
---
Leave Nissan GQ Patrol And Go 4 Wheeling In Western Australia.
---