Modified Y62 Patrol. Modified #62
Another Modified Y62 Patrol, this one owned by a YouTuber (Dash Offroad). David has spent a lot of time researching and modifying his Y62, some parts of the vehicle has changed more than once trying to find the right bit of gear.
This Y62 has also been the first to spot the odd mod here and there as in the early years of the Y62 Patrol not much was available for them.
Enjoy the build below get some great ideas and if you want to know more go check out Dash Offroad of YouTube. Links at the bottom of the page.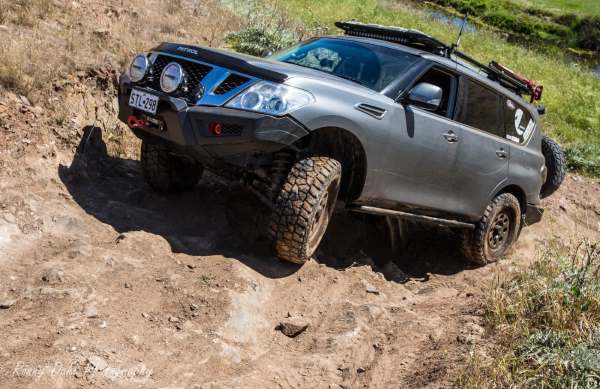 Click Any Photo To Enlarge Or Open Photo Album.
Sorry, Does NOT work on mobile phone.
Vehicles Specs (NOTE* Mod details below):
Make model: Y62 Patrol
Engine:  5.6L V8 Petrol (yes, petrol)
Drive train:   7 Speed automatic
Suspension: Tough Dog 43mm Adjustable shocks with armored vehicle spec springs with airbags to adjust for heavier loads.
David's mod list for his Modified Y62 Patrol.
Electric upgrades:  
·         Piranah duel battery tray with Optima 55ah Yellow Top duel battery
·         Redarc Smat solenoid
·         "Red wire snip" to disable smart alternator
·         9500lb Carbon Winch
·         Ko-Gear Locker override switch
·         160W flush mounted solar panel to roof rack
·         ARB hard mounted compressor under bonnet
·         Sphere additional reversing monitor and added Camera Control Unit
·         Redarc Tow Pro Elite
Lights: 
·         Narva 215 LED Spot lights on front bar
·         42" Light bar on roof
·         Ko-Gear LED low beam upgrade
·         Ko-Gear LED interior light replacements
·         Ko-Gear NISMO spec smoked rear tail lights with LED reverse upgrade
·         Customer rear flood light fitted to Kaymar bar
·         Duel LED angel eye fog lights to Predator front bar
Comms & GPS: 
·         Uniden RM 770 remote mic fitted to centre console
·         iPad GPS using Memory Maps
Suspension and tyres:
·         Tough Dog ss above with engineered GVM Upgrade to 3680kg
·         Black Rock 17x8 +25

·         Mickey Thomson 315/70/17 (35's) ATZ P3's
Bar work and exterior mods: 
·         Predator front bar
·         Bog O 4x4 Rock Sliders
·         Kaymar Rear bar
·         Custom roof rack with flush mounted solar panel
Back of the wagon: 
·         Titan single rear drawer
·         Evakool 50L fridge
.
Recovery gear: 
·         Snatch strap, winch extension strap, tree trunk protector
·         X2 snatch blocks
·         Gloves
·         High lift jack
·         ARB hard mounted compressor
---
David Hautop's top 3 trips in the Y62 Nissan Patrol:
Bendleby Ranges
Carpenter Rocks to Beachport
Narcunda South
Unstoppable moment in the Modified Y62 Patrol:
Going up Hay hill in at Geranium with 8 people in the car when no other car could get up it. Haha!
Most scary situation in the Y62 Nissan Patrol:
Hmm, let me see? Was it bogged on the beach at Beachport when the tide was coming in lapping my wheels as I was digging the sand out? Or was it at Loveday in "Hells hole" when I had a wheel in the air and embankment on either side wedging the sliders in? Or could have been at Cobar state forest playing see saw on a bolder? Iv'e nearly fell off a couple of sand dunes….. the list goes on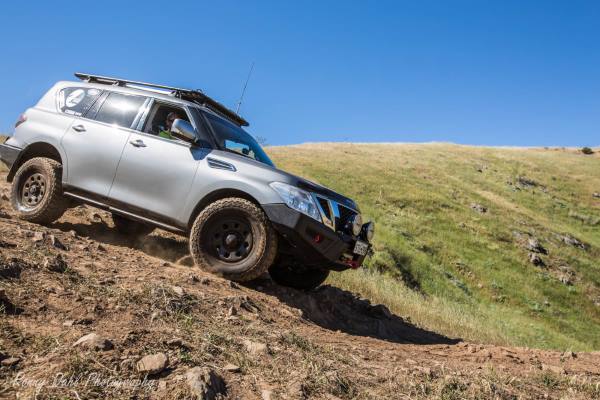 David's modification tips:
Tyres! As big as you can get, and a locker too.
Things to lookout for with this model Y62 Nissan Patrol:
Going over GVM and catalytic converter failure at around 100,000km. But otherwise, she's bullet proof
Top 3 tips with the Y62 Nissan Patrol:
1.      Don't believe that Nissan trans oil lasts a lifetime
2.     Fill it with Premium ULP, gotta feed those horses, and they will reward you with smiles
3.     For any sand dune, 3rd gear low and go go go!
---
The Modified Video.
---
Links:
https://www.youtube.com/dashoffroad

https://www.facebook.com/Virginia-Troll-DASH-OffRoad-697286137134802/
https://www.instagram.com/dashoffroad/?hl=en
---
Jun 29, 23 08:30 PM

Well 7 of us just traveled to the Pink Lake cv/pk in Esperance. We had such a great time there, all staff were very accommodating and friendly. The camp

Aug 21, 22 04:20 AM

Hi! Welcome to offroad dad and my journey in life doing things on a budget using my hobby offroading touring camping and survival as a way to cope and

Mar 30, 22 02:53 AM

When Camping With Children kids hygiene items like wet wipes (baby wipes) are the best thing for cleaning kids, bring a few spare packets. Don't forget to..
---
Leave Modified Y62 Patrol And Go 4 Wheeling In Western Australia.
---