Mitsubishi Triton, Modified.
Wait no longer Triton fans because here it is, another very highly requested Modified video, a Mitsubishi Triton 4x4 aka Mitsubishi L200.
Just as most 4x4 vehicles featured on Modified this Triton is up there with mods and capability. A few things on Josh's Mitsubishi Triton have been changed more than once and refined, anyone with a 4x4 Triton will get a ton of ideas from this one. 

One thing that really stood out during the shot was the 2.5l Turbo Diesel motor had no signs of struggle at all pulling the Triton truck up some very soft and steep sand dunes.
Normally each vehicle on Modified kind of has a specific area which could be considered the main feature, Josh's Mitsubishi Triton on the other hand is a well-balanced vehicle when it comes to mods and it looks pretty damn cool too.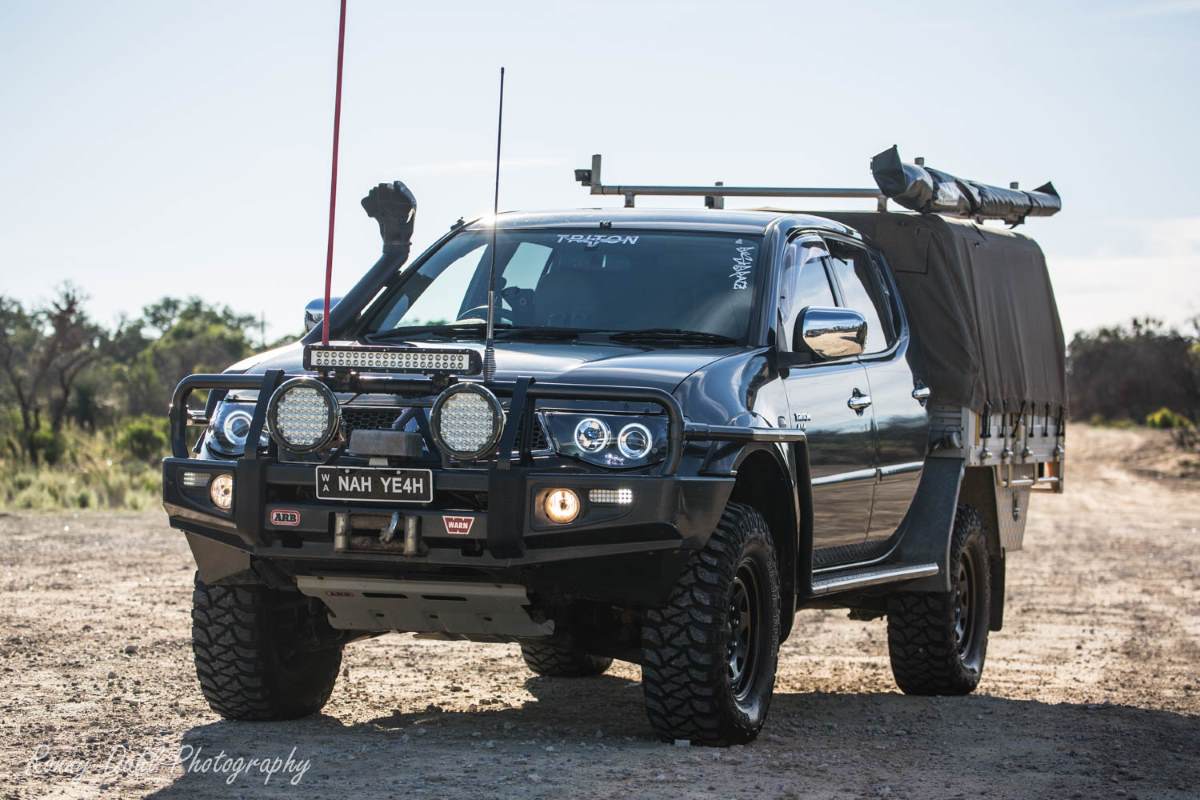 Click Any Photo To Enlarge Or Open Photo Album.
Sorry, Does NOT work on mobile phone.
Vehicles factory stats (NOTE* modded details below):
Make model: Mitsubishi Triton MN GLX-R
Engine: 4cyl 2.5ltr Turbo Diesel                    
Drive train: Standard Drive Drain with a Factory rear diff lock & 5 speed Manual         
Suspension: Old Man Emu shocks and coils springs up front and SAS Leaf springs with old man emu shocks and off road runner extended shackles.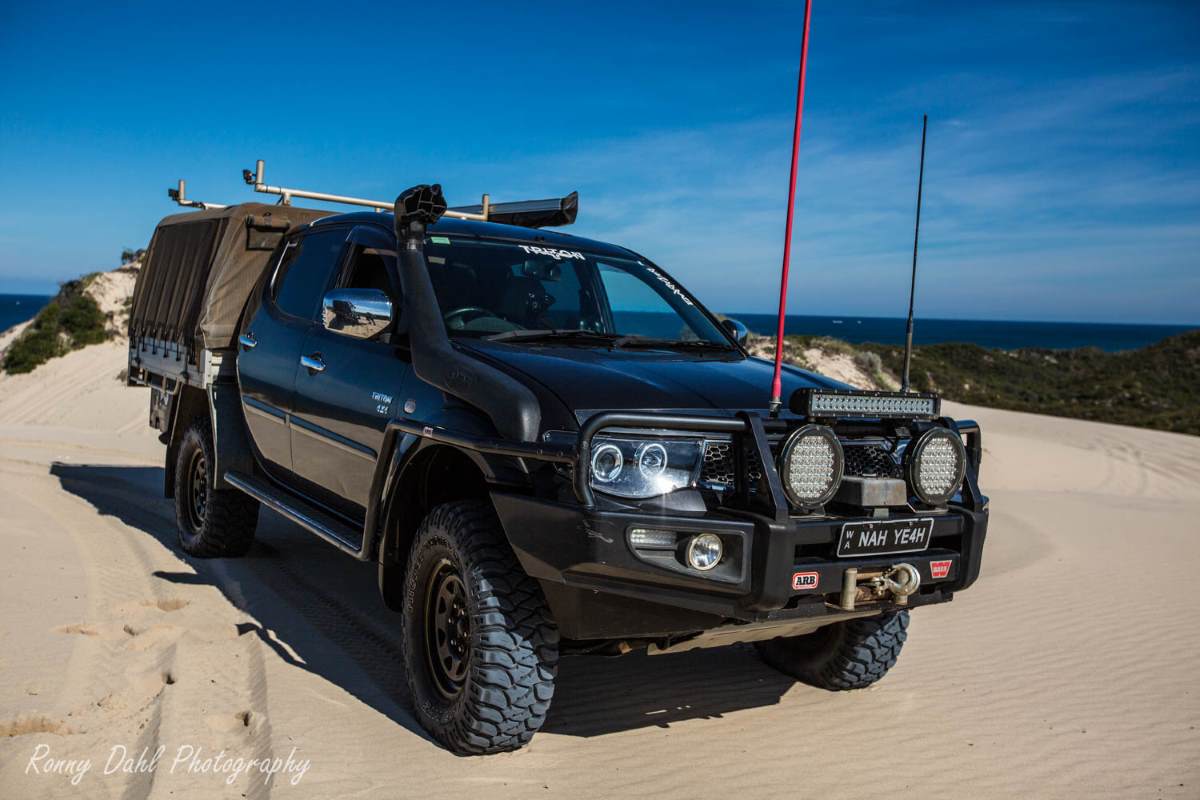 Joshua's mod list for his Mitsubishi Triton:
Engine: 
·         ECM Tune
·         Oil Catch Can
·         K&N Filter
·         3" Straight Through Exhaust
·         Boost & EGT gauges
·         Safari Snorkel (Intercooler upgrade on the way)
Electric upgrades:
·         Red arc DCDC 1220 Daul battery system with battery over ride solenoid
·         usb charge points in the back seats
·         Dual Battery monitor Gauges, Both start and deep cycle batteries are optima         gel batteries
·         Warn XP9500 winch
·         Miccon turbo Timer
·         ARB Twin cylinder Air compressor
·         x2 6 way fuse panel 1 under bonnet and 1 in my electronic box under tray
·          custom made switch panel in tray for lighting around tray 
Lights: 
·         Pair of 9" LED spot lights matched with a 22" LED bar light
·         Ute lights swopped out with aftermarket angle eye lights, bull bar indicators           LED
·         Interior lights changed out to LED
·         in the back have X2 awing LED strip lights
·         X1 LED strip light for inside of tray and X3 flood lights mounted on top of              canopy
·         X2 LED reverse lights and LED tail lights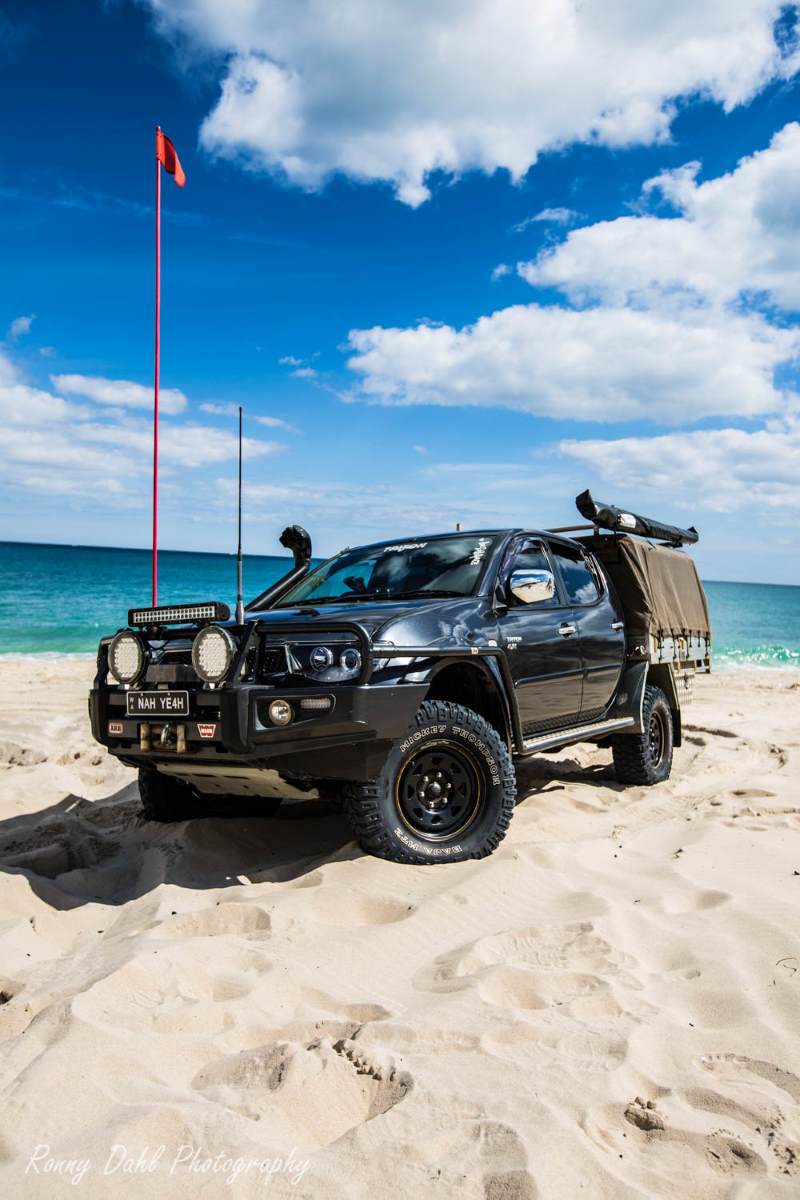 Comms & GPS: 
·         GME TX3540 UHF
·         Hemma 6" GPS
Suspension and tyres:
·         Old Man Emu shocks and coils springs up front and SAS Leaf springs with old man emu shocks and off road runner extended shackles
·         Black Sunnraysia rims
·         265/75R16 Mickey Thompson Baja MTZ Tyres      
Bar work and exterior mods:
·         ARB Deluxe Bull Bar
·         ARB Scrub Bars
·         ARB Side Steps
·         Long Ranger 125ltr fuel tank and a 50ltr Boab Fuel tank in the Tray total of 175ltrs
·         ARB Bash plates from Bull Bar Back to transfer case
Back of the wagon:
·         ARB 47ltr Fridge with a MSA drop down fridge slide
·         Camp Trax Foxwing Awing
·         30ltr water tank (Shes a Multipurpose ute!)  camping stuff comes out to when going camping
Recovery gear:
·         Full Recovery Kit that stays in the ute at all times and a set of maxi traxs and a shovel
·         recovery reecee hitch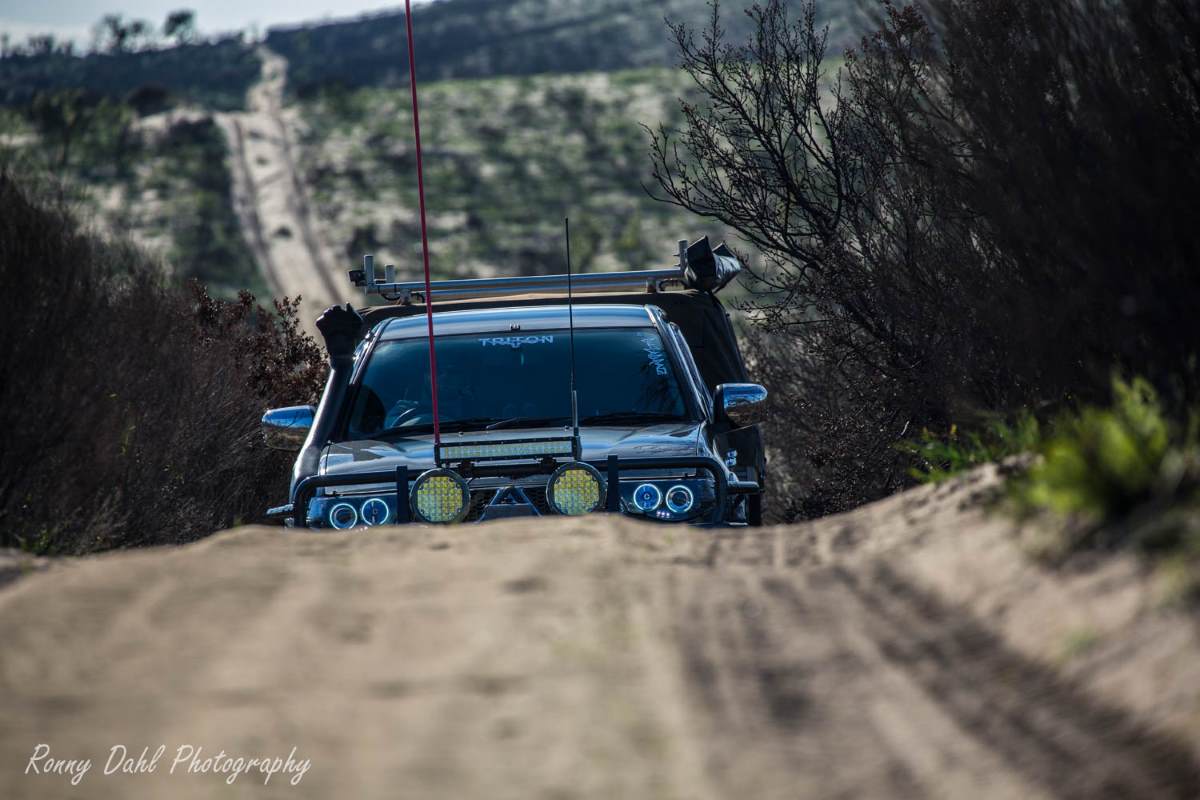 Joshua's top 3 trips in the Mitsubishi Triton:
Canning Stock Route, Western Australia

Holland Track, Western Australia

Yeagarup, Western Australia



Unstoppable moment in the Mitsubishi: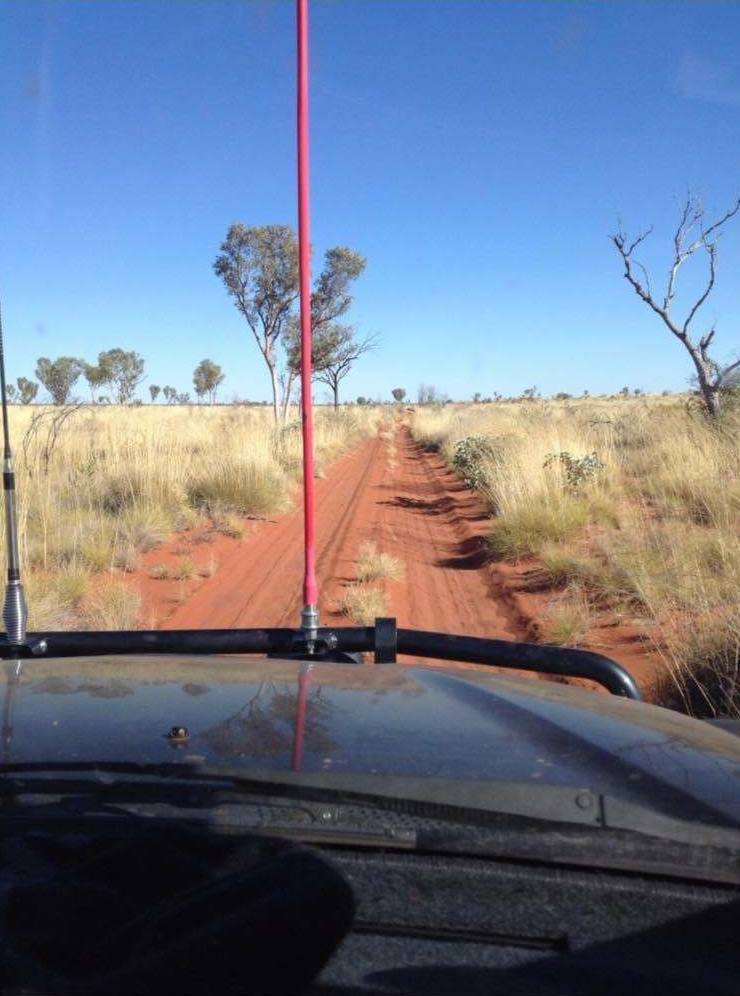 Most awesome unstoppable moment in the Triton was the canning stock route when she busted up every dune no dramas and being the recovery wagon snatching the old man's ute with the camper and another mate with his camper up and over the dunes!



Most scary situation in the

4x4 Triton:
A stretch of beach along Ledge point Where I was boarder line Red Lining and I had to point the Bull Bar into the water to get some traction to bounce back up the beach!!
---
Joshua's modification tips:
Everybody has said, but Research is the biggest tip I can give, and if you can do it to your ute yourself do it.
 I've done all my electric modes and it's great to know how it all runs so in the case of a fault you know where everything is!
I've been asked so many questions by people, even my parents, to say I should have bought a cruiser or a similar ute to customise like I have my triton, but I love my ute and I wouldn't change it at all!
 And its unique there aren't many Tritons out there that are customised much but the ones that are look awesome!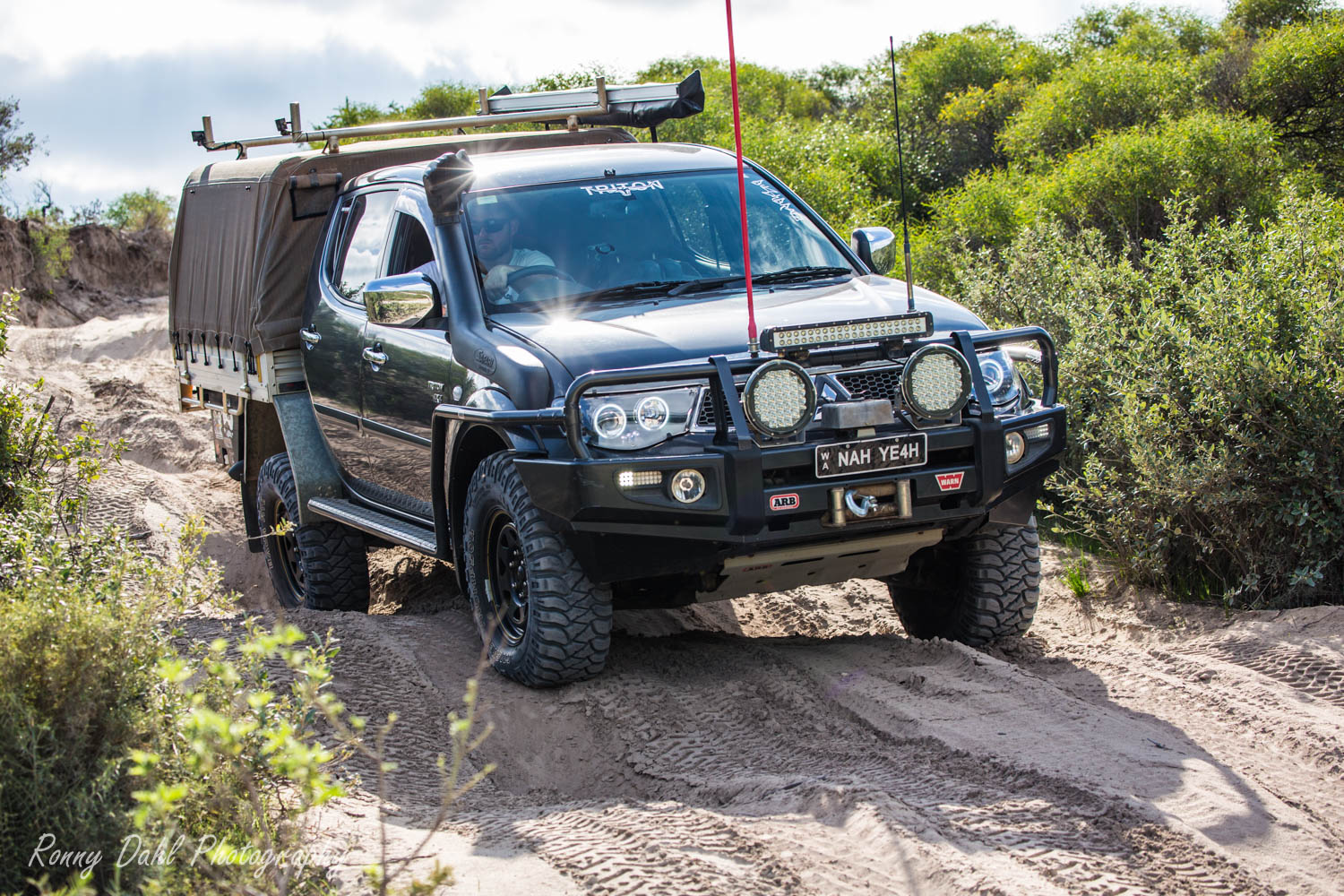 Top 3 tips with Mitsubishi Triton:
1.    I strongly recommend fitting a oil catch to your triton the amount of oil I have caught is huge and it will help to reduce your manifold from clogging up
2. Bash Plates is another awesome tip and a must, if you fit a good set of aftermarket bash plates you won't have any worry about damaging your drive train, I'm glad I got a set on my ute        
3.   Electrics- when it comes to electrics take the extra time when doing it run it neatly and insulate where ever you can and connect it all correctly, last thing you want is something going wrong when you're having a great time out on the tracks!     
---
The Modified Video.
Links.
I would like to thank the following:
ARB Osbourne Park: for helping me get my car up to off-roading scratch and especially my mate Michael for putting up with my constant calling and emailing! Top bloke
Exhaust Torque: for customizing the rear half of my exhaust
My Old man: for all the boily work I required to my ute
My mate Rikki from Rikki's auto electrics:  for taking an ear bashing of confusing questions ha ha when it comes to wiring my ute and helping me out.
---
Aug 21, 22 04:20 AM

Hi! Welcome to offroad dad and my journey in life doing things on a budget using my hobby offroading touring camping and survival as a way to cope and

Mar 30, 22 02:53 AM

When Camping With Children kids hygiene items like wet wipes (baby wipes) are the best thing for cleaning kids, bring a few spare packets. Don't forget to..

Mar 30, 22 02:49 AM

If you're in the market for Camping tents there are plenty of options ranging from cheap to expensive and big - small. Depending on what type ....
---
Leave Mitsubishi Triton And Go 4 Wheeling In Western Australia.
---