Mercedes Benz Unimog, Modified #34
So here we finally have it… A Mercedes Benz Unimog! With plates saying REAL4WD.
I was so excited to shoot this rig as it's the first ever Unimog I've been up close to in an Off-road environment.
Niel's Unimog in particular looks very tough with its tray back look. Sitting next to this machine made my 79 series Landcruiser feel like a passenger vehicle.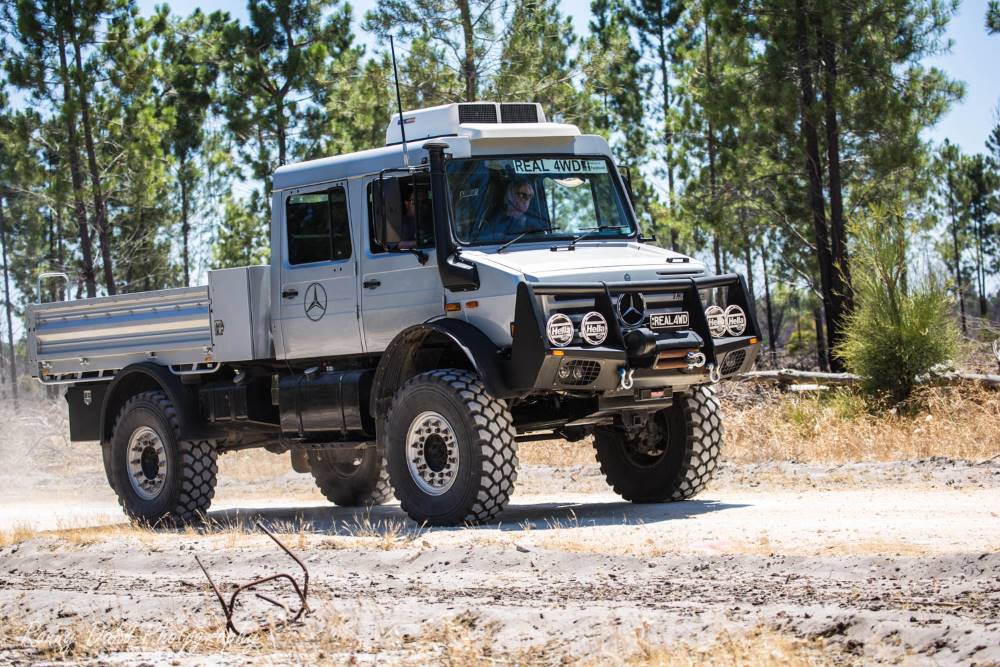 Click Any Photo To Enlarge Or Open Photo Album.
Sorry, Does NOT work on mobile phone.
It handled very well off-road and is very hard to get bogged with its 500mm clearance and taking on very steep sand dunes at speed was no problem with the mammoth approach angle and 44 inch rubber… Yep 44 inch!
It requires a crane to lift the tyres on and off the rear tray. Oh wait there is much more, 920l Diesel capacity, forward and rear winch, the list goes on.
Full specs and eye candy in the video at the bottom of page.
Vehicles specs (NOTE* modded details below):
Make model: Mercedes Benz Unimog – U2150L38
Engine:    OM366LA, 6L, 6cyl, turbo, 214hp
Drive train: 8 speed fwd, 8 speed rev high range + 8 fwd & 8 rev low range to portal axles
Suspension: Coil springs on front, double coil springs on rear
---
Neil's Mod List For His Mercedes Benz Unimog.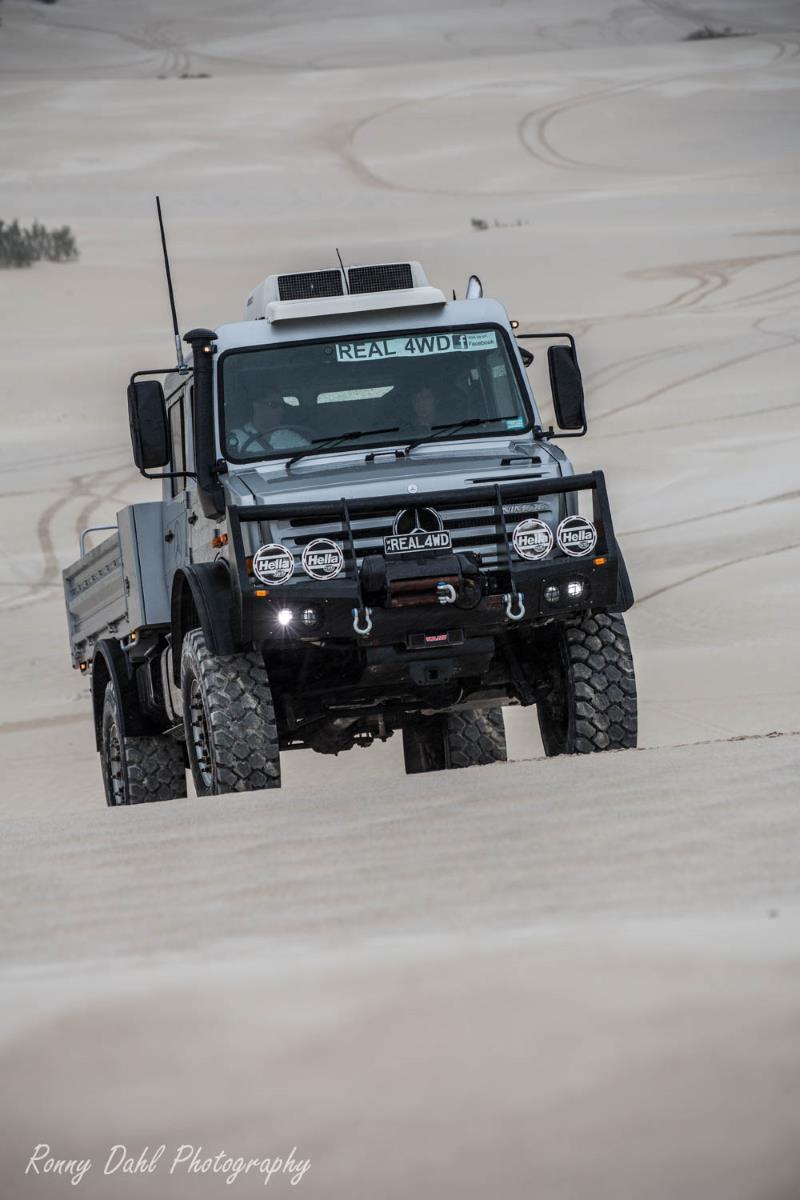 Engine:
·         Stock
·         Stainless 3.5" exhaust and stack
Electric upgrades:  
·         210 AHr AGM crank batts
·         210 AHr AGM house batts with smart relay
Lights: 
·         4x Hella Predator Xenon spotlights
·         LED headlights, tail and clearance
·         Internal lighting
Comms & GPS: 
·         Fixed Two way – Uniden
·         GPS gear – various portable devices
Suspension and tyres:
·         Stock suspension, 3 to 4 tonne pay load depending on fuel level
·         395/85 R20 (1170mm tall) on bead lock split rims (195 kg)
Bar work and exterior mods:
·         Bullbar
·         920L fuel – 3500km range
·         Replaced single cab with OEM 6 seat dual cab and tray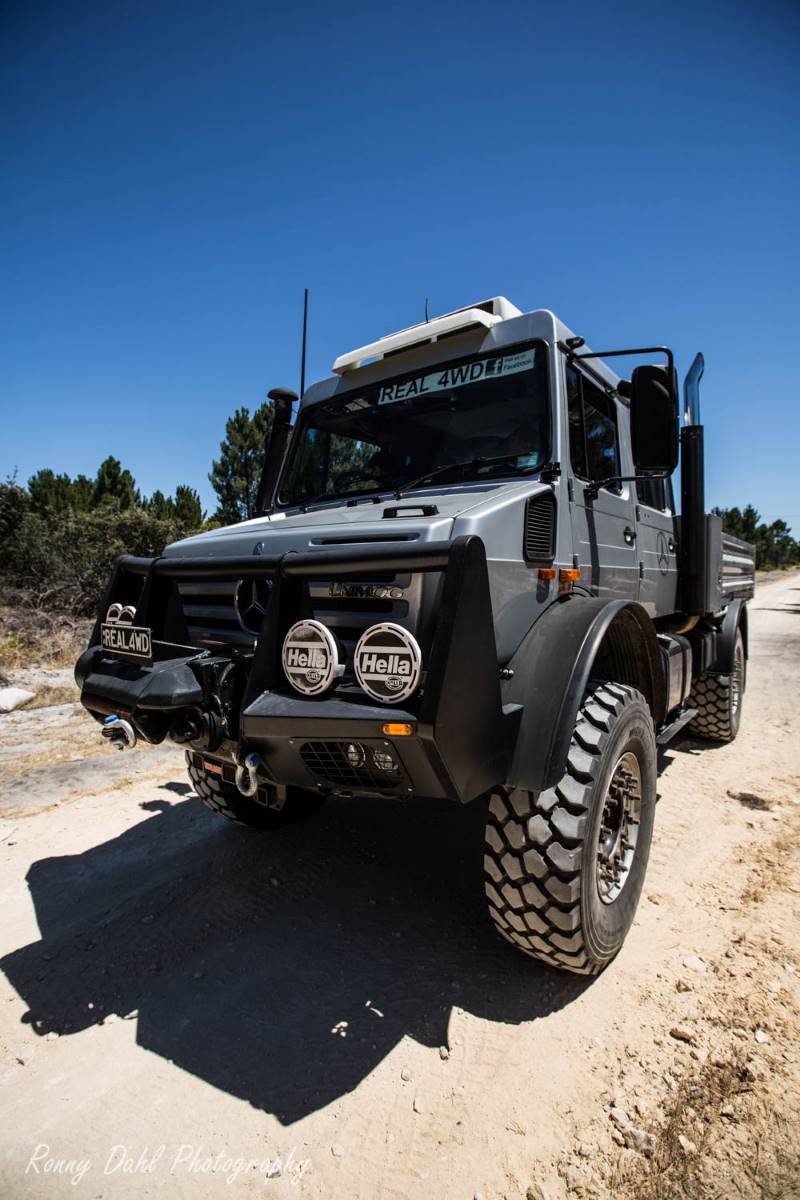 Back of the wagon/ute: 

·         Double draw tool box
·         Container locks
·         Removable crane
·         Underside toolboxes
Recovery gear: 
·         Front PTO winch
·         Rear electric winch
·         6.25T bow shackles on all recovery points
·         Snatch straps, chains, etc
·         Pneumatic 4WD and diff lock engaged on the fly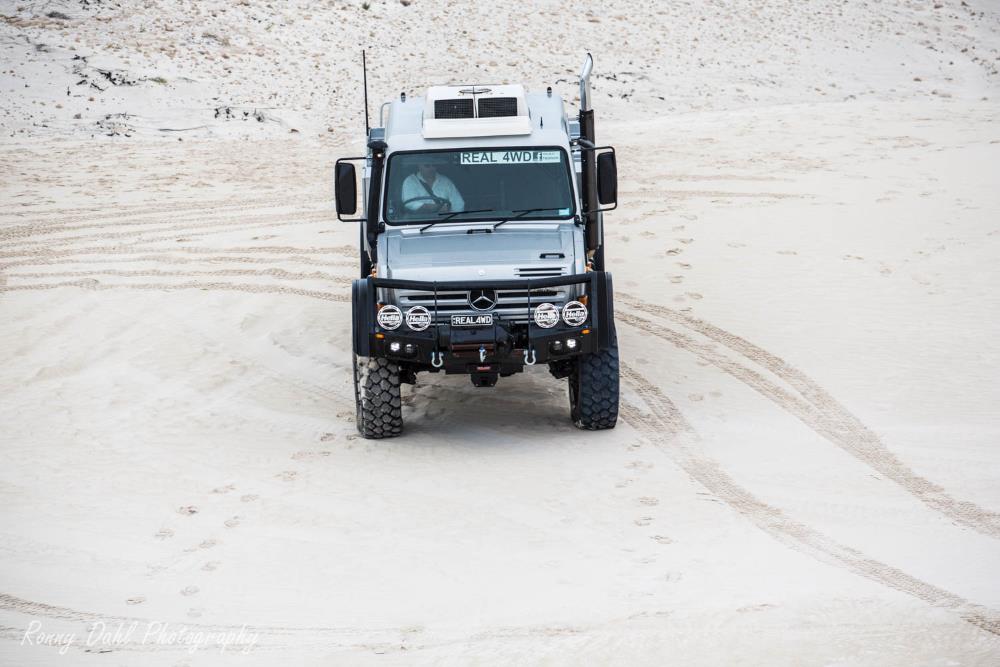 Neil's top 3 trips in the vehicle:
Broome

NT

Power line track



Most scary situation in the vehicle: 
Just after we had the modifications done to the mog we took it for an off-road test run. It tipped sideways in a ditch and was saved from going too far by the height of the bank which meant we were able to back out.
Top 3 tips with the vehicle:
Look out for other drivers as they tend to get distracted by this vehicle!

Make sure you have the gear for self-recovery (even if it's rarely needed)

Bring spare parts.



The Modified Video.
Thanks to the following people for helping with my Unimog:
http://www.perth-radiator.com.au/
https://www.facebook.com/Real-4WD-370609486449027/
---
Aug 21, 22 04:20 AM

Hi! Welcome to offroad dad and my journey in life doing things on a budget using my hobby offroading touring camping and survival as a way to cope and

Mar 30, 22 02:53 AM

When Camping With Children kids hygiene items like wet wipes (baby wipes) are the best thing for cleaning kids, bring a few spare packets. Don't forget to..

Mar 30, 22 02:49 AM

If you're in the market for Camping tents there are plenty of options ranging from cheap to expensive and big - small. Depending on what type ....
---
Leave Mercedes Benz Unimog And Go 4 Wheeling In Western Australia.
---