MEGA TOURER 6X6, Modified #47.
This is by far the most eye catching build we have featured to date and it will take something huge and special to beat this one!
This is the Mega Tourer 6X6, built via a massive (or MEGA) collaboration between all companies and brands involved. It's rare to see something like this come together all into one vehicle.
So yes, Justin the owner of Patriot Campers did not tip nearly half a million into the build. But he was the brains behind the entire build and idea.
He organized the build and put a lot of hours into making it happen with his own staff of course and lots of help from all the companies and brands involved. So in short the Mega Tourer 6X6 is a big mobile product placement (which Justin gets to drive) showcasing what can be built in AUS and letting the world know that Australia can build massive machines too!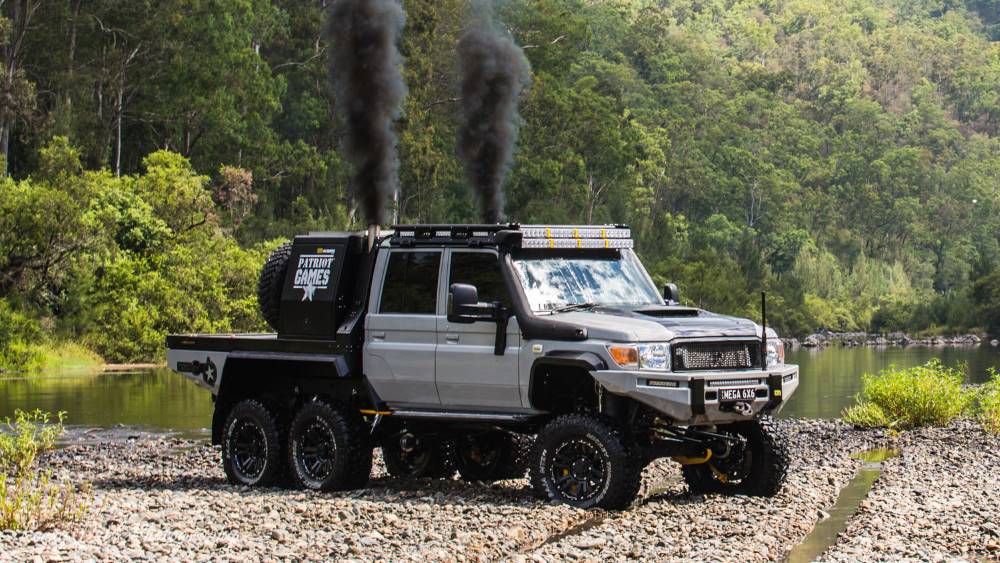 Click Any Photo To Enlarge Or Open Photo Album.
Sorry, Does NOT work on mobile phone.
The engineering alone would have been a nightmare and a costly nightmare but here it is fully STREET LEGAL and driving like very well balanced passenger vehicle on the road.
It handles so well on the road and you wouldn't think so by looking at it. I had the awesome opportunity to drive the Mega Tourer for a few hundred kms to our camp spot.
There are some many custom built components on this Landcruiser and all have been listed below. Watch the video and enjoy the show!
Vehicles factory stats (NOTE* modded details below):
Make model:  Land Cruiser 79 Series
Engine: VDJ
Drive train:    JMACX 6 Wheel Drive Conversion
Suspension: TJM Remote reservoir adjustable dampers, Airbag Man ECU Controlled air suspension.
Mega Tourer 6X6 Mods list:
Engine: 
●        GSL - custom lobster back intake plumbing, exhaust and stacks, relocated upgraded turbo, intercooler, headers, custom fuel supply set up
Electric upgrades:  
●        Redarc Electronics - BCDC charger, 2000w pure sine wave inverter, Manager30 Battery Management System, Tow pro elite


●        Revolution Power - twin 120ah lithium batteries
Lights: 
●        XRAY Vision - twin 1200mm Quad optic linear driving lights forward facing, xray vision side facing flood lights, xray vision rearward facing flood lights
Comms & GPS: 
●        GME - GME TX 3550S and 600mm Whip
Suspension and tyres/wheels: 
●        Airbag Man - custom 6 wheel air bag system, height sensing and adjustable ECU controlled, bump stop height for car parks through to 8" lift, variable spring rate with height adjustment. Twin air compressors and 6 gallons of air with tyre inflation
●        TJM - dampers / shock absorbers - remote reservoir 8 stage bump and rebound adjustable
●        Mickey Thompson - 8 off 37 x 13.5 R18 MTZ's
●        ROH - 8 off 18 x 9 +57 Vapour Wheels


●        WP Pro -  EX6 - 6 piston callipers on all 6 wheels, 360 x 30mm front and rear 2 piece rotors
Driveline mods:
●        JMACX - rear chassis to suit 6wd, custom sheet metal diff housings braced, ford 9" center diff with through shaft


●        Marks 4wd - 6wd portal axles, 4" drop hubs with reduction gearing, air locking front hubs, transfer case handbrake, braced front housing for load capacity.
Bar work and exterior mods: 
●        Rhino Rack - rhino rack pioneer platform with custom Patriot Campers mounting system an xray side flood lights


●        Patriot Campers & Express Laser - tray body, front flares / guards, roof rack mounts / custom sheet metal installations throughout


●        Express Metal Products - Express Metal Products - cut and fold all the sheet metal


●        TJM - custom bull bar to suit widened wheel track, side steps, snorkel


●        Snows Body Works - paint! aston martin china grey inspired colour
Fuel capacity and range:
●        Brown Davis - rear 185 litre fuel tank, custom 55 litre sill tank, secondary fuel filtration system - 1000k range towing full loaded
Back of the truck canopy/boxes:
●        Patriot Campers & Express Laser - mini canopy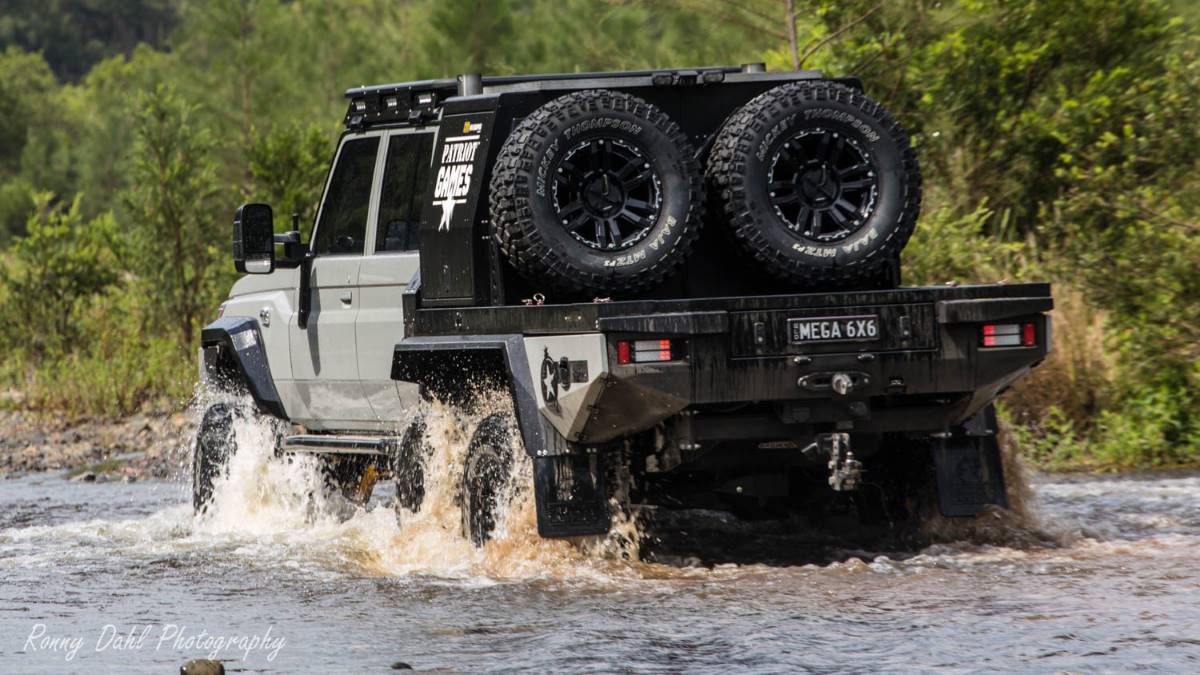 Interior (cab): 
●        Trimworks - interior trimming, black leather and suede with yellow stitching, seats, headlining, door cards and consoles


●        Redarc - EGT / Boost / Oil pressure / Oil Temp / Dual Voltage / Water temp gauges, dual voltage controller
Recovery gear: 
●        TJM -  front and rear 12000lbs torq12 winches
Justin's modification tips:
Keep your mods legal and work with manufacturers you know and trust.
Best mod/s you have done and why:
Best mod - 6 wheel drive conversion
Why - Traction, load carrying / towing / braking capacity
What made you decide to choose this vehicle for the extraordinary build?
The 6X6 had to be a 79, in the 4X4 world it's considered an Australian icon.
What type of Overlanding is it setup for?
Anything and everything, long distance at its best.
Best thing about the Mega Tourer 6x6:
Traction
Worst thing about the 6x6: Parallel parking
What Inspired you to build the Mega Tourer?:
The consolidation of Australian manufacturers & The impressive display of modified vehicles at SEMA 2016
---
The Modified Video Of The Mega Tourer 6X6.
---
Links: 
www.tjm.com.au | www.redarc.com.au | www.gslfab.com.au
---
Nov 21, 23 07:40 PM

On this page we cover 4x4 off road tracks within a 250 km radius from Perth...

Nov 21, 23 07:35 PM

Jurien Bay 4x4 tracks info and general information about the area...

Oct 10, 23 09:31 PM

This caravan park is very clean. The ablutions are spotless. The washing machines are free but need to keep them clean. Easy parking for big rigs and if
---
Leave Mega Tourer 6X6 And Go 4 Wheeling In Western Australia.
---