Modified LandCruiser Troopy,
Modified Episode 14
Finally, we got a LandCruiser Troopy on modified thanks to Ante and this is not just a troopy.
This is a tough 4x4 camper, which will go to most places you could think of and completely on its own.
This Troopy has a front and rear winch, front and rear lockers plus everything you need including the kitchen sink! Yep it has a kitchen sink.
It also has the complete camp setup so no need for a camper trailer.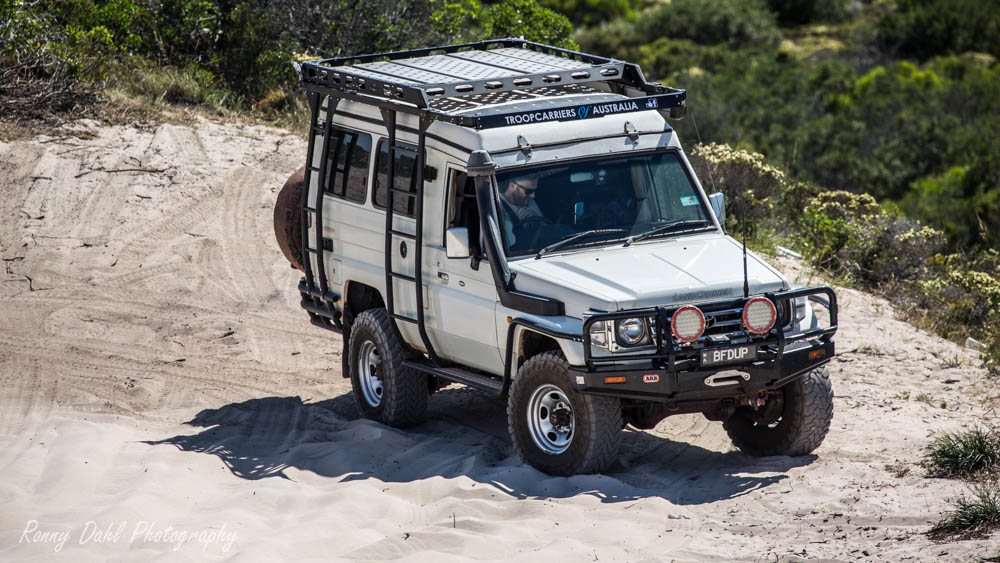 Click Any Image To Enlarge Or Open Photo Album.
Ante's genius and well thought out 4x4 camper troopy just takes minutes to set up.
Imagine that, pulling up anywhere and being able to set up camp during day or night in just minutes without much fuss but at the same time having a good strong reliable LandCruiser capable of carrying all that without being over the top heavy!
Ante just came back from a 6 months trip around Western Australia and completed the trip in the Toyota Troopcarrier flawlessly without any problems thanks to the ever reliable 4.2 Turbo Diesel Landcruiser.
There are many mods on this Troopy and that is without even looking at the 4x4 camper mods. If you don't get any ideas from this Landcruiser Troopy, I don't know what will.
If you are looking to build a 4x4 camper LandCruiser Troopy, tough enough for almost any track this is the one and this is one of my most favourite Modified vehicles so far…
Vehicles factory stats (NOTE* modded details below):
Make model:   Toyota Landcruiser Troop carrier HDJ78R
Engine:  1HD-FTE 4.2L Factory Turbo Diesel
Drive train:  Standard with factory lockers
Suspension: GVM Upgrade to 3.8T with Bilstein Shocks and Dobinson leafs/coils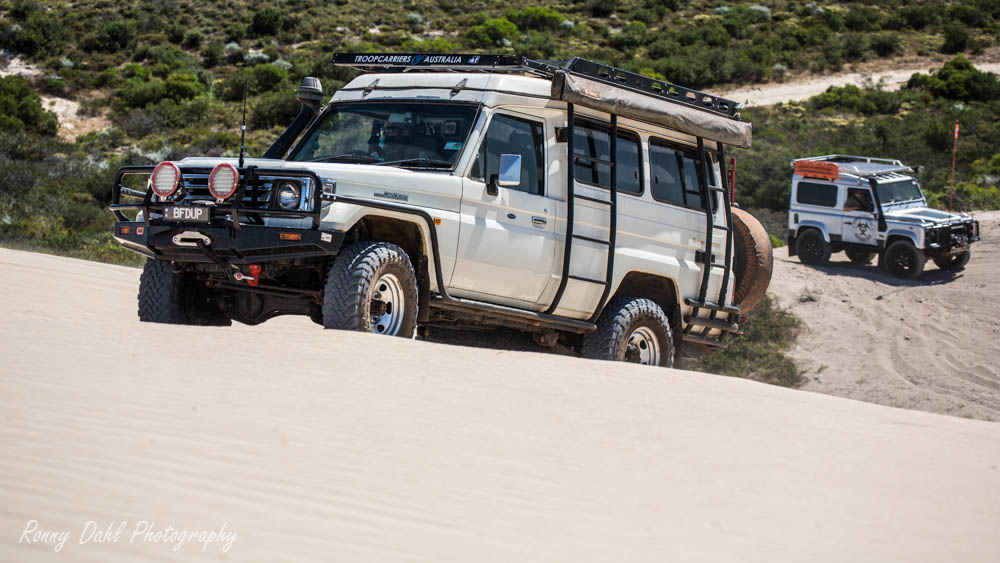 Ante's mod list for his LandCruiser Troopy:
Engine:  
3" exhaust
Electric upgrades:  
240V and 1000W inverter, dual batteries, LED interior lights and outdoor LED strip
Lights: 
225W LED spotlights
Comms & GPS: 
Samsung TAB with Ozi Explorer, UHF with 6dB aerial,
Suspension and tyres: 
Dobinson leafs/coils with Bilstein shocks and a GVM upgrade to 3.8T, 33" Toyo M/T on stock 100 series rims
Bar work and exterior mods: 
260L fuel (long-range tank), 50L water tank with inline electric pump, ARB front bulbar with Smitybuilt 10K winch, all barwork including sliders, scrub bars, rear bar (with 9K Premier winch) built by XLR8 Fabrications, custom sliding rack
Back of the wagon: 
Custom rear bar with winch, dual wheel carrier, Maxtraks custom holder on rear door, dual MSA bin bags, High lift jack
Recovery gear: 
Front winch (Smitybuilt 10K with dynema) and ARB recovery hooks, Rear winch (9K Premier with dynema) custom built rear recovery points and reece hitch, ARB premier recovery kit.
Ante's top 3 trips in the Land cruiser Troopy:
Down south - Denmark/Albany/Calcup/Black point
Steep point to Exmouth
Karijini National Park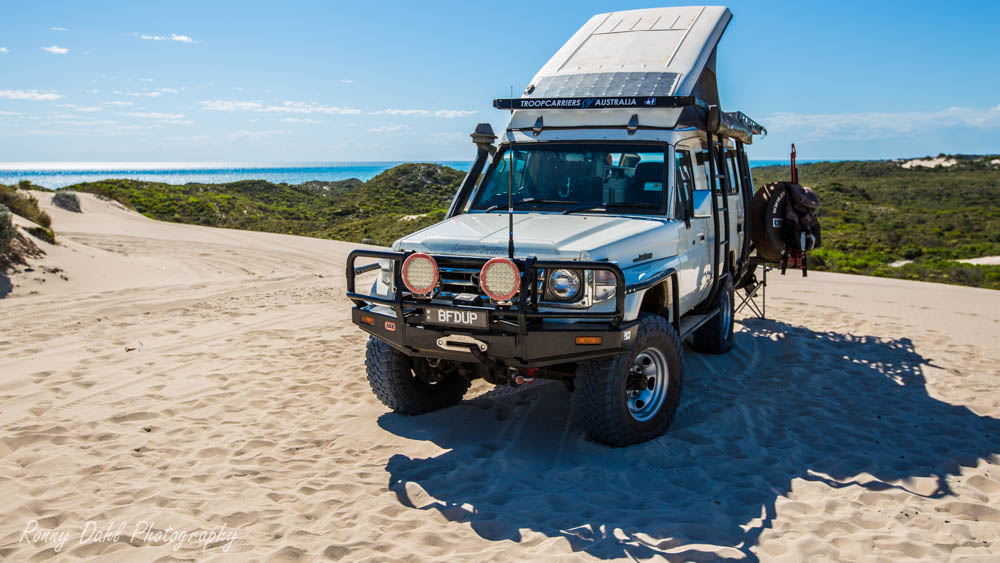 Unstoppable moment in the Land Cruiser Troopy:
8mths around WA and not a single problem.
Most scary situation in the Land Cruiser Troopy:
Down south in winter on a chopped/washed out boggy beach on split rims.
Ante's modification Top 3 tips with Landcruiser Troopy HDJ78R):
1.       Lockers, lockers and lockers 
2.       Front winch (rear if you can fit one)
3.       2" lift with 33" is more than ample lift 
Video Of The Modified Troopy.
Links:
XLR8 Fabrications – for all their hard work in getting the barwork done; http://xlr8fabrications.com/
Hayden from Custom Car and Boat Electrics for all the electrical work on the Troopy


Jason from JD Automotive Repairs & Detailing for helping me with mechanical maintenance and letting me use his workshop; https://www.facebook.com/JD-Automotive-Repairs-and-Detailing-694140140610484/
---
Nov 21, 23 07:40 PM

On this page we cover 4x4 off road tracks within a 250 km radius from Perth...

Nov 21, 23 07:35 PM

Jurien Bay 4x4 tracks info and general information about the area...

Oct 10, 23 09:31 PM

This caravan park is very clean. The ablutions are spotless. The washing machines are free but need to keep them clean. Easy parking for big rigs and if
---
Leave Landcruiser Troopy And Go 4 Wheeling In Western Australia.
---