Landcruiser 79 series, Modified #44.
Wayne's Landcruiser 79 Series, completely featured from top to bottom and side to side. This has been a long time coming and heavily requested for a long time too.
Well here it is and there is plenty in this feature and best of all this has been trailed and tested on any terrain apart from snow and in all-weather conditions apart from snow again ;)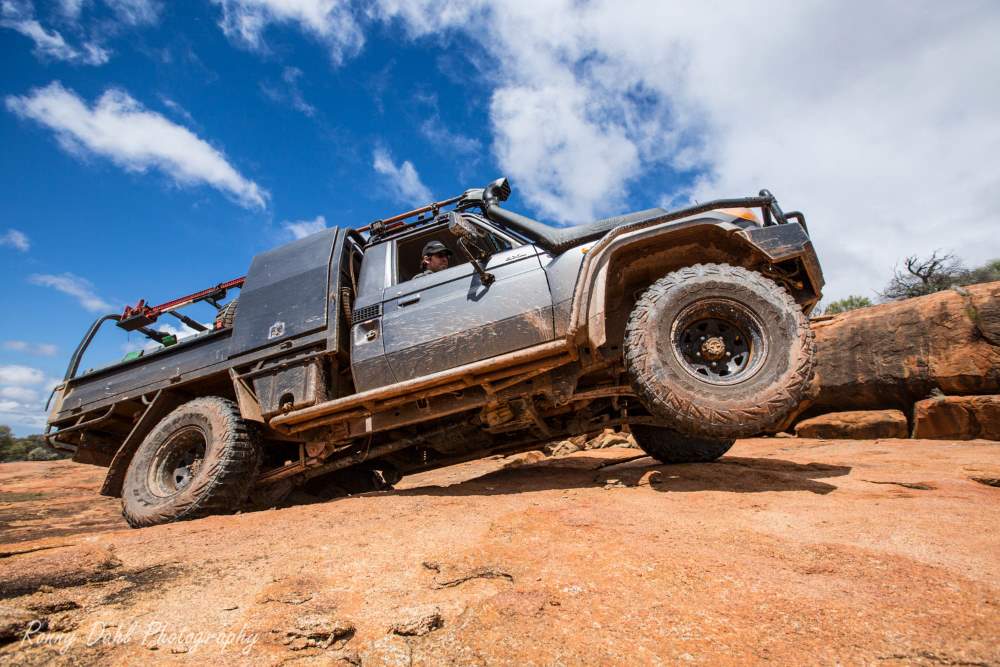 Click Any Image To Enlarge Or Open Photo Album.
Everything that is featured in this build (apart from the RTT as its very new) serves a purpose and has been experienced to the max since 2012. Get your pen and paper out advice is at hand…
Vehicles factory stats (NOTE* modded details below):
Make model:   2012 Landcruiser Gxl vdj79 series
Engine:    4.5ltr v8                    
Drive train:  Manual    
Suspension:    2' Old Man Emu kit with Parabolic leafs
Wayne's mod list for his Toyota Landcruiser 79 Series.
Engine: 
·         4.5 V8 , taipan catch can ,manta 3' exhaust
Electric upgrades:  
·         Redarc dual battery system
 Lights: 
·         Livid spotlights 2x 80watts Hyperdrive mk2
·         40' 200watt lightbar
Comms & GPS: 
·         Gme 3500, 6db. 
·         Vms 600 gps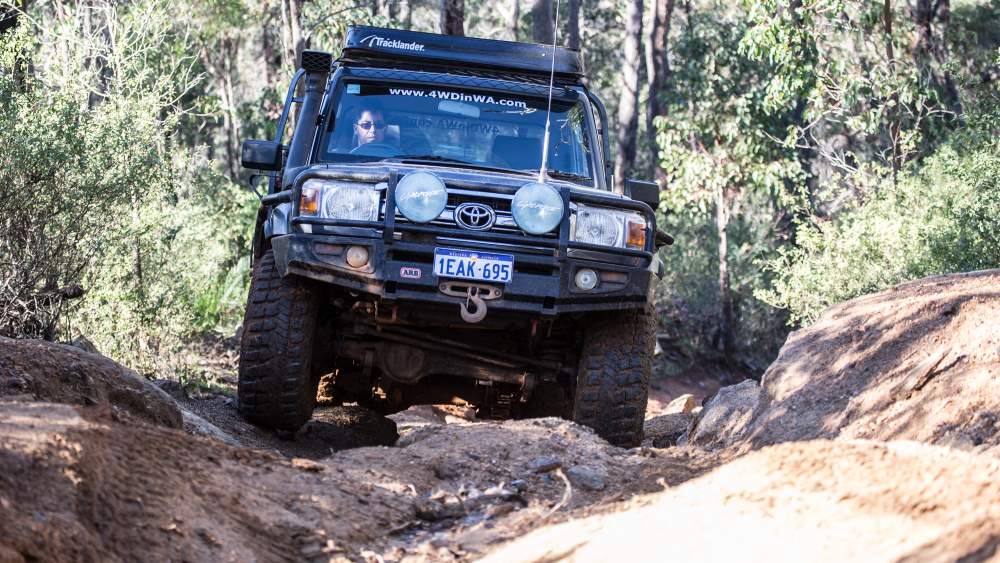 Suspension and tyres: 
·         2' Old Man Emu suspension with parabolic leafs.
·         315/75/16 Goodyear kevlar tyres
·         16x10 -40 king steel wheels
Driveline mods:
·         Stock Factory diff lockers FR, RR
Bar work and exterior mods: 
·         Arb de-lux bullbar.
·         custom made scrub rails with sidesteps
Fuel capacity and range:
·         300 ltrs that gets me roughly 1600km
Back of the ute canopy:
·         Custom made canopy
·         2 fridges
·         recovery gear.
·         custom made rack
·         RTT Alu-cab Generation 3 Expedition roof top tent
·         Alu-cab 270 Shadow awning.
·         2 spare tyres .
·         2 storage tubs for cooking gear and clothes
Interior (cab): 
·         Supafit seat covers
·         Dingo 4x4 cup holder
·         LED interior light
Recovery gear: 
·         Green machine snatches
·         extension straps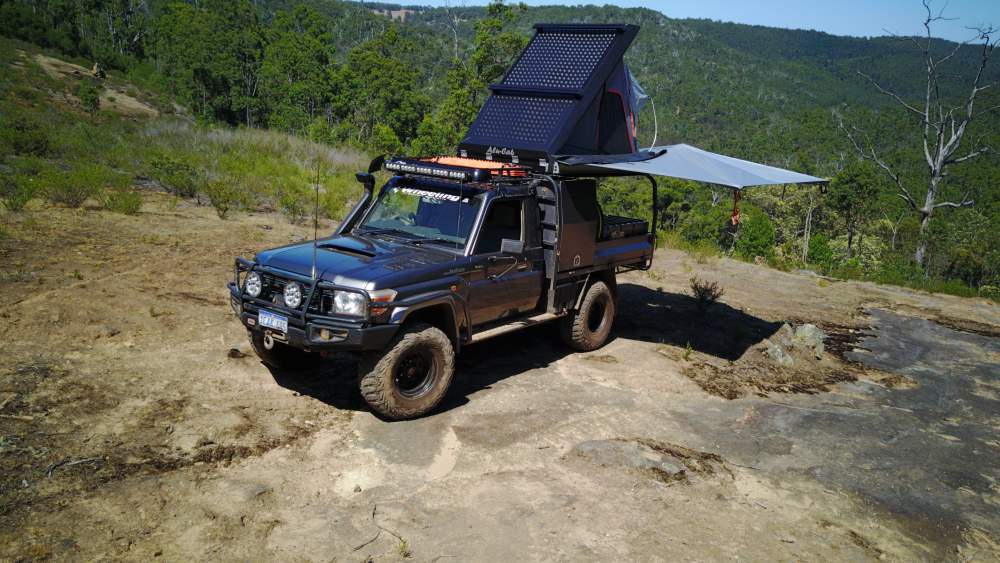 Wayne's top 3 trips in the 79 Landcruiser:
            •           Kennedy
          •        Bornholm beach
          •        Kirup
Unstoppable moment in the 79 Landcruiser:
Big hill in brunswick very muddy and rutted out, and the boys were very shocked i made it to the top
Most scary situation in the 79 Landcruiser:
Goat rd being on 3 wheels then nearly no wheels
Top 3 tips with the Landcruiser 79 series. 
1.       Change snorkel head to allow to breath
2.       Catch can   
3.       Track correction 
Things to look out for if buying one:
Check how bent the bash plates are, how much play is in the tailshaft, if it has a lift check how stretched the brake lines are.
Best 3 mod/s you have done and why:
                       Bar work, to protect against wildlife.
                        Lift, to save the underside of vehicle and can go further.
          Tyres, traction.
What made you decide to choose this vehicle?
I Love Toyotas and for towing the trailer it does the job and off road it can handle anything.
Best thing about the 79 Landcruiser:
Power and durability knowing ill make it home.
Worst thing about the 79 Landcruiser:
Rear wheel track and alternator.
What inspired you to build the Landcruiser?
Ronny Dahl so i can go on big trips haha.
The Modified Video.
Links:
http://www.alu-cab.com.au/quick.html
---
Jun 29, 23 08:30 PM

Well 7 of us just traveled to the Pink Lake cv/pk in Esperance. We had such a great time there, all staff were very accommodating and friendly. The camp

Aug 21, 22 04:20 AM

Hi! Welcome to offroad dad and my journey in life doing things on a budget using my hobby offroading touring camping and survival as a way to cope and

Mar 30, 22 02:53 AM

When Camping With Children kids hygiene items like wet wipes (baby wipes) are the best thing for cleaning kids, bring a few spare packets. Don't forget to..
---
Leave Landcruiser 79 Series And Go 4 Wheeling In Western Australia.
---