Toyota 80 Series Land Cruiser
Modified.
Another 80 series Land Cruiser on Modified, this one however is build for play and touring/remote travel and has done plenty of it.
This is not a build you'd do unless you know a little bit about mechanics. Carlo knows every bolt, nut and other metal things under that hood and has plenty of experience with fixing vehicles. Should anything happen in the middle of nowhere I'm pretty sure he'd work it out one way or another.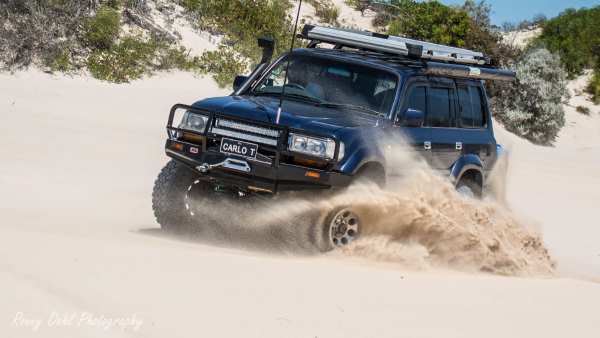 Click Any Photo To Enlarge Or Open Photo Album.
Sorry, Does NOT work on mobile phone.
This vehicle was a lot of fun to feature and film, watching this toy tear up and down the sand not only was fun to watch but the sounds was equally as good.
Although being very much a toy for sand driving, muddy hill terrain and all the other fun stuff, its also setup for expedition trips with a fairly simple yet genius setup in the rear.
Vehicles factory stats (NOTE* modded details below):
Make model:      1997 GXL 40th anniversary
Engine:               Ls1
Drive train:          Factory
Suspension:       4 inch lift
Carlo's mod list for his Toyota 80 series Land Cruiser:
Engine: 
Electric upgrades:  
Lights: 
Comms & GPS: 
Frame:
Driveline:
Suspension:
Tires:
Bar work and exterior mods: 
Arb dulux winch bar

Custom rock sliders

MCC rear bar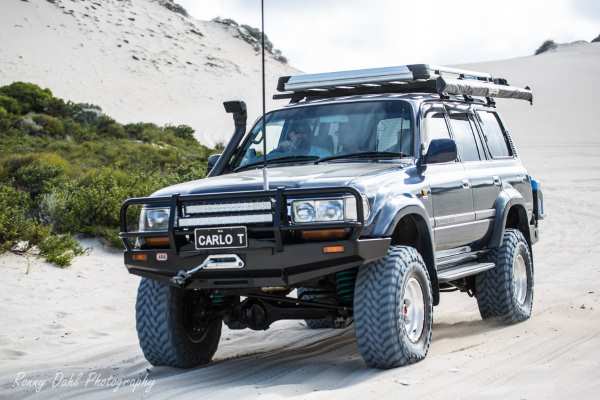 Tanks:
In the driver's cabin:
Cb radio

Sat nav unit

Bluetooth for phone

Air compressor

Locker switches

Light bar switches

Tank switch

Duel battery switch

Various USB plugs
Rear of wagon:
Spare wheel carrier

Jerry can holder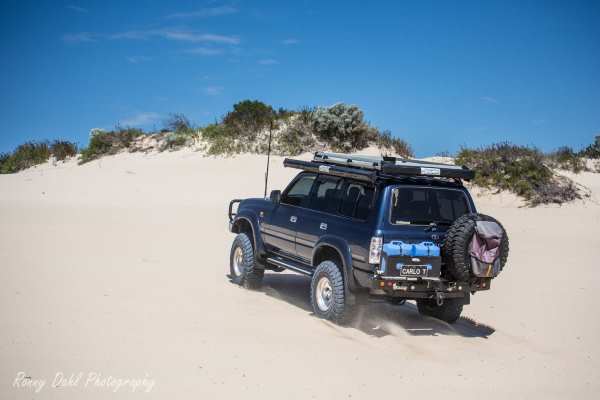 Recovery gear: 
Snach strap

12000 pound winch

Shovel
Carlo's top 3 trips in the 80 series Land Cruiser:
1.    Israelite bay
2.    Holland track
3.    Murchison of road adventure park
Unstoppable moment in the 80 series Landcruiser:
Made it up the largest dune in western Australia
Most scary situation in the 80 series Landcruiser:
Haven't had any.
Top 3 tips with 80 series Landcruiser:
1.   Good suspension
2.   Handles well
3.   Solid 4wd
Things to look out for if buying one:
Condition of motor
Best 3 mod/s you have done and why:
1.    LS conversion
2.    Tyres
3.    Suspension
What made you decide to choose this vehicle?
It's a coil sprung 4wd.
Best thing about the 80 series:
The flex.
Worst thing about the 80 series:
Weak diffs.
The Modified Video.
---
Jun 29, 23 08:30 PM

Well 7 of us just traveled to the Pink Lake cv/pk in Esperance. We had such a great time there, all staff were very accommodating and friendly. The camp

Aug 21, 22 04:20 AM

Hi! Welcome to offroad dad and my journey in life doing things on a budget using my hobby offroading touring camping and survival as a way to cope and

Mar 30, 22 02:53 AM

When Camping With Children kids hygiene items like wet wipes (baby wipes) are the best thing for cleaning kids, bring a few spare packets. Don't forget to..
---
Leave Land Cruiser And Go 4 Wheeling In Australia.
---