Trailrecon Jeep Wrangler Rubicon, Modified.
Welcome to another very special Modified segment. This time with a BIG YouTuber from the USA, Brad from Trailrecon, with his Jeep Wrangler Rubicon.
This is the first Modified segment filmed outside Australia so why not kick of the USA Modified with some local talent.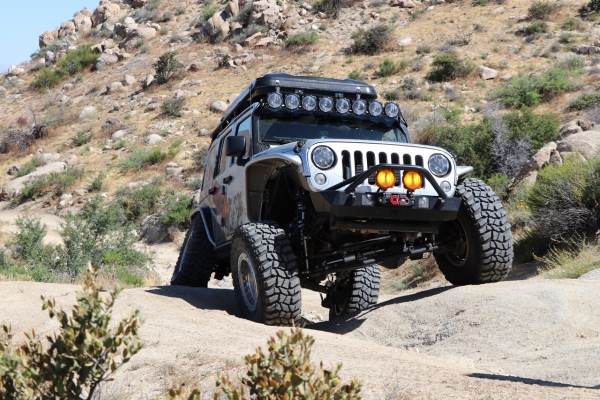 Click Any Photo To Enlarge Or Open Photo Album.
Sorry, Does NOT work on mobile phone.
This Rubicon has some epic DIY stuff going on in the rear, actually the entire Jeep Wrangler Rubicon is kitted to the absolute MAX. Custom body work, custom wrap, complete driveline upgrades on 37 inch tyres!!! The list of stuff just keeps going on this beast.
In my words Brad from Trailrecon has built the ultimate hybrid Jeep handling both long desert runs at speed to slow crawling on the roughest terrain you could find in the states.
Sit back and enjoy.
Vehicles Specs (NOTE* Mod details below):
Make model:  2015 Jeep Wrangler Rubicon Unlimited
Engine:  3.6L      
Drive train:     Adams 1350 drive shafts
Suspension:  Icon Vehicle Dynamics (coilovers in front, 2.5" shocks w/springs rear)
---
Brad's mod list for his Jeep Wrangler Rubicon.
Engine:  
·         Stock
.
Electric upgrades:  
·         Optima Red Top Battery
·         Portable Goal Zero Yeti 400 with 50w solar panel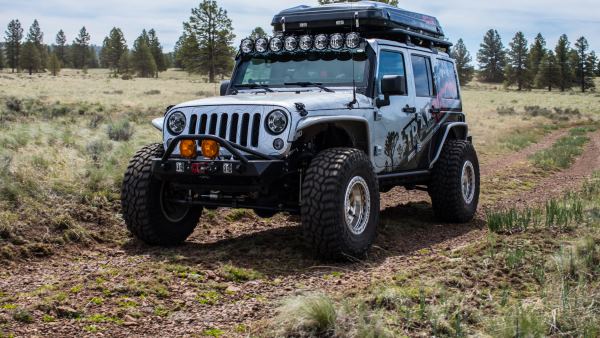 Lights: 
·         KC HiLites Pro6 Light bar
·         KC Gravity Pro Headlights
·         KC Cyclone rock lights
·         KC Scene lights
·         KC Rear multifunction light
·         JW Speaker taillights
Comms & GPS: 
·         Ipad Mini with Gaia app
·         Yeasu 7900 HAM radio
Suspension and tyres:
·         Icon Vehicle Dynamics
·         37" Cooper Stt Pro's
·         KMC Machete beadlock wheels
Bar work and exterior mods: 
·         Poison Spyder Bruiser front and rear bumpers
Back of the wagon: 
·         Custom drawer system with Dometic drawer fridge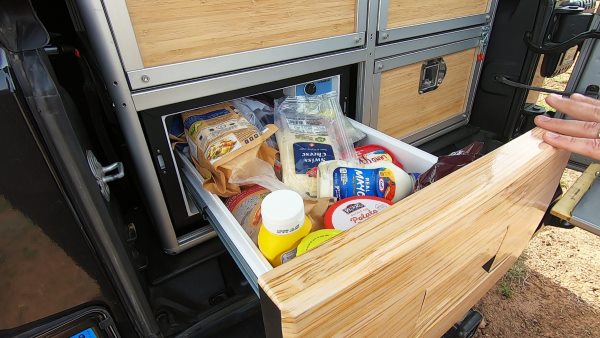 Recovery gear: 
·         Smittybilt XRC 9500 winch
---
Brad's Top 3 Trips In The Jeep Wrangler Rubicon.
•      Ouray, CO
•      Moab, UT
•      Mojave, CA
Unstoppable moment in the Rubicon:
xxx
Most scary situation in the Jeep Wrangler Rubicon:
Die Trying Trail in Montrose, CO.  Took us 6+ hours to travel 1.3 miles and was so concerned I was going to roll or damage my Jeep the whole time.
Brad's modification tips:
Don't modify anything until you've used it stock and understand your current limitations.
Things to lookout for with this model Jeep Rubicon:
Crank position sensor failure are a common issues
Top 3 tips with the Jeep Wrangler Rubicon:
1.      She's heavy, so good throttle and brake control over obstacles is essential
2.   Check the torque specs on the suspension… had many come lose over the years.
3.     xxx
The Modified Video.
Thanks to the following people for helping with my build:
Marco @ovrlndx on instagram
KC HiLites www.kchilites.com
---
Aug 21, 22 04:20 AM

Hi! Welcome to offroad dad and my journey in life doing things on a budget using my hobby offroading touring camping and survival as a way to cope and

Mar 30, 22 02:53 AM

When Camping With Children kids hygiene items like wet wipes (baby wipes) are the best thing for cleaning kids, bring a few spare packets. Don't forget to..

Mar 30, 22 02:49 AM

If you're in the market for Camping tents there are plenty of options ranging from cheap to expensive and big - small. Depending on what type ....
---
Leave Jeep Wrangler Rubicon And Go 4 Wheeling In Western Australia.
---