Jeep JK Wrangler, modified.
The Jeep you have been seeing in all those trip videos is finally in the Modified series.
Brian's Jeep JK Wrangler has been part of almost every single trip video on the YouTube channel. 

Brian's Jeep has been through some very challenging tracks and some very harsh terrain and managed so well even with its open differentials.
The JK Wrangler has a secret weapon "traction control" which still works in the background when switched off or in low-range and it actually acts like a half diff locker, it's a bit hard to explain.
Brian walks us through his Wrangler from bottom to top showing us everything including his DIY mods to the rear.
We also talk about the weak points on the Jeep Wrangler JKU and the priority mods to do before other improvements.
Vehicles factory stats (NOTE* modded details below):
Make model:     Jeep JK Wrangler Unlimited 2007
Engine:    V6 Petrol 3.8 L
Drive train:   4 speed Automatic, part time 4WD, Low range gearing
Suspension:       Coils on Solid Axel
Brian's mod list for his Jeep JK Wrangler:
Engine: 
 Accelerator Chip, Extended breathers. Transmission cooler.
Electric upgrades:  
Dual Battery System, rear DC power plugs.
 Lights: 
Upgraded Headlight to Narva LED headlight, 26" Light bar, HID spotties, rear LED work light and revers LED light.
Comms & GPS:
 HEMA hn5 off-road GPS, TomTom GPS, ICOM-400PRO UHF Radio (80 Channels), Oricom 80 Channel UHF.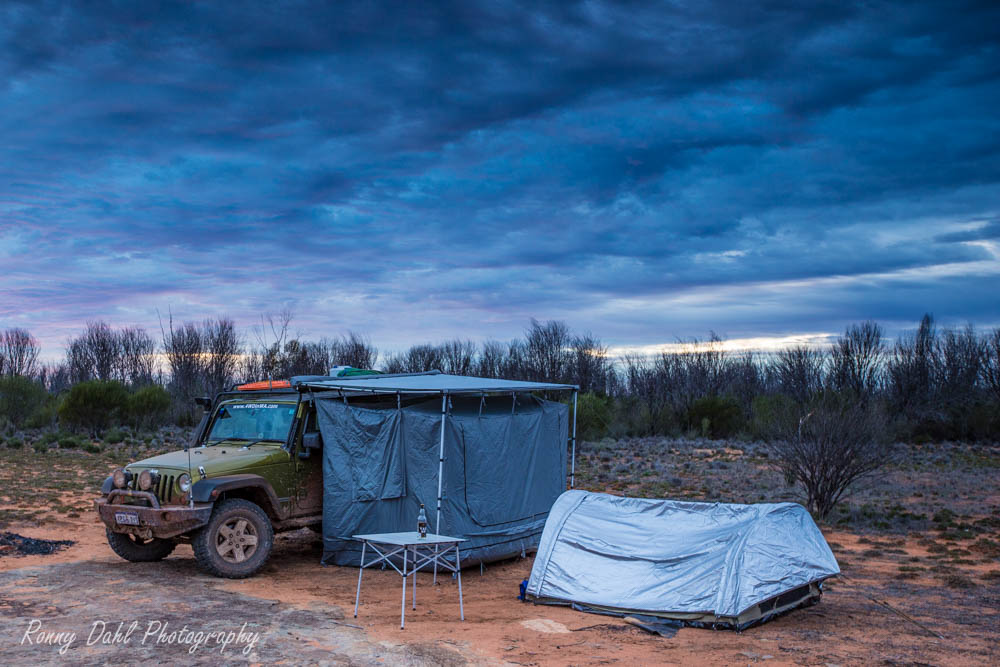 Suspension and tyres: 
2" Teraflex 9550 lift kit, Federal Couragia M/T LT285/70R17
Bar work and exterior mods: 
TJM T3 Front winch bar, Rock sliders/sidesteps, Uneek 4x4 Roof rack, JK snorkel, Tracklander Jerry can holder, tow hitch, 2.5 M Oztrail shade awning, Oztrail shade awning tent 2.4m x 2m.
Back of the wagon: 
Custom made DIY shelving and draws, Uneek 4x4 flip table, 2nd battery and on-board Air Compressor, 40L Waeco CFX Fridge/Freezer, 2 Fire Extinguishers, first aid kit.
Recovery gear: 
12000lb winch, 2 maxtrax, full recovery gear kit, front and rear recovery points. Exhaust Jack, High Lift Jack,
Brian's top 3 trips in the Jeep 4x4:
Israelite Bay to Esperance

Murchison Off-Road Adventure W.A.

Yeagerup & Callcup W.A.
Unstoppable moment in the Jeep Wrangler:
Every time we go off-road, the Jeep has always made it home again.
Most scary situation in the Wrangler:
Going down a steep muddy track, with no control over the Jeep near Harvey Dam.
Brian's modification tips:
Make sure you can do a self-recovery, get a steel bar on the front with a winch and get recovery point's front and rear as a minimum.
Top 3 tips with Jeep Wrangler JK :
1.      The 3.8L engine get a better response with an accelerator Chip.
2.       If doing a lot of off-road or sand driving install an extra cooler for the auto transmission.
3.       Before you go off-road give your car a good spray with Inox under the bonnet and on all your bar work, it will be a lot easier to clean when you get home.
See The Video Of The Jeep Wrangler.
---
Links:
JeepKraft at Wangara, which have helped and worked on Brian's Jeep is highly recommended by him.
Aug 21, 22 04:20 AM

Hi! Welcome to offroad dad and my journey in life doing things on a budget using my hobby offroading touring camping and survival as a way to cope and

Mar 30, 22 02:53 AM

When Camping With Children kids hygiene items like wet wipes (baby wipes) are the best thing for cleaning kids, bring a few spare packets. Don't forget to..

Mar 30, 22 02:49 AM

If you're in the market for Camping tents there are plenty of options ranging from cheap to expensive and big - small. Depending on what type ....
---
Leave Jeep JK Wrangler And Go 4 Wheeling In Western Australia.
---