Modified Episode 2, Holden Rodeo:
Another 4WD vehicle I know well and another good mate of mine. Karel's Holden Rodeo has been through plenty of tough sections most of those under its own steam.
It's another well thought out setup mainly for touring but more than capable on the tough tracks. 
Karel has taken his Holden Rodeo to every type of terrain possible in Western Australia; half of those trips were with the wife and kids.

Most wellbody Utes (utility vehicles) just like Karel's have an organisation problem or issues with stacking things in the back.
One always seems to be moving 5 items to get to one and after a while it's all messed up and mixed up, the chaos recipe I'm very familiar with from my previous vehicles.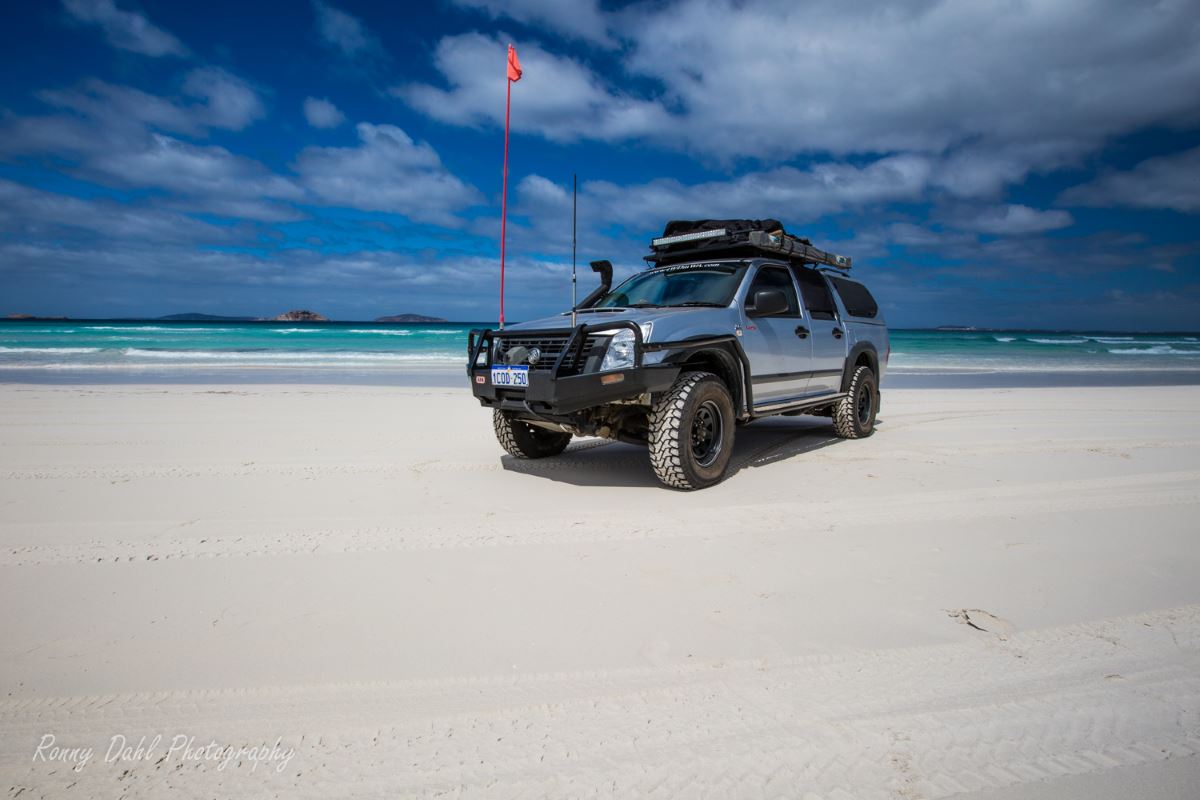 Click Any Image To Enlarge & Open Photo Album.
The solution is a draw system, yet it still doesn't solve the problem completely and space is lost due to the design on many ready-made draw systems.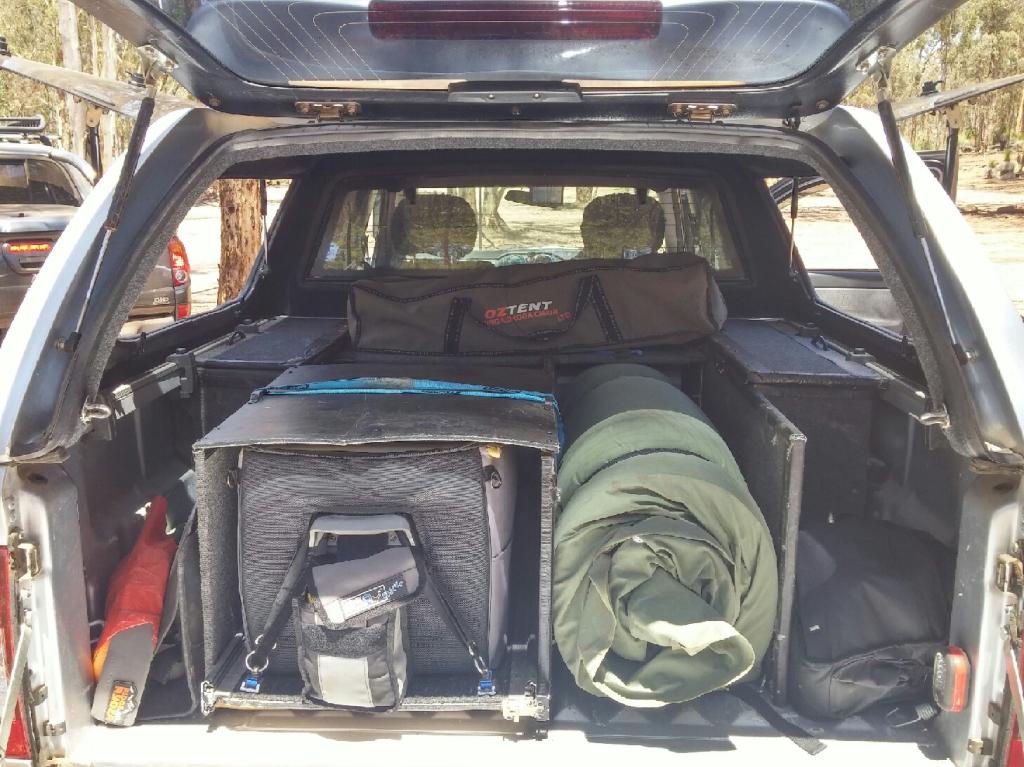 This is where Karel got thinking while knocking back a few beers (the most common time man gets good ideas, well in my opinion at least!), his ideas lead to a well thought out DIY storage system to suit his needs and was changed and added to after each trip to refine and improve to suit his and his family's needs.

It has come a long way since the first version and now it looks pretty well completed.
Modified Vehicle:
Make model:         Holden Rodeo RA 2007
Engine:                  3.0l Isuzu Turbo Diesel
Drive train:      5 speed manual, part time 4WD, Low range gearing, front ARB air locker.
Suspension:            IFS front on torsion bars, rear leaf springs on solid axle
Karel's mod list:
Engine & drive train:
Diesel Power Chip, Turbo gauge, front air activated locker.
Electric upgrades:
Dual Battery System, rear DC power plugs.
Lights:
LED light bar on roof rack.
Comms & GPS:
HEMA hn5 off-road GPS, Uniden 80 channel UHF.
Suspension and tyres:
2 inch lift front and rear Raw Nitro Suspension, Mickey Thompson 4 rib AT Tyres.
Bar work and exterior mods:
ARB Front Bull Bar Sidebar/steps, under protection plates & ARB Roof Rack, Safari Snorkel
Rear and Canopy:
After market canopy with side and rear doors, Custom made DIY shelving inside the canopy with fridge slide, wheel arch boxes and stacking areas.
Recovery gear:
12000lb winch, 2 TRED recovery boards, full recovery gear kit, front and rear recovery points.
Other mods:
On-board air compressor mounted in the engine bay, front and rear cameras for driving and off-roading.
Questions & Answers:
Karel's top 3 trips in the Rodeo:
1.            D'Entrecasteaux National Park and Yeagarup Dunes and Beach
2.       Ninghan Station
3.       Hyden-Esperance-Bremer Bay
Unstoppable moment in the Rodeo:
Being able to drive the rodeo home over 800 km after a roll over


Most scary situation in the Rodeo:
Rolling the vehicle on a gravel road over 100 km from phone reception. 
Luckily I rolled right over back onto my wheels.
The good quality bar work and roof rack kept the car intact. 
After some panel repair the vehicle was good as new.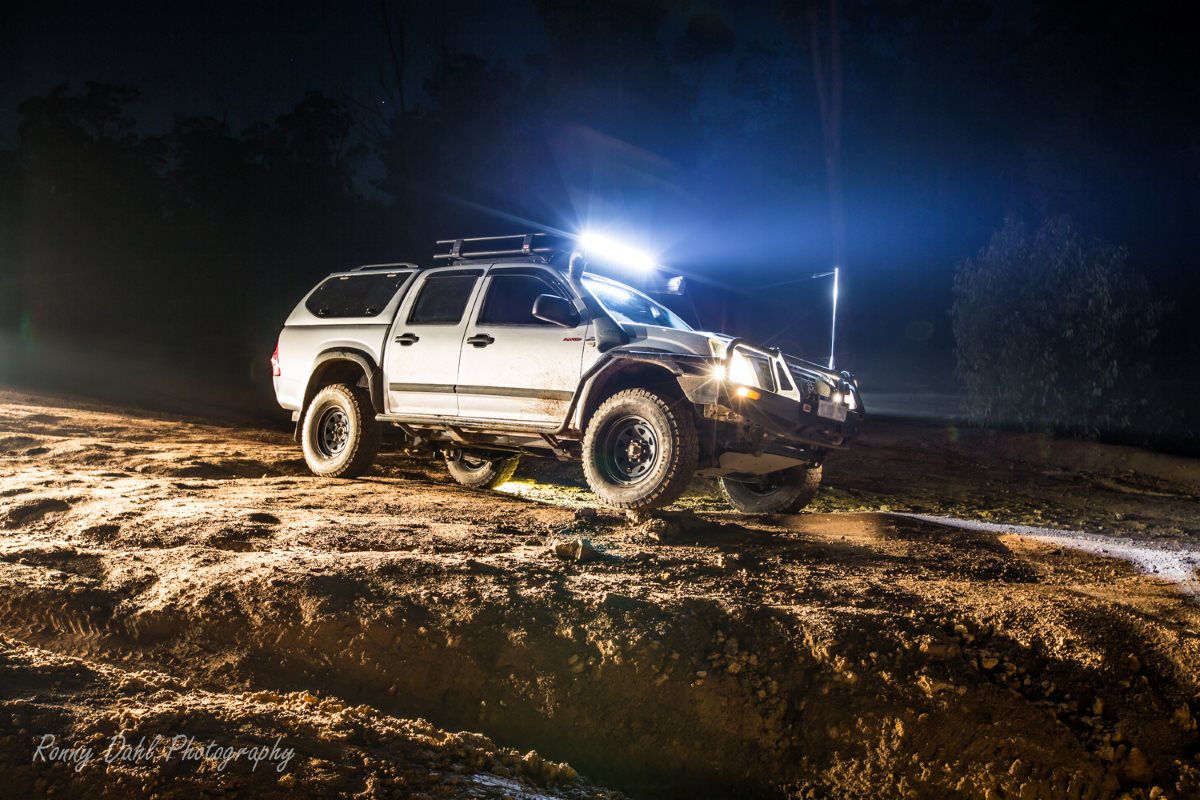 Karel's modification tips:
Top 3 tips with auto electrical:
1.       If installing a CB aerial leave a bit of slack under the spring to allow for movement and tension when driving over corrugation.  This will save the wires from pulling loose and ruining reception
2.       Install a 4-in-1 Vehicle Trip Computer with Digital Gauges, Scan Tool and Car Black Box.  It can be handy
3.       When cleaning your vehicle after off-roading use contact cleaner on  electrics to keep them clean

*Note this advice is Karel's opinion and may not suit your situation.
---
Ronny and Karel's Q and A from the video episode #:
Q: What are your 3 Mods for actual 4wding?
A:  1st one is your suspension lift, especially for the Rodeo. 
2nd is protection with Bar work, its paid for itself already.
3rd is a UHF, every 4wder needs a CB radio.
Q: What is your must have item/accessories in general?
A: Definitely Recovery gear! You are a fool to head out without recovery gear, even if you are with a bunch of mates.
Q: What is the most memorable trip you have done in the 79 series so far?
A: Hyden to Esperance to Bremer bay, down south in Western Australia. The change of scenery from wave rock to the beautiful beaches of Esperance
Q: What are the good points and bad points about the Holden Rodeo?
A:  Let's start with the bad points. The front wheel bearings don't seem to seal very well if at all. It's good to get them checked; I have had 3 wheel bearings go. Just from water crossings. 
Secondly you need a lift kit it's  required for the Holden Rodeo; it really lacks clearance from standard.
Good points: This particular motor (ISUZU motor) is very tough, it's durable, and it's celebrated for its endurance really. It's one of the reasons why I got it.
There's heaps of good points, just the fun you have in it and being able to keep up with the Land Cruisers.
---
The Holden Rodeo Modified Video.
Nov 21, 23 07:40 PM

On this page we cover 4x4 off road tracks within a 250 km radius from Perth...

Nov 21, 23 07:35 PM

Jurien Bay 4x4 tracks info and general information about the area...

Oct 10, 23 09:31 PM

This caravan park is very clean. The ablutions are spotless. The washing machines are free but need to keep them clean. Easy parking for big rigs and if
---
Leave Holden Rodeo And Go 4 Wheeling In Western Australia.
---