TOYOTA FJ Cruiser, Modified.
Only the second Toyota FJ Cruiser on Modified so far which is actually quite surprising. This build has experienced many big changes by Shaun and is now at a point where Shaun is happy with his build.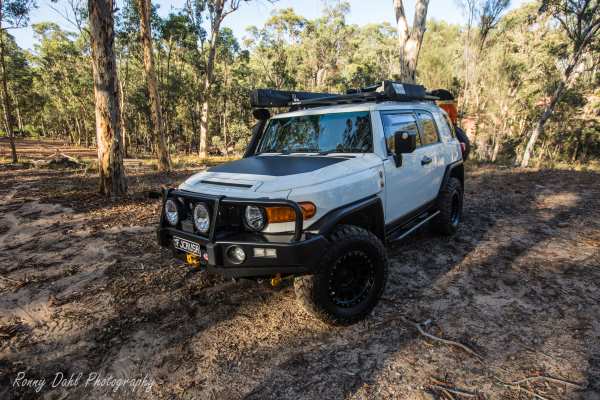 Click Any Photo To Enlarge Or Open Photo Album.
Sorry, Does NOT work on mobile phone.
Looking through the build it's pretty easy to see why... it's layout is better than most builds out there and take a minute to appreciate the space he is working with and weight restrictions he has put on his build. It may look like your standard rear setup but it's far from that!

The main feature of Shaun's FJ Cruiser is the rear and interior but let's not take anything away from the rest of the vehicle which is kitted out in some quality gear
---
Vehicles factory stats (NOTE* modded details below):
Make model:     2012 Toyota FJ Cruiser
Engine: 4.0 dual VVTI 1GR-FE V6                       
Drive train: Automatic, Two or Four wheel Drive with high/low    
Suspension:  Independent Front Suspension, Coil Sprung Solid Rear Axle
---
Shaun's mod list for his Toyota FJ Cruiser:
Engine: 
·         TJM Airtec snorkel with airbox mod
·         Diff and E-locker breathers
·         BA Mufflers (Dirty deeds) cat back exhaust.
Electric upgrades:  
·         Projecta DCDC 25A charger
·         2*CTEK Battery sense monitors
·         87Ah AGM second battery
·         Triple sockets to rear
·         Thumper 15Ah AGM mobile battery
·         Outback Accessories centre roof console with LED interior lighting
·         Ultra-Gauge 2
·         I-drive Throttle controller
·         ARB single compressor mounted in engine bay
·         Chilliman 2.1A USB Sockets in switch panel
·         Blackvue dash cam with power magic pro
·         Hella Hightone dual horns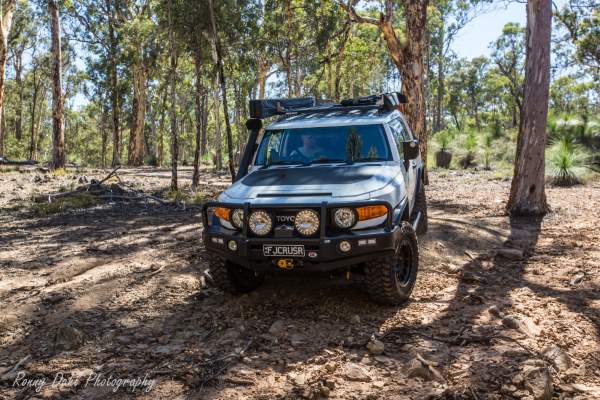 Lights: 
·         Lightforce HTX
·         Phillips ultra-vision in the headlights
·         Factory LED DRL's in roo bar
·         Kaymar rear work light
Comms & GPS: 
·         1.5" Ram mount for ipad mini 2 running Hema Maps, Explorer and Mud maps 2.
·         1" Ram mount with X grip for my phone (also running the above map apps)
·         Uniden 2 way housed in roof console (wired to aux battery), Uniden 2w hand held spare (Rechargeable), Uniden 0.5w for recoveries
·         6.6dbi antenna on rear door bandi mount
Suspension and tyres: 
·         OME-BP51
·         Camberg Racing Upper Control Arms
·         Roll bar relocation plates
·         Roadsafe heavy duty rear lower control arms
·         Airbag man rear bags with high pressure sleeves
·         Method race wheels, NV 17" Rims
·         Mickey Thompson MTZ P3    
Bar work and exterior mods: 
·         Opposite lock steel bar
·         Ironman 12,000lb winch (IP65 with breather)
·         4mm plate alloy Radiator guard
·         Bushskinz full UVP
·         SC-FAB HD rock sliders
·         Kaymar rear bar with wheel carrier and dual jerry can holder
·         Outback Accessories 120l tank
·         Rhinorack backbone with pioneer platform
·         Various Yakima/Rhino accessories
·         Drifta 270deg rapid wing awning
·         Quick pitch campers En-suite
Back of the wagon: 
·         Drifta drawers, made to order with 2*300mm deep stacked drawers on the pass side, and a low mounted fridge slide. These are made to suit the ARB 47l fridge North/South in the back of the FJ. Integrated table as per all drifta drawers.
·         Power to rear
·         Kaon barrier to the top of the drawers
·         Boab net above back seats for the soft fluffy stuff
Recovery gear: 
·         Shovel
·         Ironman 12,000lb "Monster" Winch with synthetic rope
·         Road safe front recovery points
·         Bushranger tow ball insert recovery point
·         Bushranger Air Jack
·         Maxtrax
·         Snatch Strap, Bridal, winch extension strap, shackles
·         P.L.B
---
Shaun's top 3 trips in the FJ Cruiser:
Coral bay/Exmouth
Pemberton in winter (anywhere down south really)
Holland Track this year finally – Easy track but great camping with mates.
Unstoppable moment in the FJ Cruiser:
Never been recovered by another car!
Most scary situation in the Toyota FJ Cruiser:
On a trip with Quad drive 4wd club in Toodyay, I was the first car to tackle an alge covered granite boulder about 4m tall, I got half way up and the car started to slide backwards. Slid down and hit the rear bumper and pancaked the exhaust. I tried go forward/back but the car was trying to slide onto its side.
Luckily I had the winch and was able to stabilise the car and get up and over.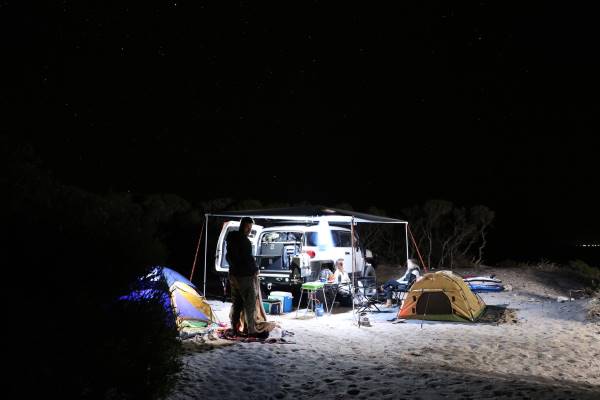 Shaun's modification tips:
Shop around, Do your research and call into shops to chat to blokes in there to feel them out on pricing and if they know what you want. If you want something wait a few weeks before you buy and don't rush into anything or you could end up doing it twice.
Top 3 tips:
1.With your lift kit do your research, there is a lot of lifts out there that have shocks that are either too short or too long which will lead to issues down the track. Some are valved for prados etc so wont ride well.
2. Protect your vehicle, Get your bar work sorted early. A lot of people leave off a rear bar or sliders until last, opting for the lift kit and tires first. Replacing stock bumpers or having panel work done is a lot more expensive in the long run. (See most scary moment above – Rear bar replaced damaged bumper)
3. If you have an IFS vehicle look into upgrading the upper control arms to correct your wheel alignment.     
Things to look out for if buying one:
Tail shafts and rear main seals, Steering racks are robust but can still cause issues. Buy a 2013 or newer with the larger fuel capacity.
---
Best 3 mod/s you have done and why:
1.    Rear tank, 400km between fills when all your mates can do 900-1000km is a pain.
2.    HTX, Just a brilliant light I went to them from 240 blitz and I am properly impressed with the performance. We do a lot of Friday night departures when going away and drive into the night so these are brilliant. Get one set of good lights over multiple bars/lights etc and your onto a winner (Can always move them from vehicle to vehicle if you upgrade)
3.    Pioneer platform, factory rack is as useful as a chocolate teapot.
What made you decide to choose this vehicle?
They are fugly, a bit different and I've always been a fan. The 150 Prado or Hilux were the others on the list but they just don't have the character.
Best thing about the FJ Cruiser:
I can happily follow my mates with much bigger cars running 35's and twin lockers down tracks and come out the other side damage free (Mostly)
Worst thing about the FJ Cruiser:
It's size, this is a good and a bad thing though. Because it's so small I've had to really refine my camping gear and make use of every bit of space with light weight kit. I can't buy anything for it without knowing its dimensions and weight. I will already know where it's going to live before I purchase.
Top reason to buy a Toyota FJ Cruiser (in your opinion):
They are a great all-rounder, for camping, day to day driving, around town etc.
Top reason NOT to buy a Toyota FJ Cruiser (in your opinion):
They are small inside.
The Modified Video.
Nov 21, 23 07:40 PM

On this page we cover 4x4 off road tracks within a 250 km radius from Perth...

Nov 21, 23 07:35 PM

Jurien Bay 4x4 tracks info and general information about the area...

Oct 10, 23 09:31 PM

This caravan park is very clean. The ablutions are spotless. The washing machines are free but need to keep them clean. Easy parking for big rigs and if
---
Leave FJ Cruiser And Go 4 Wheeling In Western Australia.
---