Dodge Ram 2500, Modified #71.
An American pickup truck filmed in Colorado USA, the Dodge Ram 2500 kitted out by Matt from Exploration Outfitters. What a capable beast this Ram is.
We had the pleasure to join Matt on our adventure to Moab in Utah where we drove Hell Revenge.
If you were to see the terrain at Moab the last thing on your mind would be to drive a Dodge Ram over it. But it was so capable rolling its 4.5t tonnes over the slick rock with 37-inch tyres.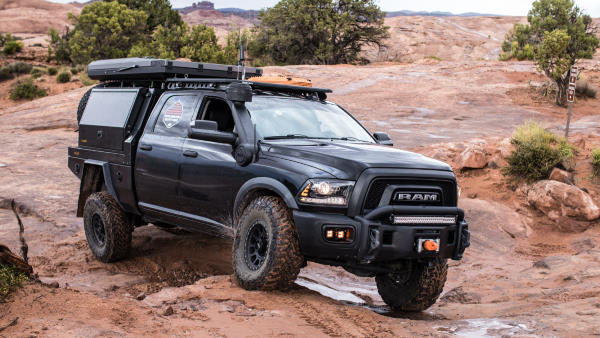 Click Any Photo To Enlarge Or Open Photo Album.
Sorry, Does NOT work on mobile phone.
Matt's 2500 Ram is setup for anything really. Any terrain over short or long distance, its also the first vehicle in the U.S. that I've seen to have long range fuel tanks.
Aside from the impressive handling over Moab this Dodge Ram is kitted out with an upright fridge, fully loaded canopy and flat bed by PCOR and a roof top tent that just looks like the perfect size as the Ram is so BIG.
To see all the details, watch the modified feature and to see our awesome trip through Moab hit up the series right here:
Vehicles Specs (NOTE* Mod details below):
Make model: RAM 2500 
Engine: 6.7 Litre Cummins Diesel       
Drive train: Automatic Transmission, 4x4
Suspension: AEV DualSport 3" Suspension
---
Matt's mod list for the Dodge Ram 2500: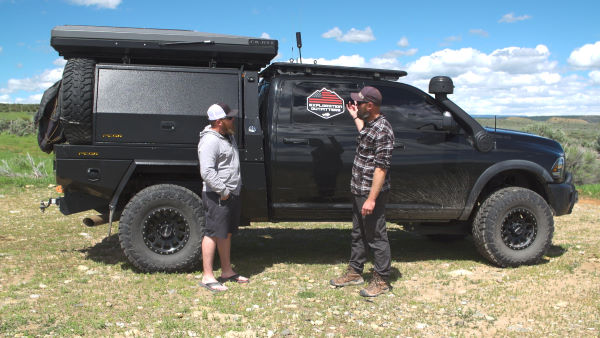 Engine:  
·         Pedal Commander Throttle Controller
·         ARB diff breathers
Electric upgrades:  
·         SPOD Bantam Electrical Control System For Truck
·         RedARC BMS 1230 For Canopy W/ Revolution 160 AH Lithium Battery
·         Dual Alternator Upgrade
·         220 Watt 4D Solar Panel for Canopy.
Lights: 
• Rigid Industries 30" E-Series Combination Bar - Front Bumper
• Rigid Industries Dually Amber Fog Lights (2 Pair)
• Rigid Industries SR-M Series Lights On Sides Of Rack (4 Total)
• MOPAR Projector Headlights
Comms & GPS: 
• IPAD PRO On Custom 67 Designs/RAM Mount W/ GAIA GPS For Offroad Navigation
• Midland USA 40 Watt GMRS Radio
• Midland USA CB Radio
• WeBoost 4G Cell Signal Booster
• Satellite Phone
• Complete dynamat of interior
• Custom interior with overhead console to house electronics.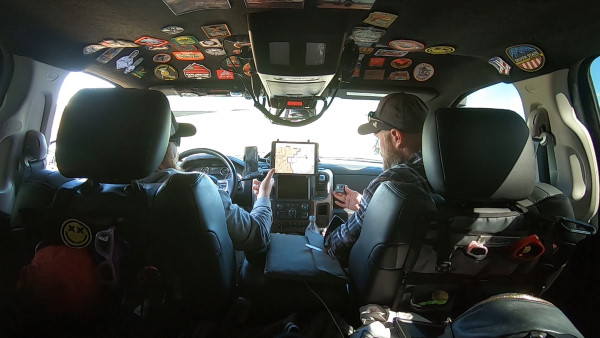 Suspension and tyres:
• AEV DualSport 3" Suspension System
• 37x12.50x17 Toyo Open Country M/T Tires (6)
• Method 105 Wheels (6)
Bar work and exterior mods: 
• AEV Front Bumper W/ Warn 16.5ti Winch
• AEV Raised Air Intake (Snorkel)
• Amp Research Powersteps
• Rhino Rack Backbone Roof Rack System
• ARB Twin Air Compressor
• 4.11 Yukon Gears
• ARB Air Lockers Front & Rear
• AEV/PSC Hydraulic Assist Steering
Back of the Ram: 
• Patriot Campers PCOR Tray
• Patriot Campers PCOR 3/4 Canopy
• Camp King Roof Top Tent
• PCOR Rear Winch Mount W/ WARN VR12-S Winch
• Brown Davis 31 Gallon Auxiliary Fuel Tank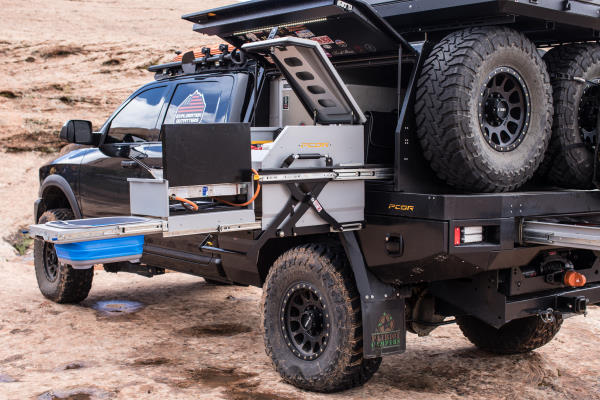 Recovery gear: 
• MAXTRAX
• TJM Recovery Kit
• ARB Tire Repair Kit
• Shovel
---
Matt's Top 3 Trips In The Dodge Ram 2500.
• MOAB Trip - May 2019
• Colorado Trip (Alpine Loop - Patriot Games) - May 2018
• West Coast Road Trip - June 2018  
Unstoppable moment in the Ram 2500:
Moab 2019 - Hell's Revenge - really getting to test the RAM on technical terrain and show how well they do when properly equipped.
Most scary situation in the Dodge Ram 2500:
Getting stuck in crazy deep mud on a solo trip in the mountains of New Mexico with very few winch points.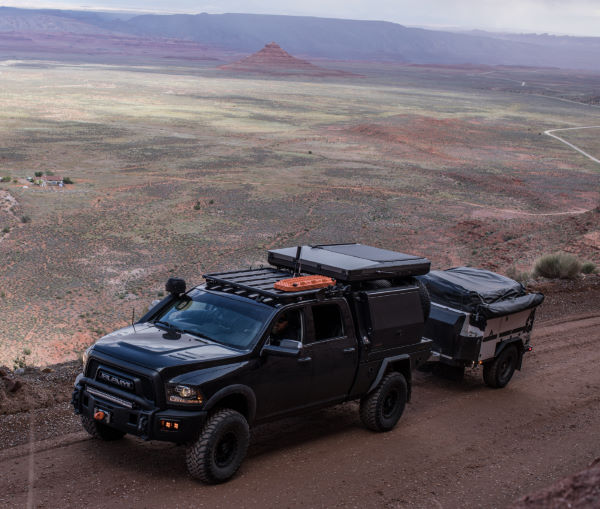 ---
Matt's modification tips: 
Design your vehicle based around what you want to do with the vehicle and what you need for your adventures. Don't worry so much about what people say is cool online, build it for yourself.
Things to lookout for with this model Dodge Ram 2500:
There have been some transmission issues reported, but so far in 80,000 miles I've not had any problems with mine, but I definitely keep an eye on it.
Top 3 tips with the Ram 2500:
1. If you're going to run bigger tires, hydraulic assist steering is definitely the way to go!
2. Dynamat the interior! For long road trips it is definitely nice to have the interior quieted down!
3. Definitely go with the Cummins Diesel!
The Modified Video.
---
Thanks to the following people for helping with my build:
The entire build was done in house by my team at Exploration Outfitters in Oklahoma. http://www.explorationoutfitters.com or Exploration Outfitters LLC on Facebook. Special thanks for Patriot Campers Australia for the support on the Aussiecomponents, including the full PCOR Tray & Canopy which I love! https://www.patriotcampers.com.au
---
Jun 29, 23 08:30 PM

Well 7 of us just traveled to the Pink Lake cv/pk in Esperance. We had such a great time there, all staff were very accommodating and friendly. The camp

Aug 21, 22 04:20 AM

Hi! Welcome to offroad dad and my journey in life doing things on a budget using my hobby offroading touring camping and survival as a way to cope and

Mar 30, 22 02:53 AM

When Camping With Children kids hygiene items like wet wipes (baby wipes) are the best thing for cleaning kids, bring a few spare packets. Don't forget to..
---
Leave Dodge Ram 2500 And Go 4 Wheeling In Western Australia.
---