This is one awesome looking and well thought out D4D Hilux. Of course having owned a highly modified Hilux myself I got a bit home sick while checking out Brad's rig. 
Brad (AKA Chucky) joined us on one of our adventure trips in the Brunswick area and really showed us what his D4D Hilux was capable of,
not much stopped it apart from some deep sloppy mud covered ruts but these would have stopped most vehicles.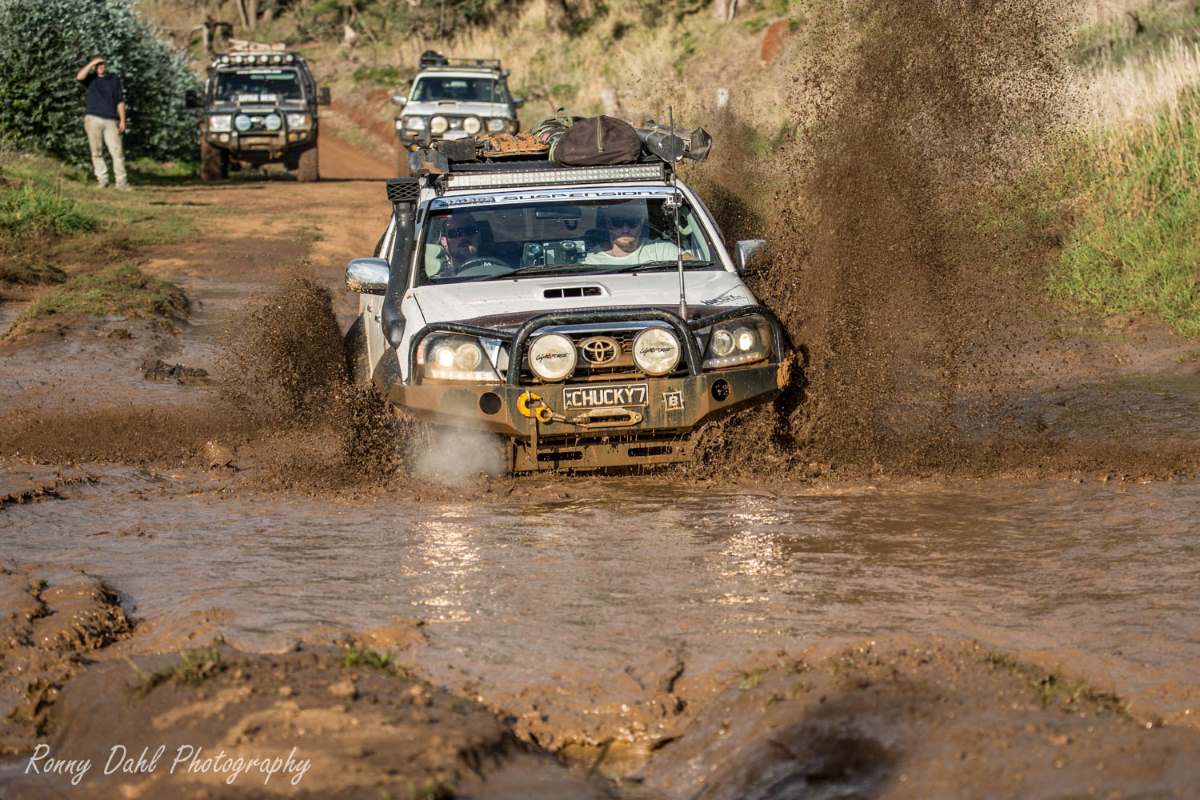 Click Any Image To Enlarge Or Open Photo Album.
Looking through Chucky's Toyota Hilux it was clear it has been a carefully thought out build and he is still not done yet!
He has been off-roading for quite some time and has done everything from tough tracks to long touring and everyone who has do as much as him would know that tweaking and modding parts of the vehicle will never end… there is always room for improvement and Brad had big plans for a custom tray on the rear of his SR5 Hilux.
Here is what Chucky has done to his D4D Hilux and his advice when it comes to improving your Hilux.
---
Vehicles factory stats (NOTE* modded details below):
Make model:     2009 Toyota Hilux SR5 Dual Cab
Engine:     3.0L D4D            
Drive train:  Manual 5 speed, IFS & Rear Solid Axle (aftermarket F&R Lockers)
Suspension:     Struts Front & Leaf Rear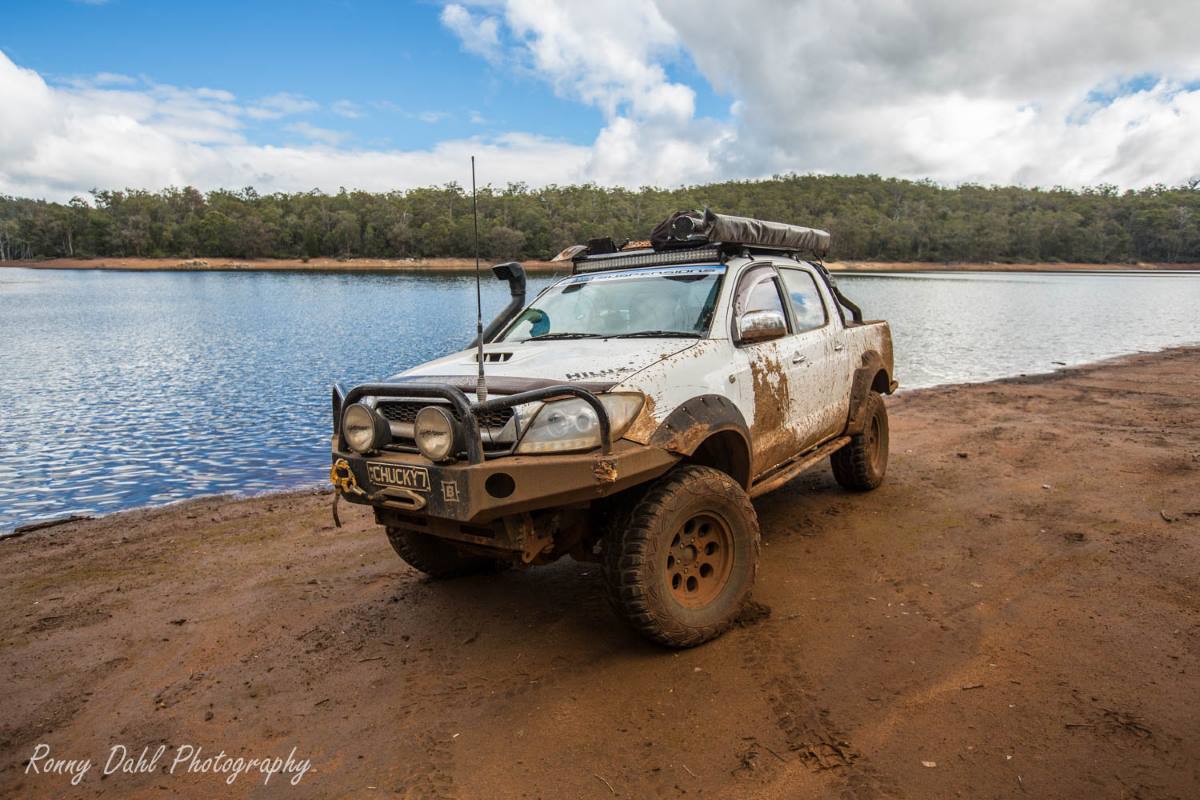 Brad's mod list for his D4D Hilux:
Engine:
GTurbo Badboy 27psi, Front mount Intercooler, Modified Injector Pump + Fuel System, 3 inch straight through Exhaust, Unichip Q+, Unichip Accelerator Booster, Fuel/water separator, HPD catch can. Extras Bonnet/Hood Strut kit.
Drive Train:
Front and rear ARB Diff Lockers, Custom HD Clutch, Diff breathers, transfer case and gear box breathers.
Electric upgrades:  
Dual batteries with Redarc isolator.
Lights: 
Lightforce Genesis 50Watt HID's, 40 inch dual row curved light bar, 15 inch LED bar on the rear.
Comms & GPS: 
GME 80ch UHF with front mounted GME antenna, GME handheld UHF, IPad mini with Hema maps.
Suspension and tyres: 
Dobinson Remote reservoir shocks, HD Front coils 4 inch lift front, Reset rear leafs 2inch lift rear, Monster rides Bump-stops, Monster rides front diff relocation kit (brackets).
Tires: 305/70/16 (approx. 33 inch) Khumo KL71's. Rims: 16*8 zero off set Mickey Thompson classic black 3's
Bar work and exterior mods: 
Buds Customs Winch Bar, Buds Customs Rock Sliders, Rear Tub Quarter Chop with Custom Rear Bar, Jungle Flares front and rear, ARB Bash Plates, Custom flat Roof-rack with awning, Fishing rod holder, High lift jack, Maxtrax and Shovel. Safari Snorkel.
Back of the Tub/Tray:
Open tub, future custom tray coming. 
Interior Mods:
Outback Roof console, Auto metre Boost + EGT Gauges fixed in Pillar pod & Black Duck seat covers.
Recovery gear: 
Mean Mother Edge series Winch 9500lb with Dynema rope, Full winch and snatching recovery kit including spare shackles.
---
Video of Brad's modified Hilux.
Unstoppable moment in the SR5 Hilux:
 Callcup Hill, towed another Lux (Hilux) up Callcup with rooster tails off all 4 wheels.
Most scary situation in the double cab SR5 Hilux:
Going down rutted slippery tracks and one of the rear wheels lifts over a meter off the ground. Not a nice feeling…
Brad's modification tips:
It's all about clearance and traction. So top mods are lift, tyres and bulbar, these three things can totally transform a vehicles capability,
Top 3 tips with:
1.       CVS: With lifts 3 inch and more a good diff drop is required to correct CV angles.
2.       Lifts: any higher than 4 inch and you will be limiting up travel, will look cool but won't work well off-road.
3.       CVS & Rack ends: Keep spares of each of these as they're the first to go with hard wheeling.
---
Links & Thanks:
Thanks to Malaga Suspensions (Colin) for getting the suspension sorted and working great on and off-road.
Peter at PJM Performance for all the engine mods and servicing.
Also if you own a Hilux and live in W.A. come and join us on Facebook at:
https://www.facebook.com/groups/618172514922136/