4x4 Chevrolet Silverado review.
We have our first Chevrolet Silverado on the show and it's a big one! Josh is a farmer and his work horse is also his Australia tourer or is it an American tourer? I have one more question… is this a Ute or a Truck? I'll call it a truck.
Click Any Photo To Enlarge Or Open Photo Album.
Sorry, Does NOT work on mobile phone.
This flatbed truck is long and wide but doesn't stop Josh from taking it to all the same places and 'regular' ute/truck will go.
Josh is also far from worried about scratching the Chevrolet Silverado as it's just part of 4 wheeling life really, especially when the truck is so big.
For all the cool and juicy mods check out the video!
Vehicles specs (NOTE* modded details below):
Make model: Chevrolet Silverado 2500HD LTZ
Engine:   Duramax 6.6 with Alison auto
Suspension: 6.5 inch BDS coil conversion front end with boss rear airbags
---
Josh's mod list for this Chevy: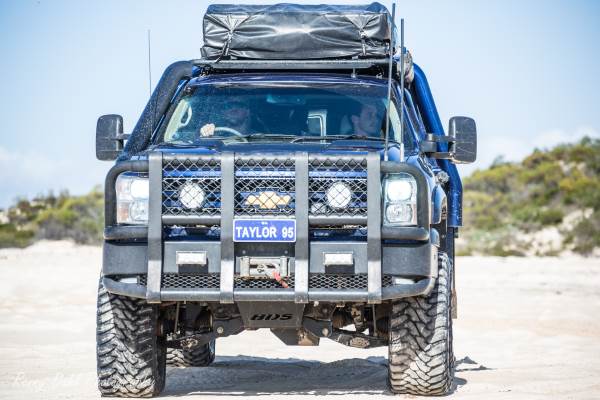 Engine:
·         H&S Tuner
·         4 inch straight exhaust
·         5 inch snorkel
Electric upgrades:  
·         tri battery setup
·         power outlets all threw ute
Lights: 
·         hid head lights
·         4x great white spotties
·         work lights built into head board
Comms & GPS: 
·         GME radio
·      Phone booster
·      Kenwood touch screen with Hema download
Suspension and tyres:
·         6.5 inch BDS coil conversion
·         Boss triple airbags in cab controller
·         Open country 38 x15.5 muddies
Bar work and exterior mods:
·         Tuff bar
·         Steel side steps
·         Custom steel tray
·         Roof rack
·         Snorkel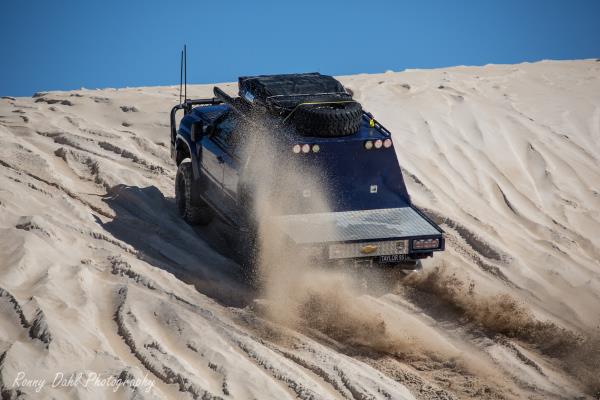 Back of the wagon/ute: 
·         Steel tray with half enclosed canopy
·         4x under tray boxes for battery/electrics, fuel pump for machinery, 2x twin arb compressors with tank and storage
·         1200x1200 mm rear draw with full set of tools
·         Custom alloy fuel tank with a total of 440 litres
·         Rear built in bar with winch fitted
·         Lockable and air tight, canopy with a 1m pull our slide with air cylinders to drop rated for 100kg
Recovery gear: 
·         Front and rear warn winches
---
Josh's top 3 trips in the Chevrolet Silverado:
1.    High country in Victoria with snow
2.    Crossing Nullarbor traveling through NSW and winning 4x4 at Deni ute muster
3.    WA trips from Bremer bay up to 80 mile beach. Best probably local at Lancelin/ sharks bay
Unstoppable moment in the vehicle:
Doesn't get bogged unless you're trying to get bury it
Most scary situation in the Chevy:
Waves coming up the side of ute in wedge when track was washed out and tyres haven't been let down yet
Josh's modification tips:
Fit it out to suit you and what you do, as in it's my work ute as well as I can take it anywhere
Things to lookout for with this model Chevy:
Too wide and long to take to the well-known mud 4wd tracks
Top tip with the Chevy:
1.  A lot of money wasted. but I see it as you only live once so go out and enjoy it 
The Modified Video.
Thanks to the following people for helping with my:
Designed and built tray and canopy my self.
https://www.facebook.com/Taylor-Corp-WA-1445155829147756/
Nov 21, 23 07:40 PM

On this page we cover 4x4 off road tracks within a 250 km radius from Perth...

Nov 21, 23 07:35 PM

Jurien Bay 4x4 tracks info and general information about the area...

Oct 10, 23 09:31 PM

This caravan park is very clean. The ablutions are spotless. The washing machines are free but need to keep them clean. Easy parking for big rigs and if
---
Leave Chevrolet Silverado And Go 4 Wheeling In Western Australia.
---