Other than awesome beaches there are red gravel dirt tracks, granite mountains/hills, lime stone cliffs, massive sand dunes and plenty of bush tracks to explore.
This is a relaxed town with so many recreational locations, 4wding, fishing, boating, diving, snorkeling and beaching is the way of life here!
 4WDers who visit here will be back for a second time for sure.
Just North West of town is Fitzgerald River National Park which has plenty of places to explore; we didn't have time to explore this area (which is quite big) however we will be exploring it on our next visit.

There are so many places to visit!!
We met a fellow 4wder and his mate (Bryan and Dominic) at the Beaches caravan park, they joined us on this short trip (in Bryan's 105 series Land Cruiser), this was Bryan's 4th time in Bremer Bay and he had not visited Point Henry before, this alone should give you the idea of how many places there are to visit here!

See Point Henry,

---
Bremer Bay Facilities.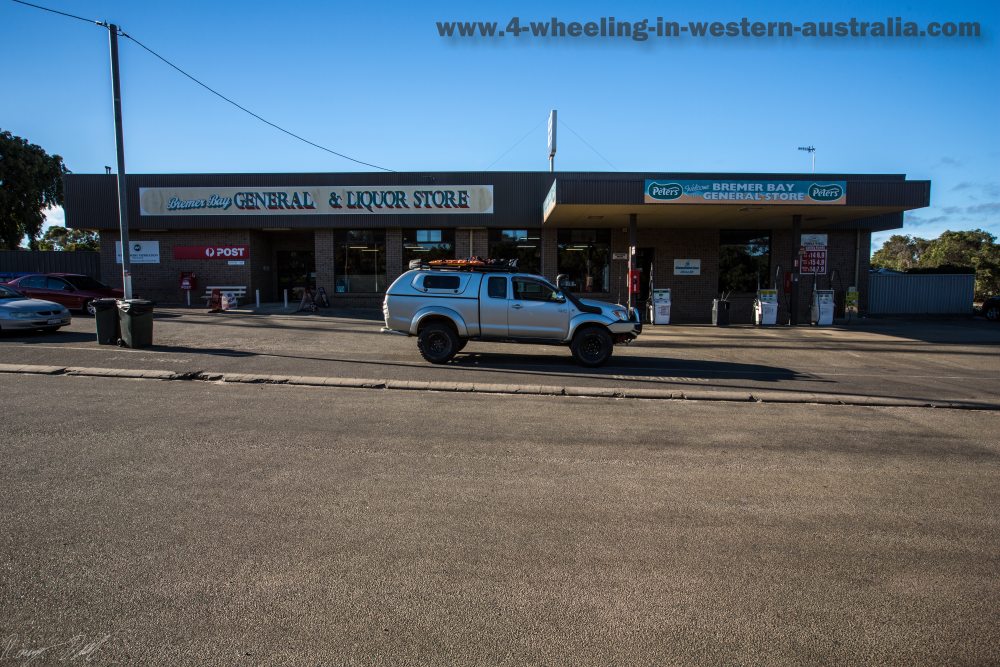 The General Store.
General Store, Liquor store and fuel stop in one.
Road House (meals and fuel)
Bakery (was closed during or visit and had a for sale sign!)
Resort and restaurant.


---
Where to stay: 
Bremer Bay Beaches Resort and Caravan Park
Bremer Bay Resort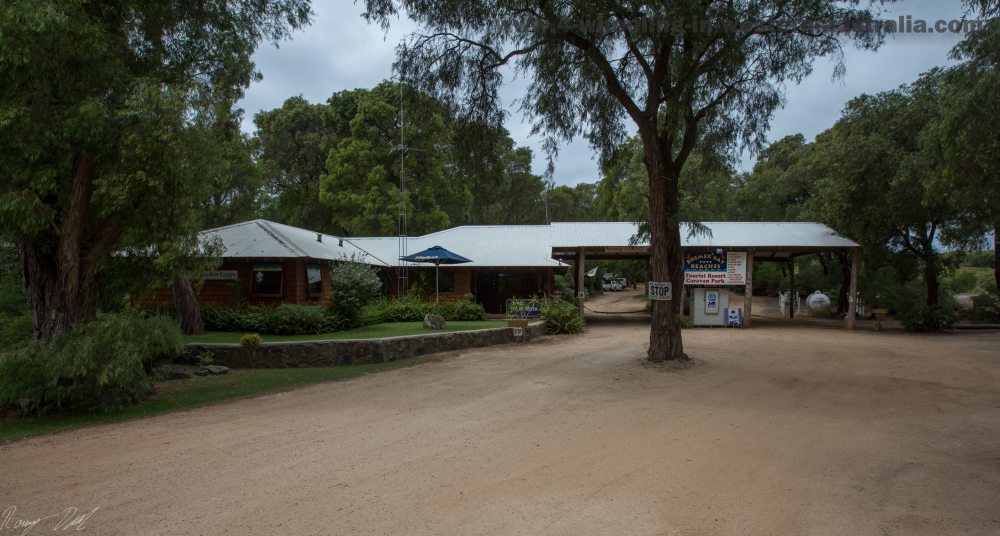 ---
Point Henry.
The cliffs and rock formations at Point Henry and the south of Bremer Bay Peninsula are quite breathtaking. The two main areas recommended to explore are Point Henry and the southern tip where there is a 15 m gap between the peninsula and Sparkling Island.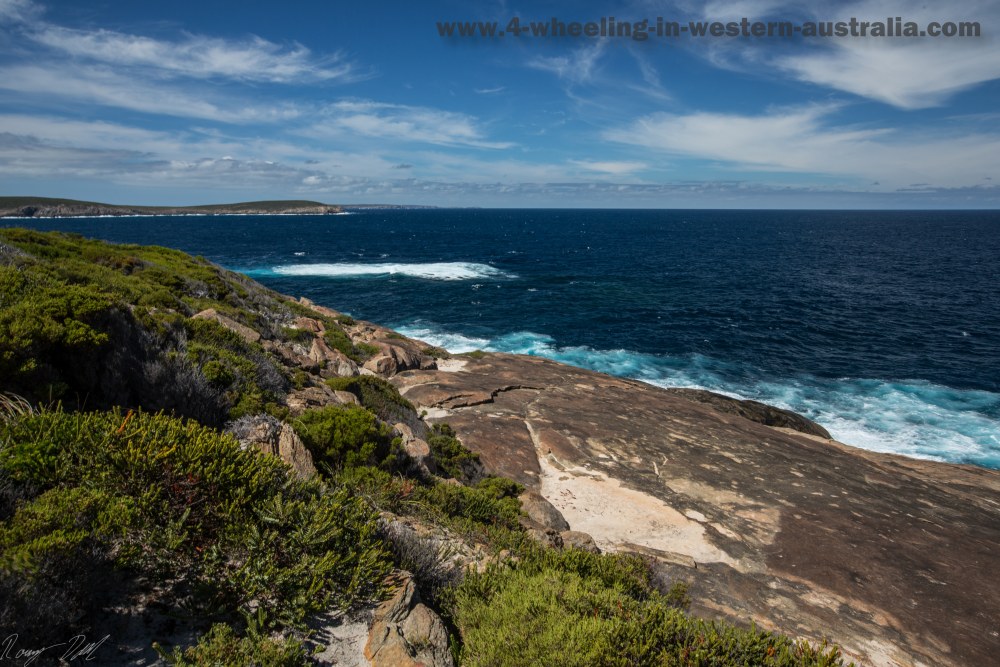 The tracks are easy in difficulty, sand tracks with a few rocky areas (a psi of 18-24 is recommended). The peninsula area to explore is not huge; finding your way around is easy!
All tracks peel off into dead ends with areas big enough for two vehicles to turn around.
Like most of the Bremer Bay area it is only accessed by 4wd, so this means no safety rails and board walks along the cliffs. If bringing young kids out there be sure to hold onto  them 100% of the time!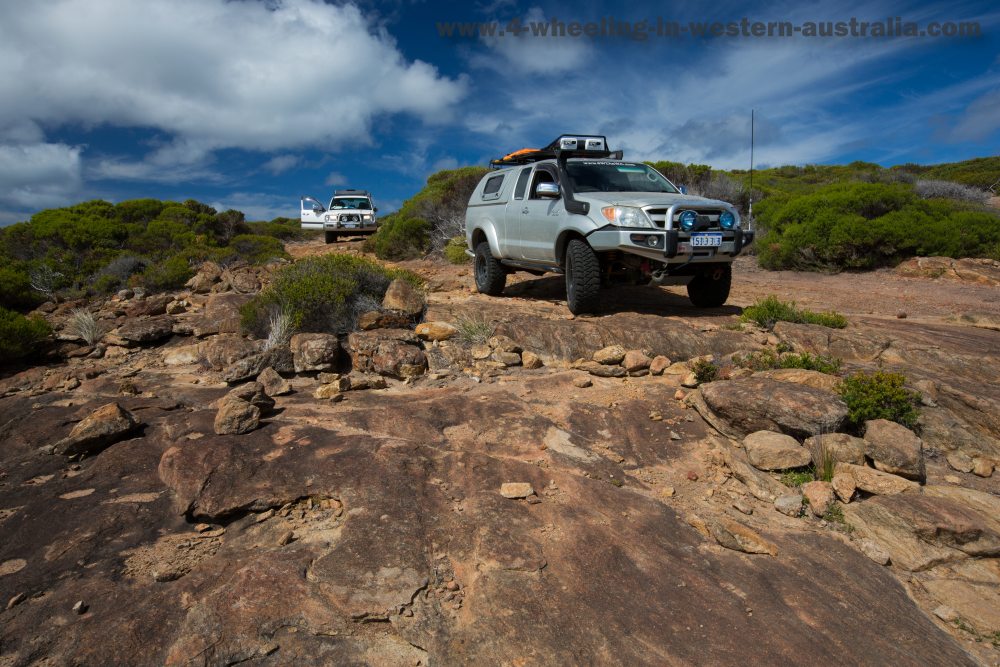 Sparkle Island.
---
4WD Beaches.
Providing you are visiting during the warmer months there will be no lack of beaches to choose from, this has an added bonus as any coastline is nearly always windy. So if the beach is too windy on the eastern beaches simply drive to a western beach and vice versa.
Most beaches here are shallow for a good 50-100 meters which is perfect for younger kids.
The water is so clear that the sea floor is always visible even on overcast days, drop your sunglasses in the ocean and you will find easily them unlike most other beaches.

Below is a list of beach names explored by us:
Click each link for details
Our personal 3 top beaches in the Bremer Bay area:

#1 Stream Beach (like a private beach surrounded by mountains and it has a fresh water stream perfect for smaller kids to play in!)
#2 Reef Beach (sand dunes meet the ocean, really amazing sight to see!)
#3 Horse Beach (almost completely protected from swell and winds with its pure white sands and turquoise waters)


See here for FULL details on each Beach and see the 3 Top beaches!!
---
Maps.
| | |
| --- | --- |
| To download a printable map of greater Bremer-Bay click icon or click here. This map is in pdf. format, if you don't have a pdf reader you can download one here. | |
---
| | |
| --- | --- |
| To download a printable map of the Bremer-Bay Peninsula click this icon or click here. The map is in pdf. If you don't have a pdf viewer it can be downloaded here. | |
---
For GPS Waypoints In This Area See GPS Waypoints.
---
Park and walk Beaches (none drivable)
Short Beach

Fishery Beach

Banky Beach
---
Things to do.
4wding

Beach 4wding

Beach, rock and harbor fishing

Beaching

Snorkeling




Scuba diving

Surfing

Boating

Kayaking

Visit Point Henry and other cliffs locations

Visit the Wellstead Museum

Sightseeing various lookouts, towns windmill & checking out the endless choice of awesome beaches and rocky/cliffs coastline!




---
Best time to visit.
Spring to Summer.
---
General Track conditions and difficulty.
Easy to Medium.
Interior tracks are mainly gravel and rock with sand dunes cutting through here and there.
Heading towards the coast line there is a lot of limestone hills which must be driven over, which means the fast sand tracks (30-50 kph) will suddenly turn into low range 1st or 2nd gear, make sure to allow for this when planning day trips.
The beaches close to Bremer Bay (town area) can be driven with 36+ psi, however to avoid cutting up the beach and tracks REDUCE tire pressure to sand/beach levels (15-20psi).
This will also keep you from ending up red faced as it's only in parts the beaches are hard compacted sand.
If a bogging does occur on the hard packed beaches (can happen easyly if the water starts to hit a stationary vehicle) and no one is around with recovery gear, then you're in big trouble.
Keep in mind if visiting beaches more than 20 km from Bremer Bay as solo (one vehicle only) getting bogged could easily equal "loss of vehicle". Most beaches are flat so when the tide comes in, it really comes in.
Recommended tyre psi is 16-20 for most beaches, this got my Hilux in and out of every track/beach with mud terrain tyres.
2 inch lift is recommended for about less than half of the tracks.
For full details on each beach see the links for each beach!