BJ74 Landcruiser, Modified #58.
This BJ74 Landcruiser will be 30 years old come 2019 and 15 years of ownership will be with Russell, the owner of this old school cruiser.
That's a fair amount of time with one vehicle, but as most modified episodes convey, these are not just vehicles. These are purpose built 4 wheelers to enable us to get to faraway places in comfort and stay there for some time.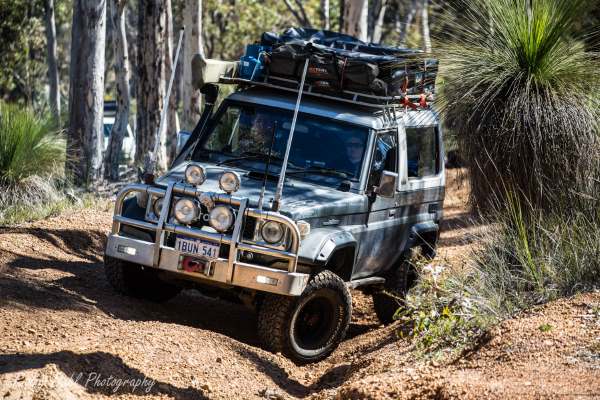 Click Any Photo To Enlarge Or Open Photo Album.
Sorry, Does NOT work on mobile phone.
This BJ74 Landcruiser is a perfect example of that. Not only are there plenty of mods, there is also as much routine in the owner the way its packed, unpacked and stored. You can tell Russell has had this vehicle for a long time and its clear to me Russell won't be parting ways with this BJ74 Landcruiser for quite a bit longer.

This segment will show you more than just clever mods, pay close attention and you will see routine and a well thought out setup to go with it.
---
Vehicles Specs (NOTE* Mod details below):
Make model: Toyota BJ74 Landcruiser
Engine:         13B-T 3.4L Turbo Diesel
Drive train:    A440F Automatic Transmission (Factory), 4.59 Ratio Diffs (Up from 4.11 Factory), Front and Rear ARB Air Lockers,
Suspension:  Old Man Emu 2" Lift.
---
Russell's mod list for his Toyota Landcruiser BJ74:
Engine:  
.
Electric upgrades:  
180w Solar Panel and Charger, 




240v Caravan Plug for running in-built battery chargers, 




Various Temp Gauges, 




Wireless Remote and In Cab controls for Electric Winch,
Lights: 
Comms & GPS: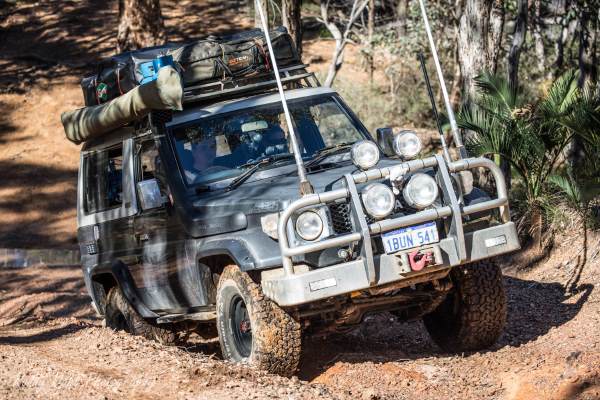 Suspension and tyres:
Bar work and exterior mods: 
Back of the wagon: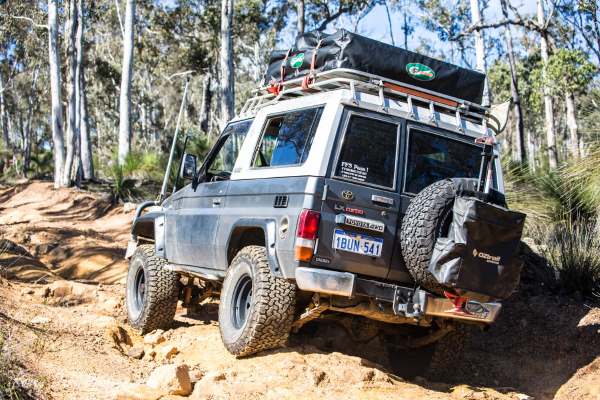 Recovery gear: 
---

Russell's top 3 trips in the BJ74 Landcruiser.
Karijini and Millstream - October 2016

Perth - Brisbane - Perth  - September 2012

Perth - Port Lincoln - Israelite Bay - Perth 2015
Unstoppable moment in the Toyota Landcruiser:
Beach Trip from Cervantes to Wedge Island.
Most scary situation in the BJ74 Landcruiser:
Hill climbs through Glenn Forrest Powerline Tracks.
Russell's modification tips:
Sometimes quality is better to have than saving money
The first hole in your car is always the hardest to make
No kit ever fits like the instructions.
Online forums and Facebook pages / groups are a goldmine of information for any modifications
Keep it as legal as possible.
---
Things to lookout for with this model Toyota Landcruiser:
OEM parts are hard to find. Especially 24v items.
OEM parts were sourced from Landcruiser 75's, 60's and Hiluxes.
Auto Transmissions are expensive if drowned.
Top 3 tips with the Toyota Landcruiser:
1.      Research before purchasing. Some sellers will say kits / items fit when they don't. Check Pages, Groups, Forums.
2.   Think outside the box when trying to source parts. Sometime non Automotive Companies can have items which are more reliable and cheaper than OEM
3.     When in doubt, give it a go.
The Modified Video.
Oct 21, 21 12:00 AM

Historic Tracks in Australia by 4WD, is Gibb River Road, Canning Stock Route or other historic tracks on your bucket list...

Oct 07, 21 02:41 AM

Relying on a hand brake is very dangerous and can end with disastrous consequences! I turned my left and saw my LandCruiser heading straight for the steep 40m sand dune descent…

Oct 01, 21 01:09 AM

This red and black GU Patrol not only looks awesome, the engine upgrades are quite impressive and keep in mind ...
---
Leave BJ74 Landcruiser And Go 4 Wheeling In Western Australia.
---