79 Series V8 Dual Cab, Modified.
Another 79 series V8 dual cab and this one with more fruit than most would think of. This truck is the most complete dual cab we have yet seen!
Matt has really gone to town on this 79 series V8 dual cab and turned it into a touring and camping machine.
Click Any Image To Enlarge Or Open Photo Album.
---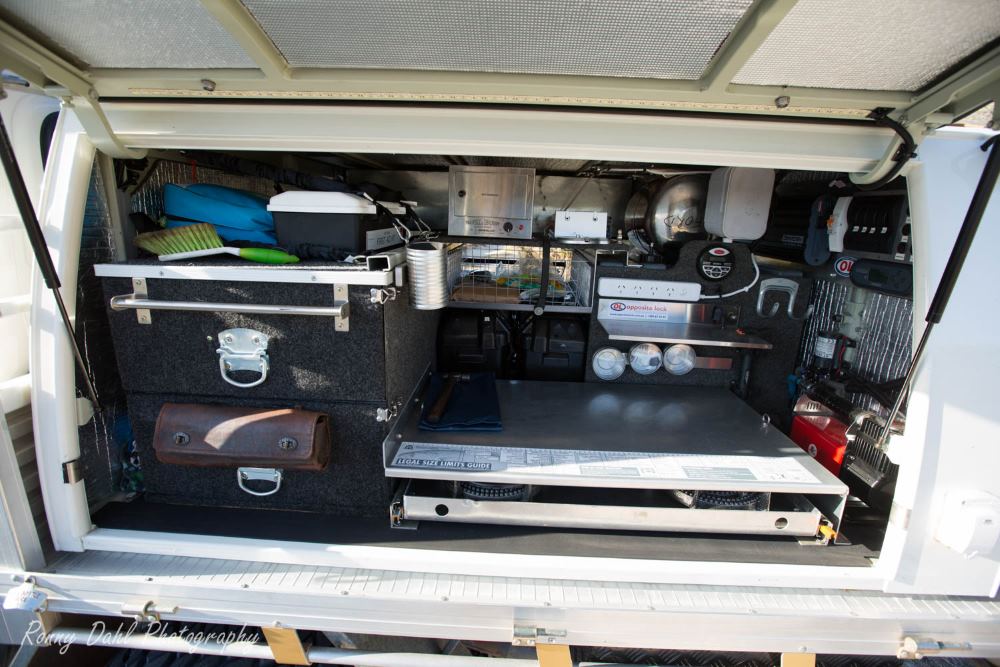 We meet Matt on one of our tag along tours in the outback and before reaching camp this Landcruiser caught my eye with all the cool and clever ideas with mounting maxtrax, external airlines for compressor, the subtle camo strips on the door and pretty much everything else on the vehicle.
But what got us interested even more was after we reached camp as the canopy was revealed with an epic setup inside putting most canopy's to shame!
A full kitchen with gas burners in/on a slide, pie warmer, 12v kettle and heaps more…
Everything has its own home and every void, nook and cranny is utilised. For all the eye candy details see the video below.
---
Vehicles specs (NOTE* modded details below):
Make model:             2012 GXL 79 Series V8 Dual Cab
Engine:                      4.5 Lt V8 turbo diesel
Drive train:                Part time 4WD 5 Speed manual
Suspension:              Live axle, coil spring front and leaf springs in the rear
---
Matt's mod list for his Land cruiser:
Engine:
·         110 Lt Long Range Tank by Brown Davies
·         Fuel Gauge by Brown Davies
·         Flash Tune (touring tune Opposite Lock Midland)
·         Safari heavy duty Tuff Clutch
·         Redback 3 inch straight through exhaust
·         Safari AR Max 7 snorkel and air box upgrade
·         4 port Breather Kit
·         Catch can with tap
·         Secondary fuel filter
Electric upgrades:  
·         Tow pro Elite brake controller
·         2 x 80 watt solar panels
·         RedArc battery Manager 30 mounted in rear canopy
·         2 x Bosch 120 Ah AGM batteries in rear canopy
·         1000watt Red Arc inverter mounted in rear canopy
·         Intervolt DCC pro in vehicle battery to battery charge system with display. This includes BCDC charger
Lights: 
·         ROK 40 LED spots intense beam in location of flood light on front bar
·         ROK 20 LED spots intense beam on rear of canopy
·         Narva under body reversing spots
·         Narva blue 90 globe upgrade for factory driving lights
·         40 inch Big Red light Bar on front pioneer rack
·         Lightforce HTX 70w HID/ 80 Watt LED driving lights
Comms, GPS & Interior: 
·         Outback Interiors internal Roof console
·         GME 3100 Uniden 7700 NB
·         Hema 7 hard wired
·         Whip AM/FM aerial
·         MSA Dash organiser
·         MSA rear seat organiser
·         Hat Saver mounted to inside of roof in cab
·         Stratos driving seat – drivers side only
Suspension and tyres:
·         Mickey Thompson MTZ P3 – 305/70R16 – 33 inches
·         Sunraysia Triangle 16x8 0 offset and 16 x 8 -50 offset
·         Two rear mounted spares – one of each
·         Tough Dog Ralph 53mm Bore shocks
·         Tough Dog RTC Steering damper
·         Tough Dog coils
·         650 constant load GVM leaf Upgrade – WA Suspension
·         Rear air bag suspension with rear external filling points
Bar work and exterior mods: 
·         OL 3 loop premium winch bar
·         OL side rails and side steps
·         VRS 9500 lb winch (with synthetic rope) hard wired dash mounted control unit
·         Sump, track rod guards by Outback Accessories
·         Transmission, gearbox guards by Outback Accessories
·         Superior front stealth diff guard
·         Pioneer platform 1328 x 1376 (over cab)
·         Pioneer platform 1528 x 1376 (over canopy)
·         Road safe intercooler grille
·         Road Safe sand flag and quick release mount
·         Black truck style Bug deflector
Back of the wagon/ute: 
·         Boab 45 Ltr water tank and 12 v electric pump hard wired in rear canopy with external tap outlets at the rear and side of the canopy.
·         Sunseeker awning MK2
·         DNA Marine Blue tooth radio in rear canopy with rear speakers in canopy
·         Hard mounted Air Devil 160 Lt pm air compressor in rear canopy feeding into to 45lt Longacre stainless air tank
·         External fitting for air hose at rear
·         Travel Buddy Oven hard wired in rear canopy
·         Panasonic Stereo upgrade with Alpine speaker upgrade
·         Waeco 11 Lt fridge hardwired between front seats
·         LED strip lights in rear canopy and on underside of both gull wing doors
·         Hand made slide out cook top with two gas trivets
·         Outback accessories 2 drawer system in canopy on one side
·         Storage compartments roof mounted on opposite side in canopy
·         Twin Maxtrax brackets fitted to both gull wing canopy doors
·         80 lt Waeco Fridge in rear canopy
·         MSA drop slide - side load 60
·         Rear underbody aluminium storage boxes x 2
·         Gas bottle hard mounted inside rear canopy
Recovery gear: 
·         Rhino High lift jack
---
Top tips for the Landcruiser 79 series V8 dual cab:
1) If you can, buy the GXL so that you get the factory lockers or have lockers fitted in the factory if you buy the workmate.   
2) Its a personal choice thing but I believe that the dual cab tray back gives you the most flexibility of all of the models.
---
Unstoppable moment in the Landcruiser:
Where to start? The most unstoppable of all the 4 x 4's everyone knows this!!
Most scary situation in the Landcruiser 79 series V8 dual cab:
Coming back from Jurien and having to rapidly decelerate (stop) in a hurry to avoid two large roos. The big rig doesn't want to stop when coming off a cruising speed of 110km's per hour – see comment on brakes below.
Matt's modification tips:
1)    Work out what you want and how you want to use it and access it.
2)    Then lay it out around the canopy on the ground to make sure it will function with the layout you have in mind.
3)    Use professionals and quality parts where you can – you get what you pay for and you don't want it braking when you're out there!
Things to lookout for with this model 79 series V8 dual cab:
1)    The alternator. It sits very low in the engine bay and is susceptible to malfunction due to water, dirt…etc.
2)    The brakes. When you load them up with extra weight with canopies, bars, extra tanks…etc. they tend not to pull up very well.
You may need to look at a booster upgrade or a full brake upgrade. I believe there are now several off the shelf packages available.  
---
Top 3 trips with the 79 series V8 dual cab:
1)      Murchison
2)    Jurien/Cervantes
3)    Nullarbor
The Modified Video.
Thanks to the following people for helping with my build:
Nov 21, 23 07:40 PM

On this page we cover 4x4 off road tracks within a 250 km radius from Perth...

Nov 21, 23 07:35 PM

Jurien Bay 4x4 tracks info and general information about the area...

Oct 10, 23 09:31 PM

This caravan park is very clean. The ablutions are spotless. The washing machines are free but need to keep them clean. Easy parking for big rigs and if
---
Leave 79 Series V8 Dual Cab And Go 4 Wheeling In Western Australia.
---